France History Tours

French Towns & Villages Tours
Discover Dordogne's must sees and hidden beauties in a day from Sarlat. 
How To Get There
This day tour starts from Sarlat. From Bordeaux, you may take a train or bus to Sarlat (about 1hr30). 
Dordogne is one of our favorite regions of France and we like to have our travelers see this area through our insiders' eyes. 
Price
US$ 550
Per traveler, including taxes,
based on double occupancy.
Step by step
Sarlat & Prehistoric painted caves
Sarlat historic city is a great base to explore Dordogne and to start your day. 
You will take a short tour to Sarlat paved streets and get up the Cathedral's tower elevator to get a unique view over the city lauze-stone roofs. If you are there on a Saturday, then you will witness the bustle of Sarlat farmers market. 
Then, your private guide will take you to a prehistoric cave and explain you about how men were drawing and painting there about 20,000 years ago.
 This is an out of time experience which will take you back to the roots of humanity.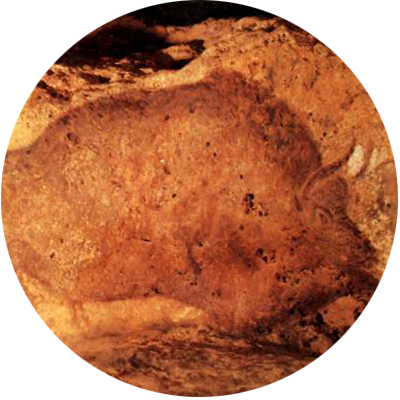 You will savor a traditional lunch Périgourdin made of duck confit and walnut cake which are food specialties from Dordogne. 
The Middle-Ages Heritage in Dordogne
In the afternoon, you will tour a quaint village from the Middle Ages, with an impressive fortress hanging on the cliff above you.
It will be the occasion to learn about the Hundred Year War (which was opposing the French to the English during the Middle Ages). 
We also plan for you to take a gabare boat tour on the river.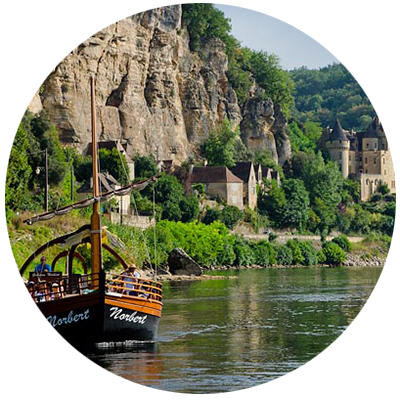 Your day will end in a magnificent garden, overlooking the Dordogne river. 
What a day!
This day tour includes:
- A Private English-Speaking Guide
- Transportation in the guide's vehicle from and to Sarlat
- Admission to a prehistoric cave
- A 3 course lunch at a local restaurant with 2 glasses of wine
- A 1hr Gabare Boat Tour on the Dordogne River
It does not include:
- Transportation to Sarlat