Wines & Gastronomy of the SW of France
8 days
Bordeaux & Dordogne
Villages & Markets
Gourmet Experience
US$ 2,310 Per traveler, including taxes, based on double occupancy.
Book now
You will be traveling from Bordeaux and its world famous vineyards to the fabulous Perigord, renowned for its gastronomy, historical heritage and amazing landscapes.
BORDEAUX Region : Wine & Heritage
Start your journey with 3 nights in the Bordeaux region either in a former Wine Estate in the Medoc area for the wine aficionados or in a townhouse inside the gates of Bordeaux for the lovers of this wonderful 17th century city. 
In both places you will be welcomed by a French family, in a peaceful atmosphere. Built along the banks of the Garonne river the opulent merchants' homes are very specific to Bordeaux. The rise of colonial trade together with the growth of the wine industry contributed to the amazing expansion of the Gironde region during the 18th century. You will find everything you need: from villages nestled into the Medoc or St Emilion vineyards, to the bustling night life in Bordeaux. Also, bear in mind that Bordeaux's Sainte Catherine Street is the longest shopping street in Europe!
In a famous wine estate, we have planned a special tour for you: after visiting the estate from the cellars, to the vats, passing by the vineyards to understand the different grape variety, you will play the sorcerer's apprentice and make your own wine (your own blend). You'll see that it's not that easy!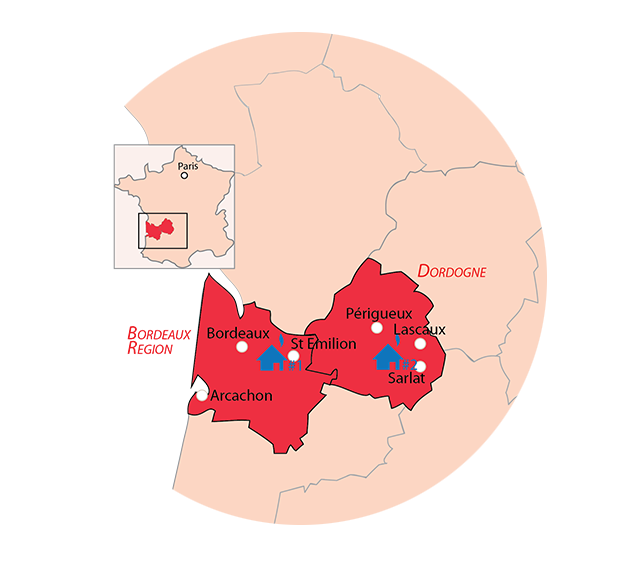 The DORDOGNE : quaint villages & gastronomy
Continue your sightseeing expedition in the Dordogne region. In Black Perigord you will stay in a magnificent mansion dating back to the 16th century in Sarlat lively town for 4 nights. You will walk to all restaurants and enjoy the city at night, when the crowds have left. 
Dordogne is famous for the prehistoric caves in Lascaux and we'll recommend you a much more intimate visit, in a 20,000 year old cave. If you are interested in history or if you are a JM Auel reader, this is a must! Visit the old city of Sarlat and feel the buzz of activity on market days.
Let a passionate villager take you on an unforgettable search for the black diamond: Perigord truffles. Nestled in a typical Dordogne hamlet, the view on the surrounding valley is gorgeous. This is an experience you'll remember! 
There is a lot to do in this region: medieval castles to visit, wonderful food to taste - we'll tell you where to find the most typical goat cheeses - and if you like outdoor activities, you'll be in paradise. 
In Dordogne "to be le Roi Carotte" means that you are the happiest man on earth - we hope that you'll feel like being Le Roi Carotte.
This itinerary includes
Activities included in this tour