A Step-by-Step Guide to Drive in France
Photo ©: Robbie Shade
As expert trip-planners, of course we would love to craft a personalized self drive tour of France - just for you! Trip-planning is hard work and time-consuming, especially when you don't know the country or the language. 
The advantage of using a local trip-planner is that you can let us do all the hard work, and all you need to do is look forward to your trip. 
The other way of looking at it is that trip-planning can be part of your adventure! That's why we've put together this step-by-step guide for planning a road trip. 
This is based on our personal expertise at planning road trips through France for our travelers, but some of the advice could be useful for planning a self-drive tour of other countries too. 
Why a self-drive tour is the best way to see France
As trip-planners, we firmly believe that the best way to experience 'the real France' is on a self-drive tour. This allows you to enjoy the lovely scenic roads, stop off and relax on a café terrace along the way, and avoid the most crowded tourist areas and tour bus crowds. 
Unlike a bus tour, on a self-drive tour you can pick and choose which places to visit and how long to spend in each place. The best part is that you get to travel at your own pace. You're not told to 'meet back here in an hour', when really you'd like to spend more time exploring.
Plus, if you fall in love with one of the places you visit on your trip, you have the flexibility to change your plans and spend more time there.
Planning your road trip through France
1. Choose which regions to visit
Spend some time researching and make a list of the places and attractions you want to visit. If you've never visited France, you might not know which places and sites are worth seeing. In that case, start by listing the activities you'd like to do: for example, wine-tasting, discovering the local gastronomy, hiking, exploring castles, visiting historical sites, seeing the lavender fields, relaxing on a beach etc.  
Then do some research to find out where in France you can do these things. A quick Google search will help (or you can check some of our blog posts and tours):
Try using the search box at the top of this page to find the information you're looking for.  
2. Find the regions on the map
Once you have narrowed it down to a region or two (or more if you're planning a longer trip), find a map of France, or go to Google maps, and mark out exactly where each place or region is that you want to visit.
There may be a few different villages, towns and cities you would like to visit in each region. For convenience, stay at a location that's central to all the places you want to see.
3. Check the driving routes & times between different places
You may find that places that appear to be close on the map aren't that quick to drive to due to the terrain. On Google Maps, type in one of the places you wish to visit. Then click "Directions" and type in another place. Then click the car icon at the top and you will see the estimated driving times between the two places (here we give an example driving from Paris to Nice)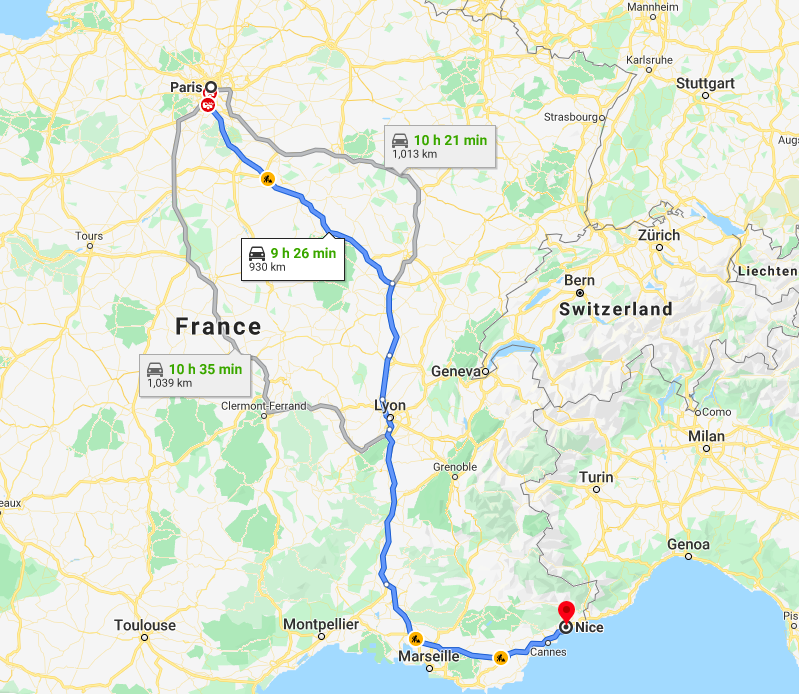 Driving route from Paris to Nice (Google Maps)
4. Remember: less can be more...
When travelers first contact us, we find that they often underestimate how much time they will need to visit all the places they want to see - especially once you factor in the driving time between each place. Keep in mind that in countries like the US, Canada and Australia, the roads are wider and straighter than in France; and winding roads can add quite a lot of time to your journey.
In France, we like to take our time and savor every moment of every new experience. That's why, if you're short of time, we recommend visiting fewer places and spending a few days exploring each place. That way, you really get to know each place and immerse yourselves in the local culture.
If several of the places you really want to visit are in different parts of France, you have various options:
OR
Select two places that are far apart and plan your road trip starting from one place and ending at the other, visiting a few places in between.
OR
Choose one or two regions and explore those regions thoroughly - and save the rest of the country for the next trip(s)!
5. Plan your rest-stops
When planning your driving route through France, it's essential to factor in rest-stops. Many people underestimate driving time and/or don't plan enough time for rest and relaxation (especially rest-stops). Road trips are fun, but they're also tiring! 
For our travelers, we always recommend pleasant rest-stops on long drives between different destinations in France. These might be pleasant picnic areas or service stations off the highways, or charming little villages along the way where you can park and stop for a coffee and a meal.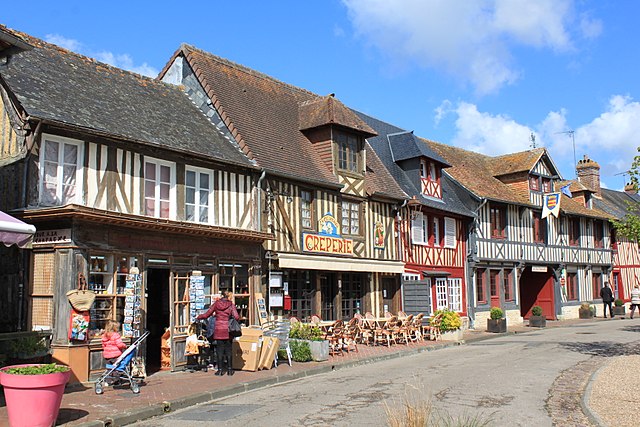 Beuvron-en-Auge is an ideal rest-stop if you're driving along the Normandy cider route (Photo©: Christophe Finot CC BY-SA 3.0)
6. When to consider taking the train or a domestic flight
It's worth considering whether taking a train or a domestic flight between one place and another might be a better option than driving. 
For example, if you want to visit Paris, but all the other places you want to see are in the south of France, then flying or taking the train will be a big time-saver. 
Driving between Paris and Marseille can take around nine hours with no stops, but a fast train from Paris Gare de Lyon will take just over three hours. 
Once you arrive, you can pick up a rental car and start your road trip there.
On the other hand, while many travelers want to take a train from Paris to Normandy, we think driving is a much better option. The driving route is straightforward, and it's really not worth carrying your luggage around in train stations. Driving is much more convenient on this leg.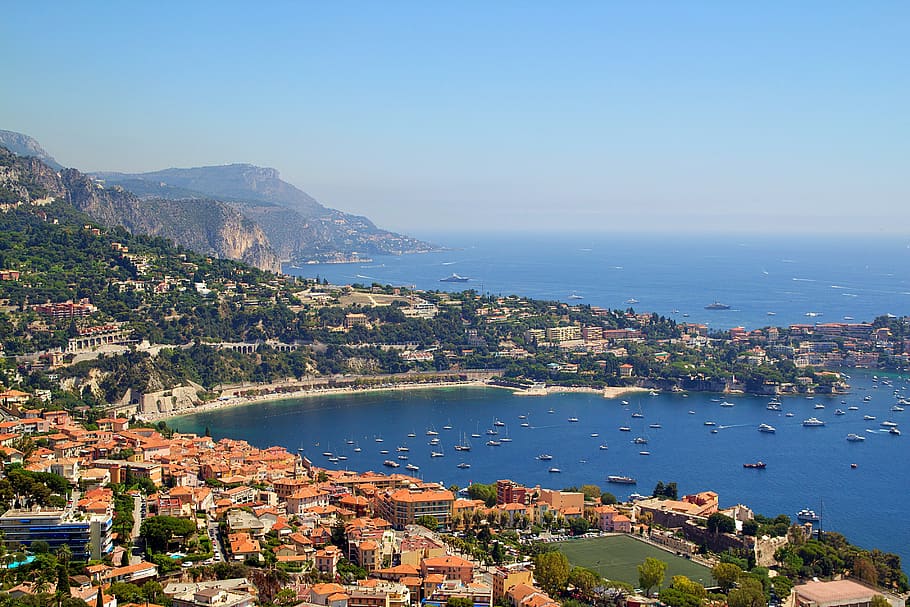 Panoramic view of the city of Nice (Photo: Pxfuel)
7. Planning and booking your activities
(TIP: don't plan to do too much)
A mistake some people make when planning a trip is planning to do too much. Once you're in France, you will probably find that there are some places where you want to stay longer than you originally planned. This is why we say that 'less can be more'.
Do some research on what activities are on offer in each place. You can check the France Just For You blog and newsletter, and other blogs and travel websites too. Then follow these steps:
Make a list of "Must-sees" and "Optional activities" that you can add in if you have the time and energy.
Look at your must-sees - will you need to buy tickets, and should you book in advance? 
Do any activities (such as wine-tasting) require a reservation at a particular time? If so, can you book online, or do you need to call/email?
Consider booking skip-the-line tickets where these are available, to save time standing in line. These are an excellent idea for the busiest attractions, such as the Louvre Museum or the Eiffel Tower in Paris. 
Keep in mind that some sites are very popular and only sell an allocated number of tickets each day, such as some of the prehistoric caves in Dordogne. To visit the Font-de-Gaume caves, you have two options. Either arrive very early on the day you wish to visit, and be one of the first in the ticket line. Or ask an agent to book your tickets many months in advance (at France Just For You, we do this for our travelers).
The underground cave in Padirac, France (Photo: Pixabay)
8. Timing your activities
Think how long you will want to spend at each place. If it's a museum, go to their website and look at the collections and exhibitions pages. 
You probably won't be interested in seeing everything, so plan which parts of the museum you want to see in advance. This is essential for a museum like the Louvre, where you could spend an entire day getting lost in all the collections. 
We provide our travelers with the option of a 'whistle-stop' self-guided tour of the Louvre. This includes the most famous pieces in the museum and anything else they want to see. This way, they don't waste time wandering around the whole museum searching for these exhibits on the day, and can fit in more activities during their stay in Paris.
If you would like to do an organized activity, such as a guided walking tour or a wine-tasting, make sure you check how long each experience will last. 
Work out realistically how much time you will need for each activity. We recommend over-estimating; this way you can add in one of your optional activities if something takes less time than you planned for.
Then decide how many activities you can fit into one day. Consider the location of different attractions - if there are two or three that are within walking distance of each other, consider grouping those together into a day or half-day. 

Wine tasting in the Loire Valley (Photo: ©Stevens Frémont)
9. Leave time to explore & for unexpected adventures
One of our favorite things to do is to get lost exploring a new place. Well, not literally. But just to wander around different areas without a specific plan and then visit places we stumble upon along the way that look interesting. 
How much time will you want to spend exploring towns and cities on foot? Keep in mind that you'll want to look in shops, museums, cafes etc. you discover as you wander. 
10. Plan your day-trips
If you'll be spending a few days in one place, are there any day-trips out of town that you'd like to go on? For example, the Palace of Versailles if you're staying in Paris. Will you need a full day, or will a half-day be long enough?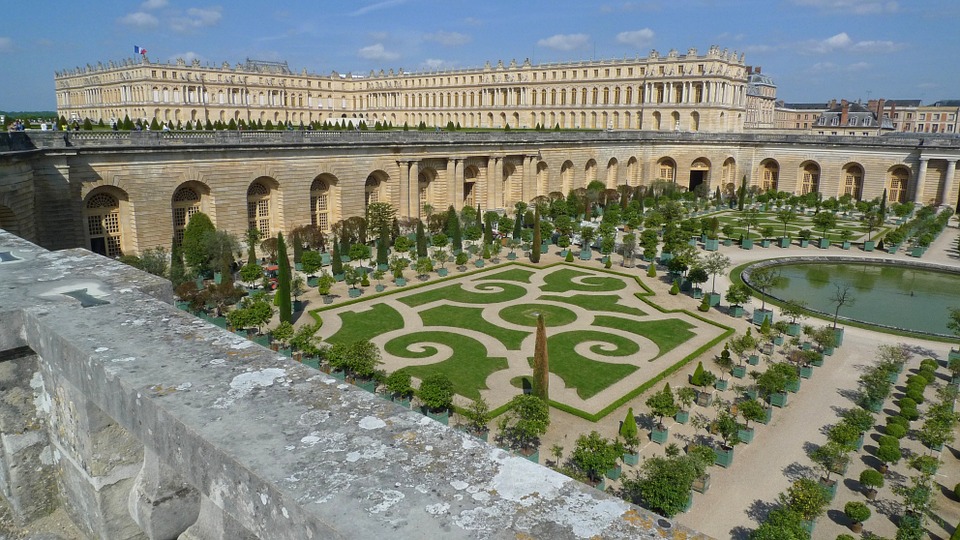 The Palace of Versailles is a lovely day-trip from Paris (Photo: Pxhere)
11. Decide where to spend your first and last nights
If you've had a long journey to France, you may prefer to spend your first and last nights in a hotel near the airport, depending on your arrival/departure times. 
This will give you a chance to recover from your journey/trip and leave you feeling refreshed for the next day.
12. Book your accommodation
There are many types of accommodation to choose from in France. The accommodation you choose should reflect the type of experience you wish to have in our country. The main options are: 
Big hotel chains
Boutique hotels
Bed and Breakfast accommodation (chambre d'hôtes - staying with local hosts in their home)
Gîtes (homes for rent, normally for a minimum of one week)
Airbnb
Camping
13. What's the best French accommodation option for you?
Everyone is different and will be looking for different experiences. We have listed some of these below, to help you to decide which type of accommodation will suit you best.
Best for cultural immersion
At France Just For You, our wish is for our travelers to become completely immersed in the French culture, and experience it in a way that most tourists don't. We want you - as a visitor to France - to see our country through our eyes as French locals. 
Bed and Breakfasts with English-speaking hosts
This is why we mainly work with a selection of lovely premium B&Bs across France, housed in authentic old stone buildings. We know the French hosts personally - they speak English and will offer our travelers a warm welcome, a comfortable room and a tasty breakfast. They are also willing to share their expert tips on what to see in the region. A good French B&B can feel like a 'home away from home'. 
If you prefer to plan your own France road trip, you can check this Chambre d'hotes website to find B&Bs in the regions you would like to visit. The best B&Bs get booked up quickly, so make sure you book these in advance. 
In larger cities such as Paris, boutique hotels can offer a similar experience to a B&B if you want to stay in the center of town. We work with a family-run boutique hotel, where we know the staff speak English and will take good care of our travelers.
Best for flexibility
Some travelers prefer to book their accommodation a day or two before (or even on the same day), so that they have the flexibility to change their itinerary at the last minute if they wish. 
The advantage of this is that if you find a place you absolutely love, you can change your plans and stay as long as you want. In this case, your best option will probably be renting an Airbnb, staying at a local hotel or camping.
Best for familiarity, luxury, and home comforts
Some travelers may feel nervous about traveling to France for the first time - especially if you're planning the trip yourself - and prefer to stay in the big hotel chains they already know. 
We totally understand that if you're planning on travelling around France by car, you'll want a comfortable place to stay at the end of a long drive. 
If you plan to stay in a city center, a 4 or 5-star hotel will probably offer the comfort you're looking for. When it comes to local tips, the concierge will be available to advise on popular places to visit and eat nearby. 
Most big hotels offer cable TV channels and have on-site restaurants offering a range of international cuisine for all your meals. You might also have access to a pool and spa. 
The downside is that you don't get that same exposure to the local culture. And although the concierge may be knowledgeable, they might be used to advising only about the most popular attractions, rather than the hidden gems that lie off-the-beaten track (our specialty!).
14. How to organise car rental in France
Decide which type of car you need (e.g. size, brand, stick-shift/automatic etc). Most people in France drive a manual/stick-shift car, so if you need an automatic, we recommend booking your rental car some time in advance, as these are not always available if you arrive the same day. 
Related articles: 
15. Meal planning
If you stay in a B&B, you'll have breakfast at your accommodation each day. 
For our self-drive tours of France, we give a list of our favorite places to eat lunch and dinner in each place you'll be visiting. We can even make reservations for you if you're worried about your French. Here's an example of one of our restaurant recommendations from the personalized France Just For You guidebook we prepare for each trip.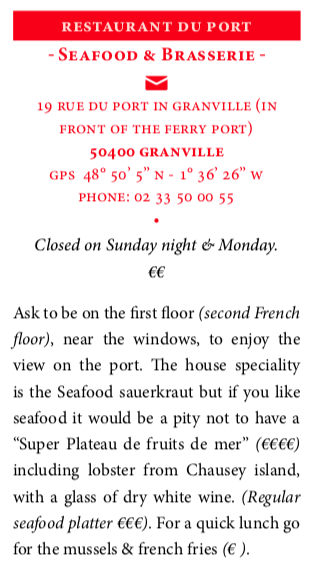 Example of one of our restaurant recommendations from our travelers guidebook (© France Just For You)
If you are planning your France road trip yourself and you book a hotel where breakfast isn't included, look on Google Maps for "breakfast" options near where you'll be staying. Note down the names of two or three places that have 4 stars or higher so you have a few different good options. 
You can do the same for lunch and dinner, and look for high-rated restaurants near the places you'll be visiting each day. That way you don't have to wander around looking for somewhere nice when the restaurants are already full (and you're already hungry)!
Tips: What do the customer reviews say? Do they recommend making a reservation? Do they say it's a very small place with only room to stand at the bar? If you are traveling on a budget, look for the "€" sign when you click on the restaurant on Google Maps. The number of €€s is an indication of how expensive the restaurant is. 
Communication in French
We recommend learning a few essential phrases in French before your road trip. Even if people can speak English, they will really appreciate it if you start the conversation with a "Bonjour Monsieur/Madame" and a few words in French. It's a great way to break the ice, and people who can speak English will normally switch straightaway - and even if not, they will be more willing to try to help you. 
We hope this has helped with planning your road trip through France! 
Need a France trip planner?
If this sounds like a lot of work, well - it is! But that's where we can help! As local trip-planners, we have all the expertise, insiders' knowledge and contacts to be able to plan the perfect trip for you, travelling through France by car. 
We specialise in cultural immersion, high-quality experiences and accommodation, and in sending our travelers off-the-beaten tourist trail to our favorite hidden gems!
We'll also be your personal concierge. Call us at any time during your trip if you need advice or run into problems. We're available 24/7. 
If this sounds good, tell us more about your dream trip, and you'll hear back from us shortly!