When you think of French foods, you probably find that snails, frogs legs and crème brûlée are among the first things to come to mind. However, you're probably not surprised to hear that the French do not eat snails every day!
This article lists some of the delicious and appetizing French dishes that you may not have heard about, and that you should try while you are in France, along with some interesting background information about each dish.
La Poule au Pot
Poule au Pot, literally 'chicken in the pot', would be poached chicken or a chicken casserole in English. For this dish, a chicken is boiled in a pot, often together with potatoes and vegetables, for about an hour and a half. The dish was a favorite of King Henri IV of France, a native of the Béarn region of southwestern France, who reigned from 1589 to 1610. French peasants in 16th and 17th century France were rarely able to afford meat, other than cheap cured meats such as salted pork, bacon and hog-grease. The King is famously said to have declared: "I want no peasant in my kingdom to be so poor that he cannot have a poule au pot on Sundays!". Unusual for a King, Henri IV demonstrated a concern for the plight of French workers and peasant farmers. For this reason he is remembered as 'Good King Henry'.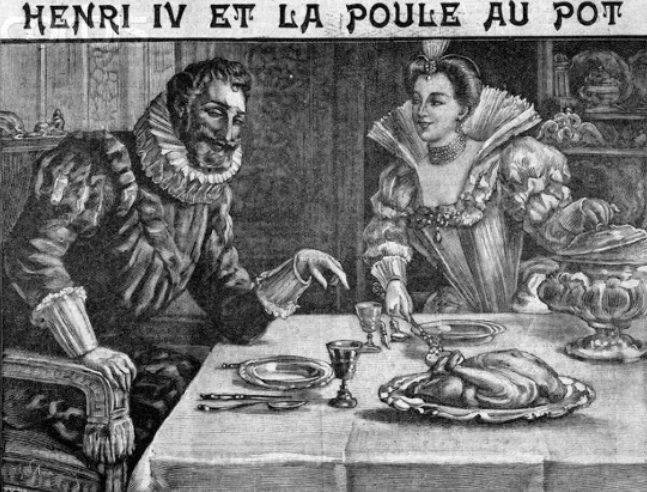 Baba au Rhum
Baba au Rhum, or rum baba in English, is a small cake made from yeast dough containing currants.  It is baked in cylindrical molds (like Bundt cake) and then soaked with sugar syrup usually flavored with rum and sometimes filled with cream. The original baba was introduced to France in the 18th century via the French region of Lorraine thanks to the exiled King of Poland, Stanislaus I. Legend has it that after one of Stanislaus's long voyages, his baba (sweet bread) had dried up, so he dipped it in rum to moisten it. He loved it so much that he named it after the character Ali Baba from A Thousand and One Nights, which he was reading at the time.
In 1725, Nicolas Stohrer, the King's pastry chef, followed Stanislaus's daughter, Marie Leszczyńska, to Versailles as her pastry chef when she married King Louis XV. He founded the Stohrer pâtisserie in the rue Montorgueil in Paris in 1730, which is still open today and is one of the oldest and finest bakeries in Paris. The Baba au Rhum continues to be one of the bakery's signature cakes.
Poire Belle Hélène and Offenbach opera
Auguste Escoffier, also known as The Godfather of French cuisine, invented the classic French dessert Poire Belle Hélène around 1864. He named the dessert after the operetta 'La Belle Hélène' (Beautiful Helen) by Jacques Offenbach. It consists of pears poached in sugar syrup, served with vanilla ice cream and chocolate syrup. Alongside the dishes he invented, Escoffier also raised the status of cooking to a respected profession by introducing organized discipline to his own kitchens. Referred to by the French press as the "king of chefs and the chef of kings", his recipes, cooking techniques and approaches to kitchen management remain highly influential today, and have been adopted throughout the world.
La Galette des Rois
The Galette des Rois (the King cake) is traditionally eaten at Epiphany, on January 6th, to celebrate the arrival of the Three Wise Men in Bethlehem. It is made from puff pastry and oftentimes filled with frangipane, a sweet almond cream, but can also be made with chocolate, apple or candied fruits. A small charm, the fève, is hidden inside. The whole family gathers round to cut the cake, and the youngest child goes under the table and points to the guests in turn, who are then served a portion of the cake. A cardboard crown comes with the cake and the one who finds the fève in their portion is crowned King or Queen, and must choose a queen or king to reign with them for the rest of the day.
The galette can be found in bakeries across France. It is also a popular dessert typically eaten at the Mardi-Gras festival in New Orleans, where it is known as the King Cake.
Paris-Brest cake
In 1910, pastry chef Louis Durand created what would become one of the most famous French desserts of all time, the Paris-Brest cake. The cake resembles a bicycle-wheel and was made to commemorate the Paris–Brest bicycle race, which still exists today. One of the race's organizers requested that a special dessert be created to serve at the finish line. The cake consists of two choux pastry circles filled with a praline butter cream, and can be found on the menu in many Parisian cafés.
Hachis Parmentier
This main course is similar to a cottage pie, made from minced meat, gravy and vegetables, covered with a layer of mashed potato and then crisped up in the oven.
The dish is named after Antoine-Augustin Parmentier, a French pharmacist, nutritionist, and inventor who actively promoted the potato as a food source in France at the end of the 18th century. Previously, the potato was thought to cause leprosy and other diseases, so outside of Spain and Ireland the potato was only used as animal feed. Thanks to Parmentier's efforts, the Paris Faculty of Medicine declared potatoes edible in 1772, and after a bad harvest in 1785, it was the acceptance of the potato that helped prevent a famine in northern France.
Hachis Parmentier first appeared in bistros in Paris, but nowadays can be found all over France.
OMELETTE DE LA MÈRE POULARD
La Mère Poulard is a restaurant and hotel on Mont Saint-Michel, a small island located less than a half-mile from land, off the coast of Normandy in northwest France. The restaurant dates back to 1879, and the Omelette de la Mère Poulard is its culinary specialty. It is a souffléd omelette, sometimes with added crème fraîche, where the egg whites and the yolk are usually beaten separately and then cooked on a high heat, creating a kind of soufflé.
La Mère Poulard developed this recipe after noticing that the pilgrims to the Mont St Michel abbey always arrived on the island hungry. The restaurant needed a quick and easy dish to prepare at any time of day. Today, its preparation is a real spectacle: drummers in traditional costume whip the eggs in rhythm with a long whisk in large copper mixing bowls.
Bouchées à la Reine
Bouchées à la Reine are very small flaky pastries often served with a chicken, mushroom and white sauce filling, though nowadays there are many variations of this recipe. This bite-sized culinary treat honors the memory of Marie Leczinska, wife of King Louis XV. Marie and King Louis had ten children together, but Louis was notorious for keeping mistresses. To win back the favor of the King, Marie asked her chef to concoct an 'aphrodisiacal' recipe in the form a bite-sized vol au vent. Even if this tasty bite did little to tame the philandering King, it stood the test of time and remains one of our classic French foods today!
Charlotte cake
A cake with a somewhat mixed heritage, the Charlotte cake might be described as a French-style Anglo-Russian dessert! Nowadays it is essentially an ice-cream cake, made of bread, sponge cake or cookies to line a mold which is then filled with a fruit puree or custard.
Of English origin, its name was a homage to Queen Charlotte, wife of King George III of England (1762 – 1830). At the time, it was a kind of pudding served with baked apple sauce. It was Antonin Carême (1784-1833), arguably the greatest French chef there ever was, who transformed this dessert. He first created the sponge finger or ladyfinger cookie for French bishop and politician Charles Talleyrand, who liked to taste his Madeira wine by dipping a cookie in it. Following its success, he decided to create a cake that you did not need to bake, made with ladyfingers and filled with Bavarian cream, which he called 'Charlotte à la Parisienne'. Later, when he worked in the kitchens of Tsar Alexander (still an enemy of Napoleon), he conveniently renamed the cake 'Charlotte à la Russe'!
Tarte Tatin
The Tarte Tatin was apparently an accidental invention from the Tatin sisters, who ran the Hotel Tatin in Lamotte-Beuvron, about 100 miles south of Paris, in the 1880s. It is an upside-down pastry where the fruit (usually apples) is caramelized in butter and sugar before the tart is baked.
There are conflicting stories regarding the tart's origin, but the common belief is that one of the Tatin sisters, Stéphanie Tatin, was overworked in the hotel kitchen one day and started to make a traditional apple pie but left the apples cooking in butter and sugar for too long. As it started to burn, she tried to rescue the dessert from ruin by putting the pastry base on top of the pan of apples, and quickly finishing it off by putting the whole pan in the oven. After turning out the upside-down tart, she was surprised to find how much the hotel guests liked it. From then on, the tart became the signature dish of the Hotel Tatin.
During your trip
All our tours come with a personal guidebook which includes recommendations of local restaurants and cafés that you might like to visit - from bistro cuisine to gastronomic star rated restaurants - and where you will surely come across at least some of these delicious French foods! So why not give them a try?
Bon appétit!