There has been a lot in the news lately about the problem of 'overtourism' in some of the world's most popular tourism destinations. And tourist crowds can be a real turn-off when you're looking for a relaxing, authentic experience of another country and its culture.
Our travelers seek more authentic experiences away from the tourist traps. They want to meet the locals and explore destinations by heading off the beaten track. 
Luckily, we have all the insiders' knowledge about many hidden places in France. In fact, if there's something in particular that attracts you to one of Europe's most popular tourist destinations, let us know, and we're sure we can find you the equivalent in France. 
What's more, we'll take you away from the tourist crowds and introduce you to some friendly French locals, who will be only too pleased to share with you their insiders' tips.
Here are our suggestions for French alternatives to Europe's most crowded tourist destinations. 
Instead of Barcelona, visit the hidden gems of the French Riviera
Barcelona is known for its wonderful art nouveau scene - Gaudi's Sagrada Familia Basilica and Parc Güell being excellent examples - and its Mediterranean coast. If you're looking for somewhere that offers a beautiful European city, Mediterranean beaches and an impressive art scene (plus so much more!), let us introduce you to the hidden gems of the French Riviera. All of these places are within an hour's drive from the city of Nice.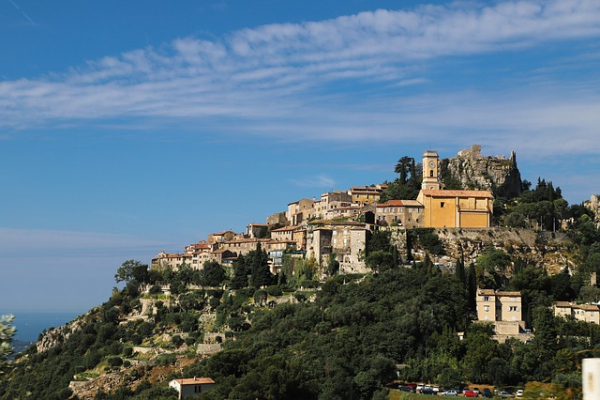 Enjoy beautiful hilltop views of the Mediterranean on the French Riviera (Pixabay, MrJayW)
Art-lovers will adore the lovely village of Mougins, just a half-hour drive from Cannes. The upscale, independent art galleries offer an escape from the museums of the big cities, but you'll still find masterpieces by famous European artists like Dalí, Picasso and Cézanne. It's an ideal place to find some authentic souvenirs, as you'll be able to buy work by local artists too.
To see some of the local handcrafts and stroll along charming, cobbled streets, St Paul de Vence is just a half-hour drive from Nice. It is one of the French Riviera's oldest medieval hilltop towns and it's impossible to take a bad photo there!
Places of interest include La Petite Cave, a 14th century wine cellar where you can also buy a local specialty, lavender liqueur. Barcelona is famous for Gaudí's art and architecture, so we also recommend a visit to La Chapelle des Penitents Blancs. Here you'll appreciate Jean-Michel Folon's gorgeous frescoes, mosaics, and stained glass windows. The beautiful natural surroundings and stunning light in this region has inspired artists past and present, and many have made Saint Paul de Vence their home.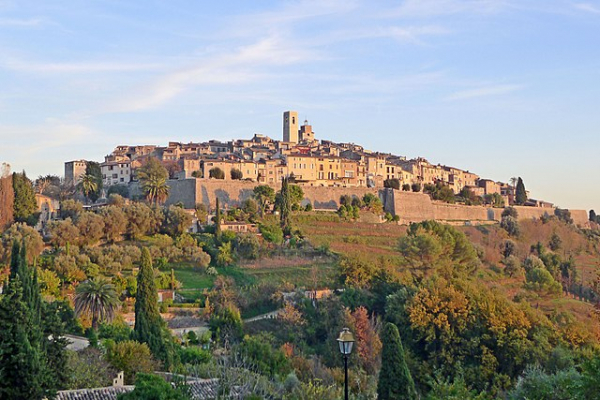 The medieval hilltop village of St Paul de Vence (Jpchevreau, CC by SA 4.0)
If you want to go to a nice bar or restaurant in the evening away from the city's tourist crowds, Villefranche-sur-Mer is just a 25-minute drive or 15 minutes by train from the center of Nice. It is a relatively undiscovered area of the French Riviera and has a gorgeous waterside location. For lovely views over the Mediterranean, visit the botanical gardens at Èze, which lies about half-way between Nice and Monaco. 
With art, beaches, a city and hilltop views, we think that this part of the French Riviera is a fine alternative to Barcelona.
Instead of Dubrovnik, visit the pretty port town of La Rochelle
Thanks to TV series Game of Thrones, Dubrovnik, Croatia shot to fame in a short space of time and has been overwhelmed by fans and tourists. The daily arrival of cruise ships carrying thousands of passengers has exacerbated the problem, such that only 4,000 cruise passengers are permitted to be in the Old Town at any one time. This is on top of the 1,500 local people who live in the old town. 
If you would like to enjoy a beautiful city with Medieval, Renaissance, Baroque and Gothic features and a lovely port location but without the huge crowds, visit La Rochelle. 
La Rochelle Port (Wikimedia Commons, CC by SA 3.0)
The two ancient towers at La Rochelle's charming harbor are a wonderful sight. At the entrance to the harbor, you'll see the imposing St Nicolas Tower, which dates back to the mid 14th century. It shared its defensive position with the smaller Tour de la Chaine. The Tour de la Lanterne, built in the 15th century, is a real beauty. It functioned as a lighthouse, lit up by an enormous flame that burned inside the tower. It is one of the oldest of its kind. It was also used as a prison, and if you look carefully on the inside walls of the tower, you'll see graffiti left by English seamen who were held captive there. Buy a joint ticket to visit all three of La Rochelle's most iconic towers. 
To learn more about La Rochelle's maritime past, a trip to the Maritime museum is a must, and we also recommend a visit to the city's aquarium. It hosts more than 12,000 marine creatures and 600 different species, including sharks, rays, jellyfish, piranhas, seahorses and turtles. Visitors descend to the ocean floor in an old 'submarine' before being surrounded by the sound of waves and gentle classical music. Marvel at the enchanting Gallery of Lights and wander along the tree-top trails surrounded by 'jungle' above ponds of ferocious looking piranha fish. An enjoyable visit for all the family.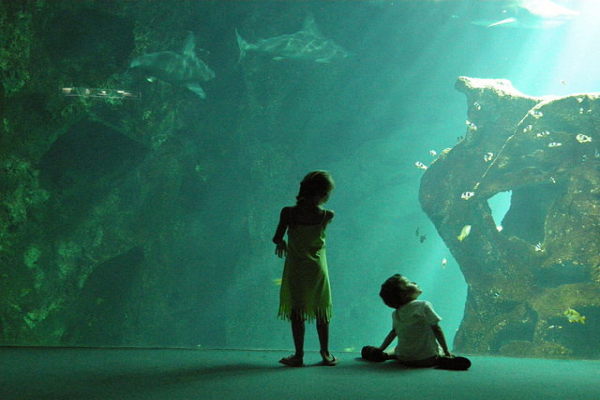 La Rochelle Aquarium (Groonn, Wikimedia Commons CC 2.0)
The beaches in La Rochelle are a mix of golden sand and pebbles. Bring sea shoes to protect against cuts from sharp stones as you walk into the sea. The beach at Chef de Baie is about a 20-minute drive from the old town of La Rochelle in natural surroundings. There's a nice bar-café selling snacks and drinks, and there's a bathroom. The breakwater keeps the currents at bay and the beach is very expansive at low tide. Keep in mind that it will almost disappear at low tide. You may check the time of the tides here. Make sure you arrive at least two hours before and after the high tide to enjoy as much of the beach as possible. 
With its beaches, lovely old town and picturesque harbor, we think La Rochelle is a great alternative to Dubrovnik. 
Instead of Rome, wander around the ancient sites of Provence 
Rome ranks high up on many Europe bucket lists, and it's not hard to understand why. Rome has a fascinating past, still evidenced by the incredible Colosseum and Roman Forum. 
Provence offers some of the most impressive Roman sites in the world, three of which have been included in UNESCO's list of World Heritage Sites. Can it compete with Rome's Roman Forum and Colosseum, you ask? We think so!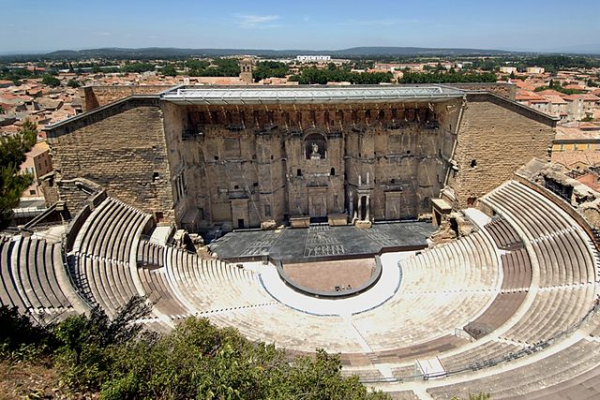 The Roman Amphitheater in Orange, Provence (Wikipedia GFDL, Gromelle Grand Angle)
The Roman theater in Orange is one of the best preserved Roman sites in the world, and has been standing since 25 A.D. What makes it unique are the remnants of Augustine architecture and the impressive 330 foot long facade. Further south, the lovely town of Arles offers a Roman arena, amphitheater and underground galleries dating back to the first century B.C. Later Roman structures included the baths of Constantine and the necropolis of Alycamps. 
Visitors may feel that the amphitheater at Arles feels slightly less authentic, as it has been adapted to accommodate open-air theater shows. However, this is also the magic of it. You can enjoy a show and imagine what it must have been like sitting in the audience back in the Roman times. 
A feat of Roman engineering and one of the most popular attractions in France is the Port du Gard Roman aqueduct. This awesome three-story structure dates back to the first century A.D. and was used for transporting water from local springs. It was built without mortar and, incredibly, has remained in tact for nearly 2,000 years. 
Avoid the biggest tourist crowds in Rome, and enjoy some of Europe's most incredible Roman sites right here in France.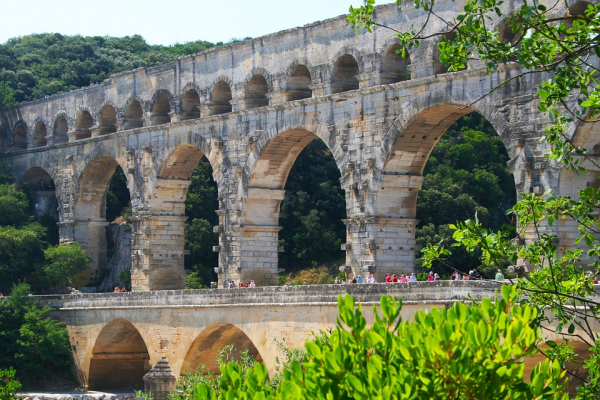 Pont du Gard Roman Bridge (MaxPixel CC0)
Instead of Cinque Terre, explore the hidden alleys and creeks of Provence
Another very popular place among tourists is Cinque Terre on the north-western coast of Italy. Tourists are drawn to the region's delicious Mediterranean gastronomy and the gorgeous, colorful and dramatic coastal landscapes. Could anywhere in France possibly compete? But of course! 
Provence offers unforgettable landscapes, as well as some stunning hidden gems around the coast. In terms of gastronomy, we know you'll love the seafood, the fine quality rosé wines, the extra virgin olive oil, and lavender liqueur, for which the region is famous.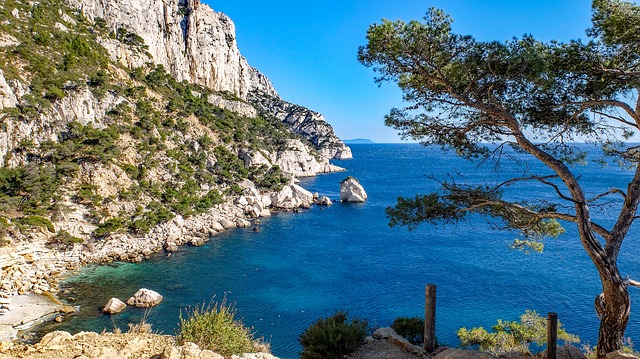 The Provence coast in France (MaxPixel CC0)
Provence's historical harbor town of Cassis greets visitors with the same warm pastel colors and beautiful turquoise sea as you'll find in Cinque Terre. This region is well-known for its calanques. These are creeks that have formed in the rocky coast-line of this part of Provence. Many have sandy beaches and picture-perfect landscapes. The pretty Port Pin Creek is within walking distance of Cassis town. 
For impressive panoramic views across the landscape and Mediterranean, drive along the Route des Cretes, and stop for a picnic. For some delicious seafood, try the gratinated mussels and escabeche sardines at the Vieille Auberge back in Cassis. 
If it's a taste of Mediterrean urban life you're after, the vibrant city of Marseille is just a half-hour drive from Cassis. Spend an afternoon strolling through the old narrow streets and alleyways of Le Panier neighborhood, a picture of charming decadence, where the Greeks first settled in 600 BC.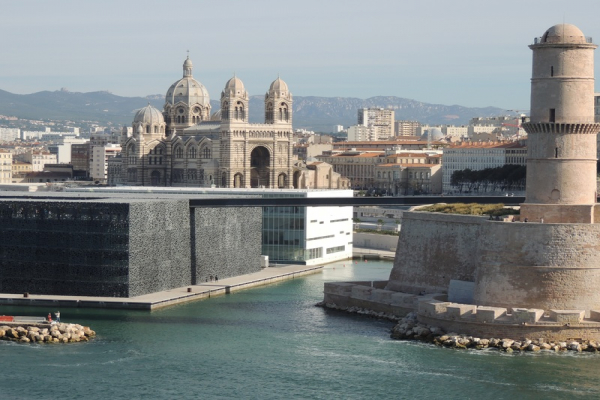 Marseille. Mucem (left), Cathedral (background) and port tower (pxhere CC0)
You could wander for hours between the pastel-colored buildings with their traditional white window shutters and flower-boxes without getting bored. Visit the striking striped Cathedral La Major for the best views of the whole city. Go in the late afternoon or first thing in the morning to avoid the tourist crowds. 
Instead of Amsterdam, discover the charm of Colmar  
No-one can deny the draw of Amsterdam, a modern, forward-thinking city with picture-perfect canals winding through it and a huge range of cultural offerings. Unfortunately, it has become so overcrowded with tourists that some visitors may feel that it has started to lose some of its charm. But don't worry - we have the ideal alternative for you here in the Alsace region of eastern France.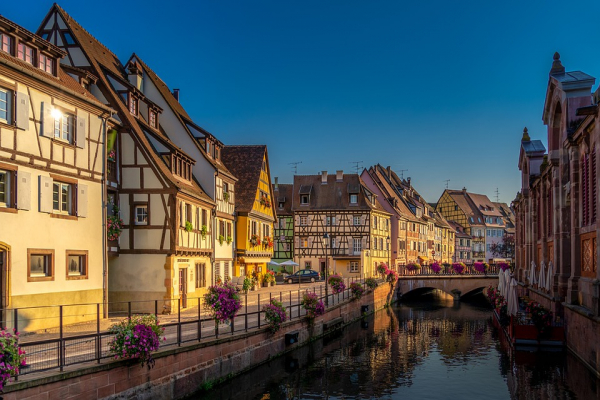 The beautiful town of Colmar in the Alsace region of France (MaxPixel CC0)
The medieval town of Colmar, which has changed hands between France and Germany various times throughout history, is truly enchanting. The best part is that it offers a more intimate experience than the city of Amsterdam, and is pedestrian-friendly, so it's perfect for exploring on foot. It is particularly famous for its traditional French Christmas market.
The whole town has a fairytale ambiance during the Christmas period. That being said, this architectural, cultural and historical treasure has much to offer all year round. Its mixed French and German heritage means the whole region of Alsace has a distinctive culture, with everything from its buildings to its food having been influenced by both nations.
One of the best things to do in Colmar is a visit to the picturesque, aptly-named neighborhood of Little Venice. Characterized by La Lauch canal, Little Venice looks like a real-life picture book. You'll struggle to put down your camera as you pass by the absolutely stunning, colorful, half-timbered buildings and winding canal. Stroll along the cobbled streets and alleys of the center of town and sample some Alsatian biscuits and charcuterie from some of the local shops. 
Alternatively, enjoy a peaceful trip along the canal on one of the small wooden canal boats parked by the Saint Pierre bridge. Sit at the front for the best views and enjoy gently gliding under the flower-boxes of the surrounding sherbet-colored houses. As well as supplying water to the town, the canal was also useful to merchants and traders, such as butchers, fishmongers and tanners, helping them move their goods from one place to another. The town's covered market even has steps leading down to the canal, where goods are received and then sold. The market is also an ideal lunch spot, allowing you to sample some delicious fresh local cuisine.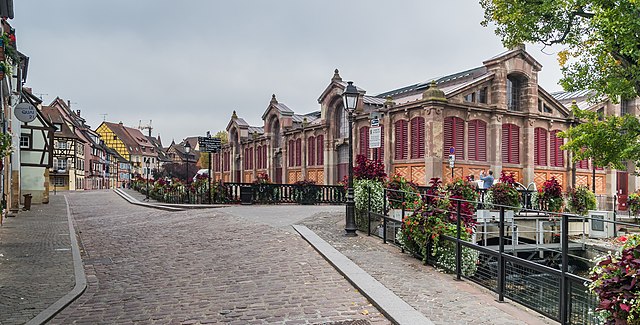 The covered market (right) and cobbled streets of Colmar (Krzysztof Golik, CC by SA 4.0)
If a canal boat trip doesn't appeal, take a 35-minute trip around the town on the tourist train, which departs from the Unterlinden Museum. Speaking of museums, Amsterdam is of course famous for its world-class museums. We actually think the town of Colmar itself is pretty much a living open-air museum! But if you're looking for a more traditional museum, the Unterlinden Museum is the place to go. Covering 7,000 years of history up to the present day, visitors will learn about medieval winemaking, see Alsatian artefacts and artwork by the likes of Lucas Cranach, a German Renaissance painter and printmaker, and even Claude Monet.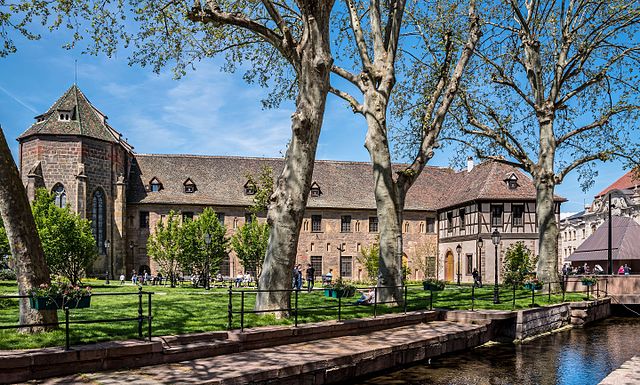 Unterlinden Museum in Colmar (© Jörgens.mi CC BY-SA 3.0)
If you're traveling with children, they will love the Toy Museum. It has exhibits from vintage teddies to original Barbie dolls and the first video games. While adults enjoy a trip down memory lane, there are interactive exhibits for children to engage with.
Trying some Alsatian food is next on the list, and it's another clear indication of the region's German past. Enjoy sausages, sauerkraut, and special casseroles. Wash it all down with some fine Alsatian wine from the ground floor of the magnificent Pfister house. You won't have trouble finding mouth-watering dishes; after all, Colmar has three Michelin starred restaurants. 
Although Colmar may not have the same exciting atmosphere as a big city like Amsterdam, its beauty and fascinating culture makes it an excellent alternative. 
To find out more about our self-drive tours of France, visit our tours page or contact us.