The Normandy Cider Route, known as La Route du Cidre in French, is a unique well-marked route introducing travelers to calvados brandy and apple cider. As we head into Fall and the leaves start to display an autumnal array of yellows, oranges and reds, it is a beautiful time of year to explore the cider route in Normandy.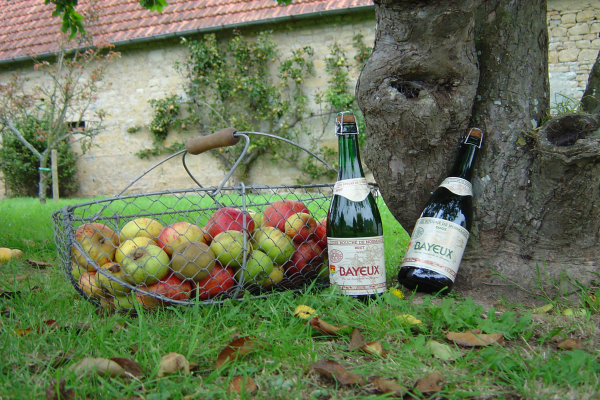 Enjoy some apple cider and Calvados apple brandy from Normandy - ©OTI Bayeux-Bessin
If you're visiting France from further afar, you may like to include a few days in Normandy as part of a longer travel itinerary around France. The entire cider route covers 40km, bisecting tiny villages, traversing the typical rural backroads of Normandy with centuries' old manors and distilleries dispersed throughout the route.
From Paris, you will reach the cider route area in about 2hr15 drive. 
A very brief history of cider in Normandy
It is said that Basque sailors introduced Norman mariners to cider as far back as the 6th century AD. It took some time for cider-making to gain traction in Normandy but by the 17th century, cider had overtaken cervoise (a type of traditional barley beer) in popularity. It remained the first-choice alcoholic drink in Normandy until beer took over during the 20th century.
To this day, farmers use traditional methods to cultivate apple trees in clay soil and sedimentary rock. There are many different varieties of apples, all with different flavors; some are bitter, some are tart and others are sweet and acidic. Depending on the type of brandy or cider they're producing they must also go through a specific type of fermentation and distillation process, which you will learn about if you visit one of the local producers.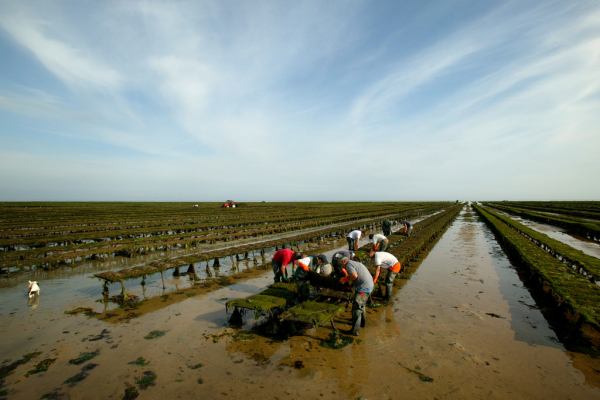 Photo: OTI Bayeux-Bessin
Discovering the Normandy Cider Route
In this itinerary, we suggest a few lovely places along the Cider Route that you could visit over one or two days. This will depend on how long you want to spend in the region. After discovering the pretty villages and sampling various delicious ciders and brandies, you may not want to leave too soon!
Following this map, you can stop at Cambremer, Beuvron-en-Auge, Beaufour-Druval and Bonnebosq, rounding off at the gorgeous Chateau du Breuil. It's a private castle but they produce some of the best calvados brandy in Normandy, so it's well worth the stop. You'll also see a number of perfect places to stop for a picnic and discover artisan workshops where you can buy authentic souvenirs from Normandy.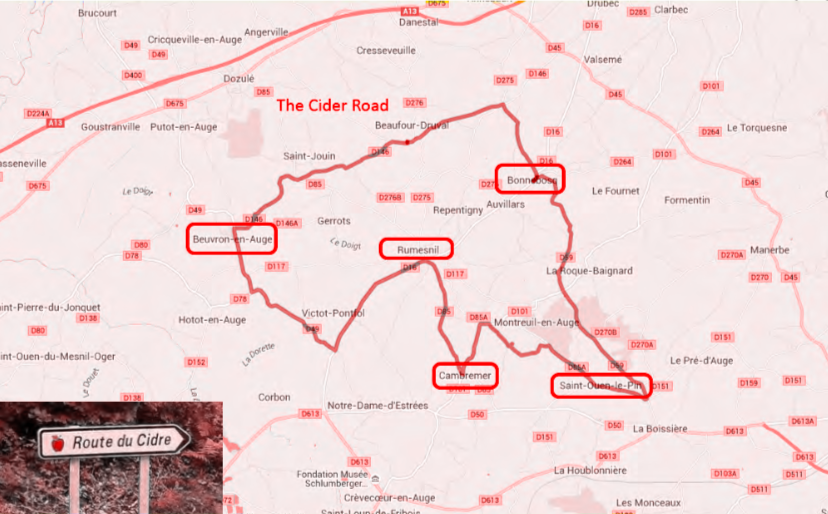 Map of the Cider Route in Normandy
Here's our suggested Normandy Cider Route itinerary:
Stop 1: Cambremer
Stop 2: Beuvron-En-Auge
Stop 3: Beaufour-Druval
Stop 4: Bonnebosq
Stop 5: Chateau de Breuil
Stop 1: Calvados Brandy and Apple Cider in Cambremer
In the heart of the Pays d'Auge is the lovely little village of Cambremer. If you've had a long drive, stop to stretch your legs in the Place de l'Eglise and enjoy a coffee at the Bar des Sports. Then drive over to your first distillery stop to visit Calvados producer, Calvados Pierre Huet.
The Huet family has been making apple cider and apple brandy since 1865 and are proud producers of one of the best calvados in Normandy. They also make pommeau, a preparation of apple brandy mixed with apple juice, for those who prefer something less strong.
This charming manor is surrounded by 30 hectares of apple orchards right on the cider route, with distillery barns nestled behind. They sell aged Calvados of up to 41 years old and they still have a 1935 vintage in stock. They also produce their own "Crème Pierre Huet", a type of Baileys (Irish cream) made from Calvados. Try it and see if you like it better than the original Baileys!
Guided tours of the estate:
On Mondays and Tuesdays at 2.30 from April 1st through September 30th, they give guided tours of the estate in English. The tours include a visit to the sorting areas, to the sheds where the apples are pressed, the underground cider cellars lined with oak barrels, and the distillery. You will also be able to taste some samples of apple juice, cider, pommeau and brandy in the shop. Check the Calvados Pierre Huet website for opening hours and for more information about the tours.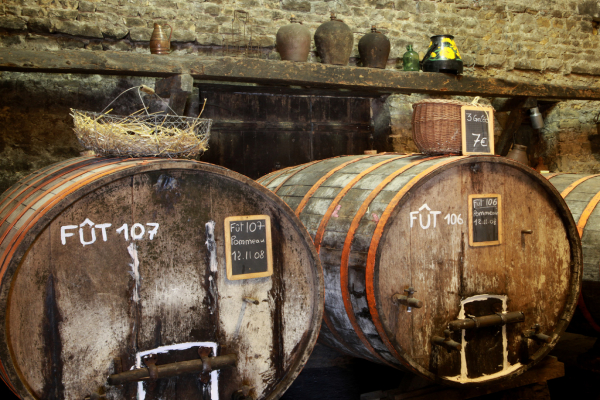 Photo: OTI Bayeux-Bessin 
Lunch in Cambremer
Restaurant option: Au P'tit Normand restaurant
This restaurant is on the main square of Cambremer (Rue Pasteur) and offers good, typical Norman food for a reasonable price. It's open for lunch (12-2pm) from Tuesday to Sunday (closed on Mondays) and dinner (7-11pm) from Tuesday through Saturday.
Grocery store: L'Épicerie de Cambremer
Another option is to buy a picnic lunch from the L'Épicerie de Cambremer grocery store. They sell quality products such as charcuterie, cheese, bread and wine. 
Stop 2: the beautiful village of Beuvron-en-Auge
Fifteen minutes' drive from Cambremer is the picturesque village of Beuvron-en-Auge, recognized as one of the most beautiful villages in France. Most buildings in Beuvron date back to the 17th century, and you'll see that every house is built in the gorgeous half-timbered style for which Normandy is famous.
Look out for a beautiful yellow-brown manor house dating back to the 15th century at the end of the only street in the village. Classified as a historical monument, as the detail on the woodwork of this manor house is superb, with faces and patterns carved into it. The village church of Saint Martin is also built in the style typical of the region.
Stroll through the center of the village and appreciate the small, pretty square filled with flowers and a covered market. Allow about an hour to explore the village, take some photos and buy some nice souvenirs.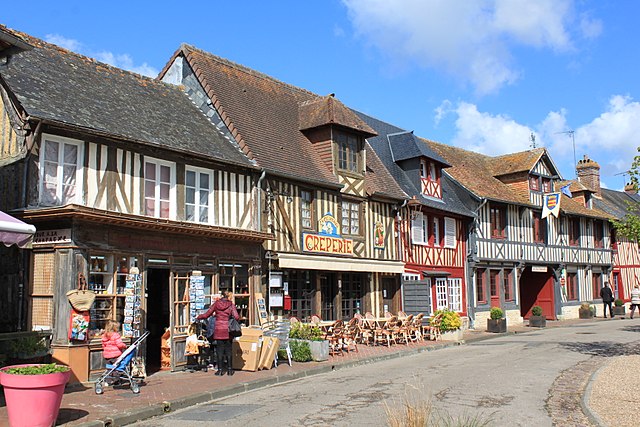 The beautiful village of Beuvron-en-Auge on the cider route in Normandy (Photo: CC by SA - Christophe Finot)
Stop 3: Denis Geneviere Marie, Beaufour-Druval
Continue on your journey along the picturesque country lanes of the Normandy cider route. The next stop in the itinerary is a small but charming cidery that offers cider and apple juice tastings. The staff at Denis Geneviere Marie don't speak much English but a smile and a 'Bonjour!' will go a long way.
Restaurant option: La croisée des saveurs
Along the same lane a few minutes from Denis Geneviere Marie is a well-regarded Brasserie, 'La croisée des saveurs', selling Norman cuisine using local products. It is popular so be aware that you may not get a table without a reservation. You will find it at Carrefour Sorin, 14340 Beaufour-Druval.
Stop 4: The ancient village of Bonnebosq
Stop for a short wander through the typically Norman village of Bonnebosq. Alternatively, drive through slowly admiring the quaint half-timbered buildings and continue to your final stop at a stunning, private castle.
Stop 5: Château du Breuil
The Chateau de Breuil is a beautiful, private château set in a gorgeous park and serving excellent apple brandy. Be sure to arrive at 11am or 5pm for a guided tour of the estate. You will be able to visit the still and the cellars, and sample several brandies of various ages. A bottle of brandy will cost about 40€, and Pommeau about 13€. It is located at 14130 Le Breuil-en-Auge.
Following your visit to the Chateau, you'll be in an ideal position to continue on to the Normandy coast. We highly recommend spending a couple of days exploring the coastal towns of Honfleur, Trouville, Cabourg, the Normandy landing beaches, and the abbey of Mont Saint Michel, if you have time. Of course, if you book one of our Normandy tours, we can organize every aspect of your driving itinerary, including car hire and B&B accommodation.
We warmly invite you to browse our tours page and to contact us with any questions you may have or to make a booking.