If you're planning to spend a day in Normandy, the gorgeous little harbor town of Honfleur on Normandy's coast is a great option. The best of Honfleur can be seen in half a day, though you may like to stay longer and relax on Butin beach (la Plage du Butin) about a mile and a half from downtown. We found quite a nice short video that gives an overview of the lovely old town and the harbor.
Video: Videoframe Vlog, YouTube
Where is Honfleur?
On the Normandy coast, Honfleur is located on the estuary where the River Seine meets the English Channel. It is just across from Le Havre, which has the second largest port in France after Marseille. Honfleur is a 2.5 to 3-hour drive from Paris, depending on the route you take.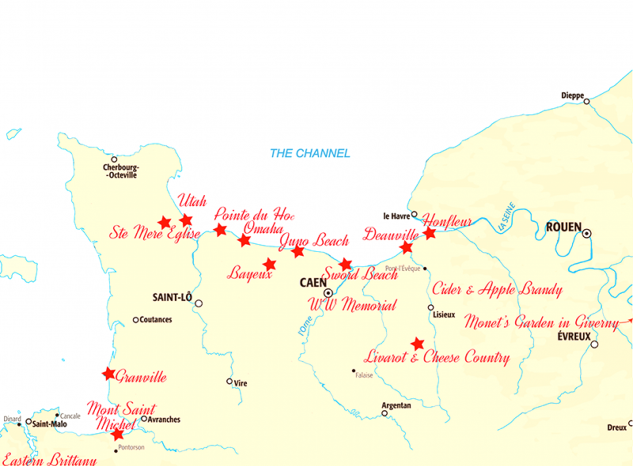 Map of Normandy
Things to do in Honfleur
Explore the harbor (Le Vieux Bassin) - and take lots of photos!
Also known as the Vieux Bassin, exploring the beautiful harbor is THE thing to do in Honfleur! The photo opportunities seem endless as you discover the port from all angles. Try to return to the port at different times of day if you'll be staying overnight. The changing light from morning through afternoon, from sunset to nightfall, creates a diverse range of color and landscapes. The reflections of the quaint centuries-old buildings overlooking the harbor and the gently bobbing yachts look like something out of a painting. Indeed, it's not difficult to see why this port was depicted so frequently by some of France's most famous artists, including Claude Monet and his mentor Eugene Boudin.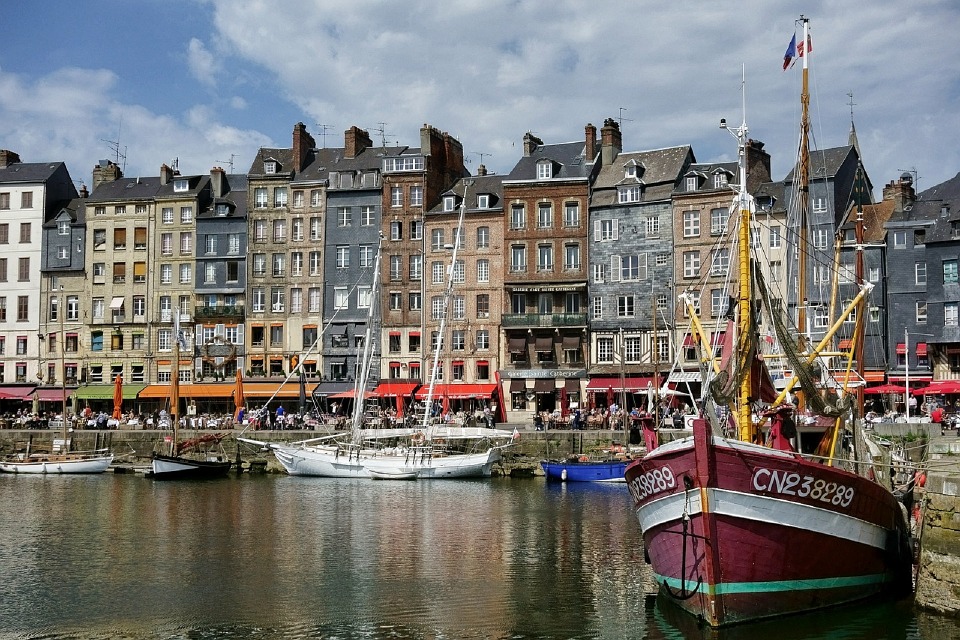 Honfleur Habor - Le Vieux Bassin (Pixabay)
Marvel at Saint Catherine's Church
This 15th-century cathedral is the oldest surviving wooden church in France and the largest with a separate bell tower. Its huge original wooden pillars and grand arches make it look a bit like the upturned hull of a wooden ship. This is no surprise given that it was built by shipwrights (marine carpenters) right next to the town's harbor. Entrance is free and even if you're not religious you'll likely be very impressed by the architecture. The bell tower is now a museum of religious art and is an annex of the Eugene Boudin Museum.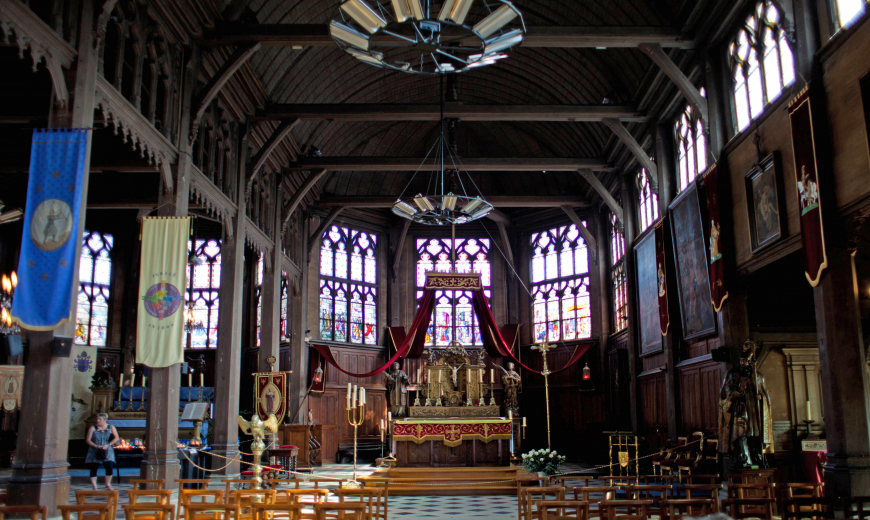 L'Eglise Sainte Catherine, Honfleur (CC BY-SA 3.0 - Nicolas Fleury-Gobert
See Saint Leonard's Church
Saint Leonard's church is behind the tourist office and a traditional open-air wash house (lavoir), still fed by hillside springs. The façade of the church and part of the nave are late 15th / early 16th century. Take a closer look at the extravagantly-carved main entrance, which supports a magnificent octagonal bell tower constructed in 1760.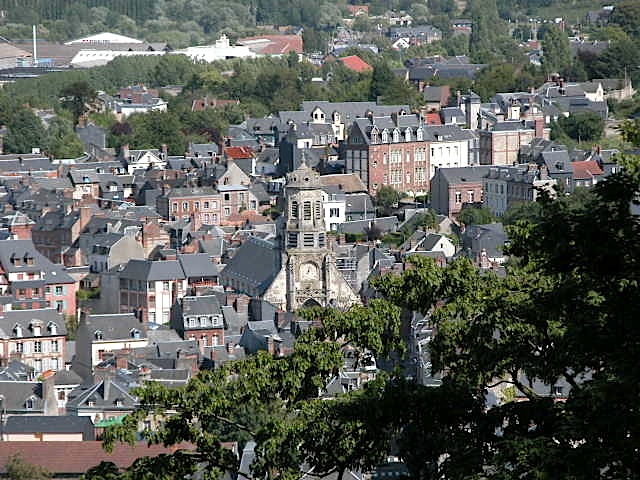 A view of St Leonard's church in Honfleur, from Mont-Joli - Martine Fournier
Explore the old town of Honfleur
Surrounding St Catherine's Church you will discover narrow cobbled streets, art galleries, boutiques, and traditional craft shops. We recommend wandering and letting your interests guide you. If you're feeling hungry or would like to take a break from walking, try a regional specialty, cider, and pancakes, from Le Cidrerie, hidden down an alley off the Place Hamelin.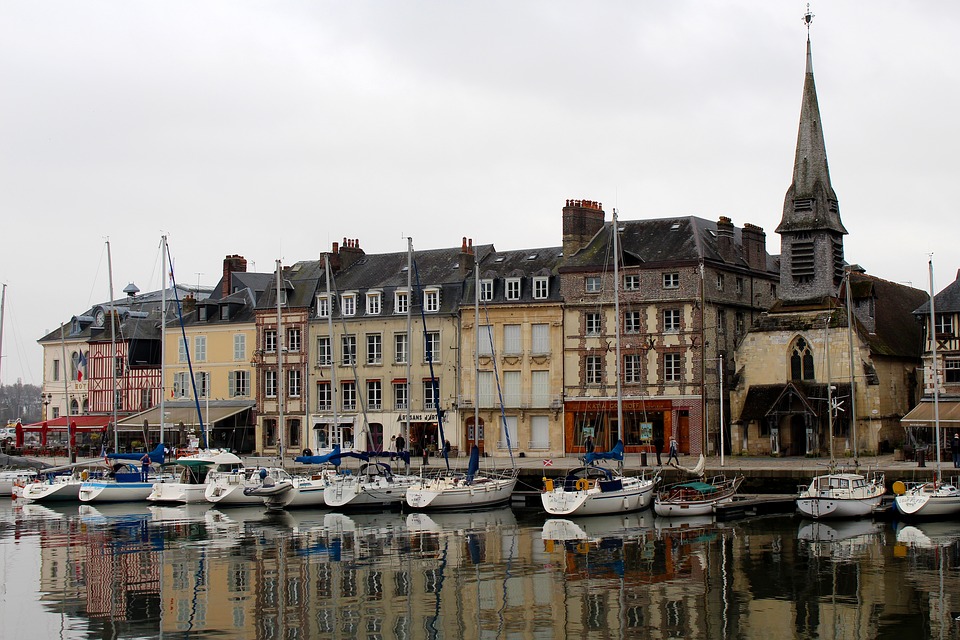 Honfleur harbor (Pixabay)
Go to the Eugene Boudin Museum (for art-lovers)
Eugene Boudin was a painter, born in Honfleur in 1824 and famous for his depictions of the region's landscapes and seascapes. The museum houses around 200 of the artist's work, as well as work by other great impressionist artists, including Dubourg, Jongkindsome, and Monet. The museum is closed on Tuesdays, and entry including an audioguide costs €10.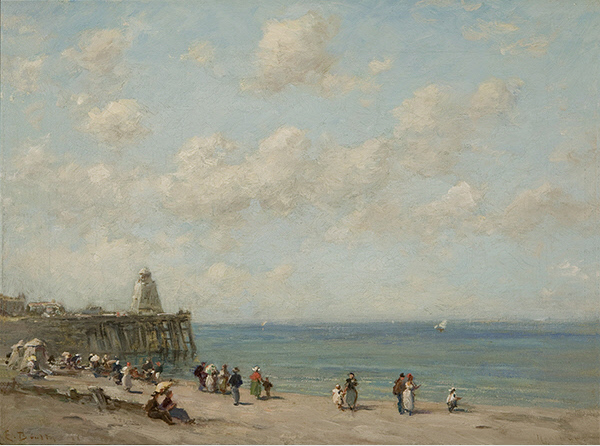 The beach at Honfleur by Eugene Boudin (Phoenix Art Museum)
Visit the Maisons Satie (for music fans)
The Maisons Satie is a tribute to the French avant-garde composer Erik Satie who was born in Honfleur in 1866. You may not have heard his name before, but you might find you recognize some of his compositions. An accomplished early 20th-century musician, Erik Satie worked with the greatest artists of his time. These included Braque, Clair, Cocteau, and Picasso. His work inspired and was a precursor to subsequent art movements, including surrealism, minimalism, and the Theater of the Absurd. He inspired the famous European composers Debussy, Ravel, and Stravinsky. The audio guide (also available in English) leads you from room to room to the sound of Erik Satie's tranquil music. The museum is open every day except Tuesday and costs €6.50 including a free audio guide.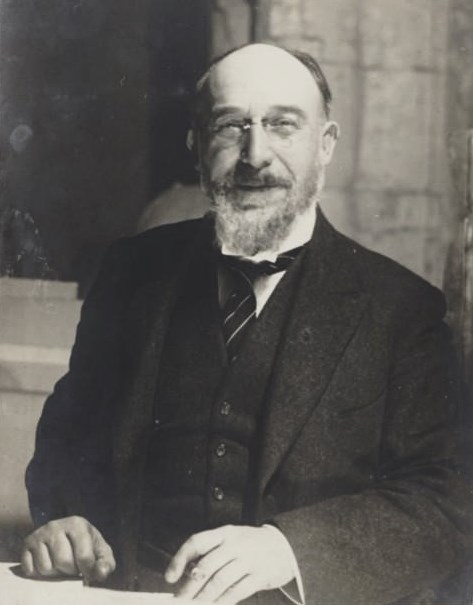 Erik Satie, famous French composer born in Honfleur (Wikipedia)
Enjoy the views near the Chapel of Notre Dame de Grace
Just over a mile east of the Vieux Bassin lies the picturesque little Chapel of Notre Dame de Grace. Built at the beginning of the 17th century, the chapel interior contains paintings and models of ships in commemoration of this town's rich maritime history. The area around the chapel has some beautiful views of the Seine estuary, Le Havre, and the Normandy Bridge.

Notre Dame de Grace chapel (Photo: CC by SA 3.0 - René Dinkel)
Take some photos of the Pont de Normandie
The Normandy Bridge connects Honfleur with Le Havre across the Seine Estuary. It is a feat of engineering and one of the city's modern icons. It stands at over 700ft in height and stretches for 1.3 miles across the water. This was a world record in 1995, the time it was built.
Pont de Normandie, which connects Honfleur with Le Havre (Wikipedia: François Roche)
See the butterflies at Naturospace
Here are a couple of nice options for nature-lovers. Five minutes' walk from Maisons Satie is a large modern greenhouse containing tropical plants and over 60 species of butterfly. It's a lovely place to visit and will take about 45 minutes to walk around.
Butterfly at Naturospace in Honfleur (CC by SA 4.0 - Elke Wetzig)
Wander through the Jardin des Personnalités
Visit the Jardin des Personnalités (the Garden of Famous People) after you've learned about many of them during your museum visits! This hidden gem just beyond the old town a nice place to escape to if you're visiting Honfleur during peak season. It's the ideal setting for a picnic in the park on a nice day. It's also a nice detour if you're heading toward or back from the beach. Look out for the busts of famous French personalities as you stroll along the walkways. See if you can find Claude Monet, Eugene Boudin, and Charles Baudelaire!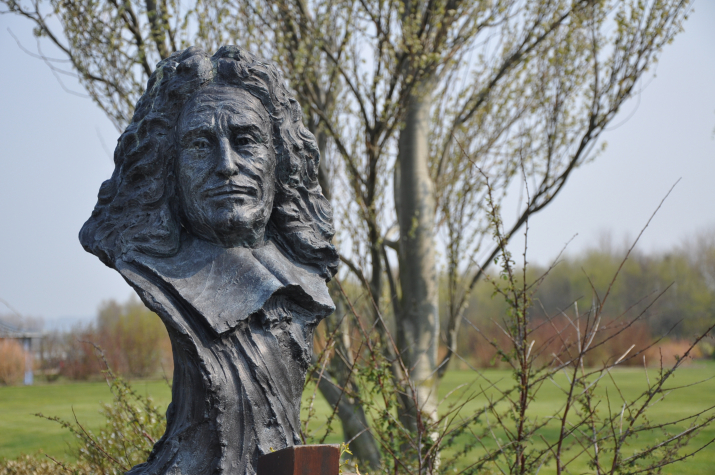 A bust of French Painter Alexandre Dubourg (CC by SA 3.0, Philippe Alès)
Our favorite restaurants in Honfleur
This restaurant is open every day except Wednesday and Sunday evenings. If you want to try some classic dishes from Normandy, you'll be able to choose between seafood, cheese, tripe, pork cheeks, salmon, or sea bass. Chef Bruno cooks all the dishes with the greatest of care. The house special is the Marmite du Pêcheur, a kind of seafood stew.
This upmarket restaurant is the place to go for a gastronomic experience in a classical setting. The Asian-inspired cuisine incorporates food associated with typical French gastronomy, such as duck, scallops, veal, and local cheeses. The restaurant is closed on Mondays and Tuesdays.
Places to stay near Honfleur
We have given a summary of the types of accommodation options you have in France. We always work with premium B&B accommodation because we know that our hosts will offer our travelers the warmest welcome and a lovely home to stay in. B&B in French is 'Chambre d'hotes', so if you're looking for a good balance between quality and value for money, this would be a good place to start. If you book a tour with France Just For You, we will take care of all accommodation bookings.
In terms of places to stay near Honfleur (if you don't want to stay a night in Honfleur) you might like Trouville-sur-Mer, a lovely laid-back coastal town to the west of Honfleur. It's a good way to continue your road trip through Normandy, and you'll be able to explore the pretty town of Trouville too. Deauville is more well-known and glamorous and full of tourists during the summer months, so we prefer Honfleur, Trouville, or even the charming town of Cabourg if you are heading toward the WWII Normandy landing beaches. As mentioned above, we think it's worth staying a night in a B&B in Honfleur, so you can experience the beauty of the harbor at different times of day.

Honfleur harbor (le Vieux Bassin) at twilight (Pixabay)
Parking in Honfleur
If you're driving and looking for somewhere to park near the center of Honfleur, the most central parking lot is the 'Parking Bassin du Centre' on the Quai de la Tour, which costs around 7 euros for two hours. For cheaper parking in Honfleur, try the parking lot on the other side of the Bassin de l'Est on the Place de la Gare.
We hope this has given you some ideas of things to do in Honfleur, Normandy, and that you enjoy your trip!  
Find out more about our Normandy tours!