Bayeux is filled with the nostalgic charm of a medieval city that was miraculously preserved from the bombings of 1944 during the World War II Allied invasion of Normandy (as was Honfleur). In this guide, we share some of the city's history, some of its famous characters, and share tips on things to do while you're visiting Bayeux.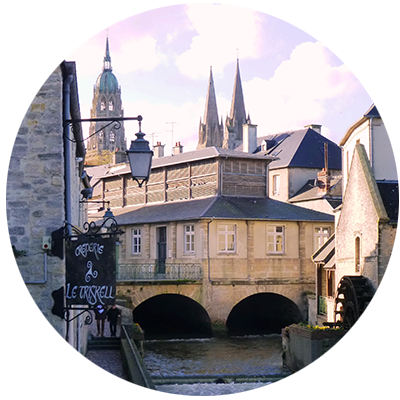 By the Aure river - ©FJFY
The Two conquests of Bayeux
Two important historical conquests directly affected Bayeux, one nearly 1,000 years ago, and another just in the last century.
Norman Conquest of England in 1066
The first was the Norman conquest of England led by William the Conqueror in 1066, depicted in the Bayeux Tapestry, which is on display in the Bayeux Tapestry Museum, less than five minutes' walk from Bayeux Cathedral. William, Duke of Normandy, invaded England and defeated English King Harold at the Battle of Hastings on the south coast of England. He was crowned king in Westminster Abbey on Christmas Day, 1066, marking the beginning of a period of Norman rule in England that lasted about 100 years.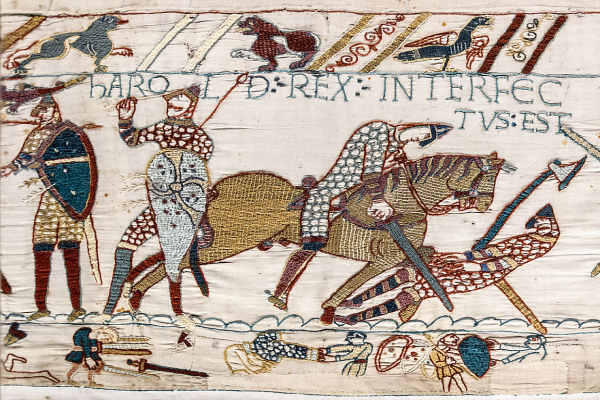 The death of King Harold, depicted in the Bayeux Tapestry - Wikipedia CC 1.0
Allied invasion of Normandy in World War II
The second and more recent conquest occurred during the Battle of Normandy in June 1944. The D-Day landings on June 6th 1944 (see map) involved the Allied troops as they fought to win the Second World War against Germany. The ensuing battles culminated in the defeat of the German army in Normandy at the Battle of the Falaise Pocket on August 22nd 1944. This led to the liberation of Normandy, then France, and finally the defeat of Nazi Germany in May 1945. Bayeux was the first city to be liberated after D Day.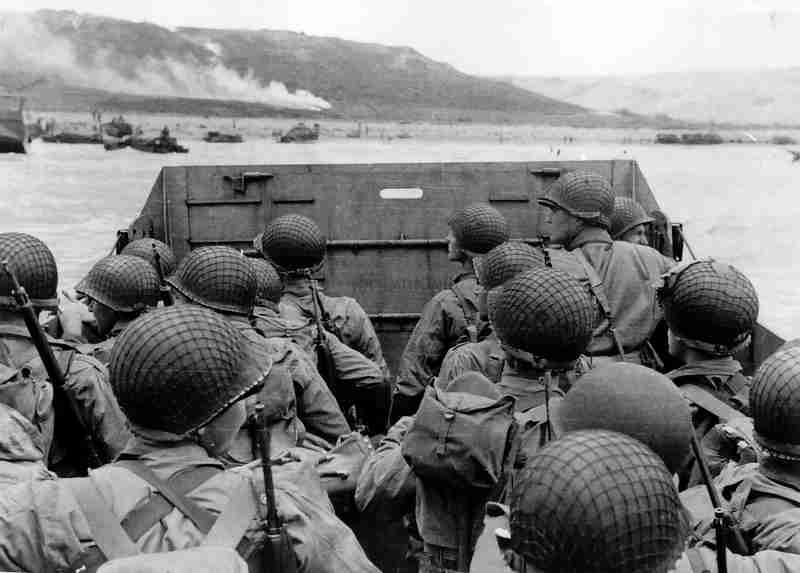 American troops approaching Omaha Beach on Normandy Beach, D-Day, World War II - Public Domain
Bayeux Heritage
The city of Bayeux survived two world wars and is a remarkable example of architectural heritage. Surrounded by ramparts that are still partly visible, the old city developed within the walls over the years, leading to great architectural diversity. In the charming old town centre, you will discover the magnificent Bayeux Cathedral.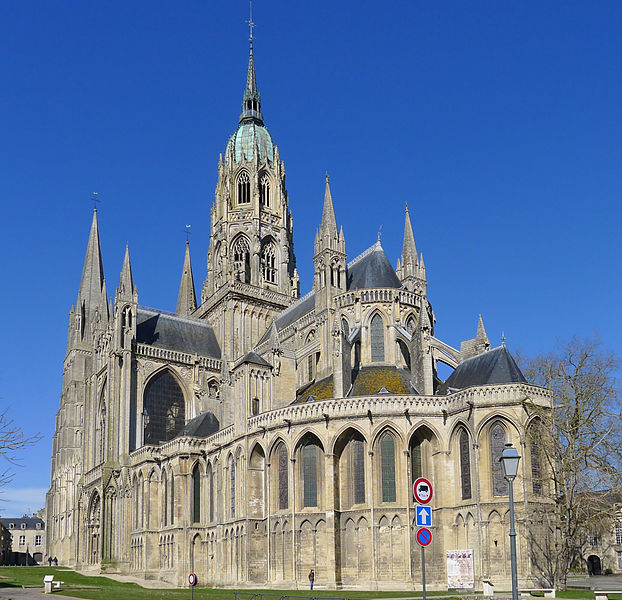 Bayeux Cathedral - Wikimedia Commons CC by SA 3.0
For centuries, Bayeux has kept a unique treasure. The Bayeux Tapestry dates back to the 11th century, and might be described as an enchanting medieval comic book. It tells the story of the Hundred Years' War between the French and the English, focusing on the conquest of England by the Normans. The tapestry is 70 meters (nearly 77 yards) long and is protected by UNESCO.
Places to visit in Bayeux
Bayeux Cathedral
The Bayeux Cathedral (also known as Notre Dame Cathedral de Bayeux) is over 900 years old, having survived countless wars. This piece of Norman-Romanesque-Gothic architecture is the stunning centerpiece of this lovely town and its 95-meter high spire may be seen from anywhere in town. Bishop Odo of Conteville, half-brother of William the Conqueror (then King of England) consecrated this place of worship in July 1077. Note that although the cathedral once housed the Bayeux Tapestry, the tapestry now resides in the Bayeux Tapestry Museum, just a short walk away from the cathedral. Watch out for the gargoyles staring down from the exterior facade of the cathedral and listen out for the Bell of Peace and Liberty, created in commemoration of the 70th anniversary of D-Day in 2014.   
Bayeux Tapestry
The Bayeux Tapestry is a record of the events of the Norman Conquest of England in 1066. It depicts 58 scenes from this period. As mentioned above, the tapestry is on display in the Bayeux Tapestry Museum (Musée de la Tapisserie de Bayeux) in town. Measuring 230 feet long, it is a wonderful example of the embroidery skills of the women of the 11th century nobility. At this point, it is worth mentioning that although it is referred to as a 'tapestry', this isn't quite accurate. It is, in fact, an embroidery. A tapestry is woven using a loom whereas an embroidery involves sewing or embroidering onto a base fabric to create a picture. 
In any case, we shall continue to refer to it using its globally accepted and recognized name. Legend suggests that Reine Mathilde (wife of William the Conqueror) and her court made the tapestry, though other sources suggest that it was designed and created by nuns in England. Either way, research has suggested that as the needlework is consistent throughout, one group of embroiderers must have worked on the piece in the same place, at the same time.
There have been reports that the tapestry will be loaned to England in 2022 for the first time in nearly 1,000 years, and displayed in various locations across the country. Until then though, you may view it in Bayeux.
TIP: The audio guide will explain each of the scenes of the Bayeux Tapestry in detail, from the broken promise of King Harold of England, who reneges on his promise to William and assumes the throne of England following the death of King Edward, to the Norman invasion of England and William finally defeating Harold at the Battle of Hastings. 
The Museum of the Battle of Normandy
The Memorial Museum of the Battle of Normandy takes visitors through the months of Allied troop advancement into Normandy, from the initial invasion right through to victory. You'll see military equipment such as fighter tanks and smaller arms used by the soldiers, uniforms and other army memorabilia. Visitors are able to follow along through a series of maps and dioramas presented alongside audio and visual aids. The museum is considered to be one of the best in the world for its showcase of the events of D-Day/Operation Overlord and provides a great introduction for those who plan to tour the Landing Beaches.  
A stroll through the town center
Stroll along the banks of the River Aure, starting from the tourist office on Rue Saint Jean. Follow the river for about a mile and enjoy some very nice views, old stone houses and waterwheels.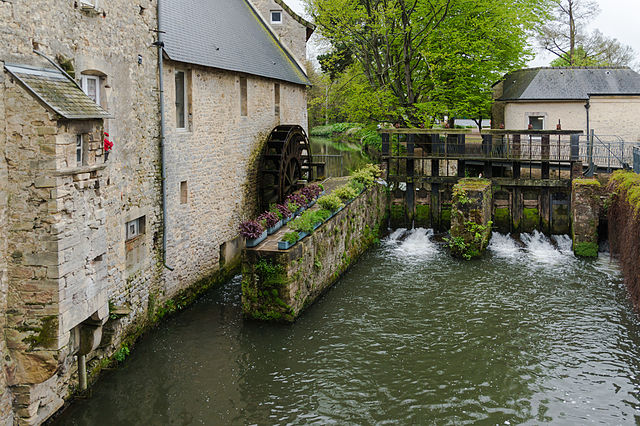 Waterwheel on the River Aure, Bayeux, Normandy - Wikimedia Commons CC0 1.0
Bayeux Museum
Not to be confused with the Museum of the Battle of Normandy, this quite new museum displays a little of everything relating to Bayeux. You'll find prehistoric remains discovered in the area, 19th-century porcelain, paintings, sculptures, and lace. They are housed in a restored chapel that they found while building the museum and a former courthouse that has remained untouched. It is a charming setting and a way to get a crash course on the local history and culture.
Guided Walking Tours of Bayeux
Bayeux Discovery Walks offers walking tours of Bayeux in English starting from the tourist office every day at 9.30am. They also offer walks at 5.00pm from April through September.
 The cost is 15€ per person for a 2-hour tour. There is no need to book in advance.
Shopping and lovely little places to visit in Bayeux
You'll see that downtown Bayeux isn't very big. The nice shopping streets are Rue Saint Malo-Rue Saint Martin. These contain all kinds of shops (including three phone shops). Rue des Cuisiniers is a nice road to explore for handicrafts and restaurants. For a nice tea break, we recommend:
La Reine Mathilde (Queen Matilda) tea shop
Named after Reine Mathilde, William the Conqueror's wife, they make a great home-made hot chocolate, which you'll be able to enjoy in a very nice setting. If you search for it on Google maps it appears as 'Queen Matilda' pastry shop.
Location: 47 Rue Saint Martin
Les Volets Roses
Right in front of the Cathedral porch is a great tea room for resting on a rainy day and enjoying a pastry.
Day trip to the Normandy landings beaches
It is possible to visit the Normandy landings beaches from Bayeux without a guide. Omaha Beach is accessible by bus in 40 minutes, with the number 70 bus departing approximately once an hour from Bayeux Saint Patrice bus stop between 10am and 5pm. However, these times will vary according to the time of year and the service may be cancelled in the event of bad weather. You can check on the Rome2Rio website and ask at the tourist office in Bayeux just to be sure. You may also hire a car and drive there in 20 minutes (a better option) or go on an organized group tour. 
That said, although we plan self-guided tours of France, we believe that some areas are better experienced with the help of a private guide who can explain the history and little-known stories of a place while they show you around. In this way travelers gain a fuller understanding of events and become more fully immersed in the history and culture of France. To learn more about the Battle of Normandy, the D-Day landings beaches and other sites, and the strategies employed by the Allied Troops, we highly recommend visiting the landing beaches with a local guide. In our Normandy tours, we will choose one of the best guides to accompany you to the sites.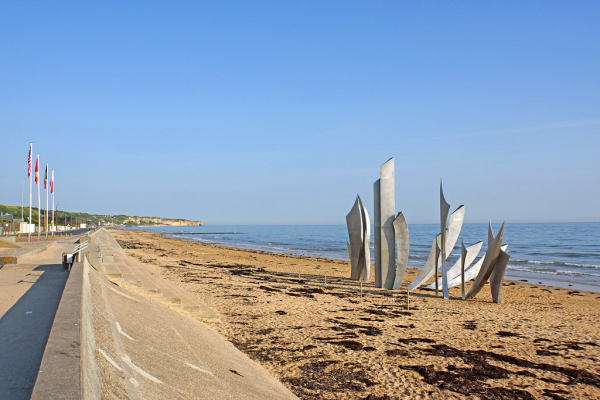 Omaha Beach war monument, about 20 minutes' drive from Bayeux, Normandy (Dennis Jarvis, Wikimedia Commons)
Other Day Trips from Bayeux
La Grange au Mohair - A goat farm and shop
This is the chance to see a working French farm. Solenne has taken over her Dad's Mohair goat farm. She has 100 goats and does everything from raising the goats to knitting. She has even learned English so that she can tell visitors all about her job... and she is passionate about it! Plan to stay for about 45 minutes and consider buying a scarf, gloves, a sweater or many other items of clothing made with the goat's mohair. She can even tailor an item of clothing just for you and send it to you.
Location: La Harmonière 14710 Bernesq (10 miles west of Bayeux)
Follow the signs from the D5 road. Cell: 06 82 85 51 39 
La Ferme de la Sapinière cider (Cider brewery)
This is very near to Colleville and the US Cemetery. Michel Legallois, the owner, is a real character. They offer tours in English of the cider production process daily at 2:30pm, except Sundays. The 3,50€ fee is waived if you buy something. They also make Calvados and Pommeau.
Location: 12 Route de Port en Bessin,14710 Saint-Laurent-sur-Mer
Les Sablés d'Asnelles biscuit shop
In this very small shop, they have been making cookies for more than 100 years. They are very famous and delicious. They don't speak English but if you like biscuits, you'll find the right words to buy some.
Location: 17 Rue de Southampton 14960 Asnelles (12 miles North-East from Bayeux) 
 www.sables-asnelles.fr
H2O Parapluies in Crépon - handmade umbrella workshop 
They have very ingenious designs that won't fly away in the wind. Some double up as a walking stick. The umbrellas can also be customized using one of your photos. Don't hesitate to ask the women working there questions, they are happy to explain their job. This product is made in France, so it will be expensive - plan to spend 100-200€ for a very special umbrella.
Location: 7, Route de Creully 14480 Crépon (10 miles North-East of Bayeux) 
Where to Stay in Bayeux 
Due to its central location between Honfleur and Sainte Mère Eglise (and quite close to Caen), it's a great idea to stay in Bayeux. On our self-drive tours of Normandy, we organize accommodation that fits with your desires and expectations.
If you want to stay in the old town and be able to walk everywhere, we have selected a couple of Bed & Breakfasts in the center of the old town. 
If you would rather be in a quieter environment with a spacious garden, we have handpicked splendid houses and manors in the peaceful countryside, only 2 to 5 miles from Bayeux (a short drive). We will also let you know where you can park if you're driving into Bayeux.
Our Best Self-drive Tours including Bayeux