If you're planning to spend a week or more in Paris, you may want to escape the city for a day during your trip. Here we suggest ten possible day trips from Paris. Bear in mind that it is better to have more than a day in some of these places. Normally we would recommend staying in B&B accommodation nearby so that you can arrive before or leave after the tourist crowds on day tours from Paris. Nonetheless, here are our top recommendations!
Palace of Versailles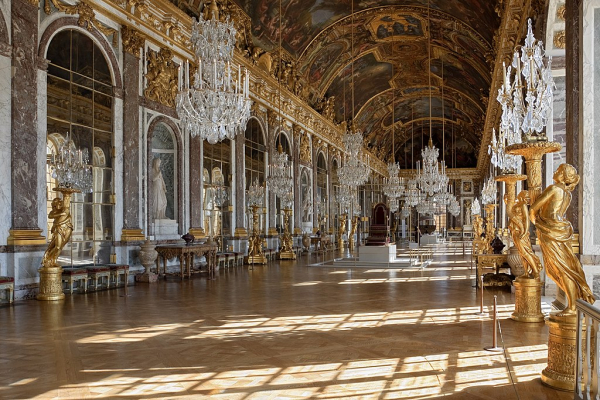 The Hall of Mirrors in the Palace of Versailles (Myrabella / Wikimedia Commons / CC BY-SA 3.0)
A visit to the Palace of Versailles is the most popular day tour from Paris. It'll give you the chance to escape the hustle and bustle of Paris, and plan on a whole day so that you'll have more time to explore the palace and gardens.
The Palace of Versailles gives visitors a sense of the excessive extravagance of French Royalty. It was originally the hunting lodge of King Louis XIII, who decided to expand and turn it into a castle during the 1630s. The major expansions that turned it into the lavish palace that still stands today took place under the instruction of Louis XIV, known as "the Sun King."
The greatest legacy of these expansions was the construction of the spectacular Hall of Mirrors. Work on the hall started in 1678 and was finished in 1684. Mirrors were one of the most expensive commodities in Europe at this time, so the use of so many in furnishing the Hall of Mirrors was very much a show of opulence by King Louis XIV. The magnificent French formal gardens was another of the King's legacies, designed by landscape architect Andre Le Notre.
On June 28th, 1919, the palace hosted the signing of the Treaty of Versailles, which ended the state of war that existed between Germany and the Allies. There is so much to see in the palace that you'll like need two or three hours to explore with your audio guide before venturing out into the gardens.
The gardens are gorgeous, varied, and cover a considerable amount of land. There are also the Grand Trianon and Petit Trianon mansions to visit and the Queen's Hamlet (the retreat of Marie Antoinette, wife of Louis XVI). You won't have time to see both the palace, the other properties, and gardens in one day. Check out the Palace of Versailles website beforehand and decide which parts of the gardens you'd like to visit so that you make the most of your day trip from Paris. You can walk through the gardens, hire a golf cart, or take the little train to different parts of the grounds. The vehicles cannot enter all areas, so the hop-on hop-off train is a good option that will allow you to explore as much of the gardens as possible, at your own pace.
To skip the long lines to get into Versailles, book a tour of the King's Apartment at 10 a.m. This add-on will cost 10 euros more, you'll enter with an English-speaking guide (no lines) and after you'll be able to go straight into the main palace. Otherwise, the 1-day passport (at the time of writing) costs 20 euros, and the 2-day passport 25 euros or 30 euros on a Musical Fountains or Musical Gardens show day.
Remember, the Palace of Versailles is closed on Mondays. However, this makes it the perfect day to go if you've already been to the Palace of Versailles and only want to explore the gardens this time. There'll be fewer tourists, and the gardens remain open on Mondays. Entry is free on the first Sunday of every month between November and March.
How to get to Versailles from Paris:
It's a 30-40 minute drive from Paris if you have a hire car, or you can take the RER train on Line C to Versailles-Chateau. The palace is about 10 minutes' walk from the train station, and the way is clearly marked.
Giverny: Monet's Garden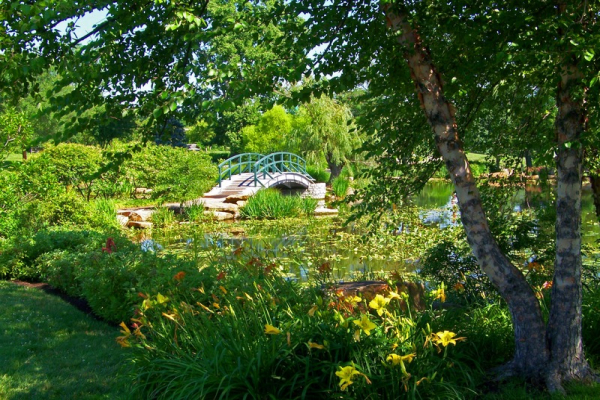 The famous and iconic Japanese bridge in Monet's Garden in Giverny (pxhere.com)
When French Impressionist artist passed through Giverny during a train journey one day, he was immediately struck. Not long after, he moved there with his wife and children, and it would become the inspiration of some of his most famous paintings, the Water Lilies series. Nowadays, Giverny receives 400,000 tourists a year. Avoid the busiest times of day by purchasing a skip-the-line ticket and visiting Monet's house and garden first thing in the morning or later in the day once the day tourists from Paris have left. This is the best way to enjoy the beauty, peace, and tranquility of the gardens.
Monet's house is very pretty with its pink and white walls and green shutters, which seem intentionally to mirror the colors of the waterlilies. The house is almost the same as when Monet lived in it himself, but you won't find any of his masterpieces inside. His paintings live at the Musée d'Orsay and Musée de L'Orangerie in Paris, and in dozens of other museums around the world. The highlight of this day trip from Paris will be Monet's garden, particularly the waterlilies and the green Japanese bridge that elegantly traverses the pond. You really will feel like you're walking through a Monet painting as you explore all the different parts of the garden from which Monet painted.
Monet's garden at Giverny is at its most beautiful from April through October. Bear in mind that the high season is during May and June when the waterlilies are in full blossom. During these months it is worth spending a night in Giverny to be able to appreciate the garden outside of peak hours.
How to get to Giverny from Paris:
Giverny is a one-hour drive from Paris, or you can take the SNCF train from Gare Saint-Lazare in the 8th arrondissement to Vernon-Giverny, which takes around 45 minutes. From the station, you can take a taxi or a shuttle bus to Monet's garden.
Rouen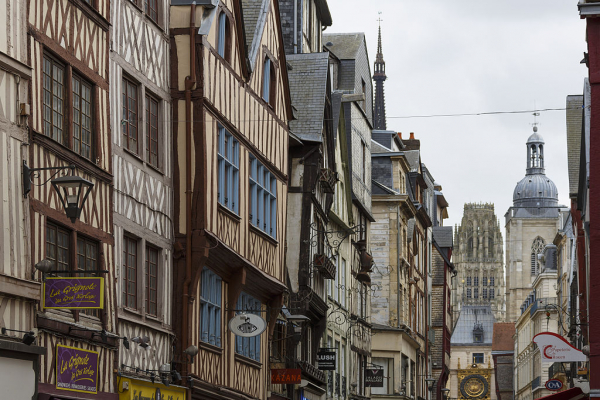 Half-timbered buildings in Rouen (© CEphoto, Uwe Aranas)
Claude Monet depicted Rouen Cathedral in many of his paintings, and parts of the city center are very quaint. The colorful half-timber houses, the Gothic cathedral and the Gros Horloge (the big clock) dating back to 1389 are must-sees, and art-lovers will be intrigued by the marvellous Museum of Fine Arts. The cathedral contains the tomb containing the heart of Richard the Lionheart (1157-1199), former King of England and Duke of Normandy. Nearby in Vieux-Marché is where heroine Joan of Arc was burned at the stake on May 30th, 1432. These historical landmarks are even more notable for the fact that they survived the Allied bombing campaigns of World War II. Most of the medieval city was unfortunately destroyed, and therefore a large part of Rouen now dates from the end of the second world war, when the city was rebuilt. 
How to get to Rouen from Paris:
Take an SNCF train from Gare St. Lazare. The trip takes 1 hour 10 minutes.
Vaux Le Vicomte castle
Vaux le Vicomte castle (Pixabay)
Vaux Le Vicomte is the biggest private chateau and gardens in France. Built in the 17th century, this chateau was apparently Louis XIV's inspiration for the expansion of the Palace of Versailles. It is about 28 miles southeast of Paris, and although it's better to drive there, it's not impossible to reach by public transportation on a day trip from Paris. It's a magnificent castle to visit if you're on your way to Burgundy. The most striking aspects of Vaux le Vicomte its symmetry and the pretty geometrical design of the gardens.
Vaux Le Vicomte was the home of Nicolas Fouquet, Superintendent of State Finances under King Louis XIV. Rumor has it that the King was jealous of Fouquet's beautiful home and beautiful formal gardens, and thus ordered renovations to the Palace of Versailles in the latter half of the 17th century. Vaux le Vicomte castle is a beautiful example of Baroque architecture, with exquisite interior design and gardens laid by landscape architect Andre Le Notre.
Look out for the iconic horseshoe-shaped staircase, the oval Grand Salon, and leave some time to stroll through the lovely gardens. Try to visit on a Saturday if you're there between May and October, and witness the gardens lit up with 2,000 candles.
How to get to Vaux le Vicomte from Paris:
The easiest way to get to Vaux le Vicomte is to hire a car and drive. It's about an hour from central Paris. Alternatively, take the SNCF R line for 30 minutes, or the longer 1-hour RER D train, from the Gare de Lyon in Paris to the Gare de Melun. From there, take a taxi or shuttle bus to the chateau (note that buses only run from mid-April to early November). 
Normandy landing beaches
The war monument to the brave American soldiers who fought and gave their lives at Omaha beach (Pixabay)
Rather than doing a day trip from Paris, the best way to visit the Normandy landing beaches is to plan a minimum one-night stay in Bayeux or Caen, depending on which of the beaches you're most interested in visiting. That said, many tourists do opt for the day tour from Paris, especially if they're short of time.
On June 6th, 1944, 160,000 Allied troops landed on the beaches of Normandy to liberate France from Nazi control. They ultimately went on to win the Second World War. You may like to find out more about the Normandy beaches and the invasion before visiting. On our Normandy tours, we work with some excellent private guides. They are able to give you a guided tour of the beaches, explaining what happened during the battle, and take you to the war cemeteries. If you tell them beforehand about any relatives of yours who fought in the Battle of Normandy, they will do some research and try to take you to the exact beach where your relative's regiment would have fought.
Americans will probably want to visit Omaha and/or Utah beaches, where the American troops fought, as well as the American Cemetery near to Omaha beach. Canadians will be interested in Juno and Sword Beaches, and British visitors may have ancestors who fought at Sword or Gold beaches.
Stay a night in Bayeux
Again, rather than doing a day trip from Paris, it's best to spend a few nights near the beaches to really be able to take in the history without being rushed. If you stay in Bayeux, you'll also be able to visit the Museum of the Battle of Normandy which complements the tours of the beaches. The beautiful Bayeux cathedral and the historical Bayeux tapestry, depicting the 11th century Norman invasion of England, are also worth a visit.
How to get to the Normandy beaches from Paris:
Take a TGV train from Gare St. Lazare to either Bayeux or Caen. Bayeux is 2 hours from Paris while Caen is 1 hour 45 minutes away. Caen was almost completely destroyed during World War II, so you'll feel you are in a more modern city of less historical interest. Bayeux, on the other hand, was left almost untouched, so we feel this is the better option if you're planning to spend some time in Normandy. From Bayeux, you can take a guided tour or taxi to the landings beaches if you don't have a car. There are buses to Omaha Beach, but these are infrequent.
The medieval town of Provins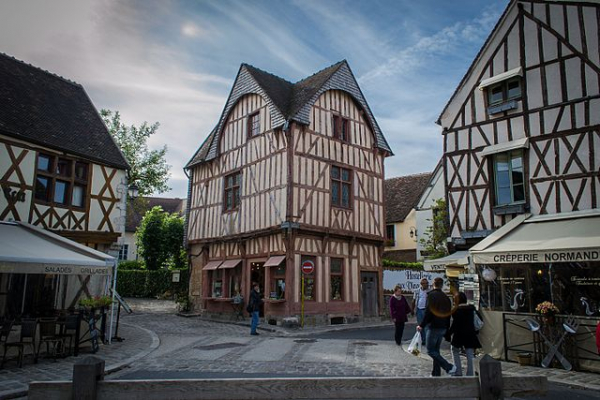 The medieval village of Provins, 60 miles south-east of Paris (Roman Ostash CC SA 3.0)
The medieval town of Provins is a UNESCO World Heritage site and is 57 miles southeast of Paris. The old town is enclosed by fortified gates and ramparts and is perfect for wandering around - it might just have been frozen in time. Climb to the top of the Cesar Tower, a symbol of the power of the former Earls of Champagne. You'll see a video presentation on the history of Provins and then enjoy lovely panoramic views over the town and surrounding countryside from the top of the tower.
If you enjoy shows, you'll be able to immerse yourself in Provins' medieval heritage by attending a medieval reenactment of knights in battle at La Legende des Chevaliers show. The show includes jousts, horse stunts, damsels in distress and a few elements of magical realism - orcs, demons, et al. It may not be suitable for very young children, but older children and teenagers and many adults enjoy it. There is also an impressive birds of prey show, Les Aigles Des Remparts, and an introduction to medieval trade (particularly the wool trade) at the Grange aux Dimes.
If you're doing a day tour of Provins in June, the town's Rose Gardens will be in full bloom. They're well worth a visit at this time of year even if you're not a fan of gardening.
How to get to Provins from Paris:
Take an SNCF Transilien Line P train from Gare de l'Est all the way to the last stop, Provins. Trains leave once every hour, and the trip takes about an hour and 20 minutes.
Escape to the country: Fontainebleau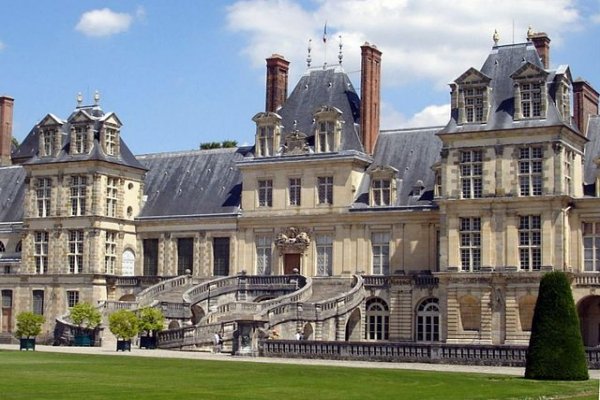 Fontainebleau castle (Carolus - CC BY-SA 3.0)
If you enjoy hiking, biking, and climbing, there's no better place to choose for a day trip from Paris than Fontainebleau forest. The forest itself is vast, so although you can enjoy a pleasant stroll and fresh air, you'll need to hire a bicycle or book a horse-back riding tour to explore further.
Apart from the great outdoors, you can visit the magnificent Fontainebleau castle, a former residence of French kings from Louis VII to Napoleon. The chateau was often used as a hunting lodge for when the king was on a hunting trip. It is the only royal castle to have been continuously inhabited for seven centuries. It thus provides an unparalleled insight into French history. If you have been to Versailles you'll notice that the Chateau Fontainebleau has a similarly ornate style of decor. The notable difference is the smaller number of visitors, meaning there's far more space and freedom to explore the castle. The castle gardens are vast, and like Versailles, there is a little train that gives tours of the grounds in case you're tired of walking.
How to get to Fontainebleau from Paris:
If you're not driving, you can take the train from the Gare de Lyon in Paris towards either Montargis Sens, Montereau or Laroche-Migennes, getting off at Fontainebleau-Avon station, which takes about 40 minutes. The 'Ligne 1' bus to Les Lilas stops right outside the station, and you'll need to get off at the 'Château' stop.
Head to the beach at Deauville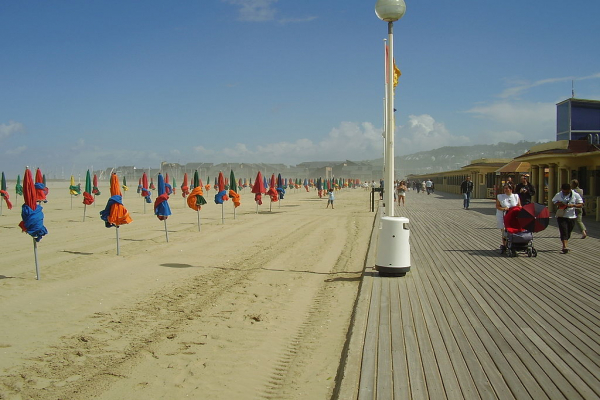 The beach at Deauville and La Promenade des Planches (Kamel15 - CC BY-SA 3.0)
A great day tour option from Paris on a warm sunny day between May and early September, Deauville was historically a popular vacation spot for well-heeled, upper-class Parisians. Nowadays it is more famous for its annual American Film Festival which happens in the late summer. The beach promenade pays tribute to many international film stars with a long row of beach huts, each one dedicated to a different actor. You might call it the Deauville Walk of Fame (though it's actually called La Promenade des Planches). The sandy beach is pretty with its colorful beach umbrellas, and many enjoy the entertainment of the casinos. If you prefer wagering in the open air, Deauville has a fantastic racecourse at the Hippodrome if you're there on a day when the horses are racing.
Alternatively, take a break in Trouville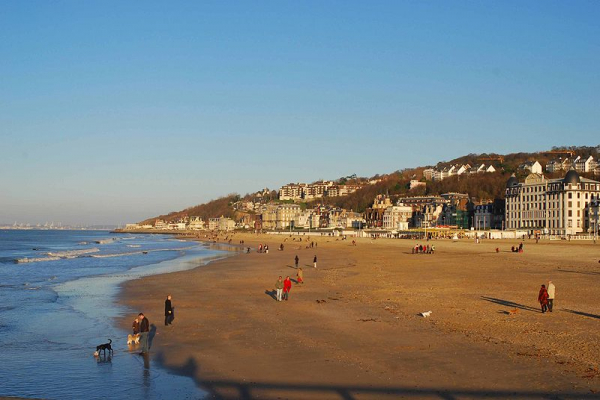 The beach at Trouville on a day in the late fall (Barnay - Wikimedia Commons)
If you're looking for relaxation and a bit less glitz and glamor during your day trip from Paris, cross over the River Touques to Trouville. It has a fantastic fish market and some great seafood restaurants and a nice beach overlooked by a long row of pristine Belle Époque villas. The streets behind the seafront offer diverse, colorful boutiques and shops - perfect for picking up some souvenirs. Enjoy a delicious coffee and a slice of cake at Villa Gypsy or some lovely fresh seafood from Les Affiches or Le Noroit restaurants.
How to get to Deauville and Trouville from Paris:
There are several trains from Paris St Lazare to Deauville-Trouville each day. Most journeys require a change at Lisieux, and the total traveling time is just over two hours. If you're going on a road trip through Normandy (highly recommended) the quickest way to reach the coast from Paris by car is via the A13 highway.
We hope these have given you some ideas about possible day trips from Paris. Although you may prefer to have Paris as your base, we highly recommend hiring a car and exploring beyond Paris at your own pace. Check out our tours page to find out about our self-guided driving tours which include Paris.
RELATED: 
How to Plan a Road Trip Through France