It should come as no surprise to know that France is the world's most popular tourist destination. With near 90 million visitors every normal non-covid year, France is a head and shoulders above Spain, which comes in second, receiving 82 million visitors per year. The number 3 spot goes to the USA with 78 million. These statistics confirm that France is once again the world's first choice holiday destination, despite a rather turbulent few years.
So, what is it exactly that attracts people from all over the world to France? We'll try to boil France down to its essence and show you why it is the most popular tourist destination in the world. After all, 89 million people can't be wrong, can they?
Paris.. Ah... Paris
Need we say more? Going on a self guided tour of Paris is a wonderful experience, as it's undoubtedly one of the most fascinating and beautiful cities on earth. With glamorous buildings, chic cafés and more galleries than you could ever visit, Paris will captivate your heart and soul. Make sure you divide your time between being the ultimate tourist and climbing to the top of the Eiffel Tower and acting like a local (here are some alternative things to do in Paris). Head out to one of the city's many bars and grab yourself a Pastis to sip with the Parisians for an authentic taste of life in the capital.
Our top tips for visiting Paris? For the best view in Paris, climb to the top of the Montparnasse Tower. The lines are far shorter than at the Eiffel Tower and the views actually include the Iron Lady herself! If you're visiting the Palace of Versailles, book a guided tour of the King's Apartment at 10 a.m. via the website. The King's Apartment is separate from the rest of the palace and you can only see it with this tour. This add-on is only a bit more expensive than the general entrance ticket, and you'll be able to go straight to the main palace after, avoiding the long lines outside.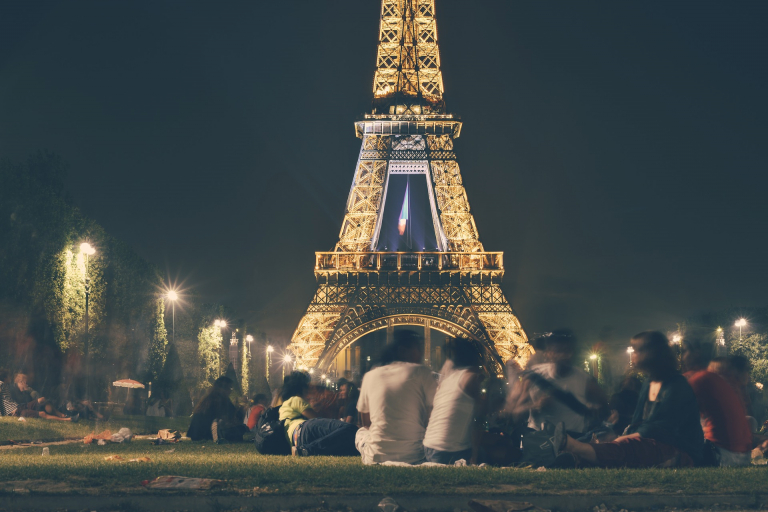 People sitting in front of the Eiffel Tower on a warm's summer evening (maxpixel - CC0 Public Domain)
The Landscapes are Stunning
When it comes to natural beauty, France can rival just about any other country on the planet. France's scenery is as diverse as it is beautiful, with the glittering coastlines of the French Riviera, the patchwork fields of the Loire Valley, the snow-capped Alps and centuries old harbor towns of Normandy. This, of course, is hugely appealing for lovers of the great outdoors. Rather than choosing between mountains and beaches, France offers both and a whole lot more. This gives you more bang for your buck and makes your vacation even more enjoyable. Make sure you take your camera – these landscapes are enough to turn every one of your Facebook friends green with envy.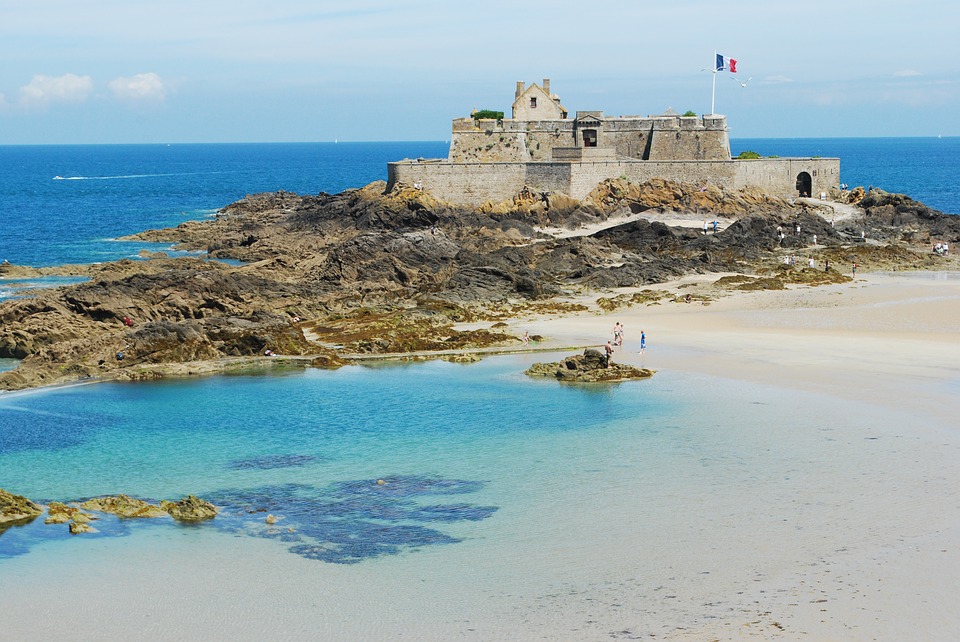 Beautiful landscapes in Saint Malo, Brittany, France (Pixabay - aleslanger)
There is History everywhere
France is steeped with history. Having seen numerous empires and republics rise and fall, along with some bloody revolutions, France's history is etched into every street corner. Visit the Loire Valley to see and explore a multitude of castles sitting majestically behind perfectly manicured gardens. Head down to the Dordogne region to see the incredible replica of the pre-historic cave paintings of Lascaux or book in advance to see the real thing in the caves of Font-de-Gaume. Or spend a day or town in some of France's wonderful old towns and villages, such as Provins, to the south-east of Paris, or Bayeux in Normandy. Read about some of our favorite beautiful villages in France.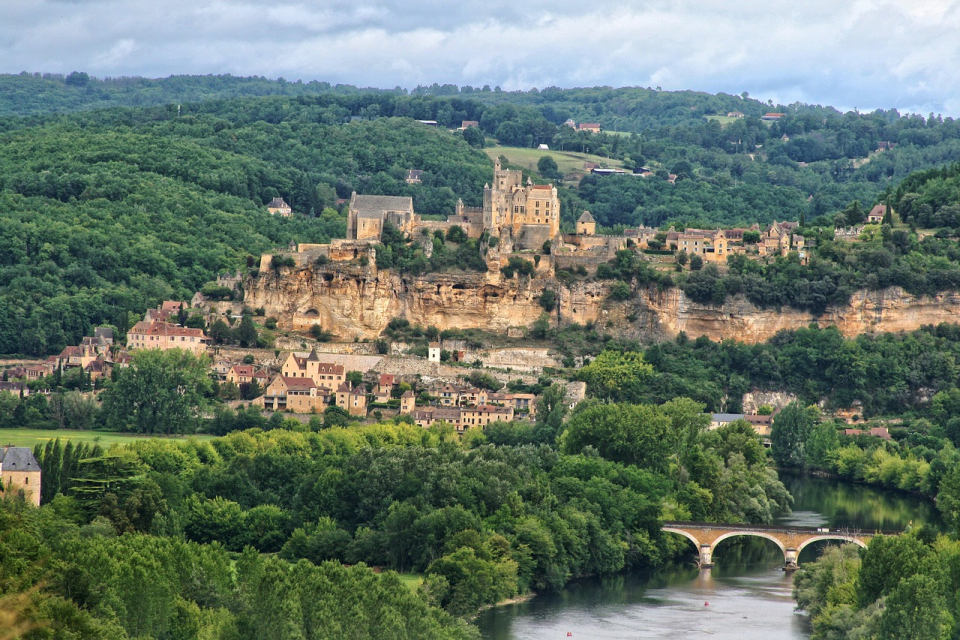 The incredible Beynac castle in the Dordogne (DomyD - Pixabay)
Architecture from across the ages
Everywhere you look you'll see definitive examples of France's sublime architecture. This takes the form of cathedrals (Notre Dame de Paris, Notre Dame de Strasbourg and many, many others), abbeys (e.g. Mont Saint Michel in Normandy, Abbaye de Sénanque in Provence), medieval market halls (e.g. a weekend day in Dives-Sur-Mer on the Normandy coast), and Roman temples and amphitheaters (the Maison Carrée in Nîmes, southern France). You can also admire typical regional architecture, such as the half-timbered houses of Normandy's coast and back-road villages or the traditional Basque architecture on one of our French Basque Country tours. From the capital out to the provincial towns, the country's buildings are all part of the incredibly diverse French landscape.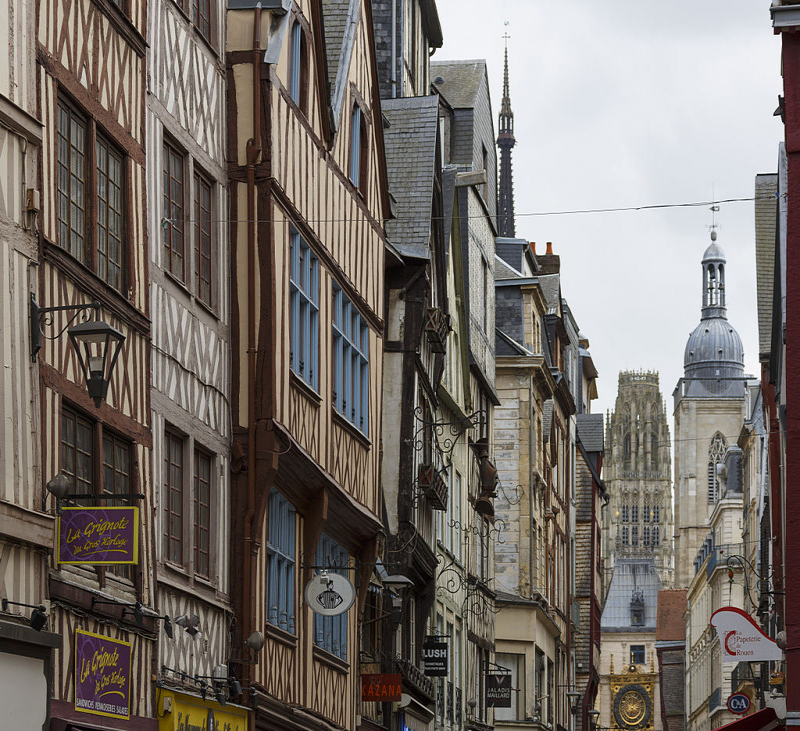 The old part of Rouen in Normandy (© CEphoto, Uwe Aranas)
The Food is Mouth-Watering
Everyone knows that French cuisine is some of the best on earth. Here we recommend some food you should definitely try in France. But, did you know that every region of France has its own local specialities? We bet you'll find (and love) dishes you never even knew existed as you travel across France. You might be interested in reading our post about the typical food of the Basque Country. Elsewhere you'll enjoy feasting on confit de canard, rillettes, beef Bourguignon and more. And, of course, be prepared to eat lots and lots of fresh baguette and stinky cheese, washed down with a choice of fine wines, from Bordeaux to Burgundy.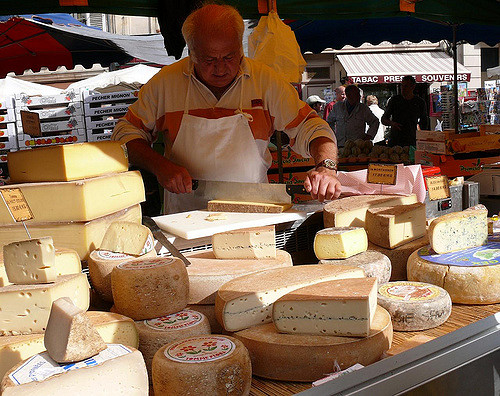 The best place to sample some delicious French cheeses is at a traditional farmers' market in France! (Kevin - CC BY 2.0)
The Wine is Exquisite
Whether you are a connoisseur, an apprentice, or someone who just enjoys having some wine with dinner, France has something to suit all tastes. From the famous vineyards of Bordeaux to the terroirs of Burgundy to the best bistros in Paris, we know exactly where to send our travellers to discover the finest and most delicious wines. We know which vineyards allow visitors to explore by golf-cart, and which ones can arrange a picnic in the midst of the vines, surrounded by beautiful sceneries. If you are in Paris, we recommend going for a wine tasting at O Chateau wine bar and restaurant. It's just a short walk away from the Louvre museum at 68 Rue Jean-Jacques Rousseau. You may book your wine tasting online.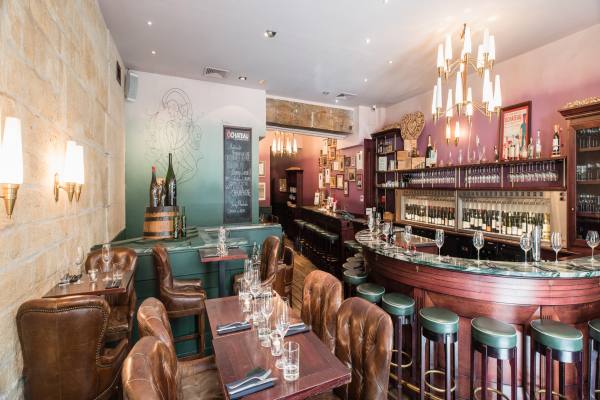 O Chateau wine bar in Paris (Photo: O Chateau)
The Beaches are Beautiful
France has beautiful Atlantic and Mediterranean coastlines, many of which have been depicted in paintings by some of the great artists. If you're planning to visit France between late spring and early fall, we warmly recommend you spend a day or two at the beach. Save the Atlantic beaches (especially Normandy and Brittany) for the summer months, as it will be too cold and windy before June and after September. Provence and the French Riviera, however, will be warm enough to visit in from late April to early October. Read about some of our favorite beaches all over France, so wherever you go, you'll be able to find your nearest beautiful beach!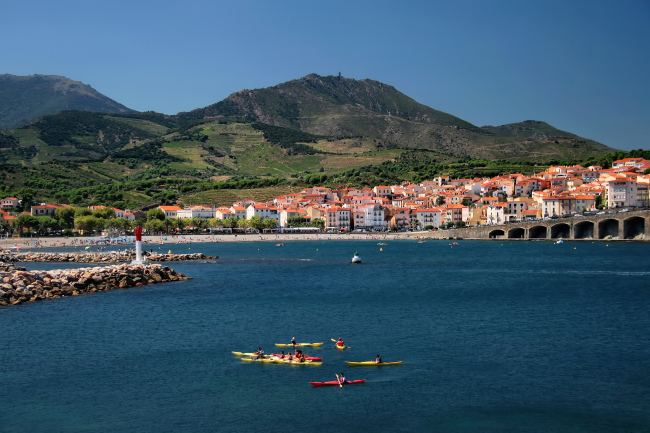 Banyuls-Sur-Mer, in the Pyrénées-Orientales department of France, on the Mediterranean coast (Jorge Franganillo - CC BY 3.0)
There are 45 UNESCO Heritage Sites
France has a wide range of UNESCO World Heritage sites that include medieval towns, castles, religious buildings, forts, and landscapes. These 44 sites (correct at the time of writing, in 2019) are spread all over France and are a big draw for tourists. As our tours cover 15 regions in France, we have written about all the world heritage sites that are in these specific regions. For the full list, you may like to visit the UNESCO website.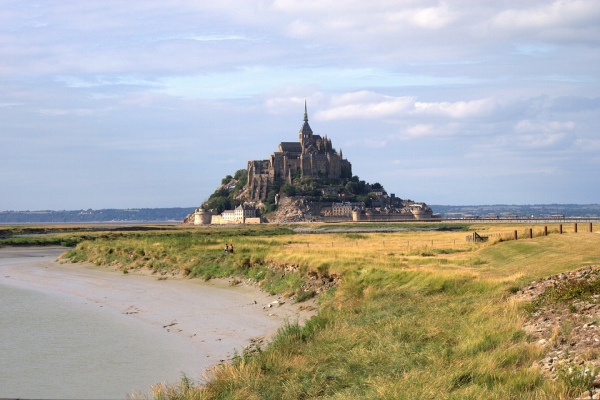 Mont Saint Michel in Normandy (Pixabay)
The Skiing in France is second to none
Skiers of every skill level head to the French Alps in the winter season, including professionals, families, couples, and groups of friends. It's not necessary to be a pro to experience skiing in France. Most resorts try to cater for every level, with wide open pistes on gentle slopes for absolute beginners; fast-paced, exciting red runs for intermediate skiers; and more challenging, daring black runs for the pros. There is often also access to some great off-piste areas for confident skiiers who want to explore 'off-the-beaten-track'. Seasonal skiers often choose the popular alpine resorts of Chamonix, Courchevel, Morzine, Tignes and Val d'Isère. The resorts in the world's largest connected ski area, Les Trois Vallées, offer the best high altitude terrain where you'll almost certainly be guaranteed some snow.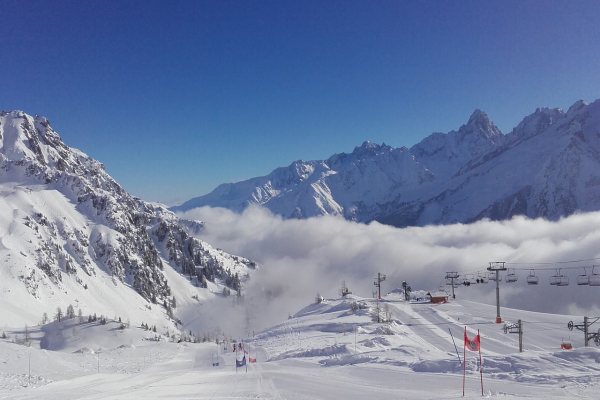 The ski slopes in Chamonix in the French Alps (paul_harrison - Pixabay)
There's a festival for all tastes
As far as festivals are concern, visitors to France are spoilt for choice. In the summer, you can attend the Carcassonne Festival of contemporary music, dance and theater, which attracts famous performers from all over the world (recently including Elton John, Deep Purple and Moby). Or perhaps you prefer classical music – in which case head to the gorgeous little town of Menton on the French Riviera (a rival for Cannes any day!) for a concert under the stars. The Menton Music Festival is an annual event and takes place over two weeks during July and August. If you're a film-buff, you may be attracted by the glitz and glamor of Deauville's American Film Festival. However, if you prefer something a little more low-key, try the Cabourg Film Festival in mid-June and watch a film at the 400-seater open-air cinema on the beach. If you're looking for something a little different, check out the Lemon Festival in Menton in February, or the Gypsy pilgrimage to Saintes-Maries-de-la-Mer in Provence every May.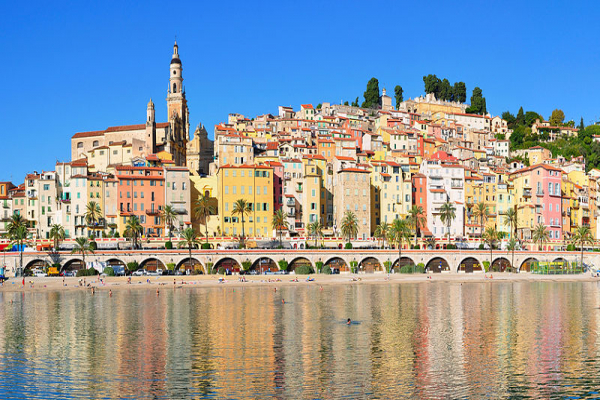 Menton waterfront (Tobi 87 - CC BY-SA 3.0)
It's an Endless Source of Inspiration for Creatives
Artists, writers, journalists, photographers, dancers and musicians have found inspiration in Paris for centuries. The work of the protagonists of the Enlightenment, the Golden Age, the Romantic Era, la Belle Époque (or Golden Age) and les Années Folles (the "crazy years" of the 1920s) still endures and remains popular today. You may study the work of philosophers such as Francis Bacon, Denis Diderot, Jean-Jacques Rousseau, Voltaire and Adam Smith to see how their work was inspired by the reality of the Enlightenment. Famous figures associated with the more turbulent Romantic Era that followed include Alexandre Dumas (author of The Three Musketeers) and Victor Hugo, whose most famous novel The Hunchback of Notre Dame eventually became a paradigm of the French Romantic movement. 
The Belle Époque (France's 'Golden Age') ran roughly from 1871 up to the beginning of the First World War in 1914. People tend to look back on this era as a time of peace and prosperity, probably because of the stark contrast with the terrible destruction and loss France suffered in the war that immediately succeeded it. The arts flourished during La Belle Époque (which translates from French as 'the beautiful era') and many literary, musical, theatrical and artistic masterpieces gained recognition. Prominent artists included Impressionist Claude Monet, and post-Impressionists Paul Gauguin, Henri Matisse, Henri de Toulouse-Lautrec, and a young Pablo Picasso. Literary greats Émile Zola, Guy de Maupassant and Marcel Proust gained prominence, and this era also saw the birth of the Eiffel Tower, constructed as the grand entrance to the 1889 World Fair, the Moulin Rouge, and the Art Nouveau movement. 
The Golden Age was brought to an abrupt end as war broke out across Europe, and was followed by 'Les Années Folles´ or the Roaring Twenties as they were known in other parts of the world. France inspired the likes of expat writers such as Ernest Hemingway, F. Scott Fitzgerald, and James Joyce, who later became known as the ´Lost Generation. Today, France continues to inspire creatives; Woody Allen's 2011 film Midnight in Paris follows the protagonist through a journey of magic realism back through the ages of Paris; authors such as Kate Mosse, Peter May and Anthony Doerr have also used different parts of France as settings in their novels. Come to France and find something that inspires you! 
Have we convinced you yet that France is the best country in the world to visit on vacation? If we have and you want to know more about how to explore this wonderful nation, get in touch with us. We can help you design your very own vacation itinerary, tailored specifically to your tastes.
Have an idea? Want to make it happen?
Self-guided driving tours in France
Based in France, we also explore France all year long, selecting the best places for our travelers. We test the accommodations, eat at the restaurants, visit the cellars and take the guided tours to make sure that you will have great French experience.
Feel free to contact Laura and Emilie to start planning.