France is well-known for its haute cuisine. You will know all about our fine wines, fresh baguettes and strong cheeses - just some of the gastronomic delights awaiting you in France! Now I'd like to introduce you to some of the tastiest regional dishes found in Basque Country cuisine, which might be new to you. 
This region, situated in the South of France and northwest Spain is unique in many ways.
Let's take a look at some of the most interesting dishes you'll find on the menus in the Basque Country.
The Espelette Pepper (Piment d'Espelette)
Have you ever visited a hot pepper field and drying facility? This is just one of the unique experiences we can include in your self-drive itinerary of the Basque Country, if it interests you! The regional espelette pepper is not too spicy, but it has enough of a kick for you to know it's there. It's one of the most famous ingredients in Basque Country cuisine. Originally, it probably came from Latin America. But after centuries of cross-breeding with local species, it is now a completely unique pepper.
The best time to try this pepper is at the end of October, in the middle of the harvest season (which runs from mid-August through November). You could also time your trip to coincide with the annual Fête du Piment d'Espelette (Espelette Pepper Festival).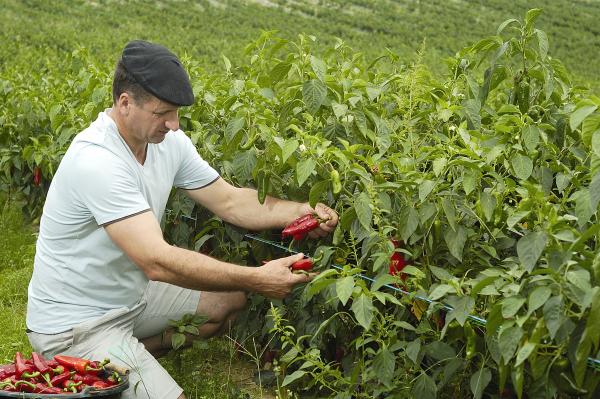 Espelette Pepper Harvest in the Basque Country
The pepper was named after the town of Espelette, a gorgeous little town in the Pyrenees mountains. The rows and rows of peppers hanging to dry from the traditional houses is quite a sight. And if you're interested in learning more about the heritage of this special Basque food, there is a cultural center in town - the Centre d'interprétation du Piment d'Espelette.
On our self-guided Basque Country tours, we'll also take you to other Basque villages that most tourists don't know about.
RECIPE: If you're looking for inspiration on how to use your fresh espelette peppers, try our trip planner Laura's Piperade recipe, and enjoy a typical Basque condiment.
Pintxos (Basque Tapas)
Once of the most typical Basque dishes, pintxos are a type of finger food served at bars and taverns throughout the Basque Country. In Spain, they are also a type of "tapas", but in smaller portions. A trip to the Basque country would be incomplete without tasting some pintxos in a local tavern with a glass of Basque wine. 
The name comes from the Spanish verb "pinchar" meaning to poke or stab.
In the Basque Country, it's typical to go to a bar to enjoy an aperitif at around 6pm or for lunch on weekends. The entire counter is lined with plates of various pintxos. They range from traditional pintxos such as potato omelettes, seafood on bread to mini haute cuisine experiments such as a grilled foie gras with a white bean cream and a fruity sauce.
The bars and taverns battle it out in yearly competitions to win a trophy for the best pintxos in their respective village or city. 
Where to eat the best pintxos
Crampotte 30, Biarritz
If you are not in a rush, Crampotte 30 is a very small authentic little pintxos bar away from the tourist strip, by the seaside in Biarritz. They have a large range of dishes, from ham, salad, fresh shrimps, and the fig stuffed with foie gras is very special! It can get very busy, so try to arrive early and just enjoy the atmosphere.
RECIPE: If you would like to try making your own Basque pintxos at home, here are some easy pintxo recipe ideas for you to try!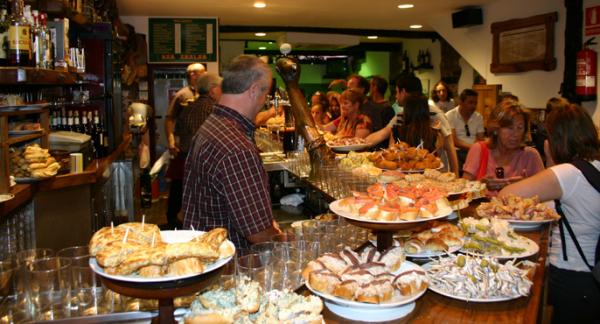 Pintxos time in the Basque Country
Basque-style RED TUNA (THON ROUGE À LA BASQUAISE)
This dish is made using the Northern Bluefin Tuna, the largest tuna in the world. The tuna is caught in the Atlantic and cooked with tomatoes, onions, herbs and a dash of white wine and served as a casserole.
Where to eat delicious Basque Seafood dishes
Arraina, Saint-Jean-de-Luz
Saint-Jean-de-Luz is the best place to try this dish and many other fresh, mouth-watering seafood dishes. Book a table at the seaside restaurant Arraina and you won't be disappointed!
Basque Fish Stew (Ttoro Maison Croutons à l'Ail)
Given that the Basque Country stretches along the coast of southwestern France, many of their famous dishes involve fish and seafood. This traditional stew is one of the region's most famous dishes and includes mussels, prawns, eel, hake, monkfish and more. It's topped with garlic croutons and a few sprigs of parsley.
Every restaurant has its own version of the dish, each containing different ingredients. Ask the waiter to know which types of fish are in their restaurant's version.
RECIPE: Try this Basque fish stew recipe at home!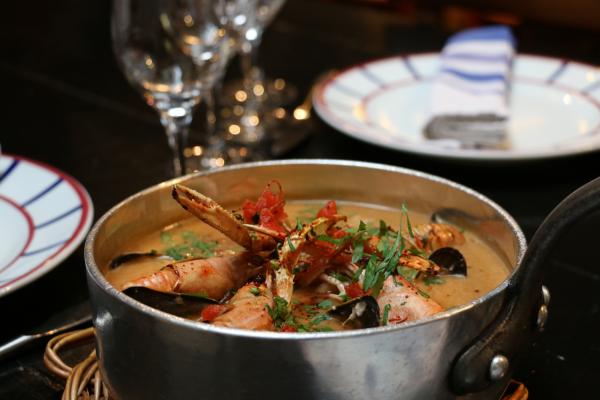 Ttoro stew
Le Gâteau Basque
This is a traditional dessert from the Basque Country - and we think it's delicious! The Gâteau Basque is a double-crust pie filled with hand-made pastry cream, custard or sometimes jam. It's not too sweet or rich, so it's a great choice after a gourmet meal. It should appear on the menu of fine dining restaurants in the Basque Country. 
If you like cooking, we can arrange a private cooking class for you in the Basque Country with a professional Gâteau Basque chef - so you can learn how to make it yourself!
Bayonne Ham
Bayonne Ham is a sweet, air-dried, cured ham. It is similar to the Italian prosciutto ham, but with thicker slices. It has a deep, rich flavor thanks to the gourmet diet of the Pie Noir pigs, which mostly graze on acorns, chestnuts, and corn. This breed of Basque pig is mottled black and pin. It is one of several traditional breeds of pig reared by the people of the Basque Country.  
Bayonne ham is one of several types produced in the Basque region. It is seasoned with salt, sugar, pepper, and herbs. This gives the ham a very rich flavor. Then it's hung for up to a few weeks in a cold room and left to dry for at least seven months. Sometimes it is also rubbed with ground Espelette pepper and smoked to produce a dark red ham, ready to eat.  
RECIPE: Bayonne ham is delicious served with traditional Basque Ossau-Iraty sheep's cheese, as the nutty notes in the cheese bring out the sweet, hazelnut flavors in the ham.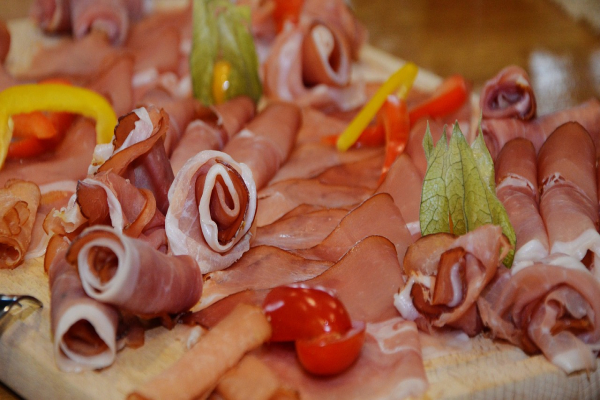 Bayonne ham
Itxassou black cherry Jam
In spring, the landscape of the French-Basque village of Itxassou explodes with the color and fragrance of cherry blossoms. The trees are scattered from the valley up to the foothills of the mountains and produce many varieties of cherry, including Peloa, Xapata and Belxa.
This region has produced cherries for more than 800 years, with production peaking around the mid-nineteenth to the mid-twentieth centuries. It was once an important income source for the local economy, with daily markets in the town square.
Harvested by hand in early June, the cherries are sweet and tart. You can eat them fresh or make a delicious jam, which goes perfectly with the Gateau Basque and the Ossau-Iraty sheep's cheese. If you order duck from one of the local restaurants, it may also be accompanied by an Itxassou black cherry sauce.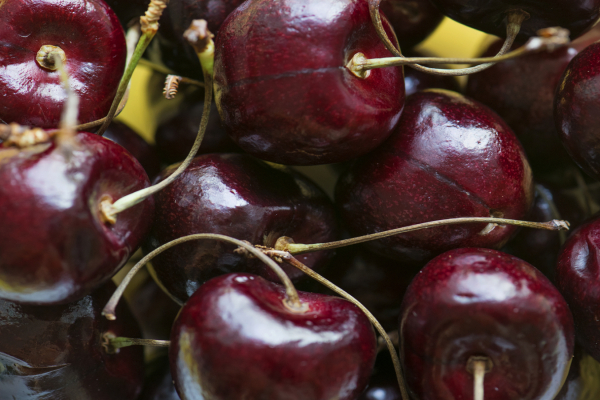 Ossau-Iraty sheep's cheese
For 3,000 years, the Basque people have used the traditional method for producing wheels of Ossau-Iraty sheep's milk cheese. That makes it one of the oldest cheeses in the world and a treasured gem of Basque Country cuisine.
It is produced in the Irati beech forest and in the nearby Ossau valley in Bearn, both located in the foothills of the Pyrenees. Ossau-Iraty cheese has been essential to the region's economy, so much so that by the 1500s, it had become a type of currency. It was not uncommon for shepherds and farmers to pay their taxes with wheels of sheep's milk cheese! 
Ossau-Iraty received European PDO ('protected designation of origin') status in 1996. This 'farmer's dessert' has a creamy texture and a fruity flavor with floral notes. It goes wonderfully on a platter with Itxassou black cherry jam and bayonne ham.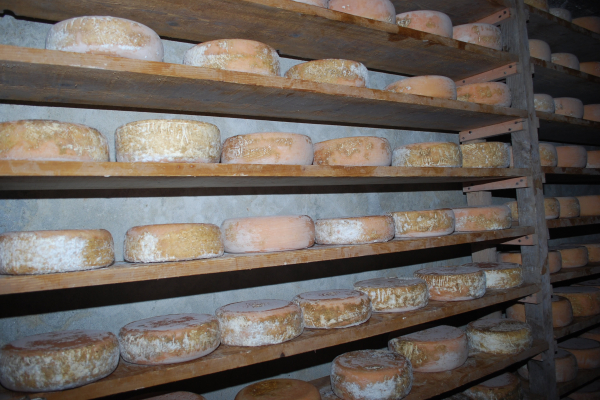 Ossau-Iraty cheese wheels. Photo: Jean Michel Etchecolonea
Irouléguy wine
You must try some Irouléguy wine in a Basque Country restaurant! It is only produced in nine small villages in the Basque Country, and has AOC (protected designation of origin) status. The fruity, tannic red wines are predominant, making up around 70% of Irouléguy wine production.
You may also like to try the less famous fruity rosés and the full-bodied, tangy white Basque wine. These wines are perfect when paired with other regional specialities mentioned above. There are tasty and complement without overwhelming the flavors of the food.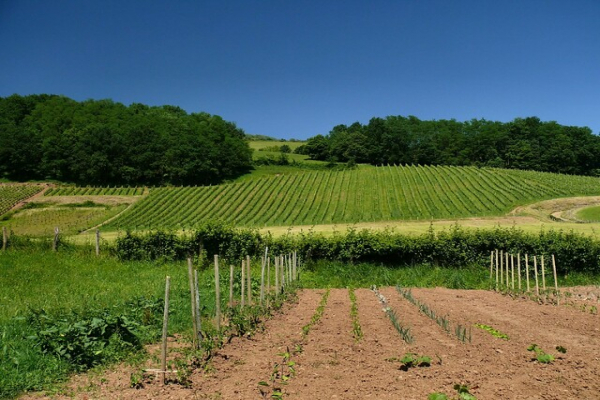 A vineyard in the region of Iroulégay
We hope you've enjoyed this brief introduction to Basque Country cuisine. If you feel inspired, we offer a range of self-guided itineraries of this fascinating region. Why not opt for a self-drive tour so that you can explore the Basque Country at your own pace? Get in touch and let us create your dream vacation in the Basque Country - just for you!
RELATED: Self guided driving tours including the Basque Country