If you're visiting France this year, you will certainly want to buy some souvenirs and gifts to bring home with you. But sometimes it's hard to find things that are absolutely authentically French, as opposed to things that are made and imported from elsewhere. Here we recommend some very French and high quality souvenirs for you to look for in different regions in France.
Your own signature perfume (French Riviera)
France is famous for its designer perfumes, such as Chanel, Clinque, Lancôme and Jean-Paul Gaultier. But why not create an extra special souvenir of your trip to France? 
Visit the Fragonard Perfumerie in Grasse on the French Riviera, and create your own signature perfume to take home with you. This beautiful factory is one of the oldest in Grasse. The premises were first built in 1782, and from the beginning it was used at a perfume factory. Then in 1926, the perfumery was named after the famous French artist Jean-Honoré Fragonard. 
The building is located in the heart of the old town of Grasse and produces hundreds of different scented soaps and perfumes that you can purchase from the perfumery's shop. It will be cheaper to buy them here, at factory price, than in a perfume store elsewhere in France.
There are guided tours in English and French of the workshops and laboratories every day and every 20 minutes, where they explain how the different products are made. The factory is open everyday, including Sundays and public holidays, from 9am to 6pm (last visit 1 hour before closing). Guided tours can also be given in 10 foreign languages.
If you're on one of our French Riviera tours, we will arrange for you to take part in a perfume-making workshop, so you can create a special French perfume - just for you!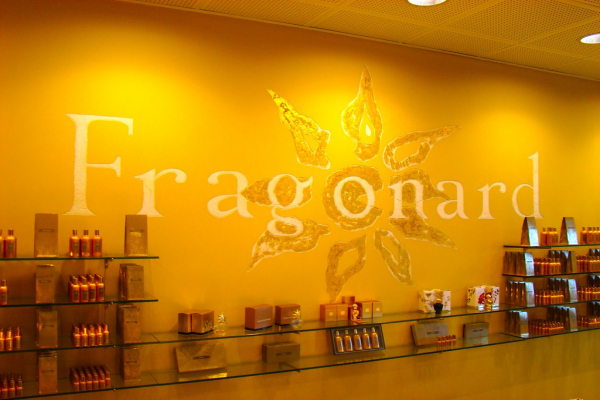 Fragonard Perfume Factory (Dr Bob Hall - CC by SA 2.0)
Some Fragrant Herbes de Provence (Provence) 
Les Herbes de Provence are a variety of different dried herbs that you can find in the region of Provence. These usually include basil, marjoram, oregano, rosemary, sage, savory, and thyme. A blend of these herbs can be added in cooking to add and enhance the flavors. These would be a delicious and aromatic souvenir of your trip to France.
Here's one of our favorite cooking tips: if you're cooking roast pork, beef or chicken in the oven, mix some herbs with some extra virgin olive oil and spread it over the meat. This will create a kind of crispy crust and lend your dish a delicious flavor.
Herbs such as thyme and rosemary are also excellent as essential oils for treating colds and congestion. And if you're having trouble sleeping, trying dropping some lavender oil on your pillow before bed, and you'll sleep like a baby. 
You can buy some of these fine herbs from the Ferme de Gerbaud in Lourmarin, a farm in the Luberon hills of Provence.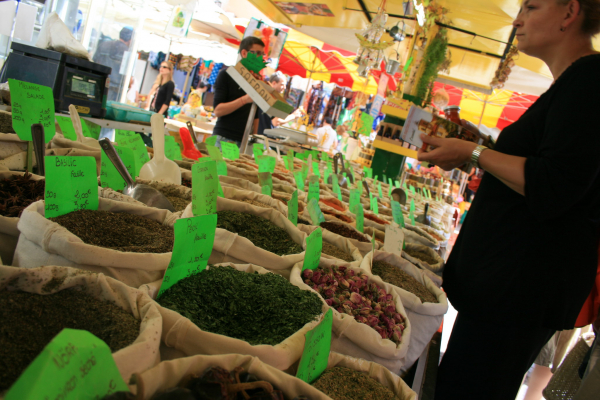 A market in Orange selling Herbes de Provence (Jean Louis Zimmermann CC by 2.0)
A Sweet Lavender product (Provence)
If you're visiting Provence, buying a lavender product as a souvenir of your trip is an absolute must. We recommend visiting Sault during the lavender festival on the weekend nearest to August 15th.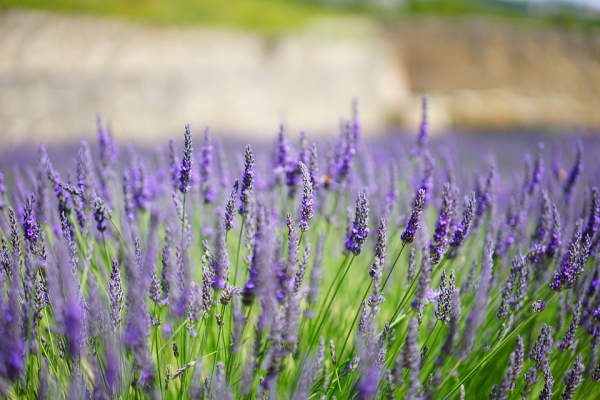 Lavender field in Provence (MaxPixel CC0)
The Best Macarons in France (Paris)
Arnaud Larher makes some of the best macarons in France, in our view. In 2007, Arnaud was named the Best Pastry Chef in France. He has shops in the Montmartre and Saint Germain des Prés districts in Paris, and sells beautiful gift boxes, which are also available to purchase online.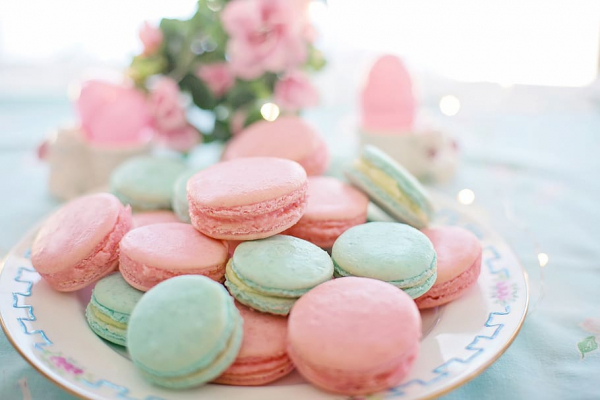 Pretty French Macarons - the perfect French souvenirs (PxFuel)
A Bottle of Delicious Normandy Cider or Apple Brandy (Cambremer, Normandy)
If you are doing one of our tours of Normandy and are interested in regional gastronomy, we highly recommend spending a day driving along the Normandy cider route. The cider route covers about 25 miles along typical country roads, passing through small villages. You'll see country manors that are centuries old and there are distilleries dispersed throughout the route.
Our favorite distillery is the Pierre Huet family-run distillery. The family has been making cider and Calvados brandy since 1865 and are known as the producers of one of the best calvados in Nromandy. 
From April 1st through September 30th they offer guided tours of their estate and the distillery in English. They will allow you to taste some samples of their delicious products in the shop, and there you can purchase a wonderful souvenir from Normandy. Find out more from the Calvados Pierre Huet website.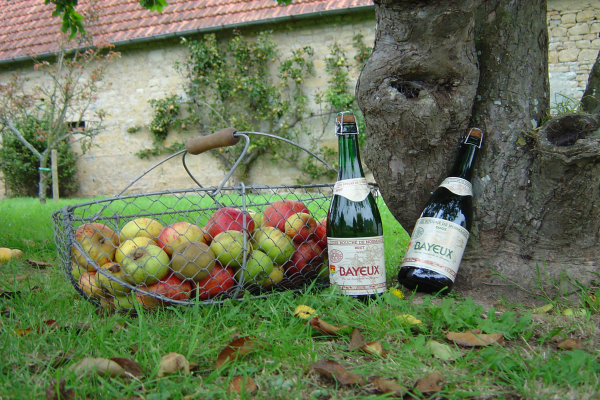 French gift ideas: why not buy some delicious apple cider or brandy in Normandy? (OTI Bayeux-Bessin)
Some red-hot Dijon Mustard (Dijon, Burgundy)
The region of Burgundy is famous for its wine, and you'll surely find some wonderful wines to ship home to your wine cellar. But Dijon is particularly well-known for its gastronomy. Visit the gingerbread factory in Dijon, followed by Edmund Fallot's Moutarderie (mustard shop). There you'll find the best Dijon mustard in France, a lovely gastronomic souvenir. But beware: Fallot's mustard is the real-deal - it is delicious but very hot and should be used in small quantities at first while you get used to it!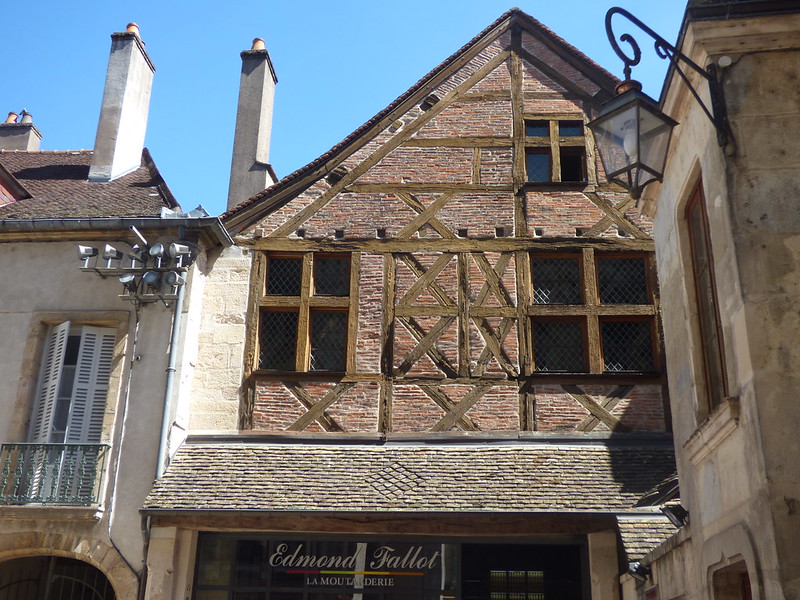 Edmond Fallot Moutarderie (Dijon mustard shop)
(Elliott Brown Flickr CC by SA 2.0)
A beautiful painting from a local artist (French Riviera) 
There are many lovely little towns in the hills of the French Riviera overlooking the Mediterranean Sea. It is such a beautiful and warm region that it's no wonder that it has inspired artists from all over the world across the ages. There are lots of little art galleries all over this region - one of our favorite areas on the French Riviera is Mougins, which is just a short drive from Cannes.
There you'll find some private art galleries displaying some of the less well-known works of some of the Masters - Picasso, Cézanne and Dalí among others. We will suggest some nice little towns and galleries for you to visit if you book one of our driving tours of the French Riviera.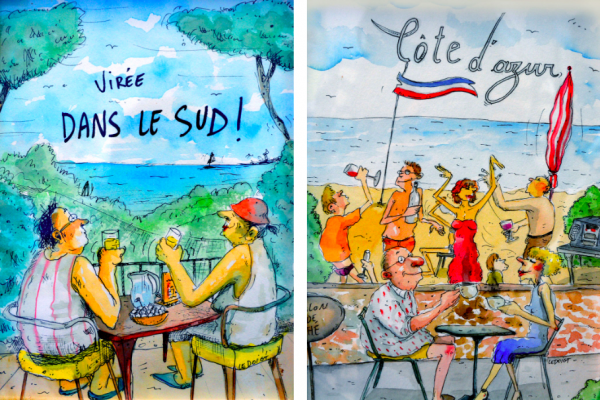 Art by Sabrina Elarbi from Le Doigt gallery in Mougins, French Riviera (Sabrina Elarbi)
An interesting book on prehistoric France or some truffle oil (Dordogne) 
There are many caves throughout the regions of Dordogne and Lot, which we have written about in this blog post on prehistoric caves in France. Some have cave art that dates back tens of thousands of years, depicting the way of life, the geography and the flora and fauna of the region at that time.
Some caves are now closed to the public to protect the cave art, so a good alternative is to visit one of the replica caves such as Lascaux IV. Here you will be able to see exact replicas of the art from the original cave, and peruse the gift shop for an interesting book that explains more about the region's history. 
Another souvenir option is to purchase some truffle oil. If you're visiting Dordogne, we can organize for you to go truffle-hunting with a truffle expert and his dog to find some real truffles. These will then be included in a meal which you can enjoy after the hunt.
Whether or not US customs will allow truffles into the US is a bit hit-and-miss. In theory, they can be brought in as long as they are well packaged and free from soil. But to be on the safe side, take home some bottled truffle oil instead. And if you're in Dordogne in the winter season, be sure to visit the truffle markets!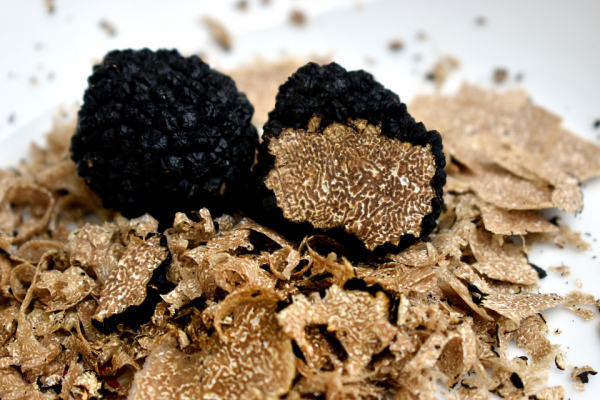 Grated truffles, from which truffle oil is made (MaxPixel)
Some Traditional Basque Fabrics (Ascain, Basque Country)
In 1910 in Oloron-Sainte-Marie, Calixte and Anastasie Lartigue founded one of the Basque region's first workshops producing fabrics for espadrilles (traditional Basque shoes) and berets. Ever since, four generations have continued the weaving tradition with creativity and passion. Philippe Lartigue, a designer and weaver, created the "1910 Lartigue" brand in tribute to the family's first weaving workshop.
They give guided tours of the factory, allowing visitors to discover the Basque linen weaving tradition, its secrets and its fascinating history, while observing the creators at work. Any item from the 1910 Lartigue collection would be a magnificent souvenir or gift to take away from your tour of the Basque Country.
In the factory's shop, you'll find items made from cotton, linen, and deckchair fabrics, designed with traditional Basque or Bayadère stripes. These include cushion covers and curtains, tea towels and aprons, tablecloths and accessories. Check the shop and factory opening hours on Lartigue's website.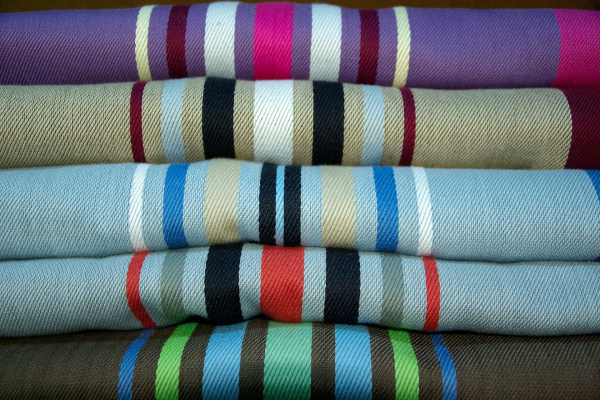 Traditional basque fabrics and designs (Pixabay)
A Claude Monet reproduction (Giverny, Normandy) 
Many of our travelers enjoy visiting Monet's Garden in Giverny, Normandy as part of their tour of France. What better gift than a reproduction of one of Monet's masterpieces? After visiting Monet's house and strolling around his stunning garden, check out the gift shop. You may also like to visit another local art gallery, of which there are a few in town.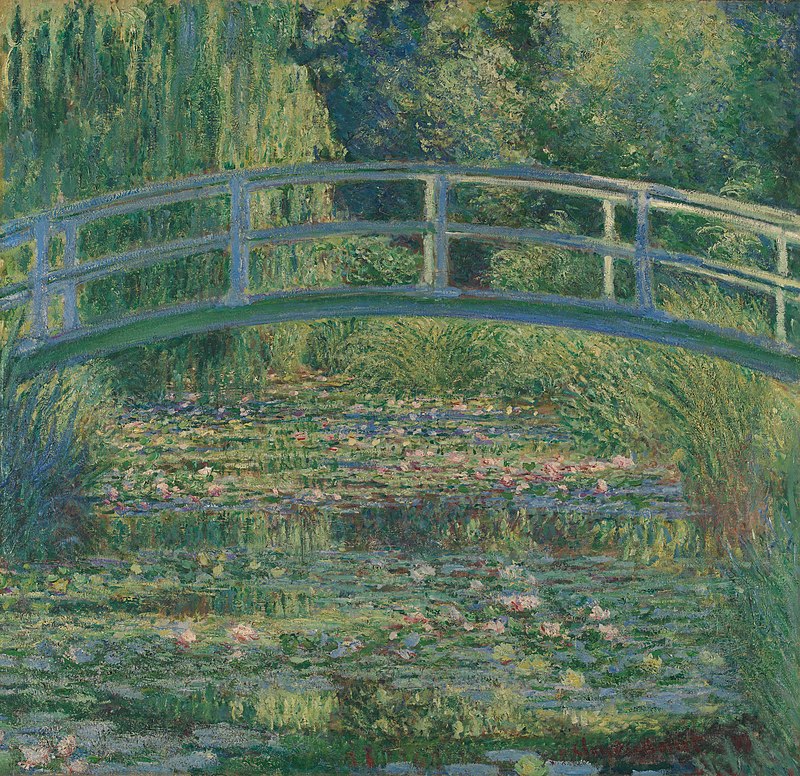 Painting of Monet's Garden in Giverny (CC0)
A bottle of the finest Minervois Wine (Carcassonne, Languedoc) 
Benjamin Taillandier is the cousin of France Just For You's founder Emilie, and runs his own vineyard in the Minervois area of Languedoc in southwestern France. It is just a 25-minute drive from the medieval town of Carcassonne, so it will be easy for us to arrange a visit there if you're in the Languedoc region.
Benjamin believes that healthy soils produce healthy grapes, and in 2011 his vineyard was awarded with Bio organic certification. Benjamin Taillandier is a hard working and cheerful guy, and produces wines that are much like him: fruity, full of life and desirable. If you would like to visit Benjamin's vineyard as part of your tour of southwestern France, Emilie and Laura can arrange this. You can also buy his wines online at PetitesCaves.com.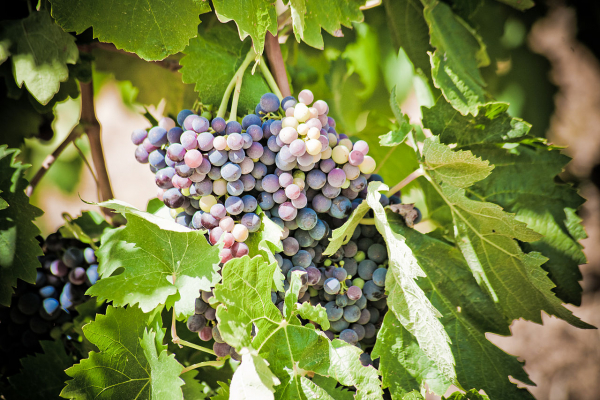 Minervois grapes growing near Carcassonne (Jeremey Atkinson (CC by 2.0))
A pretty tapestry to hang on your wall back home (Loire Valley) 
There are so many castles you can visit on a driving tour of the Loire Valley that you will see dozens of tapestries adorning their interiors. Every castle has a gift shop, often selling pretty tapestries that you can purchase and take home as souvenirs.
Our favorite little castle is the Chateau de l'Islette, where sculptors Camille Claudel and Auguste Rodin one had a love affair. It is not far from the well-known Château d'Azay-le-Rideau - but not as many tourists visit the Chateau de l'Islette. It's also the perfect setting for a picnic in the castle's lovely garden.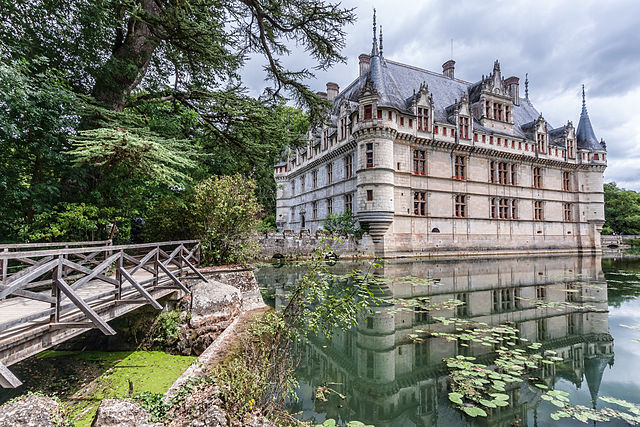 One of the many beautiful castles in the Loire Valley (Jean-Christophe Benoist)