On our self-guided tours, we take pride in sending our travelers off the beaten track. However, there are some places that, in spite of being very touristy, we recommend visiting nonetheless. Arles, Les Baux de Provence and St Remy de Provence are cases in point. Some of the most beautiful villages in France, Les Baux is an immense and superb stone fortress and without a doubt one of the must-sees on the Provencal tourist trail. Arles and St Remy remain very famous for their connection to Dutch artist Vincent van Gogh, who we will discuss more later.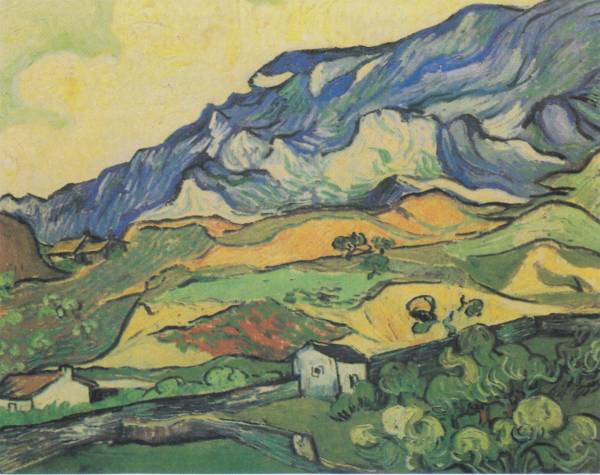 Les Alpilles painted by Vincent van Gogh
In this post, we give you a few tips on what to do in Les Baux de Provence, St Remy de Provence and Arles, which are all within easy reach of each other by car. 
DAY ONE: Visit Arles
This town is a UNESCO world heritage site and sits on a low hill where the Rhône river branches into two parts. The town dates back to the 7th century BC and was a major Gallo-Roman city.
The major Roman sites, such as the Arena and the Theater, are unique in that they are integrated into the houses and buildings of the town. This contrasts with other sites, such as Orange, where they sit apart from the rest of the town.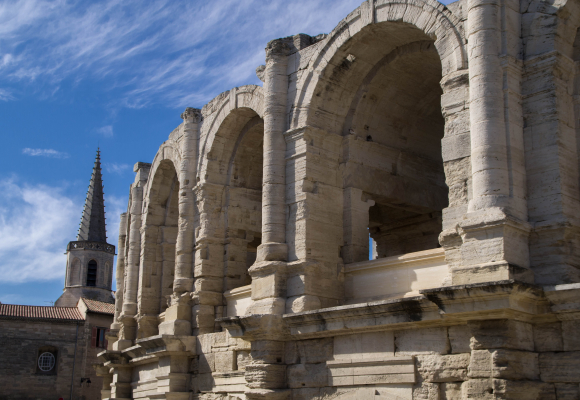 The Roman amphitheater in Arles, Provence (Pxfuel CC0)
Rent an audio guide from the tourist office and enjoy a walking tour of the town. They can also give you a map for the tour. You will see the thermal baths of Constantine, the Forum Square, the Republic Square, the Roman Amphitheater (the Arena) and the other Roman Theater.
Van Gogh in Arles
In some ways it is best not to expect too much of Arles in terms of its monuments to van Gogh. It is worth remembering that the famous Dutch artist only lived in Arles for about a year and a half. He then admitted himself to an asylum in St Remy de Provence, before dying a year later, aged 37.
During his time in Arles, van Gogh produced some 200 oil paintings, 100 drawings and watercolor paintings, and wrote about 200 letters. Many of his most famous masterpieces, however, reside in some of the great museums of Europe. You will only find a few of his minor works in Arles.
That said, fans of van Gogh will be moved upon viewing the sceneries that inspired van Gogh more than a century ago. Many of the sceneries remain almost the same as they were in van Gogh's time.
Van Gogh depicted the hospital where he recovered after cutting off part of his ear in several of his paintings. Nowadays, it is the city library and has been beautifully restored. The building surroundings a lovely flower-filled square, which was once at the middle of the former hospital.
If you have been to the Van Gogh Museum in Amsterdam, you will need to strongly resist drawing any comparisons. This little museum hosts a few van Gogh pieces, but none of the most famous ones. This will be something for van Gogh lovers only. You may also enjoy the other exhibitions on display by local artists. For more information, visit our page about van Gogh's life in Provence.
Where to eat in Arles
They offer simple, great food for a good price. We love their tartines and salads.
This is a more expensive option, but an excellent quality brasserie. Try the bull meat. 
DAY TWO: Les Baux de Provence
Half a day should be enough to see the best of Les Baux, depending on how much you would like to see. Arrive super early to guarantee parking. Or if you have just finished in Arles, drive from Arles to Les Baux at the end of the day to enjoy the gorgeous sunset after the tourist crowds have left. 
The village of Les Baux has been painstakingly restored over recent years and is now one of the most popular attractions in Provence. Its spectacular location upon a rocky outcrop means you can enjoy brilliant views over Arles, La Camargue and the Alpilles region. 
What to do in Les Baux de Provence
Les Carrières de Lumières
An attraction that now draws thousands of tourists to Les Baux each week is the incredible Les Carrières de Lumières. Huge digital images of famous paintings are projected onto the walls of these quarries with a lovely musical accompaniment. It is an amazing spectacle and we strongly recommend a visit to this modern attraction. In 2019, the show is dedicated to Vincent van Gogh, who made Provence his home in the years before his death.
Les Carrières de Lumières is open every day from 9.30-19.00 from April through September, with last entry an hour before closing time. The opening hours may vary outside of the high season. It costs €12.50 to get in.
If you are not traveling to Provence this year but will be visiting Paris, there is a similar experience at l'Atelier des Lumières. This venue is also showing Van Gogh's masterpieces this year, following an acclaimed exhibition of Gustav Klimt's works last year. We warmly recommend a visit to the van Gogh digital exhibition in Paris.
Stroll the ancient streets
The Château des Baux and its ancient village are among the most beautiful sites in France and can only be explored on foot. As you stroll the streets, you'll be in awe of the carefully restored houses and beautiful Renaissance façades.
Explore the castle & ruins
Rent an audio guide, which will tell you about the ruined castle and town's history. There's also a collection of reconstructed siege engines, which were used like giant slingshots to attack the walls of fortified sites during sieges. If you are short of time, however, the climb up to the castle is worth it for the views alone. On a clear day you'll be able to see all the way across to the Mediterranean.
Visit the museums & art galleries
There are several magnificent 'hôtels particuliers', which today serve as art galleries or museums.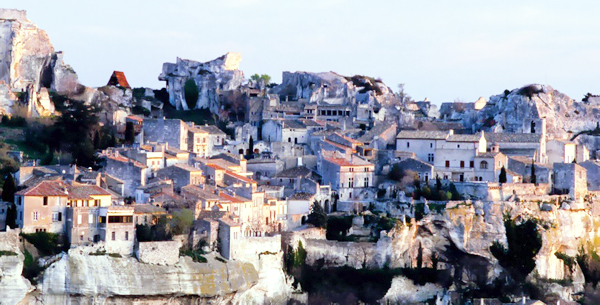 Sunset in Les Baux de Provence - ©FJFY
Musée des Santons: learn about the local handicraft
This is a museum dedicated to the figurines of the Nativity, a traditional handicraft in this part of France. Some of the Santons on display date back up to 300 years. The painted faces are made from papier mâché, with glass eyes and ornate traditional costumes. This museum is in town and easy to find.
However, if you are looking for something a bit more authentic and intimate or would like to buy a handmade santon as souvenir, we recommend visiting Santons Peyron Campagna at the Rue de l'orme in Les Baux de Provence. This family company has been operating for more than 75 years, and has had their shop in Les Baux since 1972. The santons generally cost between €5-20. It's worth a visit if you are in town.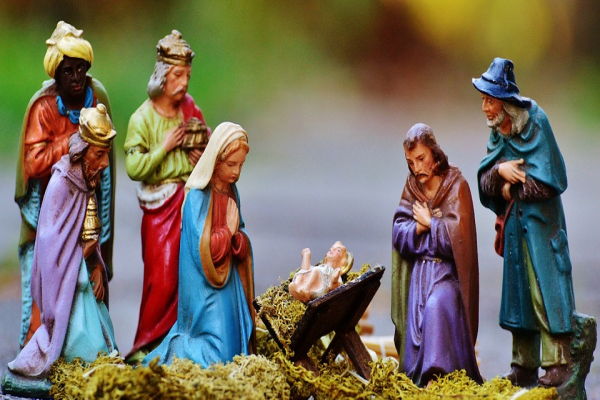 Santons - authentic souvenirs from Provence (Photo: Pixabay)
See some beautiful paintings of Provence in The Musée Yves Brayer
If you enjoy art, visit the Musée Yves Brayer and admire this local artist's pretty landscape paintings of Provence. There are sometimes some very nice temporary exhibitions too.
You will also come across many craft shops selling Provençal products and souvenirs. However, we don't recommend shopping or dining in Les Baux. We can recommend other places, which we believe offer better quality and value for money.  
How to get to Les Baux de Provence & When to visit
There are no public transport routes to Les Baux from the nearest towns of Arles or Avignon. Visitors will therefore hire a car and drive there, or go on an organized coach tour. If you are driving, keep in mind that it is very difficult to park in Les Baux in high season. There is a parking lot to the north of the town, so arrive early to minimize the risk of having to wait for a space.
Les Baux becomes so crowded in the summer months that we actually recommend not visiting during June, July and August. You will have a better and more peaceful experience in St Remy de Provence or Maussane.
On the Road between Les Baux & Saint Remy
If you arrive early in Les Baux then you can spend half a day there and drive on to Glanum ruins on your way to St Remy de Provence.
A few miles from Les Baux, on the road between Les Baux and Saint Rémy de Provence, is Glanum. This fortified town was founded by Celto-Ligurian people called the Salyes in the 6th century BC. It was famous for the purported healing powers of its natural spring. It officially became a Roman city in 27 BC until its abandonment in 260 AD. 
The ruins are open every day between 9.30-18.00 from April through September, and are closed on Mondays from October through March. Entry costs €8.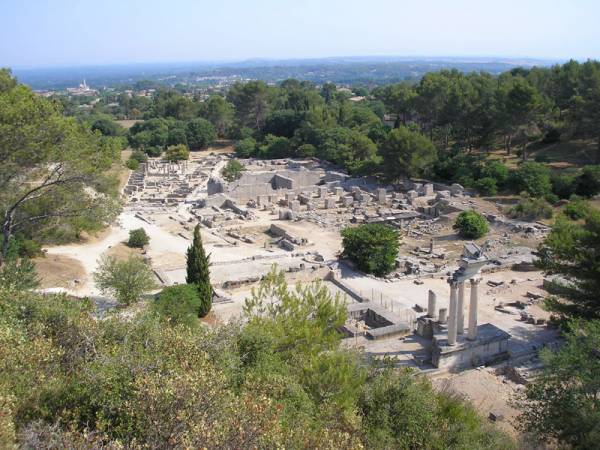 Glanum Roman Ruins - ©FJFY
DAY THREE: Visit Saint Remy de Provence
To discover the real beauty of Saint Remy de Provence, you must venture into the magnificent scenery of the Massif des Alpilles Natural Park. If you enjoy cycling there are some lovely paths for biking around St Remy. The Van Gogh trail will take you to some spectacular landscapes that inspired Vincent van Gogh. You can also enjoy these landscapes exploring by car or on foot.
If you enjoy markets, Wednesday is market day at St Remy de Provence. It's a great market but attracts a lot of tourists. If visiting on a Wednesday, arrive early and park just outside town and walk in.
Fans of Van Gogh may like to learn more about his life in Provence. Visit his final place of residence at the Saint Paul de Mausole asylum. It is near the Glanum Roman ruins to the south of town. He was admitted to the asylum in 1889, and died the following year. 
If you are specifically interested in Van Gogh, it's also worth visiting the Estrine Museum. It has a nice, short film about his life and work, and the landscapes he painted. There are also some good temporary art exhibitions.
Walking tours in Saint Remy
We include recommended walking tour routes in our tour travel packs. The tourist office also offers guided tours in French and English. These start at 10.00 every Tuesday from mid-April through mid-October. Each tour lasts 1.5 hours and the cost per person is approx. €10. These tours must be booked in advance by emailing service.groupes@saintremydeprovence.com or calling 04 90 92 05 22.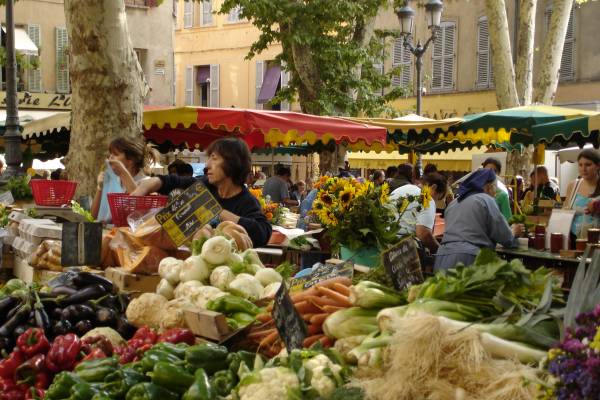 Farmers' market in Saint Remy de Provence
Souvenirs from St Remy de Provence
We have had really nice gastronomic experiences in St Remy. Buy some lovely chocolates from Joel Durand Chocolatier, almond candies (calisson) from Le Petit Duc, and find some delicious gastronomic souvenirs (some delicious olive oil, for example) from Maison Brémond.
If we have inspired you to visit Provence, we warmly invite you to take a look at our Provence itineraries. Remember, any of our itineraries can be crafted to your preferences. We can even start from scratch if you prefer.