The Loire region spans 175 miles, so naturally if you're considering booking a tour of the Loire Valley, the first question will be where to stay.
This post looks at some of the most central and popular locations in the Loire Valley, as well as locations which are a bit more remote or farther afield.
We explain the pros and the cons of each location and their position in relation to some of the Loire Valley's main attractions. We hope this will help you to decide which area would suit you best during your stay in the Loire. 
When you visit the Loire Valley, you'll know what it means to experience 'the good life' in France. The mild climate, tasty local gastronomy, and Loire Valley wine, as well as the warm and welcoming character of the local people, are all a real draw.
The Loire Valley is scattered with centuries' old chateaux, some of which have been converted to hotels. Many of them have beautiful formal gardens which make for an enjoyable and peaceful outdoor experience in the spring, summer, and fall. Add to that the beautiful vineyards and charming towns, and the Loire Valley has something for everyone. 
Staying close to the must-sees of the Loire Valley
Many travelers who visit the Loire Valley stay in Blois or Orléans, but we don't recommend these towns are they are not central enough if you're planning to tour the whole region. 
If you want to see the region's most famous castles, Amboise or Cheverny will be the best places to stay in the Loire Valley. However, if you prefer a more urban setting, many Loire Valley tours depart from the lovely town of Tours.
The Town of Tours
Tours started out as a Gallic-Roman settlement but is nowadays a university town and popular departure point for tours of the Loire Valley.
It's worth visiting Saint-Gatien cathedral, which reflects various styles of architecture throughout French history. It has a gorgeous Gothic facade and towers whose bases date back to the 12th century, with Renaissance tops.
There are also some lovely gardens in town - the Botanical Garden of Tours and the Prébendes d'Oé Garden.
The old town is very pretty. However, Tours is a little too touristy for our taste, so unless you particularly want to visit it, we would recommend you consider other places to stay in the Loire Valley.
The town of Tours in the Loire Valley - Place Plumereau (CC BY-SA 2.0)
Amboise
The gorgeous Chenonceau castle is just a 20-minute drive away from Amboise. In the city, you have Amboise castle overlooking the Loire River, a residence once favored by royalty in the 1600s.
There is also the Chateau du Clos Lucé which is famous for being the home of the great Italian artist, Leonardo Da Vinci between 1516 and 1519. The domaine is now a small museum and contains many working models of Da Vinci's designs.
Although Amboise is a popular tourist destination, we think it's the best town to stay in the Loire Valley if you prefer a more central location.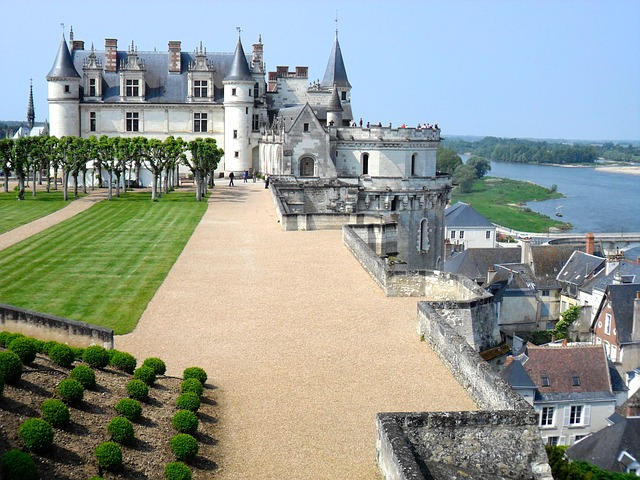 Amboise Castle (tasart - Pixabay)
Cheverny
Cheverny is a good option if you prefer to escape from the city to more peaceful, rural surroundings.
In Cheverny itself, you'll find Cheverny castle. This has been privately owned by the same family for more than 600 years, and they still live in the chateau today. The interior is beautifully decorated and the extensive gardens are lovely to walk through on a good day. Cheverny castle might look familiar to fans of the comic book series The Adventures of Tin-Tin. The castle was the inspiration for the fictional Marlinspike Hall.
The famous Chambord castle is a 20-minute drive away from Cheverny.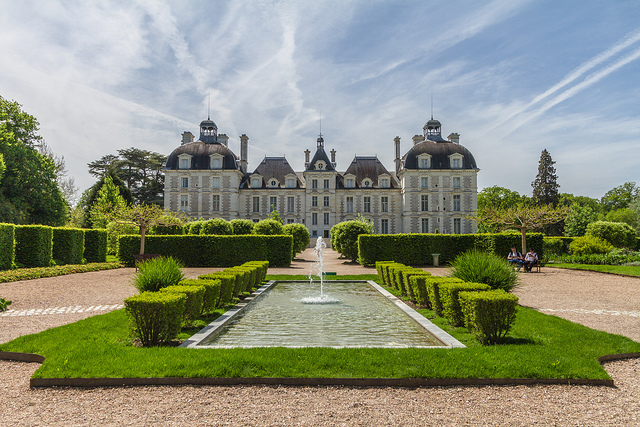 Cheverny Castle (Benh LIEU SONG - CC BY-SA 4.0)
The Loire Valley off-the-beaten track
When deciding where to stay in the Loire Valley, there are three main things you'll want to take into account.
First, do you prefer to stay in an urban or rural area?
Second, do you mind staying where most other tourists stay, or would you prefer a break from the crowds?
Finally, do you mind being a bit further away from the most famous castles if it means slightly lower prices and more peace and quiet? 
Staying in the more famous urban areas of the region (e.g. Amboise or Tours) you will find that you have to pay about 20% more for your accommodation.
On the other hand, in the countryside, there are some lovely options which are still pretty central, and these accommodations tend to offer better quality and value for money. It also means you avoid the tourists arriving on day tours from Paris.
If you want to escape from the tourist crowds, the following areas are great places to stay. They're very close to a few of the nicest Loire Valley chateaux, and only 45 minutes to 1 hour 30 minutes' drive away from other famous castles like Chambord and Chenonceau.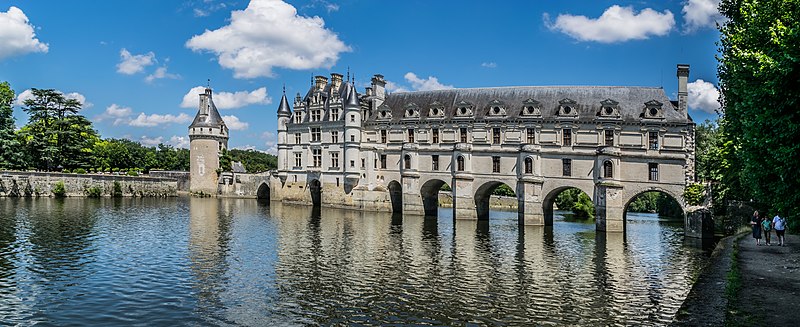 Chenonceau Castle (Krzysztof Golik - CC BY-SA 4.0)
Chinon
Chinon is where France Just For You co-founder Emilie went to high school. We have loved this town for a long time. It exudes medieval charm with its stone and half-timbered houses.
Chinon castle sits atop a golden cliff on the edge of town, overlooking the city. It was in this castle that Joan of Arc, the so-called virgin warrior and French national heroine, convinced King Charles VII to fight the English invasion in the 15th century. You'll want to visit the well that Joan of Arc used to step on as she dismounted her horse.
There are splendid views across the Vienne River from the castle walls. From the other side of the river, you can enjoy equally spectacular views of the city and the castle.
As well as Chinon castle, you will be well located for visiting other Loire Valley chateaux such as Villandry, Azay-le-Rideau, Langeais (Emilie and Guillaume's hometown) and Ussé. 
Chinon is one of the best places to stay in the Loire Valley if you want to do a wine tour. This area is famous for its vineyards, which mainly produce Cabernet Franc red wine. Loire Valley wine is light and fresh, and we have a few favorite wineries which we include in our Loire Valley itineraries. 
Apart from its proximity to vineyards and castle, a number of hot air balloon tours also depart from the regions of Chinon and Amboise. We went on an early evening hot air balloon ride which departed from Chinon, and the view of the castle and city was breath-taking.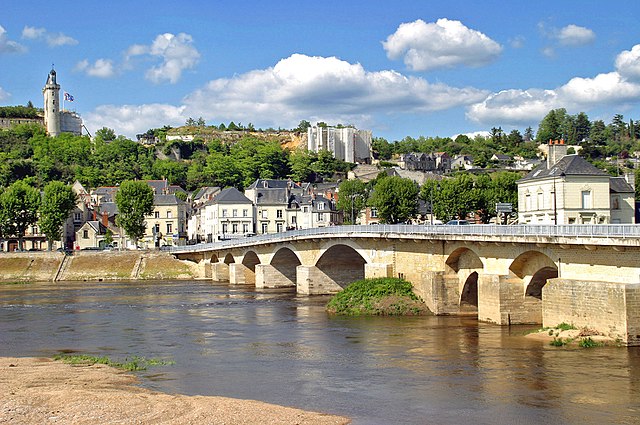 Chinon castle (W. Bulach - CC BY-SA 4.0)
Langeais 
Langeais is our hometown and has its own castle, the Chateau de Langeais. Langeais castle was first founded in 992 by Fulk Nerra, one of the early counts of Anjou and a celebrated builder of medieval castles. However, it was destroyed during the Hundred Years' War (1337 - 1453) and later rebuilt by King Louis XII in the mid-to-late 15th century. It is this Chateau de Langeais which still stands today and is an excellent example of late medieval architecture. 
Chenonceau and Chambord castles are about 40 minutes and 1 hour 20 minutes respectively from Langeais and Azay-le-Rideau. However, as well as having their own beautiful castles, Langeais and Azay-le-Rideau are also just fifteen minutes' drive away from Villandry castle and its stunning formal gardens.
So overall, both Langeais and Azay-le-Rideau are pretty convenient locations if you're still deciding where to stay in the Loire Valley.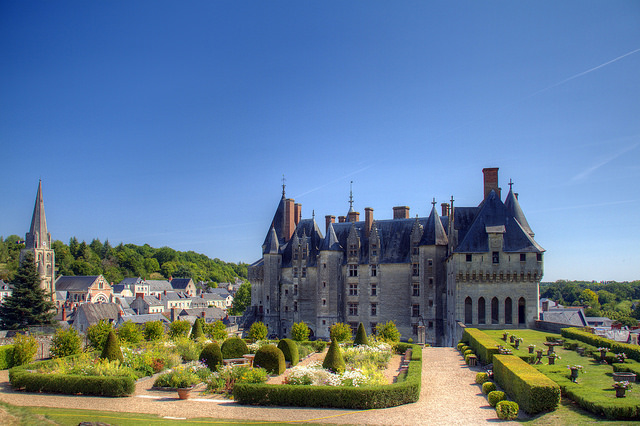 Langeais Castle on a beautiful summer's day (Campus France - CC0 1.0)
Azay-le-Rideau 
The town of Azay-le-Rideau is just a few steps from Azay-le-Rideau castle and can be a lovely place to stay in the Loire Valley if you prefer more of a quiet village atmosphere.
Also within easy reach of the town of Langeais, this pretty village has a nice range of restaurants and cafes where you can relax after a long day exploring the castles. The Chateau d'Azay-le-Rideau was recently restored and refurbished and is a lovely example of Renaissance architecture. You'll be struck by the pretty reflections of the chateau in the Indre River. 
Just along the river from Azay-le-Rideau castle is the less-well-known Chateau de l'Islette, which is still lived in today but also open to the public. This is a beautiful little castle, quite reminiscent of its neighbor but with fewer visitors, so it's a nice escape from the tourist crowds. Enjoy relaxing in one of the deck-chairs in the pretty grounds or gather around a picnic table for an al fresco lunch.
The Chateau de Villandry with its beautiful formal gardens is just 15 minutes' drive from Langeais and Azay-le-Rideau. It was the last chateau of the Renaissance period to be built next to the River Loire.
Villandry gardens demonstrate the typical architecture and gardens of the period and are spread among three terraces to form the kitchen gardens, the water garden, and the ornamental garden. There is also a maze on the second terrace, which is quite fun to explore. The gardeners at Villandry castle are continually replanting and renewing the gardens, so even if you've visited before there will always be something different to see.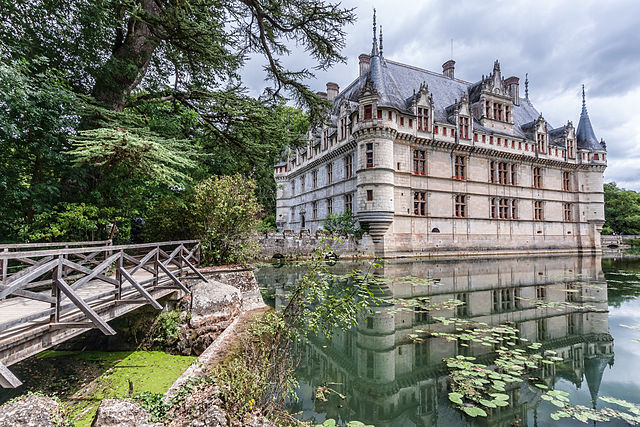 Azay-le-Rideau castle (Jean-Christophe BENOIST - CC BY 3.0)
Staying Farther Afield
Saumur 
Saumur is a pleasant town to stay in in the far west of the Loire Valley. However, it may be too far away from some of the more famous castles, such as Chambord, which is located 1 hour 45 minutes' drive away in the east of the region.
If you want to experience staying in cave homes, which are a special feature of this region (see the paragraph about troglodyte accommodation below), Saumur is certainly a good option for your stay in the Loire Valley.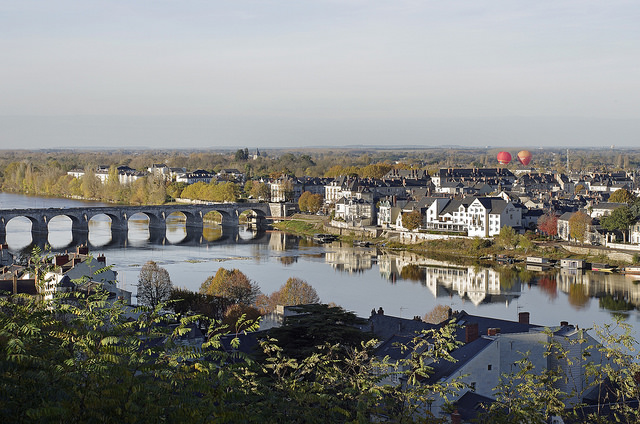 The pretty town of Saumur in the west of the Loire Valley (Daniel Jolivet - CC BY 2.0)
Types of Accommodation
We discuss the types of accommodation available in France on another page of our website. In the Loire Valley, we think the best options are to stay in a premium Bed & Breakfast so you can interact with locals and where you will receive a warm welcome. 
However, if you're looking for something a bit different, you might enjoy staying in troglodyte accommodation.
Troglodyte homes are domesticated cave dwellings and are a very special feature of the Loire Valley. These are found in cavities in the Loire Valley's cliffs and plains which were originally a consequence of mining for the famous tuffeau stone starting from the 11th century. This is the local limestone from which many of the region's castles were built.
Over the centuries, the quarrying created an extensive network of caves and underground galleries. Some of these extend for several miles. Humans started to move into these caves centuries ago, as the indoor temperature remains fairly constant through the seasons.
The human cave dwellers are known as 'les troglodytes', and many of these dwellings have been renovated and fitted with modern furniture and amenities.
Staying in one of these troglodyte accommodations is to experience an important piece of the Loire Valley's history. Many of these can be found in the Saumur region. 
Of course staying in a chateau is also quite special and there are several in the region which accept overnight visitors.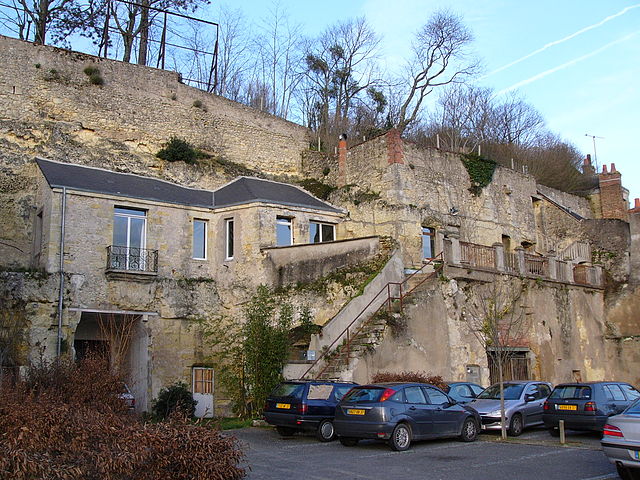 Troglodyte cave dwellings in the Loire Valley (Croquant - CC BY-SA 4.0)
Beyond visiting castles, there is plenty more to do in the Loire Valley. You might like to go on a hot air balloon ride or a wine tasting tour, or get active and go kayaking in the Loire River. We also know some great cycling routes alongside the river. 
Find out more about our Loire Valley tours here or contact us to tell us about your wishes for your next vacation in France!
France Just For You is rewarded with the 2023 Trip Advisor Certificate of Excellence.
We keep working hard for our travelers to have the best experience in France.