This is my grandmother's special chicken pie recipe. We love to eat it to warm up in the winter! We hope you enjoy it too!
Serves 8 people.
Ingredients
1kg of chicken (entire chicken)
200g of chopped bacon
250g of small onions
1 glass of Port (fortified wine)
200g of black olives
200g of mushrooms
salt, pepper and herbes de provence
garlic, parsley
To make the dough:
500g of flour
250g of butter
1.5 cups of water
1 teaspoon of curry powder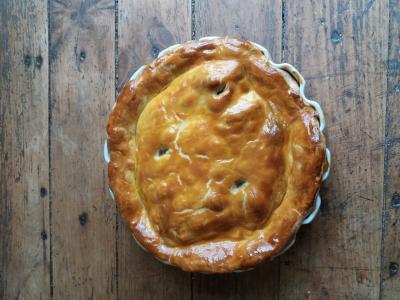 Cut the chicken into pieces, taking out the bones, marinade it with salt, pepper, thyme, garlic, onion, parsley and oil and leave for a few hours. This is the longest part of the cooking process. 
 Put the chicken pieces in a stockpot with the chopped bacon, onions, 3 garlic cloves and some chopped parsley. 
Make a roux using 2 spoonfuls of flour, 2 spoonfuls of butter and one small glass of bouillon. Add 1 glass of Port wine, 200g of black pitted olives and the chopped mushrooms, and leave it to simmer for about 45 minutes. Remove from the heat and leave it to cool overnight.
Prepare the dough using the measures given. Cut a round crust and spoon the chicken onto the crust in small heaps. Cover with a second crust, seal the edges, then glaze with a beaten egg yolk. 
Make 2 or 3 incisions in the dough and put it in the oven (180°C – 350°F) for about 40 minutes.
Remove from the oven when the crust is nicely golden.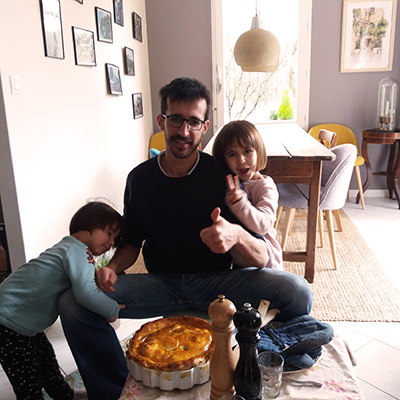 Emilie's family - Guillaume, Pauline & Jeanne - ready to enjoy the Chicken Pie