If you plan to visit Paris in December, wrap up warm and head out into the streets to soak up the Christmas spirit! From mid-November onwards, the City of Lights begins to live up to its name as Christmas displays are constructed in store windows, Christmas lights brighten the boulevards, and Christmas markets start popping up all over town. There are also special bus tours and river cruises along the Seine to see the Christmas lights, and several open-air ice skating rinks to choose from near Paris's most famous attractions. 
In this post, we share our top tips on things to do in Paris in December, including some indoor activities when you need to escape from the cold weather!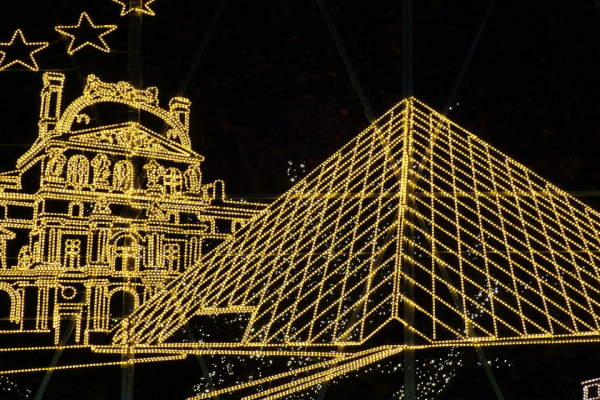 The Christmas lights at the Louvre pyramid in December (MaxPixel CC0)
Admire the gorgeous Christmas decorations at Galeries Lafayette
The magical and mesmerizing spirit of Christmas is impossible to miss at Paris's biggest department stores. Galeries Lafayette's flagship store on the Boulevard Haussmann has one of the most elaborate Christmas window displays.
Each year the store unveils an epic centerpiece under the domed roof of its central shopping court. Normally this is a spectacular Christmas tree adorned with ornate, colorful decorations and surrounded by Christmas lights. It's enough to distract you from your Christmas shopping! 
The rest of Boulevard Haussmann is itself a sight to be seen, and elsewhere in Paris, the animated display of moving figures at Bon Marche is also impressive, and fun for children to watch. If you're staying near Le Marais district, take a stroll along to the BHV department store too, to admire their Christmas displays. 
For some of the prettiest streets lit up with Christmas lights, apart from the Boulevard Haussmann, see the one million Christmas lights in the Champs Elysees avenue. For a slightly less touristy experience (but just as Christmassy!), stroll along the Rue Montorgueil, one of the city's most authentically Parisian streets.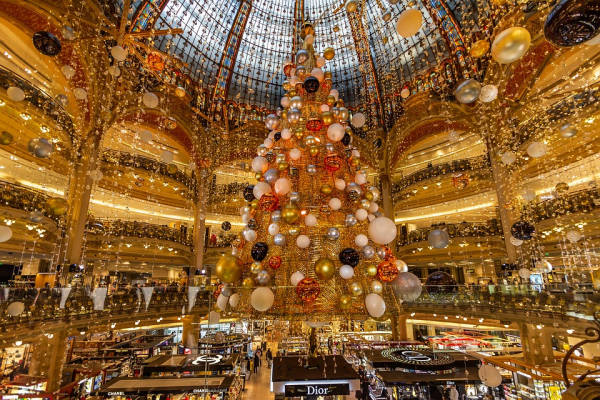 The stunning Christmas tree and Christmas lights at Galeries Lafayette department store (MaxPixel CC0)
Go ice-skating on a rooftop
As if the incredible Christmas decorations weren't enough, Galeries Lafayette at Boulevard Haussmann has outdone itself this year! It will be opening a roof-top open-air skating rink that will delight both locals and tourists alike. Enjoy breathtaking views over the rooftops of the Paris Opera and across to the Eiffel Tower. The best part is that admission to the ice rink is free! It is normally open from around 20 November through 31 December from 9.30 A.M- 8.30 P.M.
For another rooftop experience, the large ice rink on top of La Grande Arche de la Defense will return this year. Come and join the fun at 110m above the ground and enjoy 360° views of Paris. The ice-skating rink normally opens from around December 20 through early January. Don't forget to bring your gloves, as wearing these is mandatory!
For the biggest indoor ice-skating rink in the world, head to the newly refurbished Grand Palais, where Le Grand Palais des Glaces ice-rink normally opens from mid December through early January. Skate to your heart's delight under a huge dome of lights, accompanied by your favorite songs. At night, it becomes an ice-skating disco.
There are often ice-skating rinks by the Eiffel Tower, at the Tuileries Gardens near the Louvre Museum, and at the Hôtel de Ville, too. However, these have not been confirmed at the time of writing.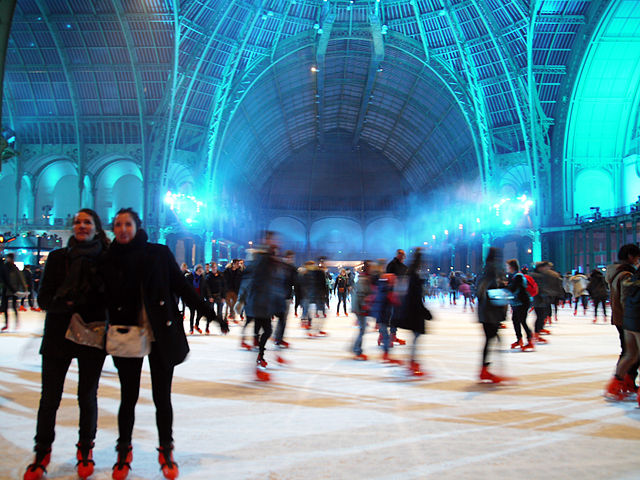 Ice-skating rink at the Grand Palais, Paris (Photo: Passion Leica, CC BY-SA 2.0)
Spend Christmas at Disneyland Paris
Christmas celebrations at Disneyland Paris start in early November and continue through January. Look out for the giant Christmas trees, Christmas shows, Christmas parades, lights and decorations.
You can enjoy singing Christmas carols with all your favorite Disney characters during a magical Christmas trip to Disneyland. Be sure to book tickets for Christmas shows well in advance, as these are very popular!
Christmas at Disneyland Paris normally runs from mid November to around January 6.
Disneyland Paris at Christmas (pxhere)
Admire the Greatest Artistic Masterpieces in Digital Form
The Atelier des Lumières has become one of Paris's top attractions for art lovers. This digital art exhibition projects enlarged versions of paintings by some of the world's most famous artists onto the walls of this exhibition space.
Past exhibitions have featured Van Gogh, Klimt, Monet, Renoir and Chagall as stars of the show. Some of their most famous masterpieces were transformed into moving images to a musical accompaniment, covering the walls of the Atelier. 
Digital transformations of the works of Catalan artists Antoni Gaudi and Salvador Dalí will be on display at the Atelier until January 2nd, 2022.
See the Festival of Lights at Jardin des Plantes
The Festival of Lights at the Jardin des Plantes - Paris's Botanical Garden - is an absolute must-see this holiday season. The theme of last year's light festival was 'Oceans'.
Visitors were able to stroll among fifty giant animal light installations placed throughout the gardens.
The journey started with a "Walk along the the tropical shore", followed by a "Dive into hot waters", then an exploration of "Mysterious Abysses", finishing off with a "Swim in cold waters". The installations included extinct and endangered sea creatures, polar bears, penguins, and a great white shark.
You may also take the opportunity to visit the zoo at the Jardin des Plantes while you are there, to see real live animals.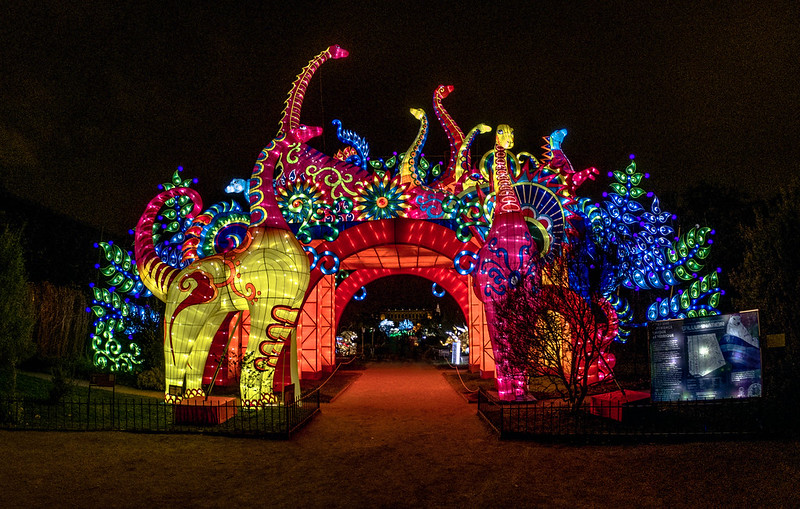 The Festival of Lights at the Jardin des Plantes in Paris (Yann Caradec, Flickr CC BY-SA 2.0)
See A Ballet at the Théâtre des Champs-Elysées
The Champs-Elysées Theater is in fact on Avenue Montaigne (not far from the Champs-Elysées avenue). You can check the calendar here to see what is showing when you visit Paris. These normally include concerts, operas and ballets.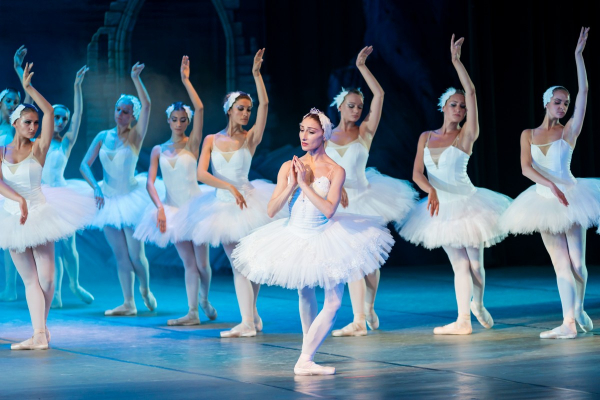 Ballet dancers performing Swan Lake ballet in December 2019 (pxhere CC0)
Get Festive at a Christmas Concert
Sainte-Chapelle 
Listening to a concert whilst surrounded by the gorgeous stained glass windows and Gothic architecture of Sainte Chapelle will be a Christmas to remember! This is a very popular venue, to be sure to book your tickets well in advance of your trip to Paris. The concerts normally run from December 20-31. To check availability and book tickets, click here.
Église de la Madeleine
With its magnificent pipe organ and excellent acoustics, the Église de la Madeleine is a popular venue for classical music concerts. Originally the church was built in honor of Napoleon's army. The fresco in the church's dome is called 'The History of Christianity' and depicts Napoleon at its center. You will also admire the impressive neoclassical Greek design, unmistakeable due to the 52 Corinthian columns outside the church. To check December concert dates, click here.
Église Saint Paul Saint Louis
Built in the Italian style of the early 1700s, the beautiful interior and organ make a very nice concert venue. Look out for paintings by Delacroix and Germain Pilon. Check the concert dates here.
Église Saint-Germain-des-Prés
Église Saint-Germain-des-Prés is the oldest church in Paris, dating back to the 6th century. The beautiful 19th century frescoes nicely complement the church's Roman style. Look out for the architectural lines from more than 1,500 years ago. Check the December concert dates here.
Église Saint-Séverin 
Saint Severin, a gem of the Latin Quarter, was built during the 11th century, following the Vikings' destruction of an earlier church. It is one of Paris's most beautiful Gothic-style churches, and also has very pretty stained glass windows. If you are spending Christmas in Paris, you may like to attend a Christmas concert at St. Séverin Church on Wednesday December 25th at 20.45.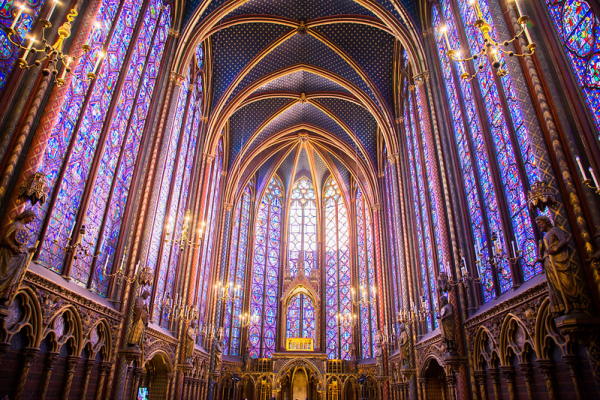 Sainte Chapelle's beautiful stained glass windows surrounded the chapel (Bradley Weber, Flickr CC by 2.0)
Visit some incredible art exhibitions 
We have compiled a list of all the current art exhibitions showing in Paris. This list is updated regularly, and includes all the December exhibitions.
Drink some vin chaud at a Christmas market
Christmas markets pop up all over Paris in December. They're not the best for finding authentic French gifts, in our opinion. Most of the products are imported and of questionable quality. If you want the real deal, you will find the nicest Christmas markets in Alsace and Provence.
That being said, the markets in Paris do add to the general Christmas spirit and you may enjoy buying sweets for yourselves and for children. For us, there are few better ways to get into the Christmas spirit than to taste it in a glass of vin chaud (mulled wine) or a cup of steaming hot chocolate!
The largest Christmas market in Paris is on the Champs-Elysées avenue, stretching all the way from the Arc de Triomphe at one end to the Place de la Concorde at the other. There are also markets by the Eiffel Tower and by Notre Dame cathedral.
Here is a list of the Christmas markets in Paris that you might like to visit this 2021-2022 festive season. Some of these are still to be confirmed, so check online before you head out.
Champs-Elysées Christmas Market - late November - early January. Every evening from 17.00-2.00 A.M
Eiffel Tower Christmas Market, Quai Branley - from around December 20 - early January
Tuileries Gardens Christmas Market (near the Louvre museum) - mid November - early January
Christmas Market by Notre Dame Cathedral - mid through late December, 10am-8pm (9pm on Friday, Saturday, Sunday)
Christmas Village, La Défense Esplanade - late November - late December
St Germain des Près Christmas Market - late November - early January
Christmas Market at the Feeries d'Anteuil - November 30-December 8, 2019
Les Halles Christmas Village -  late November - early January (TBC)
Montmartre Christmas Market behind the Sacre Coeur (TBC)
Gare de l'Est, Traditional Alsace Christmas Market - December (TBC)
Christmas Market at Hôtel de Ville - mid-December - early January (TBC)
15th Arrondissement Christmas Market - around December 13-22  (TBC)
Bir Hakeim Christmas Market (near the Eiffel Tower) - December - January (TBC)
Christmas Market at Invalides - mid through end December (TBC)
Visit an Alternative Pop-Up Christmas Market
Check the confirmed dates for 2021-2022 here.
Japanese Christmas Market - Passage Choiseul (Rue des Petits Champs) (TBC)
English Christmas Market - St George's Anglican Church (7 Rue Auguste Vacquerie) - December - January (TBC)
Nordic Christmas Market - La Recyclerie (83 Boulevard Ornano) - one day in December (TBC)
Swedish Christmas Market - The Swedish Church (9 Rue Médéric) - late November (TBC)
Also check specialty Christmas Markets on three different themed Sundays and 30 artisans in front of Le Hasard Ludique.
If you will be on one of our self-guided tours of Paris in December, and would like to include one of these activities in your itinerary, please let us know!
RELATED: