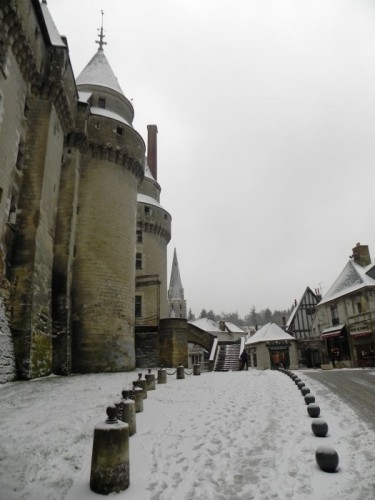 These days, it has been snowing in northern France, in Paris and in the Loire Valley! We normally only get 2 or 3 days of snow in the Loire Valley during the whole winter - not much compared to the Alps!
This is a picture of our lovely town of Langeais in the snow. It's beautiful, but slightly on the cold side!
When is the best time of year to visit the Loire Valley?
The best time to visit the Loire Valley is in the late spring (April/May), summer and fall. In the spring, the gardens in France come out in full bloom, and it's an especially nice time to visit the castles of the Loire Valley. In summer we usually enjoy warm weather and it's a wonderful time for picnics, hiking and outdoor activities. In the fall, the valley turns yellow, orange and red and you'll get some gorgeous photos of the fall colors.