This is an easy recipe and you shouldn't have any problems finding the ingredients. You can trust Karine, it is delicious!

INGREDIENTS
1 pound of salmon fillet (without skin)
1 large yellow onion (diced)
1 red bell pepper (diced)
1/2 lemon juice
2 to 3 ounces of crumbled goat cheese (according to taste)
a few leaves of fresh basil (chopped) - optional
4 ounces of sour cream
4 ounces of heavy whipping cream
grated swiss cheese (sprinkle on top of the dish for the "gratin")
PREPARATION
Place all the ingredients in the same order as above in a medium-sized baking dish (ideally a square glass dish)
Bake in a preheated oven at 375°F for 1 hour or until golden.
Serve with rice and a fruity white wine like Jurançon.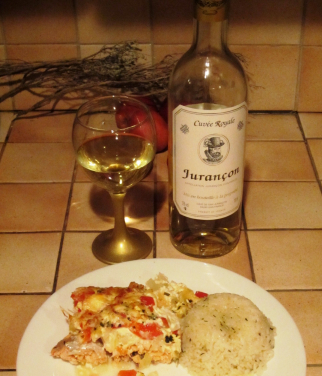 ENJOY!