This recipe is quick to make so great for a week night meal that everyone will enjoy. Plus the Catalane touch makes it a little spicy, especially depending on the heat of the chorizo you choose. Bon appétit, or as they say in Catalan, tenir gana!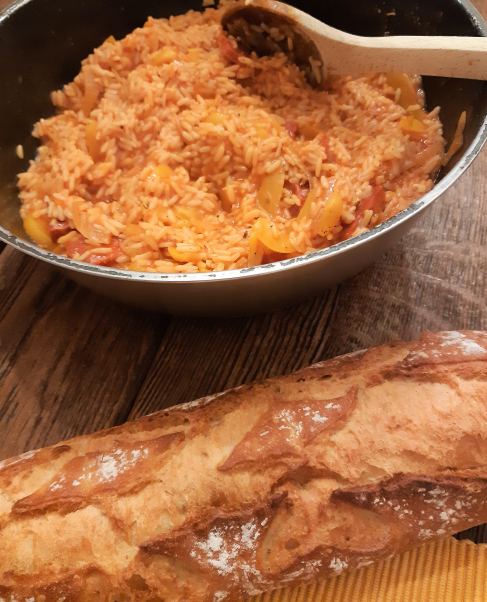 Photo: A real treat - Laura's homemade Riz à la Catalane, Laura Crotet
Ingredients
For 4 people
1-1/4 cup long grain rice
7 oz chorizo (more or less)
1 cup tomato sauce
½ onion
1 garlic clove
1 yellow pepper
3 tablespoons olive oil
1 tablespoon herbes de Provence
2 cups chicken or veggie bouillon
Salt and pepper
Instructions
Finely chop the onion and garlic, and cut the pepper into thin slices.
Add 2 tablespoons olive oil to the skillet, add the onion, garlic and pepper and sauté for a few minutes.
Add the herbes de Provence, tomato sauce, salt and pepper and simmer on low for 10 minutes.
In another skillet, add the last 1 tablespoon of olive oil, then fry the uncooked rice on high for 2 minutes.
Add the rice to the tomato mixture, then add the bouillon. Cover and simmer for about 15 minutes, until the rice is cooked. Check regularly and add water if necessary.
Add the chorizo, and enjoy!
- Laura Crotet, France Just For You
If you would like to taste this typical dish and others while traveling in French Catalonia, contact us to help plan your trip.