Many of our travelers want to spend a few days in Paris during their self-guided tour of France. In Paris, we work with a charming family-run boutique hotel in the fashionable yet quaint Marais district in the 4th arrondissement. 
TIP: There are a lot of different metro stations around Le Marais district. Decide which place you would like to visit first, and then see which stations are near. Also check which metro line will be most convenient from where you're starting.
Le Marais - our favorite district in Paris, full of charm and antiquity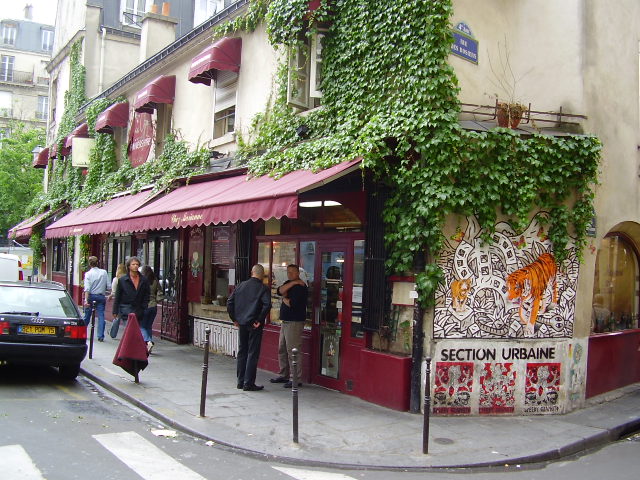 A cafe in Le Marais in Paris (Photo© Borya CC BY-SA 2.0)
Le Marais is our favorite district in Paris, especially for shopping. You can still find some very nice unique shops in what feels like a small-town neighborhood. 
This was once the Jewish quarter of Paris, and you'll still find a number of kosher restaurants and bakeries there. There are also many trendy boutiques, shopping galleries and bars.
In Le Marais, you'll encounter narrow streets and winding cobblestone alleyways. Before Napoleon's time, this is actually what most of Paris was like. Le Marais has more pre-revolutionary buildings and streets remaining than any other part of Paris. So it's a good way to get a sense of what medieval Paris felt like. 
Before the French revolution (1789-1799), Le Marais was a place for the upper class of Paris. You'll notice this from the beautiful opulent buildings and houses in the area. 
After the revolution, the rich moved out of the area and it deteriorated into squalor as poorer shopkeepers, immigrants, artisans and artists moved in. At one point city officials wanted to destroy the neighborhood as part of the modernization of Paris.
Indeed, many other parts of Paris were demolished and reconstructed as part of a massive urban renewal program under Napoleon III and Georges-Eugène Haussmann, a French official chosen by Napoleon to open up the center of Paris and make it more beautiful. Haussmann oversaw the construction of new boulevards and avenues, city parks and huge squares, such as the Place de la Concorde. His vision still dominates central Paris today.
But Le Marais survived this period of demolition and renovation, giving visitors a glimpse into Paris' more distant past.
Here are some places of interest in Le Marais that you may like to visit on your trip to Paris:
Rue St. Antoine 
 This is a very nice larger street to stroll along, with cafes and pastry shops and little boutiques to explore. At the end of the street is the Place de la Bastille.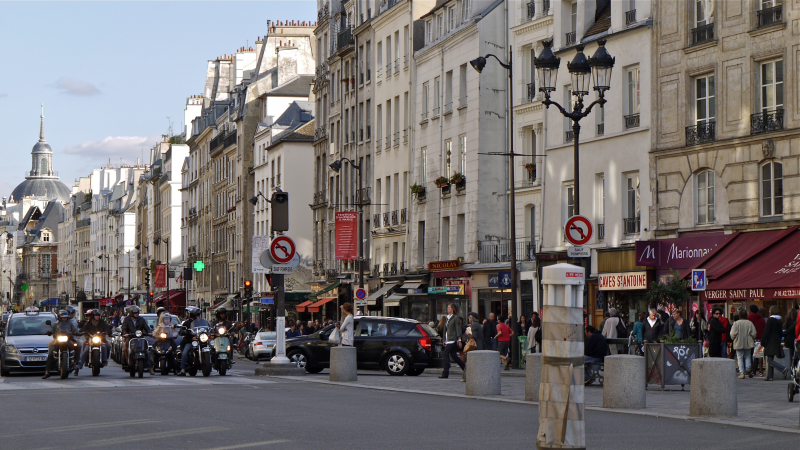 The Rue Saint Antoine in Paris's Le Marais district (Photo© Jean Robert Thibault CC BY-SA 2.0.jpg
Place de la Bastille
At the end of Rue Saint Antoine and on the southeastern edge of Le Marais is the Bastille Square. This was once the location of a great fortress where the French Revolution began on July 14, 1789. Nothing is left of the original prison except for a few bricks in the ground. The column in the center of the square commemorates two revolutions that happened later, in the middle of the 19th century.
The opera house (Opéra Bastille) with its modern-looking glass façade is the stand-out feature on the Place de la Bastille.  President Mitterrand ordered its construction as part of his Grands Projets (an architectural program to provide modern monuments in Paris in the 1980s). It was supposed to bring opera to the masses, but this hasn't really happened, as opera tickets are still expensive for the middle class.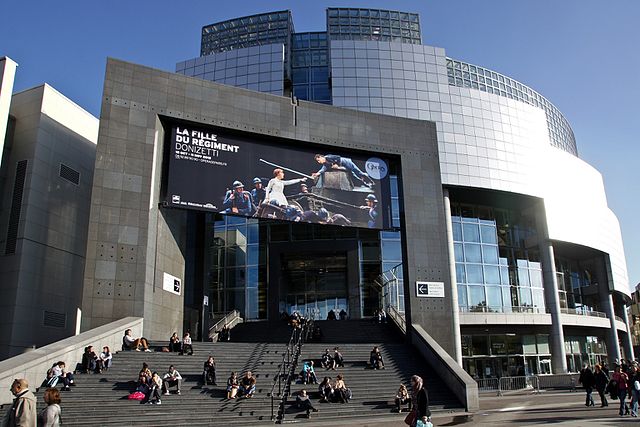 Outside the Opera Bastille in Paris (Photo© besopha CC BY 2.0)
Place des Vosges
The grassy Place des Vosges is the oldest and one of the most beautifully planned squares in Paris. It dates back to 1612 (the time of King Henri IV in France) and soon after its construction it became a highly desired area to live. In fact, Napoleon called it 'the jewel of Paris', and it's not hard to see why, lined with trees and elegant red-brick houses.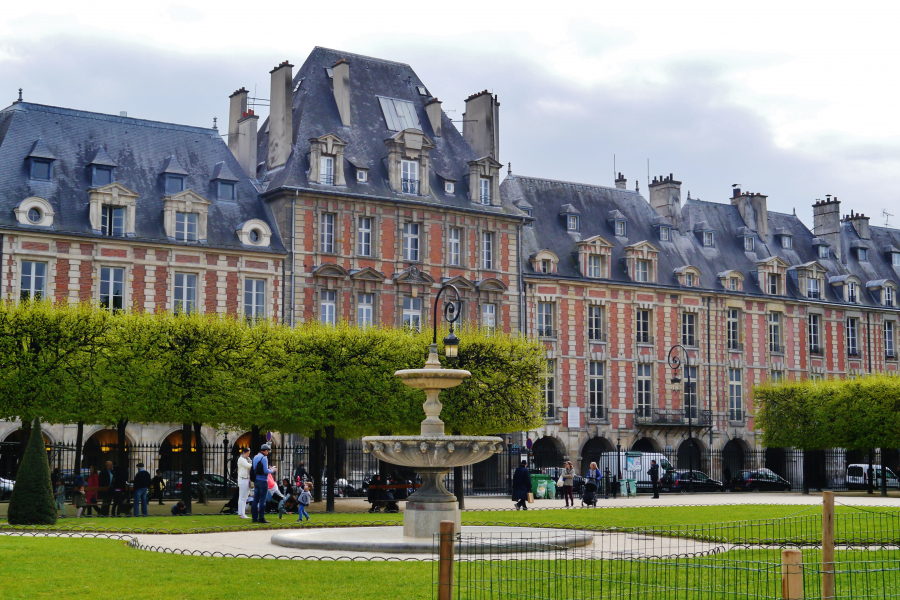 Place des Vosges (Photo© Zairon CC BY-SA 4.0)
Victor Hugo's House
Nowadays the Place des Vosges has some charming shopping arcades to explore and the Musée Victor Hugo, where the famous French writer (author of Les Misérables and The Hunchback of Notre Dame) once lived, at number 6. His apartment contains the original furniture, as well as some interesting artifacts and sketches.
It was painstakingly reconstructed to show what it would have been like when the writer himself lived there in the 19th century, including the Chinese-style drawing room. 
Note: The Victor Hugo museum is closed for renovations until November 2020.
Place Sainte-Catherine
This charming little square is the epitome of Parisian culture, with old apartment buildings, trees, and nice little bars and restaurants lining the edges of the square. At night, a soft yellow glow from the streetlights filters through the trees. It's a magical atmosphere and an ideal place to spend a summer evening, outside on a restaurant terrace enjoying a meal and a glass of wine.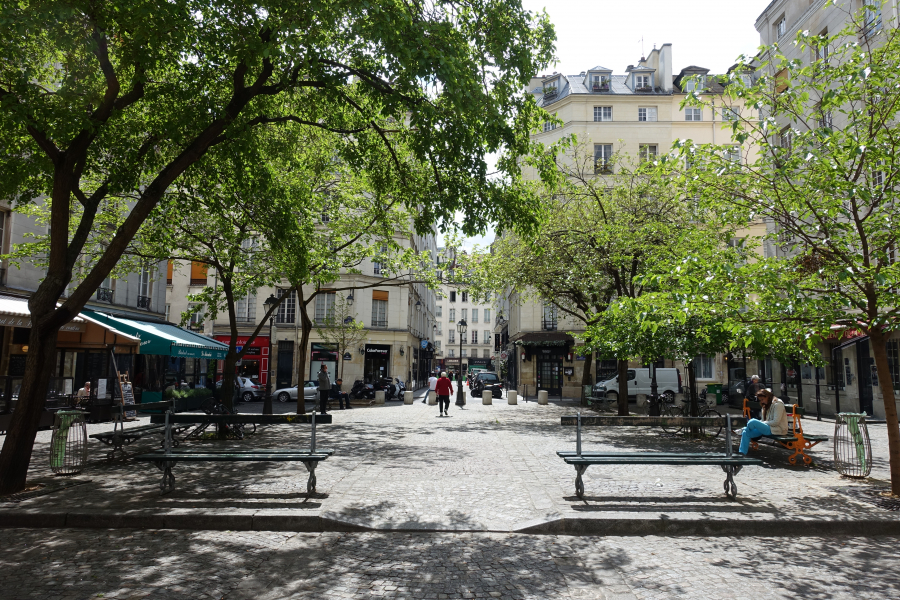 Place Sainte Catherine, Le Marais (Photo© Guilhem Vellut - CC BY 2.0)
Maison Européenne de la Photographie
The photography museum is very popular among art and photography lovers. The museum is housed in an 18th century mansion (very interesting to visit) and has regularly changing contemporary photography exhibitions. There are no permanent collections, so visit the museum's website before your visit to check who's exhibiting. This museum isn't huge, so it's easy to fit into a day exploring Le Marais. 
Rue des rosiers
If you would like to explore the Jewish quarter, take a stroll up the rue des Rosiers. This was once home to the largest Jewish community in Europe. Tragically, 75% of the population died in concentration camps during World War II. Nowadays, the street is full of bakeries, delis, old hammams, and Eastern European Jewish restaurants. This part is very quiet on Saturdays, due to the Shabbat, but great to explore on any other day of the week.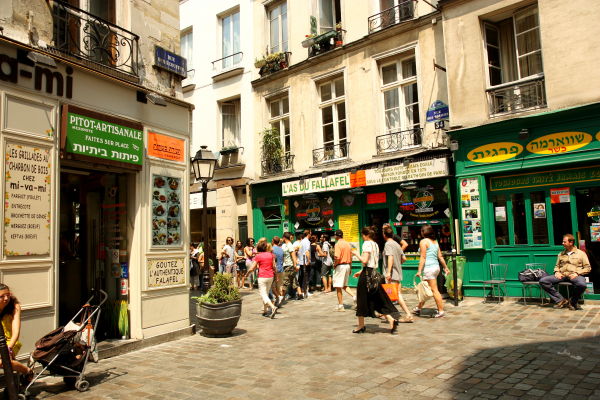 Rue des Rosiers (Photo Andrea Schaffer CC BY 2.0)
Musée National Picasso-Paris
The Picasso Museum in Paris contains around 5,000 artworks by Pablo Picasso (including around 300 paintings and 250 sculptures) and pieces from his own art collection & archive. If you're a fan of Picasso you may want to leave a few hours to explore this museum.
Museum of Jewish Art and History
If you are particularly interested in Jewish history and culture, visit this museum before or after a stroll through the Jewish quarter. The museum is housed in a 17th-century mansion and contains Jewish religious treasures, and art by Jewish artists Marc Chagall and Amedeo Modigliani.
The Pompidou Center
The Pompidou Centre is the National Museum of Modern Art, named after French President Georges Pompidou (who was president from 1969-1974). Its radical design provoked a mixed reaction when it opened in 1977, but it has since won over the public and the critics. It's now one of Paris's most popular attractions, with its high-profile exhibitions.
If you're visiting, take a trip up the escalator that scales the outside of the building and enjoy great views of the city. 
The art museum is located on the 4th (covering art from 1960 to the present day and 5th floor (1905 to 1960), with special exhibitions on the 6th floor. You can also find architectural models and designer furniture on the 4th floor.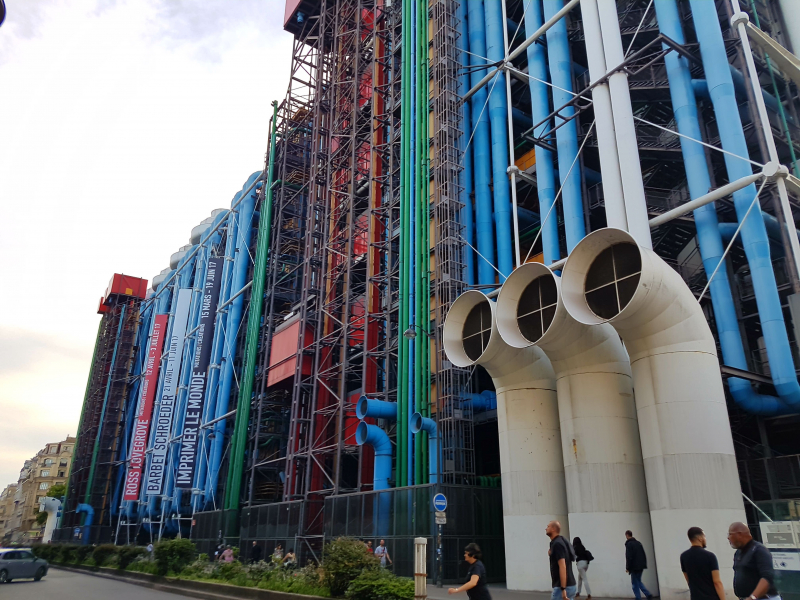 Pompidou Centre - National Museum of Modern Art (Photo© Naomi Dalton)
Shopping in Le Marais
The Marais is known for its many art galleries and design shops. You might compare it with Manhattan's Soho district. The high-end art leans toward the more conceptual schools, influenced by postmodernism and the success of Brit-Pop. You'll find some interesting work from time to time. If you're more interested in the early 20th century artists, the rue de Seine in St. Germain is a better spot to look.
Le BHV Marais department store (Bazar de l'Hotel de Ville) is one of the biggest in the world. You can find EVERYTHING there from plumbing tools to a Chanel suit. We actually like it better than the Printemps or Galerie Lafayette in the big boulevards.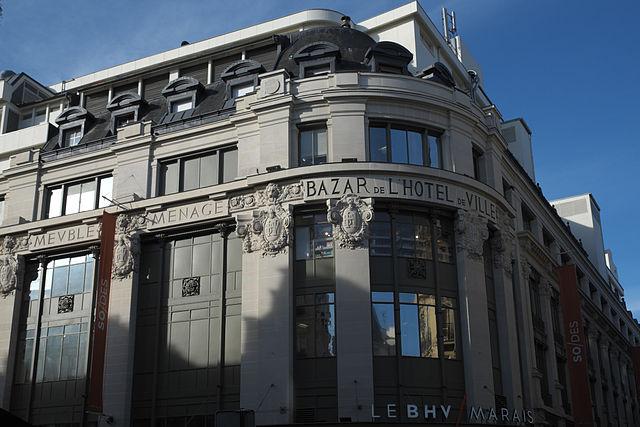 BHV department store (Photo© GFreihalter CC BY-SA 3.0)
Great Places to eat in Le Marais
A small, typical, traditional bistro with tables packed together for a convivial ambiance. The blackboard has the menu of the day. Expect to see French classics, including foie gras, duck, lobster and chocolate.
Bread, cheese and wine - what more could you ask for in France?! Order a delicious fondue or raclette with a glass of Burgundy.
If you're a fan of the opera, this is the experience for you! A 3-course meal in a romantic setting, with waiters singing opera to live piano music. It costs around 90 euros for an a la carte meal and the show.
Find out more secrets on one of our self guided tours of Paris!
We share more about Le Marais district's hidden gems in your personal France Just For You guidebook, included with all our tours.
Discover a cafe with a gorgeous view from the 2nd floor, while you enjoy tasty home-cooked French cuisine, and a charming tea room with the best cakes! We can also tell you about a beautiful patisserie that sells (probably) the best French eclairs in the world.