As 2021 begins, international travel is not yet possible. But we do know that this situation isn't forever. With the vaccine campaigns started across the globe, we're hopeful that it won't be too long before people feel confident and safe enough to travel again in the near future. And when that time comes, France is the place to be.
As if you need any convincing, here are 21 reasons to visit France in 2021:
1. THE BEAUTY OF THE LANGUAGE
It may have been a while since you learned French, but just hearing it is enough to get the memory flowing. The language of love, of art and literature, of diplomacy, and of food, French is the second most learned language in the world, only behind English. Armed with a few key phrases, you will find this is enough to bring a smile to the French person's face and open the exchange (a few glasses of wine help, too!).
The most important word is "oui", but when traveling in France, it is more than fine if you spell it "Weeeeee!"
2. Diversity of the landscapes
You will be amazed by the diversity of the natural landscapes in France, from the beautiful coastline to the majestic mountaintops, the slowly flowing rivers banked by famous vineyards, and the charming countryside peppered with quaint villages.
Because France is about the size of Texas, driving is a great way to experience this diversity because you do not need to go far for a complete change of scenery.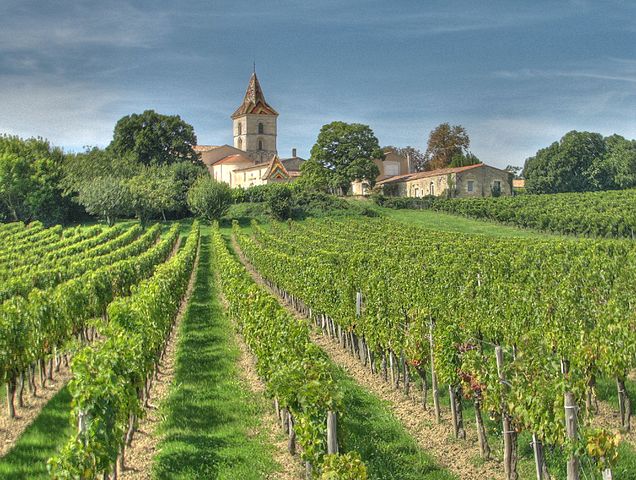 Vineyard in Gironde, Bordeaux (Photo: Michael Clarke stuff, CC BY-SA 2.0)
3. The Food
No surprise for this one, and this is in and of itself reason enough to visit France. From the simple ham and butter baguette sandwich to a complete meal in a Michelin-starred restaurant, great food is everywhere! It is no surprise that the "gastronomic meal of the French" is on the UNESCO Cultural Heritage of Humanity list.
You may prepare a French meal worthy of a few stars by taking a cooking class while in France. Some chefs invite you into their own kitchen for a personalized and more intimate cooking experience, and then you share the meal with the chef. What better way to impress your friends and family once back home than by whipping up a French meal?
4. hot air balloon rides
The hot air balloon was invented in France in the 18th century by the Montgolfier brothers, Joseph and Etienne. Many regions are amazing to experience this way: the castles of the Loire Valley, the medieval charms of Dordogne, the Luberon hills in Provence, or the famous Burgundy vineyards.
Plus, tradition has it that each flight ends with a Champagne toast.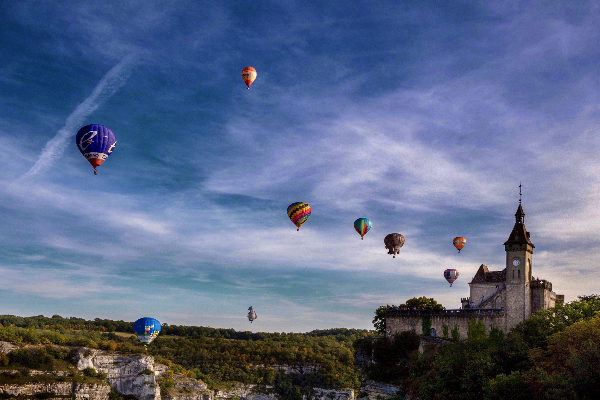 Enjoy a hot air balloon experience in France (Photo: pxfuel.com)
It is a moving experience to see the treasures hidden under the lush scenery of Dordogne. The prehistoric drawings and dwellings contained in the subterranean networks of galleries and caverns will bring you back 40,000 years in history. Whether you visit the famous Lascaux caves or lesser-known ones like Rouffignac, book in advance to ensure your visit. 
6. Cheese
Charles de Gaulle once asked how to govern a country which has 246 varieties of cheese. He was pessimistic in his count, with some numbering between 1,000 to 1,600 distinct types.
One of the best ways to get to know a region is by tasting the locally made cheeses. And should you enjoy a Mimolette in the north, take a second to remember de Gaulle, because this was his favorite cheese.
7. A Wide Variety of Cultural events
France is serious about its culture and the importance of culture in French history and society. There is even a Ministry of Culture in the French government, alongside Education, Defense and Agriculture. Because of this, there are many events that take place across France each year.
One of the most fun, most accessible, and cheapest (because it is free) is the Fête de la Musique on June 21st. Stages of various sizes are set up everywhere, and amateurs as well as professionals take to the streets to enjoy the groove. Ask what is happening in the area you are visiting, as some events may take place on June 19th or 20th in order to fall on the weekend.
8. ballroom dancing by the seine
In the summer (June to August), you can dance the night away in Paris on the quay along the left bank of the Seine, in the Jardin Tino Rossi. Bring a picnic and a bottle of wine, then salsa, tango, or waltz under the stars in the City of Lights – so romantic!
9. So Many Castles, So little time
It is believed that there are 6,000 castles scattered about France, with a large concentration along the Loire river valley. For trivia lovers, both the biggest and the smallest castles are located here. Can you name them?
The biggest is of course the famous Château de Chambord, with its double helix staircase, 440 rooms and 282 fireplaces. The smallest is the Château de Troussay, not far from Cheverny. A little jewel from the Renaissance, you can have a guided tour of the castle, then stroll freely in the park.
10. The Boulangeries
"A day without bread is like a day without sun." This is so true in France, where most people make trip daily to the boulangerie to buy bread.
Pushing the door to a bakery is an experience that every traveler must do while in France. A treat for the eyes, nose, and mouth! From the basic baguette, which is defined by French law as to its ingredients and weight, to fancier breads, croissants, eclairs, patisseries, . . . you will not know how to choose. So don't! Go back often and taste everything – just to ensure you have a little bit of sunshine each day.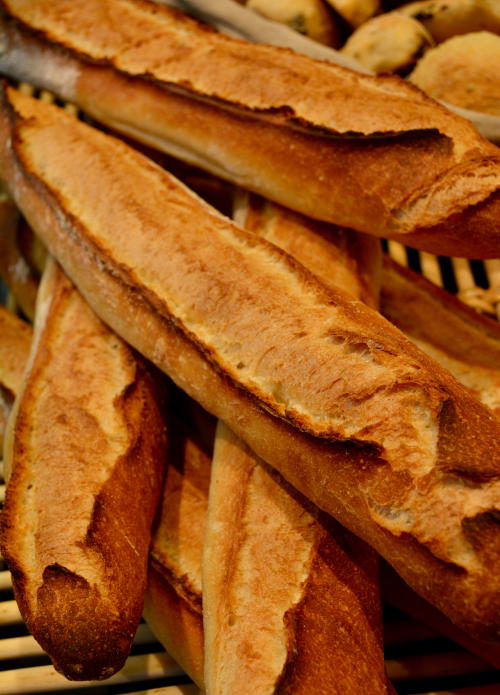 The famous French baguette (Photo : Pexels)
11. the tour de france
Nothing is more exciting that participating in the most famous bike race in the world. The 108th Tour de France will take place from June 16th to July 18th 2021.
Stake out your place early and enjoy the show. First to come through is the publicity caravan, throwing out gifts and souvenirs to the spectators. Then comes each team's support caravan, followed by the bikers. Don't blink, or you may miss the yellow jersey.
12. The Second-hand Shops
For second-hand treasure seekers, France is the place to be. From high-end antique dealers, to more accessible second-hand shops (called "Brocantes" or "Friperies" for clothes), regularly scheduled outdoor flea markets or yard sale-like events ("vide grenier" or "foire à tout"), you may find that unique and special something to bring home as a souvenir.
The most famous outdoor event is the Braderie de Lille, on September 4th and 5th in Lille in northern France. The entire downtown becomes pedestrian, and "chineurs" of all ages stroll amongst the antiques, books, clothes, and other surprises hoping to find a deal. If you go, you must also celebrate like the locals by having the traditional mussels and and a beer.
Another great market is in Isle sur la Sorgue in Provence, and takes place every Sunday morning. There are also many antique shops in the town, should you not be there on a Sunday.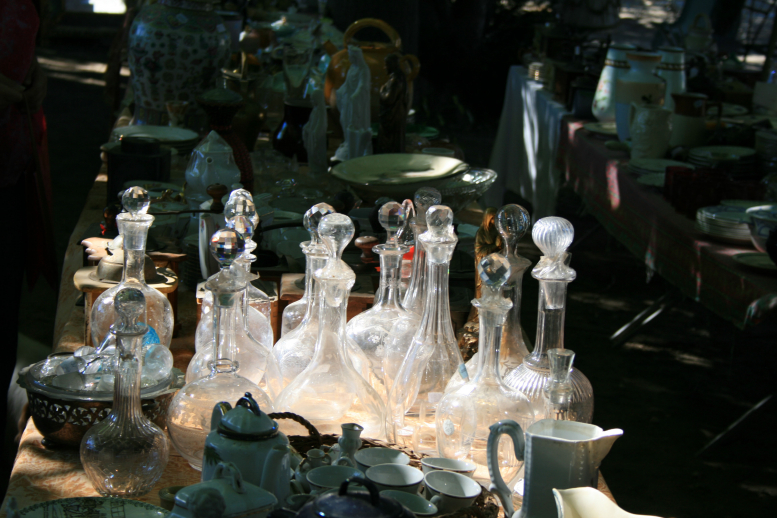 Antiques in Isle sur la Sorgue (Photo : JL Zimmermann, CDT Vaucluse)
13. the art scene
There is no question that France is the reference for art, with the Louvre being the most visited museum in the world.
For a unique experience, during the Night of the Museum event, taking place the night of June 15th to the 16th, museums open their doors for nocturnal visits, and most are free. Some even plan special visits by candlelight, concerts, or fireworks.
14. history comes alive
Whether you are a true buff or just a little curious, history comes alive in France when you get to see and feel it yourself. For example, nothing compares to visiting the D-day sites in Normandy to gain a deep understanding about the intricacies of what happened there.
There are so many historical must-sees (France counts more than 40 UNESCO World Heritage sites), that you may not know where to begin. If you do not already have a bucket list of must-sees, you may narrow down the choices by picking a period, a theme, or a historical figure, and building some pertinent sites into your itinerary.
History, whether with an 'H' or an 'h', is present everywhere in France. By visiting some historical sites, you will have an intriguing and fascinating window on French culture, making your trip a rich experience.
15. The 30th international garden festival in chaumont sur loire
Around 30 artists and landscape artists from all over the world are creating gardens based on this year's theme: "Nature, an infinite source of inspiration". The visitor is invited to walk through the paths of the gardens, from late April to October, set up as a sort of open-air gallery. In the summer evenings, the gardens are lit by small lights, revealing new and mysterious atmospheres.
16. architecture Abounds
From medieval times to today, France has been at the forefront of architectural innovation. In addition to the famous French architects like Le Vau, Viollet-le-Duc, Vauban, Eiffel, Le Corbusier, Nouvel, many internationally-known architects also have designs here.
Although Paris alone could satisfy any architecture fan, many treasures await outside of the capital. You will quickly notice that styles and materials change from one region to the next. Plus, you need to leave Paris to see some gems, like the Millau Viaduct, the walled city of Carcassonne, Bordeaux's Cité du Vin, or MUCEM in Marseille.
So make your list, or don't, because just strolling through a French town will provide opportunities to see the vast range of architectural styles.
The Cité du Vin in Bordeaux (Photo : Wallpaper Flare)
17. The 10th Annual festival of art history
Taking place on the grounds of the Château de Fontainebleau, from June 4th to the 6th, the festival brings together artists, curators, art dealers, publishers, scholars and students, and people who love the visual arts.
The public is invited (free of charge and without reservation) to attend over 250 different lectures, debates, screenings, and presentations that cover a wide range of practices and media, from ancient times to the present. Learn how to look differently at objects and images, retrace their stories and understand their meaning by sharing in the experience of art historians and other experts, with the beautiful Fontainebleau castle as the backdrop.
18. French Wines
Practically every region of France produces wine, and it is always a great experience to visit a cellar to taste wine with local makers who are passionate and love what they do.
There are also many wine festivals, including the Bordeaux Wine Festival taking place from June 17th to 20th. Installed in the center of Bordeaux along the Garonne river, there is a crowd, but it is a fun and festive event. Plus, for this year's edition, 33 tall ships will be in port during the festival.
19. hiking trails
Each region offers beautiful hiking trails for all levels. Take time to soak up some nature and be awed by the beauty. The national network, known as "sentiers de grande randonnée", or GR trails are well-marked and signposted (indicated by red markings), as are the shorter "chemins de petite randonnée", or PR trails (yellow markings). You may do only part of a trail, depending on your level and the time you have.
Some of our easy favorites are the walk around Saint-Jean-Cap-Ferrat in the Riviera, the Cabanes de Breuil walk in Dordogne, or to the Calanques near Cassis.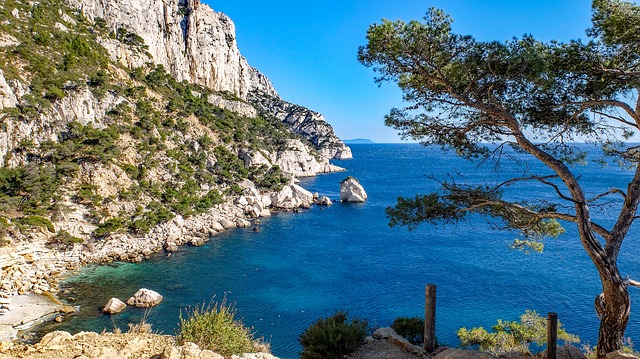 A view of a calanque near Cassis (Photo: pxhere)
20. Slower pace of life
For some, it is hard to slow down while traveling because there is so much to do and see. But part of visiting France is experiencing how life is lived. Sit for an afternoon sipping coffee on a café terrace and watch the world go by. Spend hours enjoying a beautiful meal and truly tasting the elaborate dishes. Relax on a bench in a museum and appreciate how people take in the art. Shop in a local grocery store to see how food products and meals differ.
By taking your time, you can go beyond just seeing France, and actually absorb life here. This is how to really enjoy France.
21. IT'S FRANCE.
I rest my case.
- Laura Crotet, France Just For You
 If you are ready to discover or re-discover France, we will be happy to help you plan your self-dive tour. Contact us to tell us about your dream trip!