This month we are dedicating our blog to one of our favorite themes - Wine! Living in the Loire Valley, we are lucky to have plenty of vineyards and wineries within close proximity. One of our favorites belongs to one of my high school friends, Clothilde Pain.
She is a fantastic winemaker and makes delicious and very innovative wines. Her father is also a winemaker. In fact, my father used to buy wine from her father; and now I buy wine from her. It has become a family tradition!
The key to success, she says, when it comes to making wines lies in obtaining optimal maturity. This is necessary in order to produce a quality, drinkable, delicious and fruity Cabernet Franc. The finesse and roundness of its vintages result in easy-to-drink wines, perfect for charcuterie evenings with friends.
I asked Clothilde if she would be willing to give us an interview, to help our readers and travelers learn more about the wine-growing process, and a day in the life of a wine-maker. If you would like to follow her on social media, you can see the latest news on her Facebook page.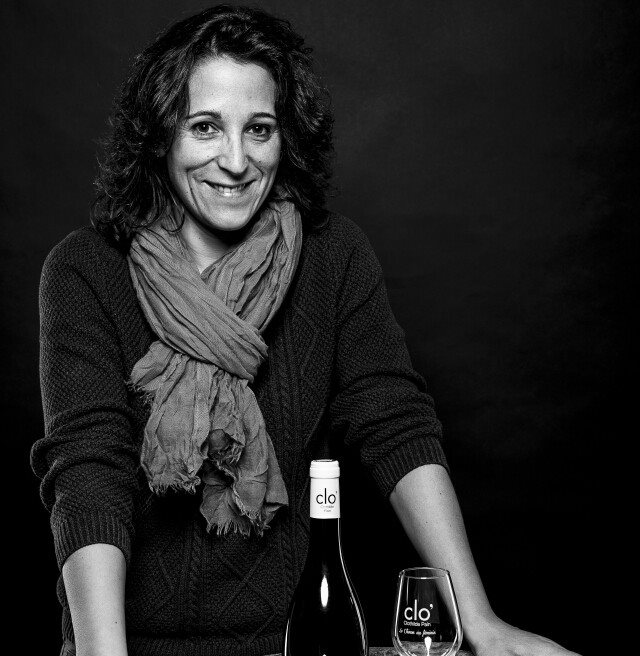 Clothilde Pain, a winemaker from Chinon in the Loire Valley (Photo © Clothilde Pain)
Interview
Which grape varieties do you grow?
I grow Cabernet Franc for the red wines, and Chenin Blanc for the whites.
What is, for you, the best, most interesting part of your job? 
I enjoy the diversity of my job. In French, we say "les années se suivent et ne se ressemblent pas", which means that each year is different, because our work depends so much on nature.
What is special about your winery?
It is a family run wine domain, with the most important part being the human adventure.
How does your typical day evolve with the seasons? Which season is busiest? What is your favorite season?
There isn't really a relaxing season, because when I am not in the cellar or in the store, or when there isn't as much to do in the vineyard, I still have other responsibilities. 
The job of winemaking today has greatly evolved and requires a range of knowledge and different skills: viticulture, winemaking, communications and marketing, sales… we are busy all year round and it is difficult to describe a typical day.
The vineyard is dormant in December and January, leaving more time to concentrate on the winemaking itself, and preparing for the next year's trade shows.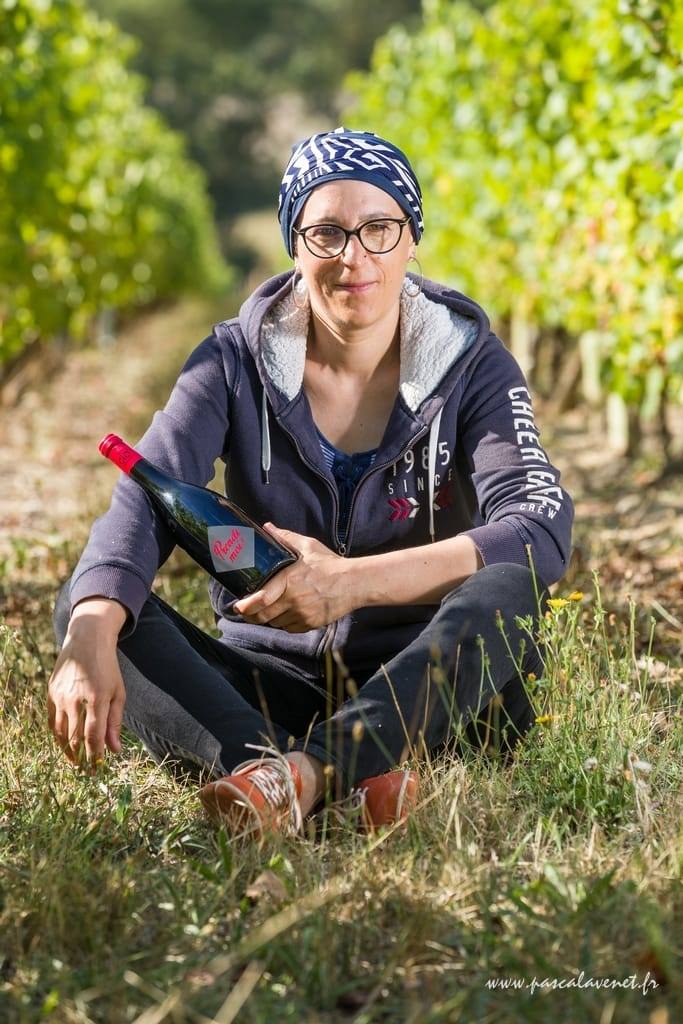 Clothilde in her vineyard (Photo© Pascal Avenet)
Today, I am a Winemaker 3.0! The job is evolving so quickly with new technology.
How has your job changed over the last 10 years? 
Today, I am a Winemaker 3.0! The job is evolving so quickly with new technology. Whether it be in the vineyard or in the winery, we are connected and need to adapt to an ever-changing market and consumer expectations.
The wine lovers of today - and of the future - are demanding. They get their information from and are influenced by many sources, and are more "one shot" consumers. This means we have to constantly challenge ourselves and evolve, which I enjoy. 
What is your biggest challenge as a winemaker?
To continue to flourish with the evolution of the domain.
In winemaking, what do you think is more important: tradition or innovation? 
Tradition does not necessarily mean something to everyone, nor does innovation. I work with both – I adapt. The family domain allows me to make more traditional wine, and I also have my own vineyard where I can be innovative and test new things.
Were you inspired by other winemakers when you began? Did you study wine-making in other areas?
I let my own sensations inspire me and did things as I wanted to do them. I have never made wine in other regions, but I exchange a lot of wine with other winemakers from all over France, and I taste their wines at trade shows.
In the end, when you have a good foundation, winemaking is somewhat of an improvisation - and that I know how to do.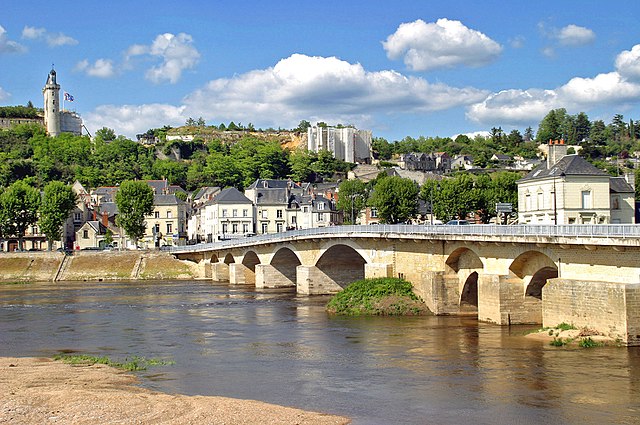 Clothilde's winery is in Chinon, in the Loire Valley. (Photo© W. Bulach CC-BY SA 4.0)
Outside of Chinon, what is your favorite wine region in the world?
I have not traveled enough internationally to have found my favorite foreign wine, but I would say that, in France, the South inspires me. Because of the climate, great things can be done with a grape variety I love – Syrah. 
Wine is a moment of sharing. When you open a bottle, you open a story...
What is the best wine you've ever drunk?
It's difficult to answer this question because many wines have impressed me. Not necessarily because of their intrinsic qualities, but because of the moment I drank them and the people I was with. Wine is a moment of sharing. When you open a bottle, you open a story, a "terroir", a "savoir faire", thus creating a special feeling.
One moment that touched me greatly was drinking a Chinon from 1980, the year of my birth. It isn't a great vintage year, but... what an emotional experience to drink a wine from the year you were born!
Amongst your wines, could you recommend an interesting food-wine pairing?
"La Robe rose" is very nice with a plate of French cold cuts, or a sweet and savory salad.
The "Sans Dessus Sans Dessous" pairs very well with grilled red meat.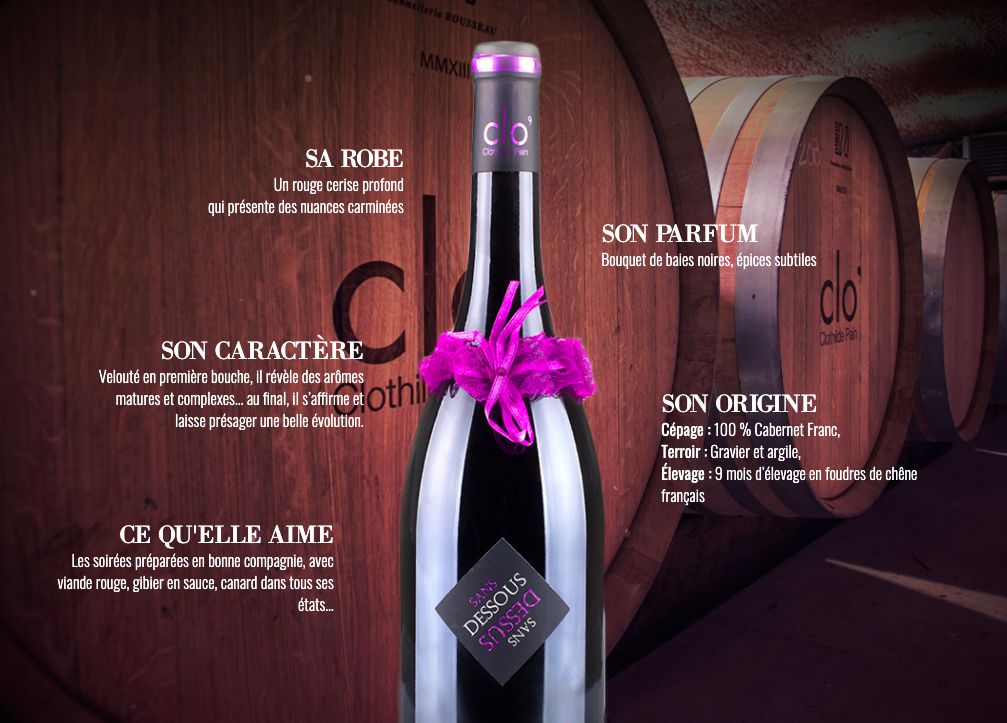 Clothilde's Cabernet Franc, the 'Sans Dessus Sans Dessous' ('Without Top, Without Bottom') (Photo© Clothilde Pain)
Do you have a special bottle that you are keeping in your cellar? If so, what is it?
I have kept several bottles from my first vintage, Sans Dessus Sans Dessous 2012, which I will open when I find them again... they must be somewhere in my cellar, under the other vintages!
When I find them, it will be like reopening an old chest filled with lots of memories, and I will open a bottle that very evening. I love to improvise – it makes for the best moments, when nothing is planned.
What is your favorite area in the Loire Valley, not necessarily linked to wine?
I like the area around Saumur, the gentleness around Angers, and the peacefulness of the Loire river...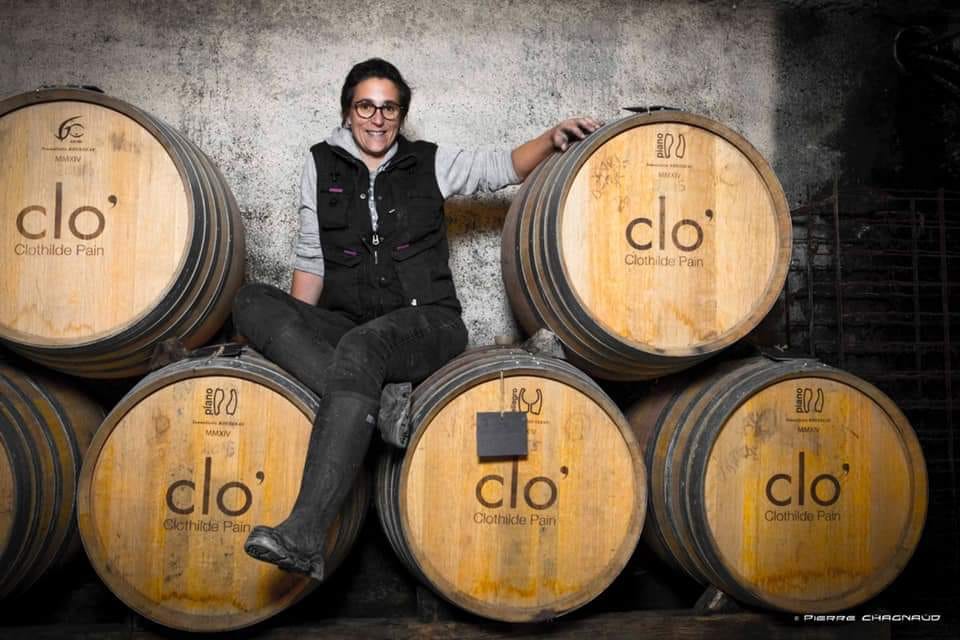 Clothilde in her wine cellar (Photo© Pierre Chagnaud)
Many thanks to Clothilde for telling us about her life as a winemaker. 
If you are a wine-lover, we can arrange a visit to Clothilde's winery as part of our self-drive tours of the Loire Valley.