France History Tours
Countryside Tours
If you've always dreamt of visiting Brittany, it's time to go !
This 13 day itinerary will take you along the coasts and across the rolling hills of Brittany. 
From the Morbihan Gulf to Pont Aven, drive to the tip of Brittany in Finistère, then enjoy the north coast from the pink granite beaches back east to Rennes, Saint Malo and Mont Saint Michel area. 
Price
US$ 3 760
Per traveler, including taxes,
based on double occupancy.
Your accommodations
Pictures of the specially selected accommodations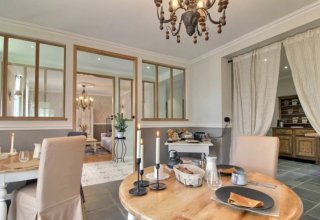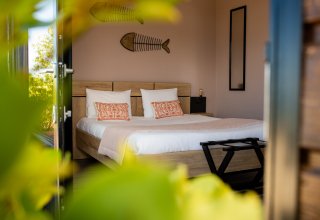 Step by step
Start this Tour of Brittany either in Paris, at the airport or in Nantes. We will plan to pick up the rental car where it suits you best.
Your first step for 3 nights is between Vannes medieval city and the Gulf of Morbihan unique coastline. Your hostess, who used to breed sheeps, has decorated the place with a charming mix of old and new, with many comfortable areas to relax after a day of sightseeing.
From here, you will jump in history with Carnac Stones, stroll Pont Aven on Gaugin's footsteps, spend a day in one of Morbihan Gulf islands, enjoy an outing on the water, and so much more.
We plan for you to follow a guide on a Segway to make the most of your visit of the megaliths in Carnac and better understand these 7000-year-old colossus.
On the way to Finistère you will discover the little Pont Aven town on Vincent Van Gogh's footsteps and learn about the local painters...tasting delicious biscuits !
Your next step for 2 nights is at the tip of Brittany, "where the world ends" : Finistère, in a lovely and comfortable maison de maître. Your young and charming hosts have lovingly furnished the house, with their guests' comfort in mind.
From here, you are perfectly located to explore the charming village of Locronan, the unique scenery of the Presqu'île de Crozon and breathtaking walks along the ocean.
On your way to the next step, you will visit an amazing site with about 200 granite statues of about 4 meter high. Inspired by the Easter Island statue, this work-in-progress project is pharaonic ! Also, your private guide will tell you about Breton legends and the Saints' lives. Fascinating !
Continue your Tour de Bretagne for 3 nights in Perros Guirec area which is famous for its gorgeous coastline.
Stay right on the Pink Granite Coast, in a room with a beautiful ocean view, which you will also enjoy while having breakfast.
Your hosts are very welcoming, and we have planned for you to enjoy a homemade meal, mostly fish and seafood, to continue to enjoy the extraordinary view.
Walk along the Pink Granite "chaos of rocks" Coast, visit Perros-Guirec, and spend a day on Bréhat island. We will tell you where to enjoy walks along the coast, see bird colonies, visit a cider farm and explore the ruins of an off-the-beaten path abbey. 
Spend the next 2 nights in a former presbytery from the 18th century, located half-way between the famous town of Mont Saint Michel and the lovely port of Saint Malo. One night, enjoy a delicious fish dinner prepared by your host who is also a Chef... ending in the wine cellar !
A place you won't want to miss is Mont Saint Michel: this sumptuous abbey standing on a tiny island in the middle of a bay is truly the "8th wonder of the Western world" and is well worth a visit. We plan that you walk across the bay with a local guide to enjoy the site away from the crowds.
We will also take you to Saint Malo, Dinan and Cancale area:  its lovely ports, granite stone towns and delicious crêpes are a real addition to your immersion into the Northern France culture. 
End your trip with 2 nights downtown Rennes which is the capital of Brittany ! Your charming hostess was an architect and painter, and will be happy to share her favorite places with you.
You are perfectly located to enjoy everything this dynamic city has to offer on foot - museums, parks, restaurants, shopping, markets. . .
You may return the car in Rennes and train to your next destination or back to the airport... or drive to your next destination !
Activities included
Carnac Segway Tour
Get on a guided Segway ride to explore Carnac 6000 years old menhirs.
Saints Valley Private Tour
Follow a local guide to discover an amazing site of about 200 granit statues of the celtic Saints of Brittany. This pharaonic project will count 1 000 statues when it is over. A great way to also learn about Brittany legends.
A Guided Walk in Mont St Michel Bay
Let a local guide take you on a walk barefoot around Mount Saint Michel Bay to understand better the nature around this unique site. This is an opportunity to discover the bay as very few can see it.