Piperade basque is a sort of condiment made from peppers, tomatoes and, of course, pepper from Espelette. I love making Piperade because it is quick and easy, and very tasty.
It is good on chicken, steak, shrimp, but for a veggie meal, I like to mix it into an omlette for a full meal. The Basque region is known for making cider, as opposed to wine. And as Mother Nature knows best, cider pairs very nicely with Piperade.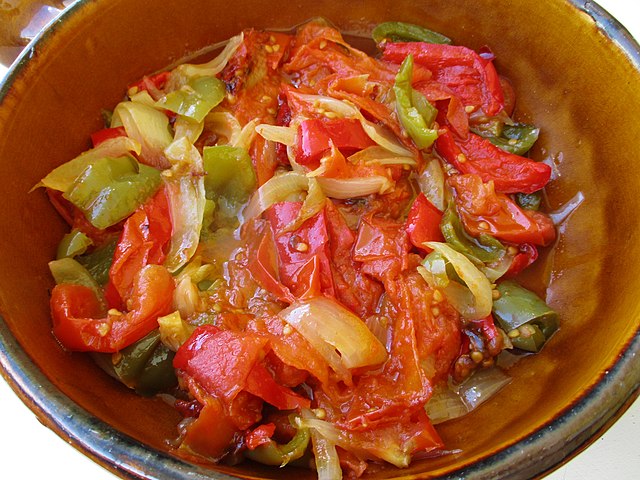 Piperade (Arnaud 25 CC BY-SA 4.0)
Ingredients
1 green and 1 red pepper, cut into strips
4 tomatoes without skins (or a can of crushed tomatoes)
1 onion
1 garlic clove
1 tablespoon olive oil
½ teaspoon espelette pepper
Fresh or dried herbs (thyme and bay leaves)
Salt and pepper to taste
A little water, if necessary
Instructions
Heat the oil, then cook the onions for a few minutes, then add the green and red peppers. After a few minutes, add the tomatoes, garlic, salt, peppers and herbs. You may add a little water if necessary.
Continue cooking on low heat for 20 minutes
 It's as simple as that! Bon appétit!