If you're traveling to France and plan to go on a wine-tasting tour, be sure to read our essential tips for wine-tasting and how to best appreciate wines from France.
Many of our travelers are wine enthusiasts, so we created a customizable France for Wine Lovers itinerary! You may also see some of our other wine-themed sample itineraries by visiting our Wine Tasting Tours page. 
Read about the different French wine regions before your trip
If you're not already an expert on French wines, try to read about the different wine varieties and appellations in the regions you'll be visiting prior to your wine tastings. This way, in Bordeaux you'll know to look out for wines from Médoc, and Saint Emilion, or for the Côtes de Beaune appellations in Burgundy. If you're visiting the Loire Valley you'll expect to be tasting some fantastic Sauvignon Blanc, Chenin Blanc, and sparkling wine, and in Provence it is all about the rosé wine. Check which are the best Champagne houses in Champagne and look forward to trying some delicious Riesling and Gewurztraminer wine in Alsace. 
If you book a driving tour of France with us, we will include plenty of information and tips about the wine regions and where to taste the best wines in your personal travel guidebook, which we send you a month before your trip - so you'll have plenty of time to prepare!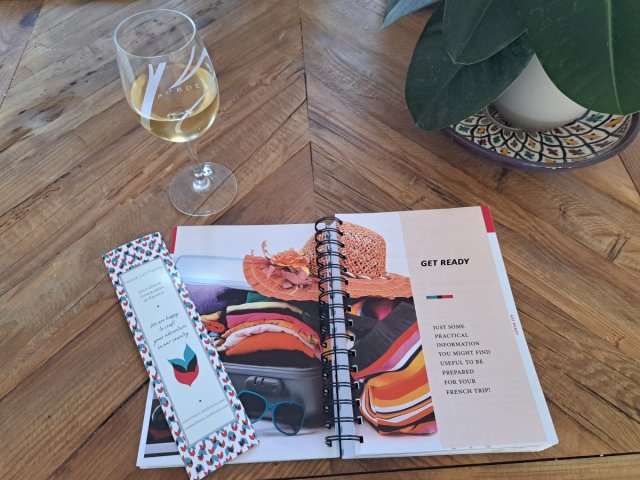 Be willing to try cheaper wines 
Many vineyards and wineries have been run by the same family for many generations, and even when this is not the case, wine-makers take great pride in all the wines they produce. This means that even the vin de tables (the lower-priced wines) are likely to be good. It is also interesting to compare these wines with the vintage varieties, to see if you notice a difference in flavor and quality.
Ask questions at your wine-tastings
Wine-makers are the experts and are often very happy to answer questions about their wines and vineyards. If you find that they speak English, do ask questions to show your interest in and appreciation of their wines and wine-making process. This will likely be appreciated and you may even find out something about their family history.
If you've booked one of our France vacation packages, we can organize for you to spend half a day with one of our expert wine guides. They will be able to answer all your questions and do the driving, so you can enjoy drinking to your heart's content!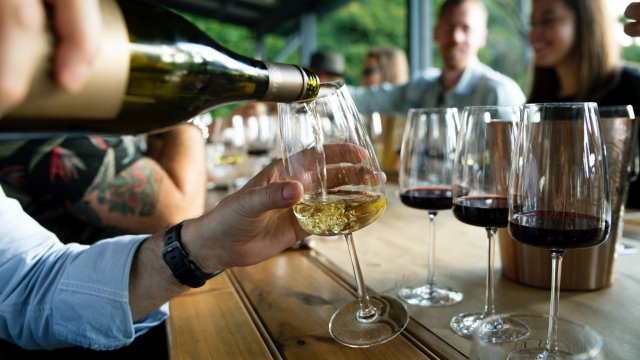 Take your time & follow the five 'S's of wine-tasting
In France, appreciating good food and drink is about taking your time. This is why dinners can last late into the evening, because they're not just about eating and drinking. They're about savoring the flavors, while having a good conversation in a warm environment with good friends and family. 
At a winery, taking your time shows your server and the wine-maker that you truly want to appreciate their wine. Try following the five 'S's below, or if they speak English the pourer may guide you on the best way to appreciate the wine.
The five 'S's of wine-tasting: See, Swirl, Sniff, Sip, and Savor.
See
The color of a wine can give you an idea of its flavors, its age and its body and character. It may help to hold your wine glass against a sheet of white paper or a white napkin. 
For example, if a red wine is almost brown in color, this may suggest that it has been aged for several decades. You can expect complex flavors and savory notes due to aging (e.g. mushroom), hints of nut and spice, and maybe smoky notes when the wine has been aged in oak barrels.
In contrast, a purple Beaujolais or a ruby-colored Merlot or Pinot Noir indicates a younger wine (less than four years old), and you may notice fresh, floral or fruity red or blackberry flavors.
Swirl
Swirling the wine around in your glass aerates it, breaks up the ester compounds, and releases its aromas.
Smell
Once you have swirled, tilt the glass and hold it up to your nose and breathe in slowly. All wines contain primary, secondary and tertiary aromas, and vary according to whether they're red, white or rosé wines, age, and many other factors. 
Primary aromas relate to the first notes of the grape juice. For a Cabernet, this might be green or black pepper. For a Vouvray this may be more floral, such as acacia. And you might notice that a Pinot Noir has a more fruity aroma. 
Secondary aromas form during the fermentation process, due to the chemical transformation of the juice's molecules. These include banana and pineapple notes, apricot or peach, and spicy or herbal notes such as saffron, clove or cinnamon.
Tertiary aromas develop in the barrel during the aging process, and will vary according to the type of barrel. These include vanilla, chocolate, caramel, roasted almond, leather, coffee, and liquorice notes.
When you are smelling the wine, see if you can pick out any particular fruit, spice, herb, woody or flowery aroma. If you're tasting an older wine, pay particular attention to the possible tertiary aromas listed above.
Sip
Then, take a sip! Let the wine flow over the surface of your tongue, and slurp it a little to aerate it. Let it cover the entire inside of your mouth to really activate the taste buds so that they can detect both the sweet and savory flavors. Make sure you take at least two sips to allow your palate to adapt.
Savor
Take your time and savor each wine you taste! Notice how long each flavor lingers in your mouth and how intense it is.
You can't go wrong with the five 'S's of wine-tasting!
Stay in the heart of the wine country
We arrange for all our travelers to stay either right in the heart of the wine country or within an easy driving distance of our favorite vineyards and wineries. For example, our France for Wine Lovers tour begins in Bordeaux, where our travelers spend three nights in Saint Emilion in a Grands Crus Classés wine chateau - one of the places where everything happens, right in the heart of the Bordeaux vineyards.
Very near to Saint Emilion, we plan for our travelers to go on a private tour of a famous wine estate, exploring the vineyards and wine cellars, followed by a picnic lunch and wine-tasting. This is what it means to really experience France's wine regions, and our finest wines!
Keep the wine at a comfortable temperature
If you're on a France wine-tasting tour and you plan to buy wine, ask the winery to have the wine shipped to your home. More and more wine estates offer this service starting from six bottles. This will save you running into potential problems if you try to bring wine home in your luggage.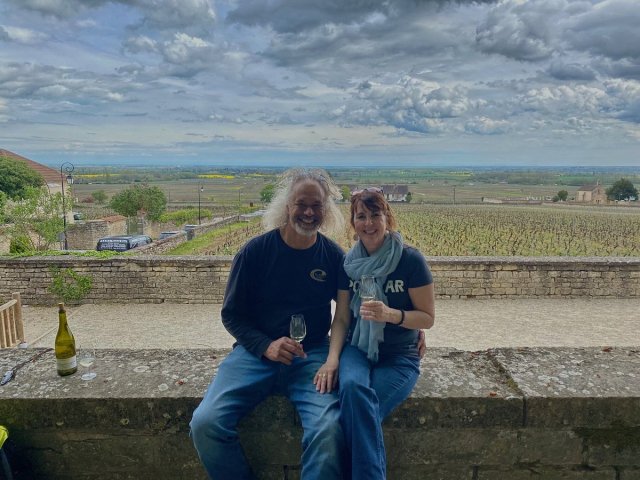 Some final tips from the France Just For You team:
Emilie advises drinking good wine in good company. It enhances the whole experience!
Laura recommends that international travelers ask their wine guides if their favorite French wines are available in their own country, as it is sometimes difficult to bring back bottles of wine in checked luggage. Be sure to take a picture of the label so that you can find it again once you're back home!
We are very happy to plan trips around the French wine regions, however, please keep in mind that these are not the kinds of trips where you'll 2-3 wineries each day and only focus on wine-tastings. Our travelers also like to discover the heritage, gastronomy, culture, and art etc of each region they visit.
If you're interested in doing a wine tour of France, you may like to browse our wine-themed tours or contact us and tell us what you're looking for!