If you visit the Alsace region - in Eastern France -  you have to taste the delicious ...and quite heavy...Alsatian pastries. 
The Apple Strudel is one of the most famous pastries in Alsace and it is really delicious and very fun to make at home !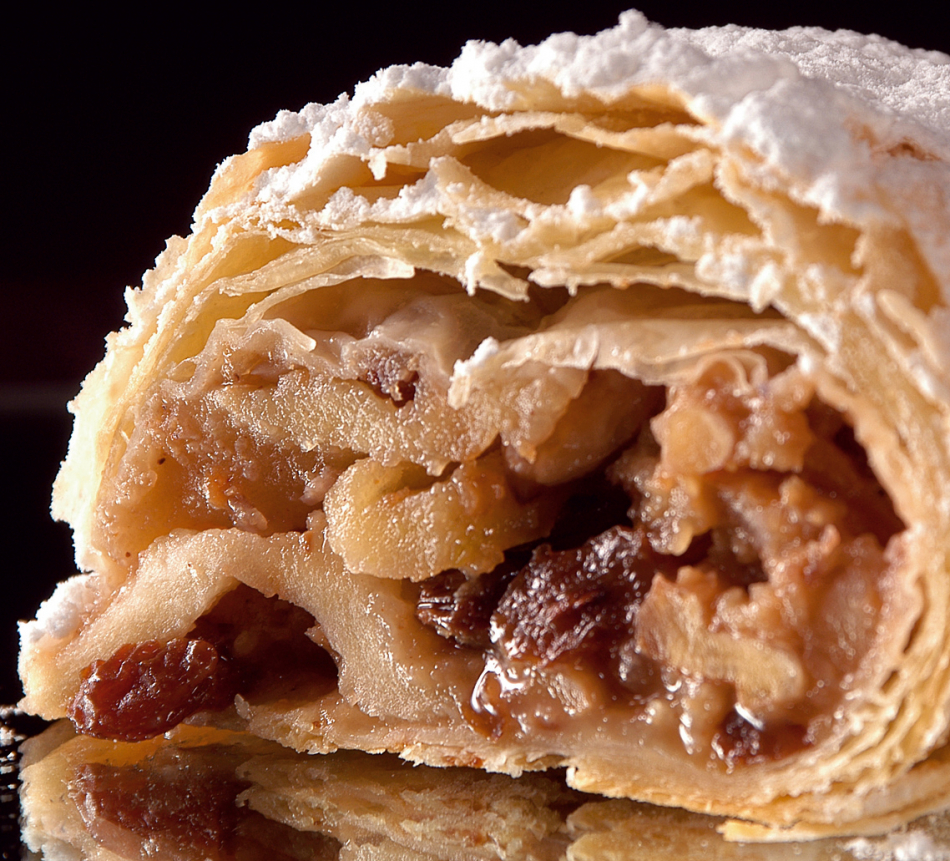 Apple & Raisins Strudel from Alsace - ©Burkhard Mücke, CC BY-SA 4.0 via Wikimedia Commons
Ingredients for the Apple Strudel
3 lbs of sour apples
150g butter
70g breadcrumbs
125g raisins (dried grapes)
100g granulated sugar
50g icing sugar
200g flour
1 egg
2 tablespoons of vegetable oil (any)
1 teaspoon of cinnamon (or more if you like)
2-3 tablespoon of rhum (or more if you like...)
While visiting Colmar or Strasbourg cities, you will find apple strudel in almost all bakeries. This is a very classical dish there. 
Apple Strudel making process
In a bowl, mix the 200g flour, the egg, 1 tablespoon of oil, 80g sugar and 8cl of warm water + a pinch of salt. Use a mixer if needed, then:
Knead the dough gently until it is becomes smooth, spray some oil on it and let it rest for 30 minutes. 
Peal the apples and cut them into small pieces + add the raisins + 20g sugar, cinnamon and rhum
Heat 40g of butter in a pan and roast the breadcrumb. Melt the rest of the butter and keep it to brush the cake before over.
Preheat your oven at 200°C - 400°F
Spread a kitchen towel on your kitchen counter and sprinkle with flour and spread the dough so it is very thin: it's important that the dough would be as thin as possible.
Put the breadcrumb on the dough leaving about 3cms around the dough without breadcrumb
Add the mix of apples & raisins in a "soussage shape" in the first thrid of your dough, then roll it over, using the kitchen towel to make a "roll"
Put the strudel on your baking sheet and brush with melted butter (keep some).  Cook for about 40 minutes - around the 20th minute, brush again with melted butter...that's the secret of the crust !!
Sprinkle with icing sugar before serving. 
You may serve hot with some vanilla ice cream.
Bon Appétit  !!
Or as Alsatian people would say: "a Güeter Appetit"
Now, if you need an excuse to come to France to enjoy the gastronomy, you may check this blog post about the best things to see and do in Strasbourg and get some ideas.