Claude Monet and Impressionism
Claude Monet was one of the most famous and accomplished French artists of all time. In this article, we focus on two beautiful locations in France, Paris and Giverny in Normandy, where Monet spent most of his life. 
Many visitors to Paris will seek out Monet's masterpieces as they tour some of the city's beautiful art museums, without realizing that Monet's gardens, arguably his greatest source of inspiration, are located just an hour outside of Paris in Giverny, Normandy.
For this reason, we recommend a special self-drive tour including Paris & Giverny which will allow you to take in Monet's stunning works of art at some of the most iconic places in Paris, and then bring you back to where it all began: his house and gardens in Giverny, where he and his second wife Alice raised their eight children together, and where he produced many of his most recognizable masterpieces.
Where to find Claude Monet's art in Paris
These museums will surely feature in your list of places to visit in Paris, and will allow you to come face-to-face with some of Monet's greatest works of art.
If you're a fan of Woody Allen, you might recognize the Musée de l'Orangerie, which featured in his 2011 Oscar-winning movie Midnight in Paris. The movie starred Owen Wilson and Rachel McAdams among others, including France's First Lady at the time, Carla Bruni.
A series of decorative panels displaying Monet's iconic Water Lilies (Nymphéas in French)were first installed at the Musée de l'Orangerie at the suggestion of former French President Georges Clemenceau in 1927 just five months after the artist died from lung cancer, and they have remained there ever since.  
The Water Lilies series was inspired by the lily pond behind Monet's house at Giverny, and Monet's vision for the panels was to have them installed adjacent to one another, forming an oval, and therefore creating, in his words, "the illusion of an endless whole, of water without horizon or bank."
The oval-shaped rooms at this museum therefore seem like a natural home for the paintings. French artist André Masson called the display 'the Sistine Chapel of impressionism'. An experience not to be missed!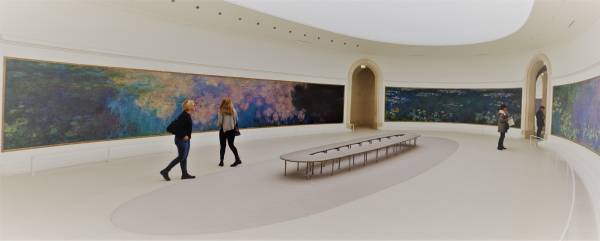 Monet's Waterlilies at the Musée de l'Orangerie in Paris. Photo © Sailko CC-BY SA 3.0
Just across the River Seine, the Musée D'Orsay is one of the largest art museums in Europe and offers an extensive collection of paintings by Impressionist and post-Impressionist artists, including Degas, Renoir, Cézanne, Gauguin, Van Gogh and of course, Monet.
Many of the paintings in this Monet collection are of landscapes painted in and around Paris and throughout Normandy. Some of the most famous and recognizable paintings include the Poppy Field (1873), a piece from the Haystacks series (1891) and various masterpieces produced in his garden at his home in Giverny.
One of the most poignant pieces in the collection is the portrait of his first wife Camille, entitled Camille on her deathbed (1879). Camille passed away aged just 32 from uterine cancer, so this painting is an intimate snapshot of Monet's final memory of her; a beautiful and tragic homage to his wife expressed through his art.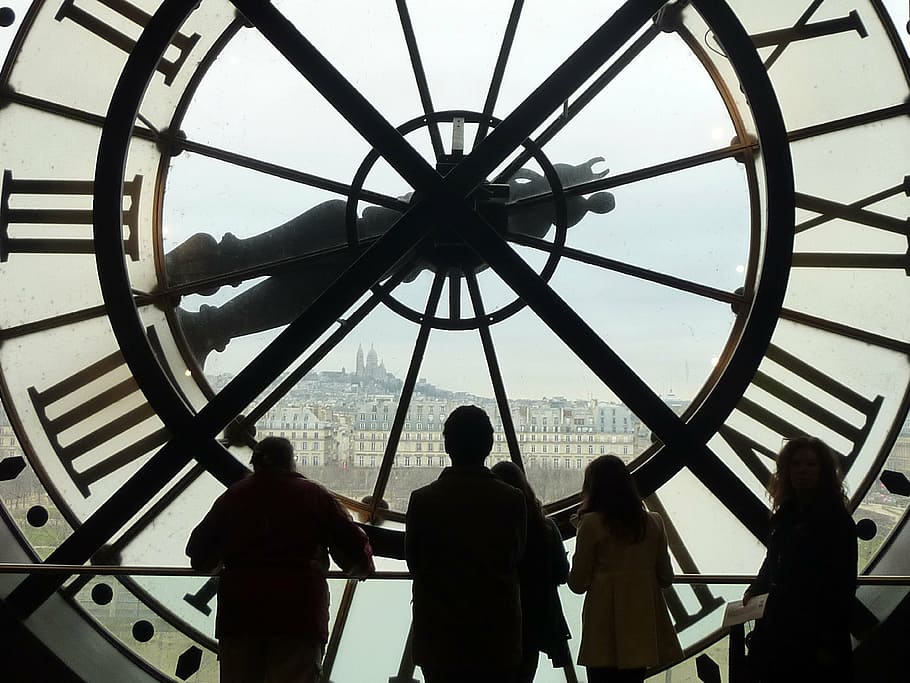 The big clock window at the Musée D'Orsay in Paris. Photo: Pxfuel CC0
We recommend a visit to the Musée Marmottan Monet, located to the west of the city center. It hosts paintings by Monet, notably pieces from Monet's Water Lilies collection, and other Impressionist artists such as Berthe Morisot. This museum deserves a visit if you stay long enough in Paris (at least 6 days) or if you are an Impressionism passionate.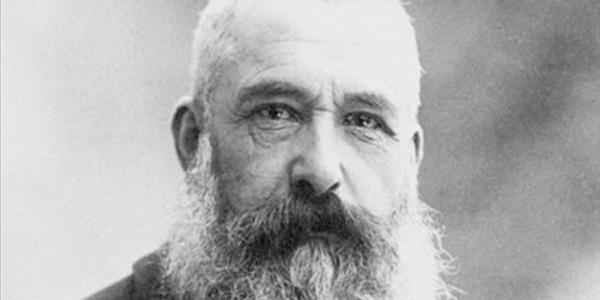 Painter Claude Monet
Giverny
In Giverny, we will provide a detailed walking itinerary for you to walk on Monet's footsteps: from his house, gardens, to some landscapes which inspired him, ending in his tomb.
The second part of the tour brings you to Monet's garden and home in Giverny, Normandy. In 1883, Monet caught a glimpse of the village of Giverny from the window of a train as it was passing through. Shortly after, he moved into a house there with his second wife, Alice, and their eight children, where he would live and paint for the rest of his life.
A visit to Giverny will perfectly complement all that you have seen in Paris. For security reasons, none of Monet's original paintings are on display at his house, so this part of the tour is about looking beyond the paintings and seeing Monet's world as he once saw it.
Monet's garden is just a five-minute walk away from your premium B&B in Giverny, and our tours include a pass which allow our guests to skip the lines.
Claude Monet was mesmerized by light, and he produced over 200 pictures of his gardens and ponds as he explored the way the light and colors changed depending on the time of day, the weather and the season. These will also affect your experience of the gardens.
Monet's garden is stunning from April through October. Starting in the spring, the flowers come into bloom one after the other, a process of ever-changing color. The high season is typically May through June, and summer is a great time to see the garden in full bloom, especially the water lilies.
The months of September and October in France bring with them a spectacular display of fall colors.
Enjoy taking a stroll through the flower gardens (originally landscaped by Monet himself), and observe the water lily pond and the rest of the garden in all its glory from the famous Japanese bridge.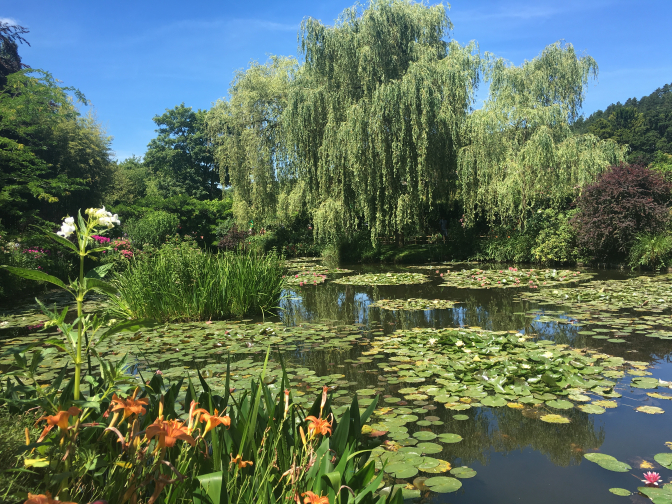 Monet's Garden at Giverny in Normandy. Photo © Ben & Jane Lintott
Once you are done exploring the garden, step back into the 19th century as you tour Monet's house, including Monet's and Alice's bedrooms and bathrooms, the yellow dining-room with its extensive collection of Japanese woodblock prints and the blue-tiled kitchen.
Giverny is Claude Monet's final resting place and his tomb is located at the Sainte-Radegonde church, just a half-mile from Monet's Garden. You may also like to stop by the Musée des Impressionnismes (the Museum of Impressionism), dedicated to the history of Impressionism and how it influenced the art movements that followed, especially in the second half of the 20th century.
At the end of a long day you'll relax in one of our premium accommodations in Giverny before continuing with your chosen itinerary the next day. We will provide you with a detailed personal guidebook for each place you visit, with suggestions for places to stop along the way for a drink or a meal, plus a whole lot more.
For those who can read French, we recommend reading The Black Lilies (Les Nymphéas Noirs in French) by French writer Michel Bussi, a murder mystery novel set in Giverny. The story centers around Jérôme Morval, a man with a passion for art and women, who has been found dead in the stream that runs through Monet's garden. In his pocket is a postcard of Monet's Water Lilies with the words: Eleven years old. Happy Birthday… Three women are entangled in the mystery, and all three share a secret, but what do they know about Jérôme Morval's death? And what is the connection to the mysterious, rumored painting of the Black Water Lilies?
Our Tours in Paris and Normandy
We recommend the following tours as the perfect choice for enjoying all the places mentioned in this article:
Northern France at your own pace in 16 days
Northern France: Paris, Burgundy, the Loire and Normandy in 20 Days
Here are our other itineraries that include stays in Paris. Remember, all of our itineraries may be customized according to your preferences.
All of our tours come with a personalized guidebook with places to visit, local cafés and restaurants which we personally handpick...and much more.