We used to live in Normandy and absolutely loved the food there. Plus, being from Wisconsin, dairy products like butter, cream, and cheese, were always important ingredients in many of my favorite foods.
My friend Magali, a true Norman through and through, shared this recipe with me. It is a family favorite because it is easy to make, and so yummy with its buttery smoothness and sweet apples. I think it will become a family favorite chez vous as well.
Ingredients:
½ cup melted butter (I personally use salted butter for the extra tanginess)
½ cup flour
1 teaspoon baking powder
¼ teaspoon salt
4 – 5 sweet apples, depending on their size
¾ cups sugar
2 eggs
Directions
Preheat the oven to 350°F. Brush some of the melted butter to grease the bottom and sides of an 8-inch baking pan.
Peel and cut each apple into 8 quarters and place the pieces in a circle in the pan, starting from the center.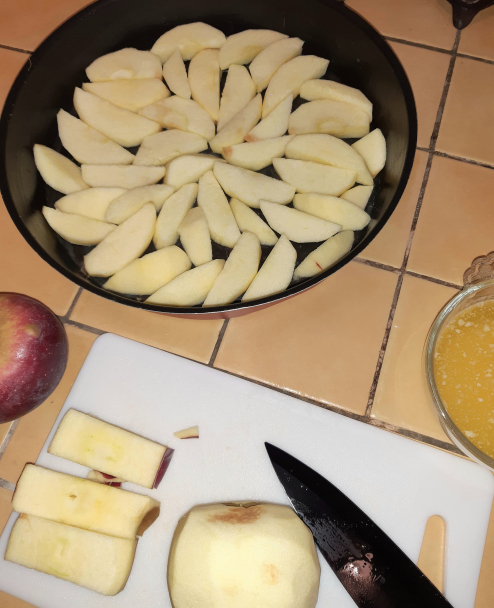 The apple sections placed in a circle, ©Laura Crotet
Mix the sugar and the eggs until frothy. Add the flour, baking powder and salt, and when mixed, the rest of the melted butter.
Pour the batter over the apples, and put into the oven for about 40 minutes, when the top will become golden brown.
Take the pan out of the oven, and let it cook off for about 10 minutes. Then pass a knife around the outside of the cake and flip the cake over onto a place. If any apples stay stuck to the pan, just lift them out and place them back on the cake.
If the flip works well, I like to serve the cake like this, upside-down so that you can see the apples. If the flip did not work out, just flip it again so the apples are on the bottom. This time my flip was not so great, but Jean-François said the cake was still delicious.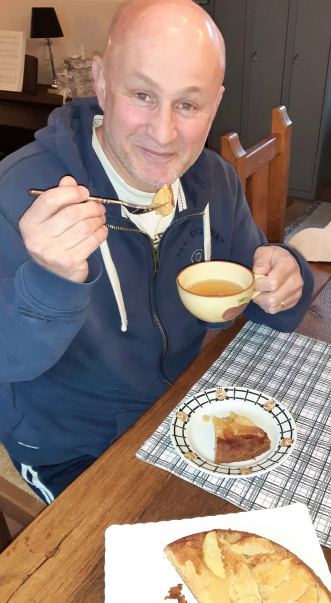 My husband Jean-François enjoying the cake with some cider, ©Laura Crotet
You can serve the cake for dessert at room temperature, or still warm, with a bottle of Normandy apple cider. It is also great the next day for breakfast.
- Laura Crotet, France Just For You
If you would like to try another Normandy recipe, try our Baked Camembert in a Box.
If you would like to experience the real thing for yourself, check out our post 'A road trip along the Normandy Cider route', or browse our tours of Normandy.