By Laura Crotet, Senior Trip Planner at France Just For You
Normandy has so much to offer, it is difficult to decide the best places to visit. I used to live in Evreux, which is located towards the eastern edge of Normandy, about 1-1/2 hours outside of Paris. My family and I loved living there, and we even lived in a 200-year-old typical half-timbered thatched roof house called a chaumière.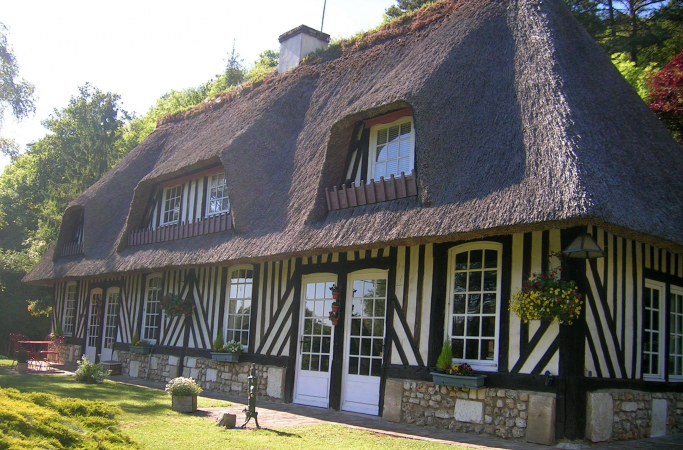 The Crotet family Chaumière, ©Laura Crotet
We enjoyed discovering the region, and it is a large one. Running along the English Channel, from Dieppe to the Mont Saint Michel, then inland to the lovely Perche region, it covers almost 12,000 square miles, a little bigger than the state of Maryland. There is thus a lot to see and do. So, I will share with you my personal list, organized by theme, of the places I think are the best to visit in Normandy.
World War II history in Normandy
It is a moving experience to step back into this period of time to commemorate our fallen soldiers in the Battle of Normandy. I feel there is also a lot of respect shown by the French living here, and you will be welcomed as a friend. To make the most of your visit, it is best to have a guide or a tour so that you can fully understand the events that happened there.
The D-Day landing beaches (Omaha, Utah, Juno, and Sword) and the Pointe du Hoc are musts. The American Cemetery, along with the British, Canadian, and German cemeteries are awe-inspiring. In Sainte-Mère-Eglise, you can learn about John Steele, who was mistakenly airdropped along with his fellow soldiers over the village. His parachute caught one of the church pinnacles and left him hanging for hours, pretending to be dead, before the Germans took him prisoner. He escaped a few hours later and was eventually awarded with both the Bronze Star and the Purple Heart.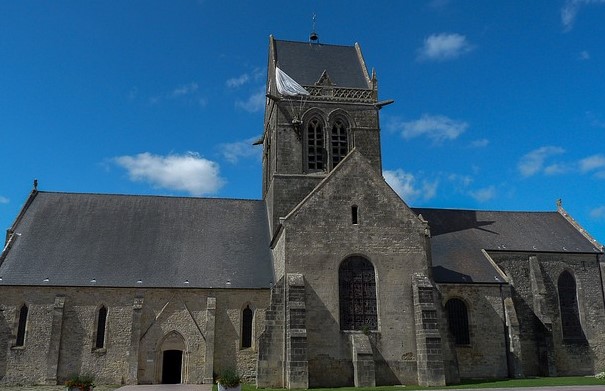 The church in Sainte-Mère-Eglise - honoring John Steele, ©Vincent Godfroy for Pixabay
On the way to Arromanches to see the remains of the artificial port that was built in one night, you can pass by the Pegasus bridge near Ranville, which played an important part in limiting the German counterattack.
Claude Monet in giverny
You can't go wrong putting your money on Monet! Sorry, that was bad, but I couldn't resist. Monet spent much of his life living in Giverny and painting around Normandy: the cliffs of Etretat, the cathedral in Rouen, and of course the water lilies in his own garden.
A visit to Giverny is a must and because of this there are often crowds. The gardens are enchanting, especially in the spring with colorful flowers everywhere. His home is also interesting to visit and will have you wanting to repaint your house in pink and yellow.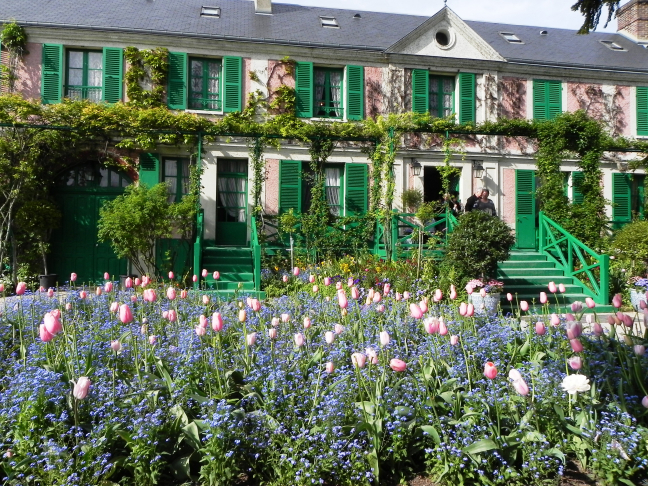 Be warned : you'll want a pink house too, ©Emilie Theybaut
If you follow in his footsteps in Rouen to see the Notre-Dame cathedral, make sure you walk down the pedestrian Rue du Gros-Horloge to pass under the famous Renaissance building with two clock faces of the same name. You will then arrive in the Place du Vieux Marché, which is where Joan of Arc was burned at the stake in 1431.
William the Conqueror
Born in Falaise (the castle you see there today post-dates the castle where he was born), William the Conqueror is an important figure in Norman history. In 1066, William won the Battle of Hastings and became King of England. The famous Bayeux Tapestry recounts this story.
William was one of the most powerful monarchs of western Europe at this time, reigning over the Anglo-Norman kingdom. He established an inventory of the men and wealth under his control (the Domesday Book) and built the Tower of London with stones coming from Caen. He, along with his wife Mathilda, are buried in Caen in the abbeys they founded: Abbaye aux Hommes and Abbaye aux Dames.
Along the curling Seine river, not far from Rouen, are the remains of the Jumièges Abbey, consecrated by William in 1067. At that time, the Abbey was an important place of learning. Afterwards, it was damaged by Protestants after the Wars of Religion, and its stones were sold off during the Revolution. It remains a beautiful and quiet place to visit, as Victor Hugo would agree, calling it "the most beautiful ruin in France". And the heart of Agnès Sorel, the first official mistress to a French king (Charles VII), is buried here.
My family history in the Perche Region
On my mom's side, we were able to trace our family history back to the Perche region of Normandy, specifically to a small town called Tourouvre, and even to the family farm, la Gagnonnière, where our ancestor Jean Gagnon lived before emigrating to "la Nouvelle France" – the Quebec province - in the 17th century.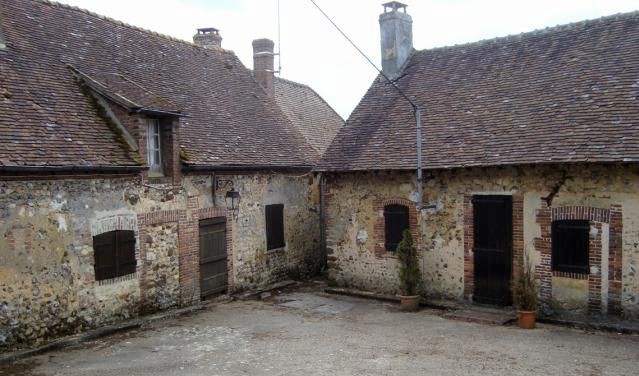 La Gagnonnière in Tourouvre, ©Laura Crotet
Upon visiting the French Emigration to Canada museum in Tourouvre, we learned that from these few families descend a large part of the population of Québec today, with the family names of Tremblay, Gagnon, Bouchard, and Gagné amongst others.
The museum opened in 2006 and is a nice place to visit if you descend from one of these families. A lot of the information is in French, but they are working on providing more in English. Make sure to go to the church in the center of town to see the stain glass windows commemorating these brave families.
Delicious Normandy Food
Everyone thinks of cheese when thinking of Normandy. Although I do love cheese, I am not particularly a fan of the "croute fleurie" of Camembert, Livarot, Pont-l'évêque, etc. "Sacré bleu!" you may say, and I might get kicked out of France for that, but it is true.
However, when I think of Norman specialties, I go directly to the salted butter caramels made in Isigny-sur-Mer. Made with local milk and butter and cooked in copper, they melt in your mouth and it is impossible to have just one. My favorite are the soft caramels, but for an extra dose of Normandy, the ones with calvados are also a real treat. If you plan on bringing some home as a souvenir, buy twice as much or you will not have any left by the time you get home.
Typical norman Drinks
All right, now we're talking! Everyone knows that Normandy produces delicious cider and of course Calvados. But two of my favorite drinks are a little less known: Poiré and Pommeau.
Poiré is produced the same way as cider, but from local pears instead of apples. It is sort of the Champagne of Normandy because it is often served for weddings, baptisms, and other such celebrations. Plus, it is very affordable at around 5 euros/bottle.
Pommeau is a delicious aperitif that is made from mixing Calvados with unfermented apple juice, and then aged in oak barrels for about 2 years. Considering this process, bottles are surprisingly cheap (around 20 euros/bottle), and it is an original thing to bring home.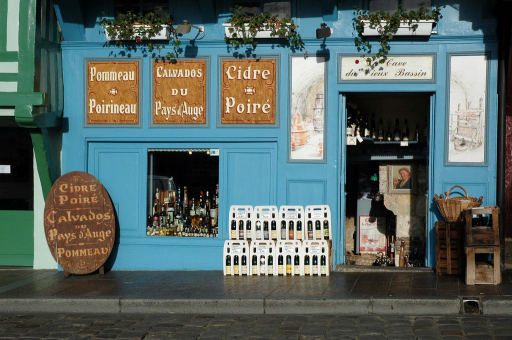 Normandy drink seller in Honfleur, ©Yves Remedios - Creative Commons
The Majestic Mont Saint Michel
Ok, I know, this is hardly a "hidden gem" as it is the most visited site in France. But because of its beauty, history, architecture, and unique location, it is something to see. A lot of tourists come on day trips from Paris, so to avoid their onslaught, it is best to get there early, or late.
The narrow streets of the village wind their way up to the Abbey situated at the top. Construction was completed in 1228, and it became known as the Wonder of the West. Today, it is an UNESCO World Heritage site.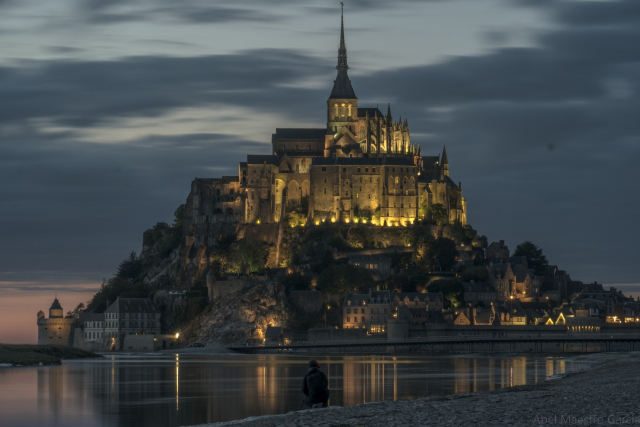 The magnificient Mont Saint Michel, ©Public Domain
To make sure you avoid the busiest parts of the Mont Saint Michel, and discover the nicest hidden alleys and streets, we work with local guides in this area (even one who lived on the island itself!). They know all the secrets, stories and legends of the Mont Saintt Michel, and will help you to have the best, most authentic experience of this well-known attraction. For an amazing view and photo opportunities, you should head towards Avranches to get to the Pointe du Grouin du Sud. The view across the bay with the mount floating in the distance is stunning.
The Quaint Villages of the Normandy Countryside
There are many typical and quaint villages in Normandy. Two of my favorites are Beuvron-en-Auge and Lyons-la-Forêt, both of which are part of the "Plus Beaux Villages de France" network ('the Most Beautiful Villages in France').
Lyons-la-Forêt is located about 20 miles east of Rouen and boasts a beautiful timber-framed covered market from the 18th century. William the Conqueror started the construction of a fortress, but there remain only a few vestiges after being largely taken down at the end of the Hundred Years' War. Maurice Ravel wrote some pieces of music while staying in the village, and 2 movies based on Flaubert's Madame Bovary were filmed there.
Beuvron-en-Auge is about 10 miles inland from the coast, near Cabourg. It is located on the Cider Route and is truly postcard perfect. The main square is surrounded by half-timbered houses dating from the 17th and 18th centuries. Some are occupied by artist's workshop and antique dealers. The big event in town is the Cider Festival held on the last weekend of October.
The Calm and magic of gardens in normandy
In addition to Monet's gardens in Giverny, Normandy has many beautiful gardens open to visitors.
One of my favorites is les Jardins d'Etretat. It is not a flower garden, but a garden and open-air gallery mixing structured plants and topiary with contemporary art. Plus you have an amazing view of the famous cliffs.
Another favorite is the gardens of the Château de Brécy, near Bayeux, which is listed as an historical monument along with the castle. The formal French gardens with sculptural topiary (have you picked up on my love of topiaries?), statues and balustrades are patterned across 4 terraces designed to correct the perspective, giving the gardens a sophisticated Renaissance feel. The gardens date from the second half of the 17th century and have remain almost unchanged since then.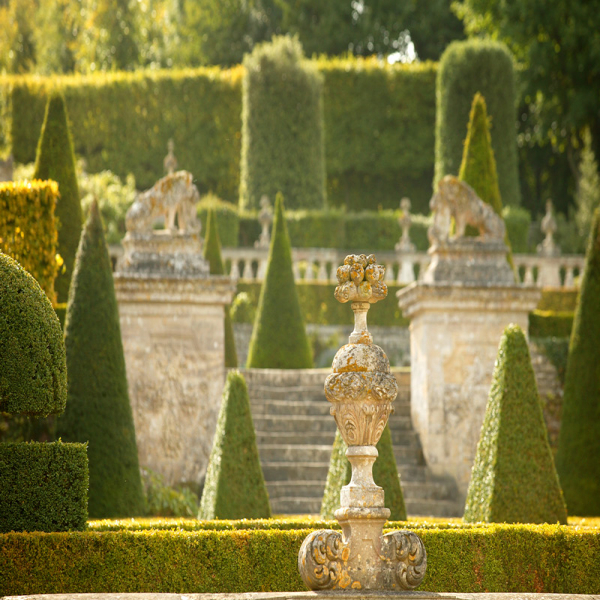 The gardens of the Châtaeu de Brécy, ©G. Wait
And the Surprising city of le havre
Most people, even the French, think of Le Havre as a huge industrial and cruise port city at the mouth of the Seine river. However, you may be surprised to learn that it is an UNESCO World Heritage site since 2005, and a very interesting place to learn more about post-war urbanization.
Le Havre was almost completely destroyed during the Allied bombings towards the end of World War II. The city center was completely rebuilt by Belgian architect and mentor to Le Corbusier, Auguste Perret. With little materials available to him, Perret turned to concrete as it could be easily transported and mixed on site. He designed low rise apartment blocks to rehouse the 40,000 inhabitants downtown, creating subtle differences in color, texture, or balcony design for each one. It is because of his modernist vision of urban planning and innovative use of concrete that UNESCO awarded Le Havre with the Heritage site honor.
The major Perret sites, creating a triangle that is easy to do on foot, are:
the Hôtel de Ville and the Avenue Foch toward the sea
the Porte Océane apartment buildings
the Church of St Joseph with its spire serving at a lighthouse for sailors
the Rue de Paris and its buildings
and at the end of the Rue de Paris, near the Hôtel de Ville, the Perret Model Apartment, furnished as it would have been in the 1950s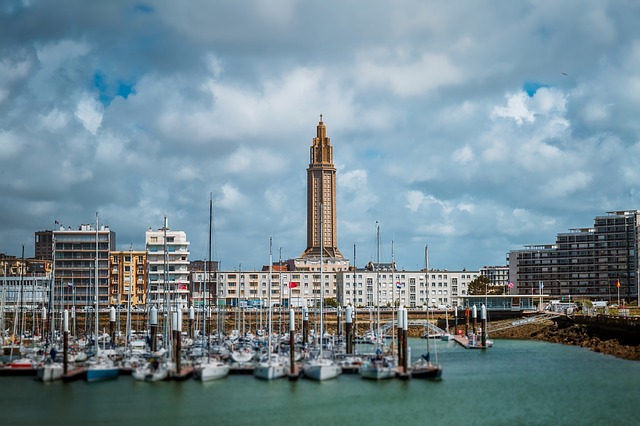 A view of Le Havre and the Church of St Joseph, ©ddzphoto de Pixabay
Within the triangle are additional architectural interests built by the Atelier Perret, under the direction of Auguste Perret. There is also le Volcan, a cultural space built in 1982 by Oscar Niemeyer.
At the Musée Malraux of Modern Art (MUMA), you can take in paintings by Impressionists that painted in the unique Normandy light: Courbet, Monet, Pissarro, and Sisley, as well works by Le Havre native Raoul Dufy and coastal paintings by Boudin.
If you would like to visit my favorite places in Normandy, and discover ones of your own, contact us to help you plan a Norman adventure.