When I started France Just For You with my husband Guillaume in 2010, I knew that there would be great interest in regions where our travelers had French ancestry or a family link.
In this post, I wanted to tell some of the stories of travelers who we have helped to discover more about their family history in France. Some have family members who fought on French soil during one of the World Wars. Others learned more about their French heritage and their ancestors' exact places of origin.
We warmly invite you to scroll down and read their stories, and then tell us about your French connections. This way, we can help you to see the best of France through our eyes on our self-drive tours that include the Normandy beaches and help you to learn more about your family history.
Family Links to World War II & the Battle of Normandy
Many people around the world have a connection with the region of Normandy because of its place in world history. On June 6th, 2019, the world marked the 75th anniversary of D-Day, the Allied invasion of Normandy during World War II. It was the largest seaborne invasion in history, with 156,000 troops landing by sea and air on the beaches of Normandy.
A majority of the troops were from Britain, the USA and Canada, but there were also soldiers from Australia, Belgium, Czechoslovakia, Denmark, France, Greece, the Netherlands, New Zealand, Norway and Poland. The Battle of Normandy - the beginning of Operation Overland - was the decisive turning point, which led to the Allies' victory over Nazi Germany and the end of the Second World War.
Visiting the Normandy battle sites   
Many of our travelers are from the baby boomer generation and are interested in visiting the battle sites in Normandy where their fathers and uncles fought and, in some cases, sadly perished. Sometimes their research has already revealed some interesting information.
Using websites such as the Veterans Network and Ancestry.com to search military records, you can discover the exact name under which a soldier was registered, their battalion and rank, the place they were killed in battle (where relevant), their final resting place, and much more. But sometimes the search for information can lead to more questions, and this is where we can help.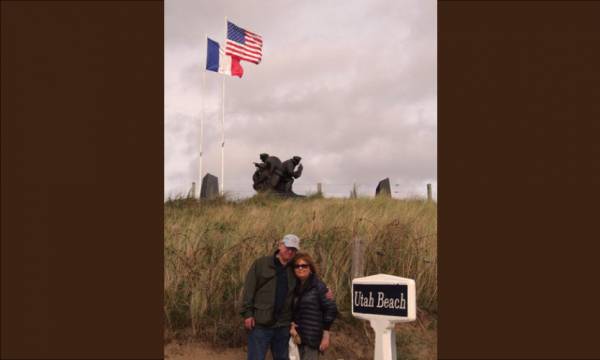 Travelers on Utah Beach in Normandy
How can France Just For You help with family research? 
How we found the grave of one traveler's uncle in Normandy 
We once had a Canadian traveler who knew that his uncle had been injured in the area of Dieppe, Normandy, during World War II and that he had later died from his wounds. However, he had not been able to find information about where he was buried.
We double-checked the Veterans Network in case he had missed something, but couldn't find anything using the name he gave us. The uncle's grave was not in the Dieppe Canadian War Cemetery, as we would have expected.
We consulted with one of our guides in Normandy who gives private tours of the Normandy battle sites and war cemeteries, and is an expert in world war history. He knew that in some cases, injured soldiers were transferred to the main hospital in Rouen, some 40 miles away from Dieppe. He discovered that our traveler's uncle had indeed been taken to Rouen, which was where he sadly passed away. He was buried in a military cemetery there, and our guide's research revealed that his name had been misspelled. This explained why we had not been able to trace his grave through the Veterans Network.
Once we had confirmed that this was the person we were looking for, we were able to include a trip to the cemetery in Rouen in our traveler's tour of Normandy. He was able to visit his uncle's final resting place and pay his respects.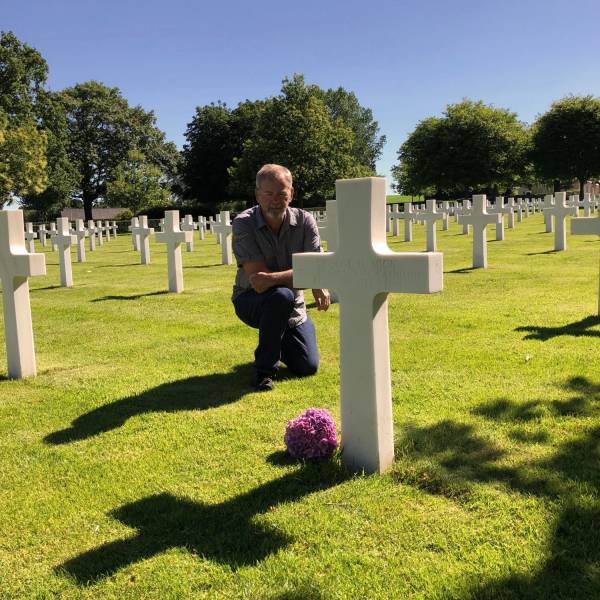 Walking in his uncle's footsteps at Omaha Beach, 75 years later  
In 2019, I planned a trip for a couple from the US. One of our traveler's uncles, who was still alive at the time of the tour, in his 90s and working as the oldest bus driver in the US, landed at Omaha beach on D-Day. He returned to Normandy in 2014 for a memorial service where President Obama and many other heads of state were in attendance.
In 2019, his nephew walked in his uncle's footsteps. We crafted a tour that included a trip with a private guide to the exact sites that our traveler's uncle remembers from his time in Normandy. These included a specific manor where his battalion stayed for a few days, a little town his uncle told him about, and the famous Pegasus bridge - formerly the Caen Canal bridge - which his uncle crossed.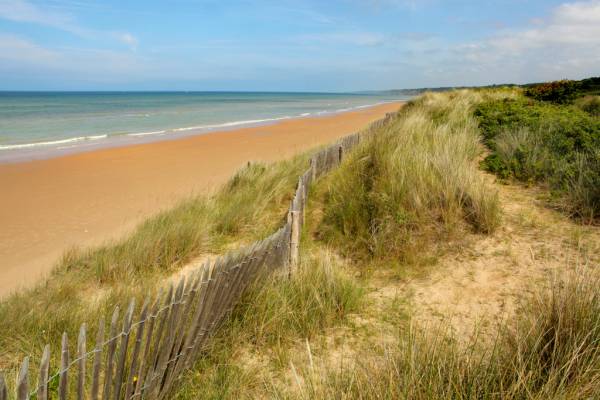 Omaha Beach in Normandy - ©CRT Normandy
Tips: How to research your family WWII history 
In most cases, we are able to use online tools and when necessary, call the city hall or consult the local archives here in France to find the information we need about our travelers' ancestors. We can do this behalf of travelers as part of planning their personalized self-drive tour of France.
If you are starting to research your ancestors' connection to world war history, you may find the following online tools useful. These contain information (or can direct you to information on other sites) such as names of soldiers who died in WW2, their ranks in the military, their war medals and, if they died, the location of their grave.
TIPS: Tracing French ancestry 
Millions of people from North America and Australia have roots in Europe, and many want to explore their French heritage. Websites such as Ancestry.com can be helpful for creating family trees, but browsing through scans of old records – many of which consist of spidery, faded, French handwriting - can be an impossible task for those who do not speak French (and it can even be tricky for us too!).
However, we love a challenge and have a couple of examples to share about people we recently helped with their French genealogy research.
Discovering French Ancestry in the Pyrenees 
One family from Texas knew they had French roots wanted to trace and visit their ancestral village. In cases of rare French last names (which was the case with this family), this can make our job easier. Often, last names originate in particular regions in France.
We discovered that this family's last name originated in a valley in the French Pyrenees. Civil records and parish registers often reveal important genealogical information such as where people died and were buried.
After further investigation, we found the location of a grave of one of their ancestors, dating back to the 18th century.
We arranged a personalized tour of the region, just for them. They visited their ancestor's grave and then did a tour of the entire valley accompanied by a local guide.
We were so happy to help them to learn more about their French ancestry and to see the landscapes that their French family would have seen hundreds of years ago.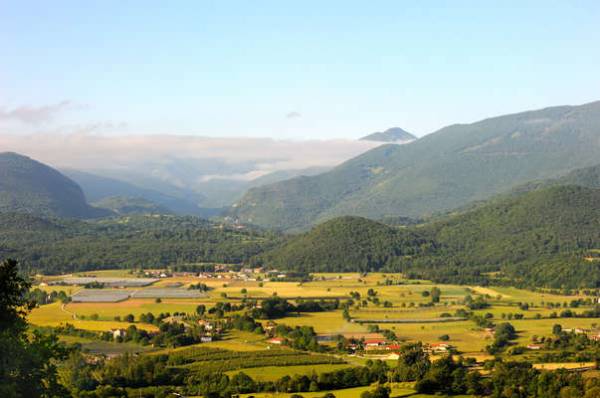 These travelers still have the same name as the valley in the above picture, as their ancestor came from there 
Tracing one family's French ancestry back to a farm in Perche
On one of our tours, we had another family who were hoping to visit their French ancestors' place of origin. In this case, we had two clues that helped us to locate the exact place.
First, they had a French last name that historically had strong links to the farming occupation. In this way, we could narrow our search down to a few different areas.
Second, we knew that one of these areas, the Perche region (which is between Normandy and the Loire Valley), had experienced mass emigration from France to the New World.
We knew that this family's ancestors had traveled first to Canada and then to the United States.
Their last name was, in fact, the name of a hamlet in the Perche region. We therefore arranged for them to visit the exact farm that their ancestors were from.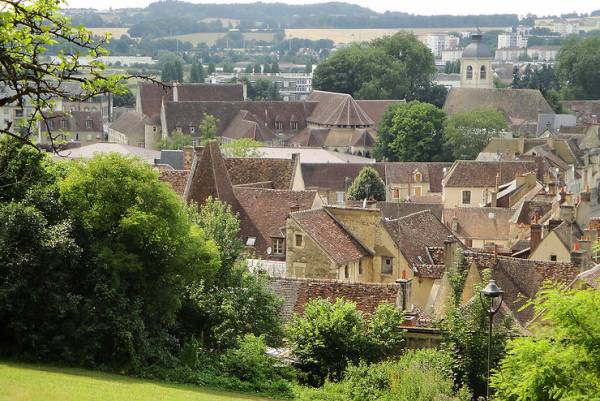 Many immigrants left the Perche region for the New World 
Are you curious about your French heritage? 
Have you heard whispers about your French roots, but aren't sure where to begin your research? Do you have a very French last name and want to discover its origin? Do you think you may have French Huguenot ancestry? Or perhaps you are not French but you have relatives who fought in France during one of the World Wars?
If so, please reach out to us and tell us your story. We would love to arrange a self-drive tour through France for you so you can discover more about your ancestry.
We can arrange a private tour guide for parts of the tour, who will share his or her expertise about certain areas. And of course you will have plenty of opportunities to explore our beautiful country independently, at your own pace.