Before booking a trip to France, we recommend you to read the following general information.
To get ready, you will get much more details in the customized guidebook.
VISA & PASSEPORT
US and Canadian citizens, traveling to France as tourists, only need an valid passport. For more detailed information or other citizenships, please see the travel documents FAQs
TRAVEL INSURANCE
Travel insurance provides reimbursement for cancellation, interruptions or delays, lost baggage, medical emergencies or evacuations, and 24/7 worldwide assistance.
We highly recommend that you subscribe to a travel insurance plan.
Travel Insurance Review is a price comparison website:


Travel Guard is one of the top travel insurance companies for European travel:

We do not sell travel insurances and do not have any benefits from recommending one over another. 
The FRENCH WEATHER
Average afternoon temperatures in France

Afternoon Temperature information - in details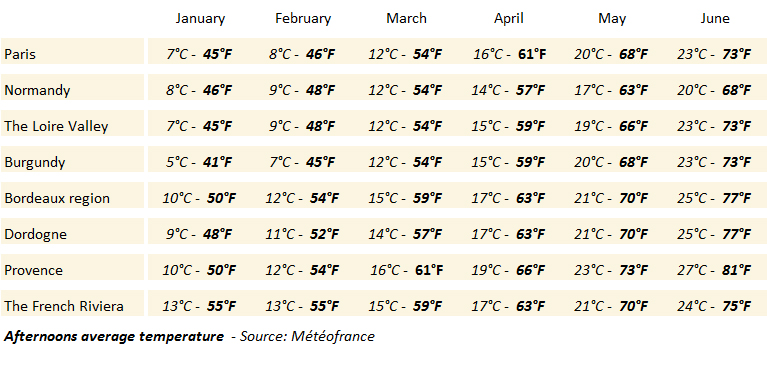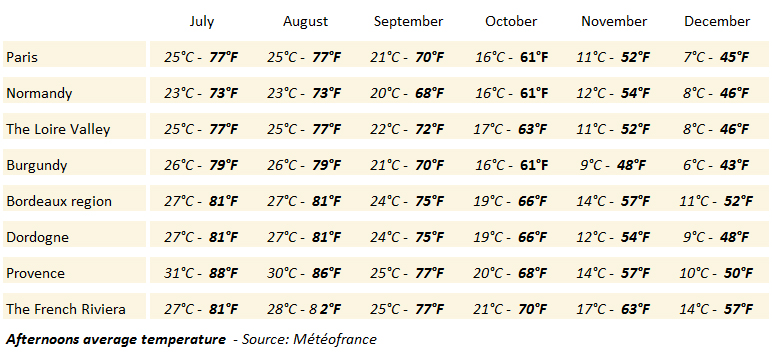 The weather in France can vary significantly depending on the region and the season. France experiences a range of temperatures depending on the region and landscape: coastal, continental, Mediterranean etc.
The weather in Paris is temperate. It can become quite cold during the winter dropping almost to a freezing point and be extremely hot during summertime, while all the Parisians are away. The weather of Paris is pleasant all year round, for the special unique effect it will bring to the city.
On the sophisticated French Riviera, the Mediterranean weather will charm travelers with its hot and sunny days. As well as in the southern part of France, Provence, where the pleasant mild weather and shining sun will emphasizes the colorful houses. For those who want to avoid strong heat - we don't recommend these regions in July and August.
In the South West, in the renowned Bordeaux and Dordogne regions, the temperate climate contributes to the uniqueness of the delicious and renowned wines as well as the enjoyment of your trip to France. In Summer, days may be warm but with the Atlantic Ocean, nights are often cool.
The northern west of France including Brittany, Normandy and the Loire Valley offers a mild oceanic weather, with warm summer and cool winter sprinkled with rainfalls. Spring and Fall seasons are very enjoyable and Summers are not too hot so you can definitely plan a trip to these regions all year long - the best season being from mid March till mid November. 
CREDIT CARDS & CURRENCY
The French currency is the Euro. You cannot use US, CA or AU Dollars or another currency in France and we highly recommend that you buy some Euros at home before the trip and then use your credit card.
If you have any questions, see our FAQs or feel free to Contact Us
GOVERNMENT TIPS FOR TRAVELING ABROAD
Do not forget to take a look at your government's foreign affairs website.
You might find some valuable information:
FLYING TO FRANCE
We do not book international flight tickets, but we have some advice about the flights to France and the airports to target based on your final destination. 
FRENCH RESTAURANT & FRENCH CUISINE
France is a nation of gourmet. The French cuisine is renowned worldwide for its unique savor and elegance. The cult of the food and meal is deeply ingrained in the French culture. We enjoy taking our time to taste the food and appreciate our company, it will not be rare to spend two or three hours dining.
But what is French cuisine? The recipes considered French might not be commonly cooked in the entire France. Indeed, each region of France has its own traditional recipes and traditional dishes. Whatever the region, French food will not disappoint you.
Travelers who have food allergies can let us know in advance and we will advise their accommodations, cooking class etc. The French cuisine offers a very wide range of recipes and products that you will still be able to enjoy it. 
There are a myriad of French restaurants, only in Paris you can count more than 5 thousands restaurants. Dining out is a national sport in France, however, the large choice of restaurants can be a nightmare. We will naturally guide you and offer a short selection of the best and most pleasant restaurants in France that we personally tried and picked.