Fly to France
Flying to Northern France

If you plan on visiting Normandy, the Loire Valley or the Champagne area, Paris is definitely the best airport to fly to.

Paris CDG Airport is our main hub. It is a huge airport with 3 terminals, located to the north west of Paris. There are easy connections between terminals and a TGV train station in Terminal 2 - but you need to do a lot of walking inside the terminals. 
Paris Orly Airport is a secondary airport, south of Paris. If you connect in a European country, you might arrive to Orly airport. Also, if you take a domestic flight in France - for instance from Marseille or Nice to Paris - you might land in Orly airport. Connections to Paris downtown are convenient but you might not get long-distance flights from Orly.

Public transportation between the Paris CDG Airport and Paris Orly Airport is not easy. It is a long way, especially during rush hour. 

From these two airports to downtown Paris, we recommend using Uber or taxis. This way you are not stressed if your flight is delayed. 
Flying to the South-East of France

If you are heading to South East France (Provence or the French Riviera), we strongly recommend arriving at either Marseille Marignane Airport for Provence or Nice International Airport for the Riviera.

It is not necessarily more expensive to fly into one of these airports rather than Paris – and you will save a lot of time and energy.

Marseille International Airport is conveniently located on the northern side of the city – near Aix-en-Provence - so you will not need to drive through the city of Marseille to get to Provence. From Marseille airport, you are a 25-minute drive to Aix-en-Provence downtown, 50-minute drive to Arles & the Camargue and 1 hour from Avignon.
If you depart from Marseille, we can arrange for you to spend your last night at a hotel near the airport, or at a B&B less than 1 hour drive to the airport. You will easily be able to return the rental car at Marseille Airport.
In Nice, the airport is located in the city – at the end of the famous Promenade des Anglais. From Nice airport, you can hire a rental car and be in Nice's old town in 5 minutes.

 

If you have several itinerary options with different airlines, we have reservations about Air France. They have shown a very poor level of customer service in the past – especially during strikes. 
Flying to the South-West of France

For travelers coming from a European country – for instance if you tour the UK or Italy before coming to France – there are several other airport options.

Bordeaux or Toulouse airports are well-located for South West France.
If you go to Dordogne, you can check the flights arriving to Brive Airport (from the UK). 
What about TGV Trains in France ?

If you can't find a flight to the region you are visiting, we will be happy to include in your travel plan the TGV train tickets to your final destination. 

TGV trains are also a good option if you come from or go to Amsterdam in Holland, Brussels in Belgium, London in UK, Barcelona in Spain, or Milan in Italy. 
In France, the railway company is called SNCF. It is a state-owned train company which has the monopoly on the whole railway network, including train tickets, train routes, train timetables etc.

 

In France, trains tickets can be cheap if bought in advance and at the right time. We will help you book the train tickets you need. Concerning the train schedules within France and Europe, trains run often and connecting trains are well organized and guaranteed. You will find the train times on the internet, on the app, or directly on the timetables of the train stations. The train timetables are easily accessible and rarely changed. 
From the European capitals and large cities, such as London, Amsterdam, Brussels, Frankfurt or Barcelona, it will only take a few hours to reach France. Europe is interconnected by efficient high speed trains. The train routes cover most part of Europe with the TGV or other trains. You will find a train route for almost any destination.

 

Another fun way to travel to Paris from London is to take the Eurostar train in the Channel Tunnel. This high speed train will take you from London to Paris and vice versa in about 2 hours 30. It also stops in Lille (northern France, right before the Channel).
How do I Book a flight to France ?

We do not book international flights, sorry. We warmly recommend that our travelers book their flights to France through their local travel agent. You never know what might happen after you book the trip and if you need any changes a travel agent will be able to assist you.
Booking directly on the internet is easy and cheap; but if you need to modify the booking or speak to someone it becomes expensive and challenging. 
We also warmly recommend getting travel insurance for your trip. 
Map of the main airports in France, with driving and train journey times: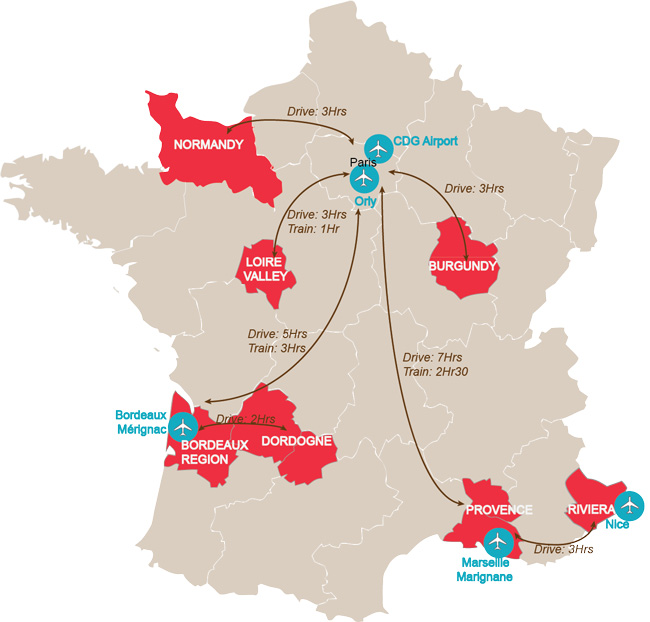 ©france-justforyou
Go back to frequently asked questions