This year for Easter, we decided to do a brunch instead of dinner. I did however, want to make a Spring-themed dish using new Spring carrots. This is an easy recipe and packed with protein, so it is great for your vegetarian night.
Ingredients
For 4 people
1 cup green lentils
1 cup grains (I used barley, but you could use farro, quinoa, etc.)
1 bunch of Spring carrots (cleaned and trimmed)
3T butter
2T honey
A few saffron threads
A handful of roasted almonds
½ cup crumbled feta (or more if you love feta)
1T cidar vinegar
French mint leaves
Pepper to taste
Instructions
Cook the grains and the lentils according to the package instructions (both my barley and lentils took about 10 minutes).
Blanche the carrots until just tender. This time will depend on the size of the carrots (mine took about 7 minutes).
In a skillet, heat the butter, honey and saffron over medium heat. Add the carrots and gently turn them for about 3 minutes to glaze each carrot with the sauce.
Chop the almonds into slivers.
When the grains and lentils are done, mix them together.
To serve, place the grains-lentils on your platter first, then arranged the glazed carrots. Add the feta, almonds, a few mint leaves and pepper to taste. Finish the dish by adding the cidar vinegar to the remaining butter-honey mix, and pour that over the top.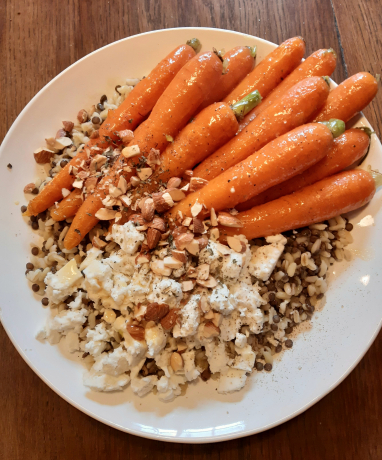 The dish ready to be served - ©Laura Crotet
To continue with the Spring theme, we enjoyed our meal with a crusty French baguette and a rosé from Provence.
Happy Spring and Bon Appétit!
- Laura Crotet, France Just For You
If this recipe makes you want to whip up some more delicious meals, find other great recipes in the France Just For You blog.