The answer is YES !
We are just coming back from an exploratory trip in this area. Always looking for new attractions and nice B&Bs.
If you like being on the seaside and walking on the beach, we've found the perfect guide for you to discover Mont Saint Michel. Our English speaking guide, specialized in the wilderness, was born there and knows every grain of sand in the Bay. He'll explain you everything from the site's history, this unique natural place to the thousands of birds you can watch there.
Most of the time, you'll walk barefoot, so you'll avoid the so mythical quicksand. As we went there in November, we were wearing boots. Depending on the day and on the tides, you'll start from the Mont Saint Michel itself or from the opposite side of the Bay, and follow part of the pilgrims' way. You might have to walk in the water up to the thigh.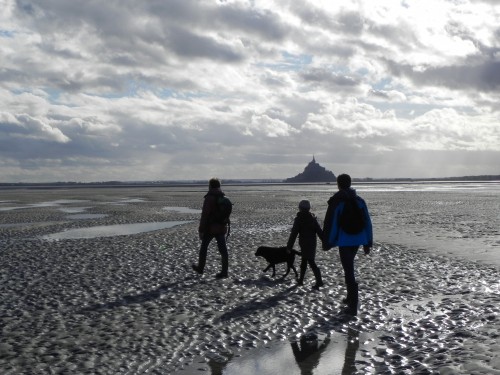 This is a typically Norman experience and a great breath of fresh air after the crowds in the village main street.
This tour can be added to any of our itineraries through Normandy.
Did you know that people from Brittany and people from Normandy have always fought to get the Mont Saint Michel in their region? A French saying gives you the solution: « Le Couesnon en sa folie a mis le Mont en Normandie ». The Couesnon is a river that wanders through the Bay. It is the natural limit between Normandy and Brittany…the way it turns around Mont Saint Michel put this big rock on the Norman side.