When it comes to medieval cooking, I am definitely not an expert. I did some research and found this recipe on Cluny Museum's site. This is a museum in Paris dedicated to the Middle Ages, so they know what they are talking about.
Talmouses are somewhat like cheese puffs with a triangle shape. There are barely any ingredients, and once you get the hang of how to pinch them into triangles, they are very easy to make.
Ingredients
1 ready-made crust (I used normal crust, but I have seen recipes with puff pastry as well)
1 cup of greek yogurt or sour cream (I used fromage blanc)
4 oz cheese, cut into very small cubes - I used cantal, but you could use cheddar, swiss, etc.
2 eggs
salt and pepper
Instructions
Preheat oven to 400°F.
Roll out the crust and cut into circles about 3.5 inches in diameter.
Mix the cream, cheese and 1 egg. Salt and pepper to taste.
Put a small dollop of the cream mixture into the center of the circle, and fold up into a triangle shape, pinching the 3 corners to close.
Beat 1 egg, and brush the talmouses with the beaten egg.
Cook in the oven for about 20 minutes.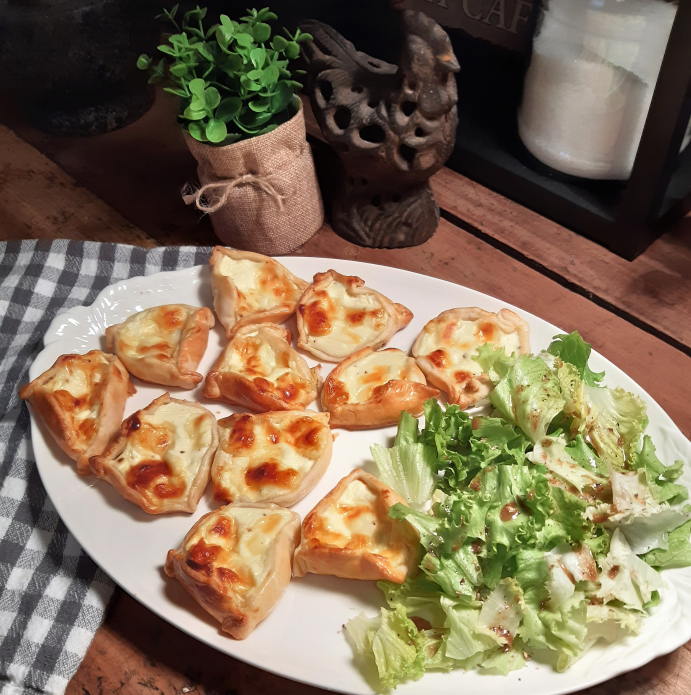 Mine were not perfect triangles, but they were very good! ©Laura Crotet
I served this with a simple green salad, but they could also be used as appetizers. They go well with a light red wine, like a Touraine Gamay. Bon appétit!
- If you enjoy medieval food, here is a recipe for Vin de Noix (Walnut Wine).