If you would like to know more about how Christmas is normally celebrated in France, we have put together this Q&A with Emilie Thyebaut, Founder of France Just For You. If there's anything we haven't answered, please contact us with your question!
Which day does France just for you normally celebrate Christmas?
The Thyebaut family normally celebrates with one side of the family on the 25th, and then with the other side of the family on another day. In terms of exchanging gifts, some families in the north of France do this on 6th December (St Nicholas' Day), many on Christmas Eve in the evening after the meal, and some people even wait until January 6th, the Kings' Day, to symbolise the three kings bringing gifts to the baby Jesus.
How many days do you celebrate for?
It really depends on each family; our family celebrates for around six days, spending three days with one side of the family, and three days with the other. However, for some, the celebrations begin on St Nicholas' Day on 6th December and do not finish until January 6th (the Kings' Day). Most people in France celebrate in some way from 24th-26th.
What kind of activities do you enjoy doing at Christmas time?
We really enjoy eating! Also strolling around the Christmas markets.  We prefer markets that sell local, traditional, handmade French souvenirs, such as the ones you can find in Alsace, where the tradition started. We also enjoy ice skating occasionally.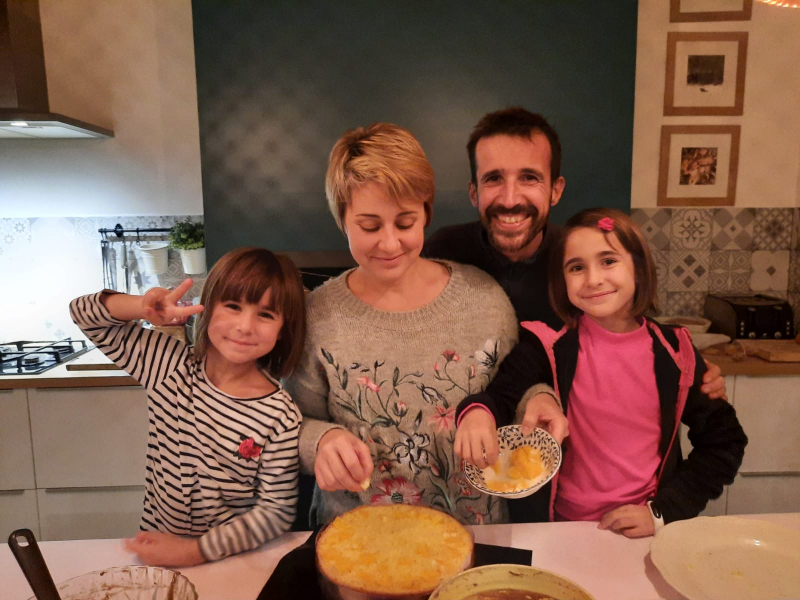 The Thyebaut Family baking desserts at home
Do school children prepare a performance of the Nativity?
No. Sometimes the schools prepare a special concert of Christmas songs or another show not related to Christmas. When I was at school, it was common to have a Nativity play, but nowadays school is strictly secular in France, so the shows must not be related to religious festivals.
Do you have any traditional presents or stockings?
Some children will leave their shoes or socks by the fireplace if they have one, so that Santa can fill them with small presents and sweets. Otherwise Santa normally leaves all the presents under the Christmas tree. Some people have also adopted the American tradition of hanging Christmas stockings.
How do you decorate your home for Christmas?
In France, we do much like the rest of the Western world - we decorate the house and Christmas tree with tinsel and other decorations, we hang wreaths on the front door and some people hang Christmas stockings. We also hang traditional painted glass baubles made in Alsace.
We have a very strong tradition of displaying 'santons' - this started in Provence and has been adopted by the rest of France. Santons ('little saints' in French) are human figurines that are sculpted from wood or clay by local artisans. The little figures include Mary, Joseph and Jesus but also represent characters of many traditional professions such as bakers, butchers, tailors, greengrocers and many others. They are all placed around the traditional nativity scene that many people will create in their homes.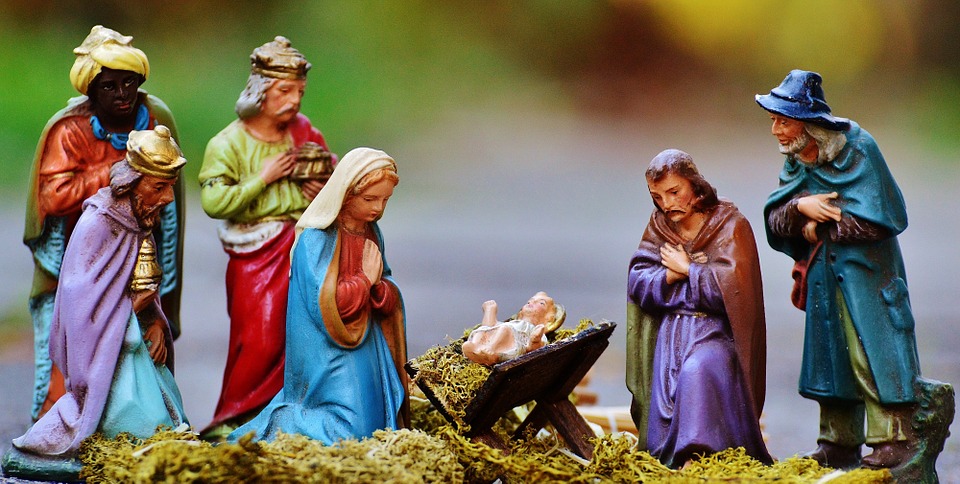 Handmade santons from Provence
Are there any special plants or trees that you use?
We have the traditional Christmas tree and many people buy poinsettia plants for their homes and porches too. We actually hang mistletoe on New Year's Eve - kissing under the mistletoe at midnight brings everyone happiness!
Do you adorn your house with lights?
Yes, we do. If you visit the region of Alsace at Christmas (very famous for its strong Christmas traditions and Christmas markets), all the streets and buildings are lit up. It's like stepping into the pages of a fairy tale - a really magical time of year.
What kind of meal do you enjoy at Christmas?
On Christmas Eve, we cover the dinner table with three tablecloths of various sizes and place three white candles on top, which represent the Holy Trinity.
On Christmas Eve we have quite a light seven-course meal (small courses!), with different dishes including local vegetables and fresh fish. For Christians, the seven dishes represent the seven sorrows of the Virgin Mary. Then after dinner on Christmas Eve, Christian families may leave any leftovers on the table for the angels, so that they can feast while the family is at Midnight Mass.
The thing we enjoy most about the Christmas celebrations is the 'thirteen desserts'. Traditionally, these represent Jesus and his twelve disciples at the last supper. People normally have these desserts after returning home from Midnight Mass. These often include pastries, candied fruits, dried fruits and nuts, and fresh fruit. This year, we have been at home more and have had the chance to practice making MANY different desserts. We have even invented a few ourselves!
Do you ever leave any refreshments out for Santa Claus?
We leave a glass of milk or a cup of coffee for Père Noël and a few carrots for his reindeer.
What are your favorite Christmas sweet treats?
We like chocolate truffles.
What about Christmas drinks?
Mulled wine ('vin chaud') is popular and we also drink different spiced teas (cinnamon, for example).
What does the night before Christmas look like in France?
As I mentioned, many families have a special dinner on Christmas Eve before attending Midnight Mass (if they are Christians). In our case, our family enjoys a nice meal at home and after dinner we play board games.