This is a recipe that is passed from generations to generations in Emilie's family. Pauline, our 6-month-daugther already learns how to make good pate.
The pork paté is the best of all, the tastiest and the easier to prepare (compared to other types of meats that are more difficult to bone.
To make about 15 preserving jars, like on the picture, you'll need about 5 kilos of meat (11lb).
-       3 kilos (7lbs)  of mixed pork meat: pork belly and throat (greasy)
-       2 kilos (4lbs) of pork/poultry liver
-       2 onions, 1 shallot, 2 garlic cloves, a lot of parsley
-       1 small glass of brandy, 1 small glass of very strong coffee (expresso)
-       5 eggs
-       2 tablespoon of pepper per kilo of meat (so 10 tablespoon in this case). You can mix grey pepper and 5 bays.
-       15 grams of salt per kilo of meat (so 75 grams of salt) – be careful to be very precise with the salt.
-       Add thyme and a laurel leaf on top of the mixture in the preserving jar before closing it.
Then, you need strong arms and an electric meat mincer. You cut all the meat in pieces and put them in the mincer. You mix all of the above and put them in preserving jars. Pass them on the sterilizer for 3 hours.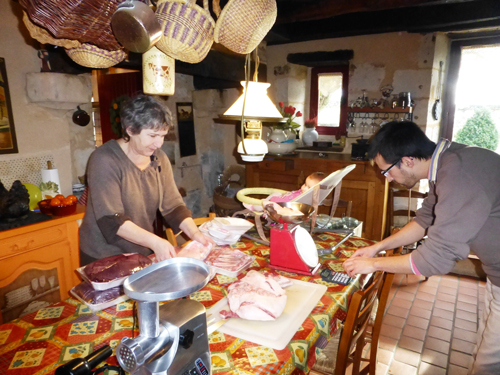 The pate are even better if you wait for few month before eating them….Enjoy !!