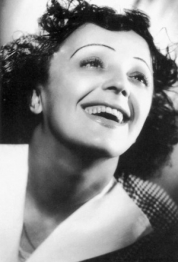 Edith Piaf died 50 years ago (on October 10th, 1963) and she remains in people's heart as one of the most romantic singers in the world. Known as "The Little Sparrow," this singer became an icon of France during World War II. Piaf was born in Paris on December 19, 1915, and rose to international stardom in the 1940s as a symbol of French passion and tenacity. Of Piaf's many ballads, "La Vie en Rose" is remembered as her signature song.
When traveling to Paris, you should definitly have her song called "Sous le Ciel de Paris" in mind. This is the music, with English subtitles to refresh your memory: YouTube/Souslecieldeparis
Short Biography from biography.com:
Édith Piaf was born Édith Giovanna Gassion in Belleville, Paris. She was named after a World War I British nurse, executed for helping French soldiers escape from German jails. Her mother was an Italian cafe singer, who performed under the name "Line Marsa" and her father was a street acrobat.
Édith 's parents soon abandoned her and she lived for a short time with her maternal grandmother, who ran a brothel. In 1929, at the age of 14, she joined her father in his street performances. Édith soon separated from her father, setting out on her own as a street singer in and around Paris. At 17, she had a daughter named Marcelle, who died of meningitis two years later.
In 1935, Piaf was discovered by Mr Leplée, who owned the club Le Gerny off the Champs-Élysées. Her energy and small stature inspired the nickname that would stay with her for the rest of her life: La Môme Piaf ("The Little Sparrow"). She was popular enough to record two albums that same year.
Her mentor was murdered the following spring. Edith adopted her stage name—Édith Piaf—permanently, and wrote songs that romanticized her life on the streets, emphasizing her passion and inner strength.
Piaf was one of the most popular performers in France during World War II. Her concerts for German servicemen were controversial, although she later stated that she had been working for the French Resistance. While the veracity of this claim is unclear, she was instrumental in helping a number of individuals escape Nazi persecution.
After the war, she toured Europe, South America and the US. Although American audiences were initially put off by her dour demeanor and dark clothes, Piaf garnered glowing reviews and ultimately achieved enough of an audience to warrant two televised performances on The Ed Sullivan Show.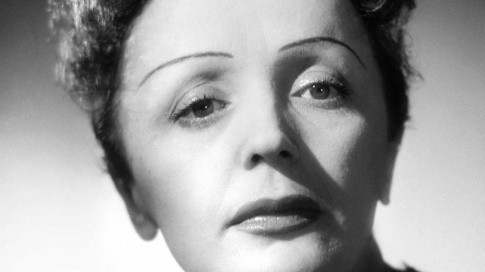 The personal life of Édith Piaf was characteristically dramatic. She was involved in three serious car crashes after 1951, leading to morphine and alcohol addictions. Piaf had high-profile romances with many of her male associates and some of the biggest celebrities in France (including Yves Montand and Marcel Cerdan). She married twice.
Piaf remained professionally active until the final years of her life, performing frequently in Paris between 1955 and 1962. In April 1963, she recorded her last song. Édith Piaf died of cancer at her French Riviera villa on October 10, 1963. She was 47. The Archbishop of Paris denied requests for a funeral Mass, citing Piaf's irreligious lifestyle. She is buried in Père Lachaise Cemetery in Paris next to her daughter Marcelle.
We couldn't end this article whitout mentioning La Vie en Rose...that she also sang in English !