For a rare few, traveling to other countries as well as welcoming others into their own country is in their blood. This is true for the Loire Valley based Martinez - Thyebaut family.
Florence and Philippe Martinez
The dynasty starts with Florence and Philippe, Emilie's parents who ran a wonderful B&B in a 15th century farmhouse near Chinon called Les Bournais. They shared their passion for the Loire Valley, as well as their kindness and joie de vivre, with all their guests. They are now newly retired and enjoying this chapter of their lives.
Emilie & Guillaume Thyebaut
Next of course is Emilie and Guillaume. Wanting to share the hidden beauties of France, they launched France Just For You in 2012 after extensively traveling themselves throughout France, as well as the world. The way they travel - getting off the beaten track and connecting with the locals – is at the heart of France Just For You. Those who have chosen to travel with us know the importance that Emilie and Guillaume place on the personalized, warm welcome our travelers receive every day while in France.
Vincent Martinez
And now, next in line is Emilie's brother Vincent, who is creating a tour operating company to organize guided motorbike tours in France. Vincent lived and worked for many years in Canada. Before coming back to France, he was joined by his significant other Julie, and they traveled for 1 year by motorcycle from Montreal to Argentina.
We sat down with Vincent to learn more about him, and the idea behind his exciting new adventure.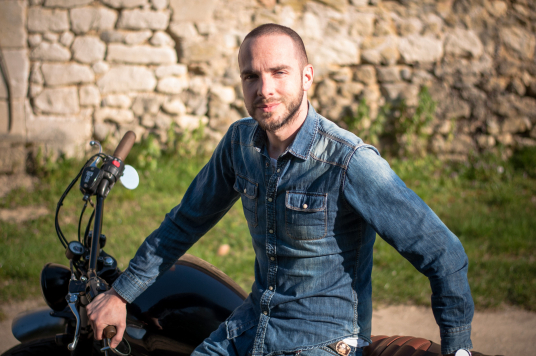 Meet Vincent Martinez - creator of Totem Motor Tours, Vincent Martinez
What did you enjoy most about living and working in Canada?
Tough question! There are so many things I could talk about. When I left for Canada, I had but the faintest idea about how things would be over there. I was twenty-something, had just graduated, and I wanted to see the world. When the airport shuttle drops you in the middle of the city (Berri-UQAM station, for those who've been there!), mid-December, right after the first big snowstorm of the season, with just your backpack and an address in your pocket, there's just no telling how you will feel! Everything is so new, so real, it's like you're living for the first time.
I spent the most wonderful time living in Canada. I enjoyed most aspects of life over there (the winters do get tough after a few years, I must say...!). But if I had to pick one thing, I would say my favorite aspect was the people. Canadians welcomed me as if I were family. Just a few weeks after I landed in Montréal, I had been invited for dinners, weekend trips, cabin vacations… They took me in, no questions asked, no judgement. And it felt great!
How did you and Julie plan your cross-continental trip? What were the particular challenges of doing this on a motorcycle?
It took us quite some time to save enough money for the trip, something like 1-1/2 years. During that period, we gathered information, read a lot, followed blogs and so on. We had a good idea about the places we wanted to visit for the 1st leg of the journey in North America, because we had traveled to the US and Canada prior to the trip. Latin America, on the other hand, was uncharted territory for us. We really had no idea what we would find over there, and I think a part of us wanted to keep it that way!
Traveling by motorcycle does have its particularities. The first one being that it's a great way to travel! The second one is that you don't have much room for stuff: a couple of saddlebags and a duffle bag on the back of the bike, and that's it. When you leave for a year, they fill up pretty quick, especially when you pack tools and spare parts!
Funny thing: at first, and until shortly before the trip, we had planned to do the trip on a single motorbike. It was just a few months before leaving when we did a test ride and we tried to load up the bike, that we realized it was just not going to happen. So, as fast as possible, Julie started taking lessons to get her license, which she obtained about 10 days before we departed. She was very stressed out before the exam, because she knew she could not fail it! In the end, she passed, we got her a bike, and hit the road!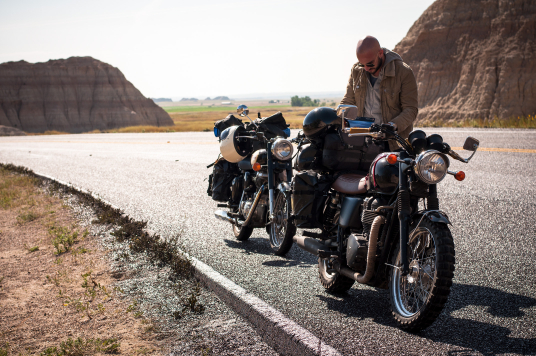 Checking the day's route, Vincent Martinez
What were the highlights of this exceptional experience?
Riding across the Death Valley in Nevada, the Okanagan Valley in British Columbia, and the salt flats of Uyuni in Bolivia... Hiking in the Grand Canyon and in Yosemite's Narrows, and rallying in Sturgis, North Dakota... Swimming with whale sharks in Baja California, enjoying barbecues with Argentinians in Salta, camping under the Redwoods in Oregon, relaxing on the beach in Mexico and Costa Rica and Nicaragua... Visiting the Mayan ruins of Palenque deep in the jungle... Being (kindly) ripped off by cops in Colombia... Crossing the Darian gap on a century-old ship with the bikes on the upper deck... Riding through a snow storm on a mountain pass in Peru and being drenched to the bone by heavy rain in Yellowstone or in Ecuador…
I could go on and on and on. There are just so many marvels out there, I'm unable to pick just one. And I'm not only talking about landscapes or monuments, but the cultural aspect in itself.
When you travel by motorcycle, you cannot just keep to yourself or try to hide: you're out there in the open, you meet a lot of people, people come and talk to you. And you learn a lot about the way they live.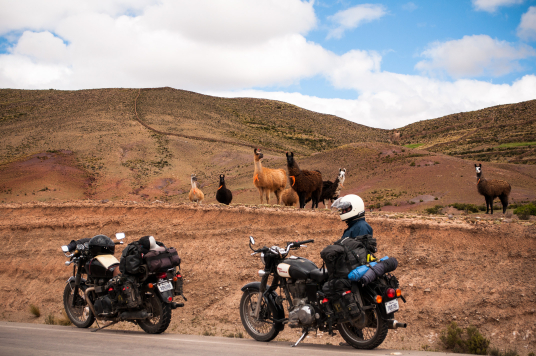 Making new friends on the road, Vincent Martinez
Is there anything you would plan or do differently?
I don't think so. If anything, I would make it a two-year trip instead of one! It can be challenging to build friendships when you are always on the move. There were some fellow travelers that we ran into on multiple occasions during the trip, but it was rare. We'd ride almost every day, and at a certain point it becomes an addiction. What's next? What's over the bridge? What's in the next valley? In the next county?
When you're on that beat, you need to take breaks, you have to force yourself to take pauses, otherwise you never stop. We took a ten-day vacation from the trip in Costa Rica. It's funny to say it that way, but that's exactly how we felt! We were more or less halfway through, and we just stopped there. We found a nice spot on the beach, left the bikes under a tarp, and just took the time to take it all in, and enjoy. "Pura vida" as they say over there!
If we'd had more time, it's something we'd have loved to do in every single country we crossed. We met some French motorcycle travelers down in Colombia. They were going the opposite way: from Chile to the US. They were travelling 6 months at a time, meaning they would travel for 6 months on the bike, and then find a barn to park it and fly back to France. Six months after, they were back and resuming the trip where they had left it. I think it's a nice way to experience things. The number one most important resource when you're traveling, is time.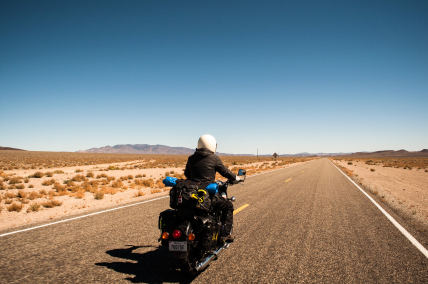 The joys of the open road, Vincent Martinez
What would your perfect day motorcycling in France look like?
Okay, just for fun, let's pretend it'd be a very long day!
I'd start off having breakfast while watching the sun rise over the Mediterranean Sea, maybe in Antibes or Saint-Tropez.
Then I'd jump on the bike, and head towards the Gorges du Verdon, the French Grand Canyon, as they call it! Beautiful riding, twisty roads, extraordinary landscapes.
Then, across the Luberon and North towards Montelimar and l'Ardèche. Now that's one of my favorite areas: l'Ardèche. It's a very remote region with twisting roads and plenty of hidden treasures. I'd stop for a minute there, go for a quick swim in the river (I know the perfect spot!), and back in the saddle.
Let's keep going north and check out the dormant volcanoes of Auvergne. The road opens up a little, and we can get a little more air now, zipping through the Massif Central, a mid-size mountain range right in the center of France. I'd stop to stretch my legs in Saint-Nectaire, and grab a bite (the cheese they do there? Amazing!).
Then, I'd probably go west towards the Limousin. There's something about this area, which is totally overlooked. To me, it is a very authentic place that I love to ride across.
West again, and into the Perigord! Too bad I just had a snack because the Perigord is your number one culinary destination… Still, I might get some foie gras and stash it in my saddlebag for later.
I'd keep going West across the vineyards, and towards Bordeaux, then the Landes, which would be the French equivalent to the forests of Ontario, Canada: straight roads in the middle of the pine trees, and with the salty smell of the ocean as a bonus.
Then, if my math is correct, I should be just in time to watch the sunset over the Bay of Biscay!
What's the best road to ride in France?
Now that's a tricky one too! I don't know if anyone else would call it the "best road to ride in France" but I have this memory of a road in Corsica, close to Corte, the former capital city of the island. If you leave Corte towards the Restonica Valley, you end up on this road. It's just a 10-mile ride, nothing crazy. It's not really mentioned in the travel guides, so we didn't expect anything. But when we got there, not only was the road amazing, but everything else was also just perfect: the light through the trees, the smell, the wind in our faces, the little stream trickling underneath… Every biker knows the feeling, this overwhelming feeling of joy, the kind of feeling that you are in exactly the right spot at the very best time. That's why we always have broad grins on our faces!
What is the name of your company & when do you hope to start offering motorcycle tours in France?
Well, we've been thinking about it for months now, and we just recently found a name that we like for the company! It will be called Totem Moto Tours, the tagline being "Road Trips for the Brave".
I like all the mythology associated with the name, and how it refers to a spiritual experience, an inner journey (which is a lot of what motorcycling is about). I also like the notion of tribe or clan. We will be leading small groups of travelers (5 bikes tops, so between 5 and 10 people) and I want them to feel like they're a part of something, like riding with a club.
Traveling in small groups will allow us to go where big groups don't go, to sleep in gorgeous little B&Bs instead of big hotels, and also to get to know each other well.
We'll proudly welcome our first biker-travelers in time for the 2022 season, starting in May and ending in early October. For the first season, we'll have two awesome tours ready.
The Heritage Tour will have a special focus on history and culture, while the Natural Wonders Tour will take riders through some of the most breathtaking landscapes Mère Nature was kind enough to create for us. Both will feature amazing riding on off-the-beaten path backroads, as well as Totem Moto signature activities, especially crafted by and for motorcycle lovers!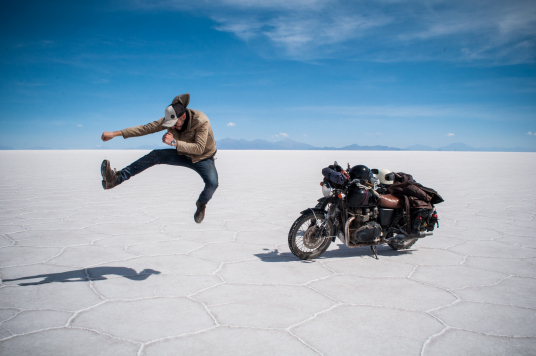 Loving life!, Vincent Martinez
Many thanks to Vincent for sharing his and Julie's adventures with us, as well as his excitement for the new adventure with Road Trips for the Brave.