I'd like to share with you a very easy recipe that I like to prepare in the summer to accompany the 'apéritif'.
You might already know that for French people l'apéritif – also called l'apéro – is a very important time of the day, especially during vacation time.
Between around 6pm and 9pm, we usually drink either some wine, beer, a local spirit like Pastis from southern France, or homemade spirits, such as walnut wine or Orange Wine). And what we eat with our "apéro" is also very important to us.
If you have guests or on a special occasion, you may want something more than just olives and crackers. In our experience, bite-sized pastries (bouchées – like vol-au-vents) go down a real treat with guests. And this brings me to the recipe I want to share with you: Feuilletés au échalottes et au chèvre - cheese and shallot pastries.
Everybody likes it and it's very easy to prepare quickly.
Ingredients 
Serves 4 people
Puff pastry (I buy them ready-made)
10 medium shallots
A little white sugar
Fresh goat's cheese
If you don't like goat cheese, you can also use Camembert or blue cheese. It's delicious with any type of tasty cheese.
In the pictures, I used "Picodon" cheese, which is a typical goat's cheese from the Drôme area in northern Provence.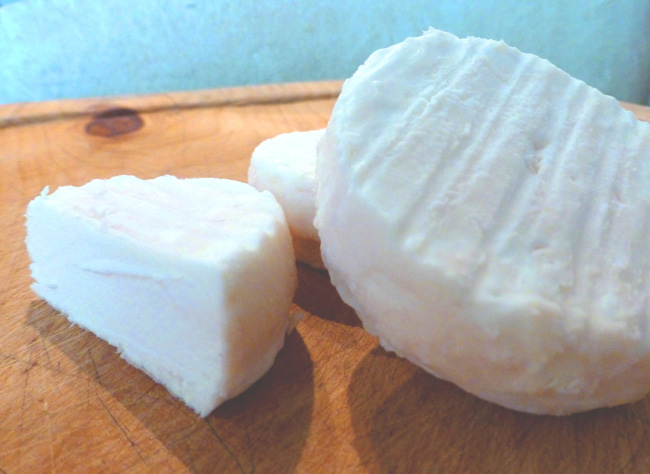 Instructions
Pre-heat your oven t0 190°C/375°F
Brown the shallots gently in a teaspoon of olive oil – add some white sugar halfway through so that they caramelize.
Cut your puff pastry into 5cm/2 inch squares.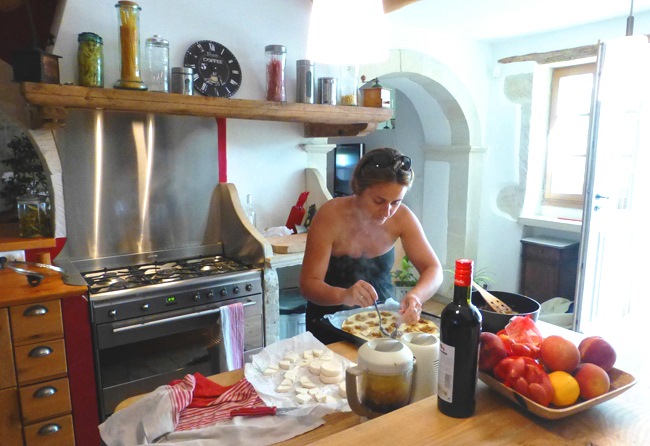 Add a teaspoon of shallots to the middle of each square and a piece of cheese. Add some salt and pepper to season.
Close the squares by folding and pasting together (using a little water) the opposite corners of the pastry.
Put in the oven until the pastry has a nice color (about 20 minutes).
The bouchées should look a little like the ones in the photo below. They look much nicer if you take your time to close the pastries carefully before putting them in the oven! You can eat these hot or cold.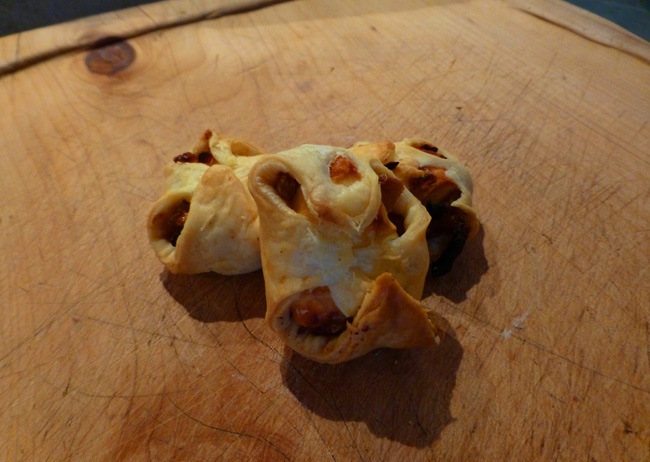 Tip: If you use a creamy cheese such as camembert, don't put too much into each "bouchée" otherwise it will drip during cooking.
I hope you enjoy your pastries with a nice drink!
Bon Appétit!