"Biscuits roses de Reims" are a specialty of the Champagne area. They are light, crunchy finger-shaped cookies and are amongst the oldest cookies in France. The Maison Fossier has been making them since 1691.
You may dip them into a glass of Champagne to enjoy, but I like turning them into beautiful pink truffles. They make a perfect treat for a loved one, so keep this recipe in mind for Valentine's Day, a wedding anniversary, or an upcoming birthday!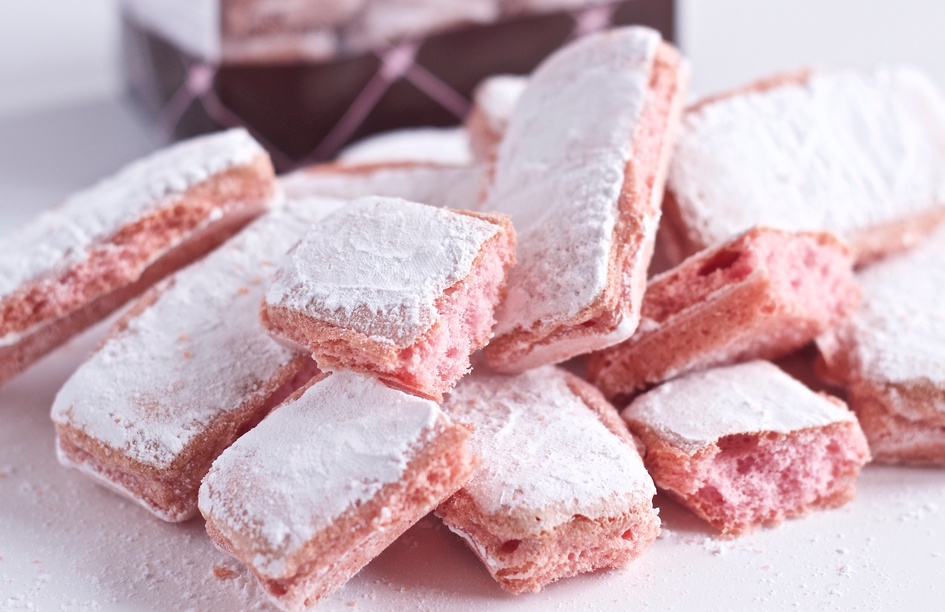 Photo : Pink biscuits from Reims
Ingredients:
1 cup crushed Pink Biscuits
¼ cup sugar
¼ cup + 3 tablespoons softened butter
1 egg yolk
1 teaspoon rum
Powdered sugar
Instructions:
Mix the butter and the crumbs, then add the egg yolk and rum, and finally the biscuit crumb. Mix well – the batter will be rather thick.
Place the batter in the refrigerator for 30 minutes.
Form the truffles in little balls, about the size of a walnut shell, and roll each one in the powdered sugar.
Enjoy with a glass of Champagne!
- Laura Crotet, France Just For You
RELATED: Things to do in Reims, Champagne