When it comes to French cuisine, there's no denying the importance of food and wine pairing. In France, we take our time to appreciate the delicate balance and flavors of food during each meal. Pairing a delicious French dish with the perfect bottle of wine only enhances the dining experience.
Enjoying a local, homegrown glass of wine with meals is part of French tradition. And on special occasions, we like to celebrate with more complex wines and special vintages!
The Basic Rules for Food and Wine Pairing
We are gourmet enthusiasts, so we know how to pair our meals with fine wine. But we don't like to be too prescriptive. While most people would normally pair red wine with red meat and white wine with seafood and poultry, these aren't strict rules. 
The important thing is to drink what you enjoy, perhaps choose a vintage from a year that has a special meaning, and savor a fantastic dining experience! As Daniel, one of our Loire Valley wine guides always says: "The most important thing, before all the technical aspects of the wine-tasting, is what YOU feel when you drink the wine and the pleasure of sharing it with your friends."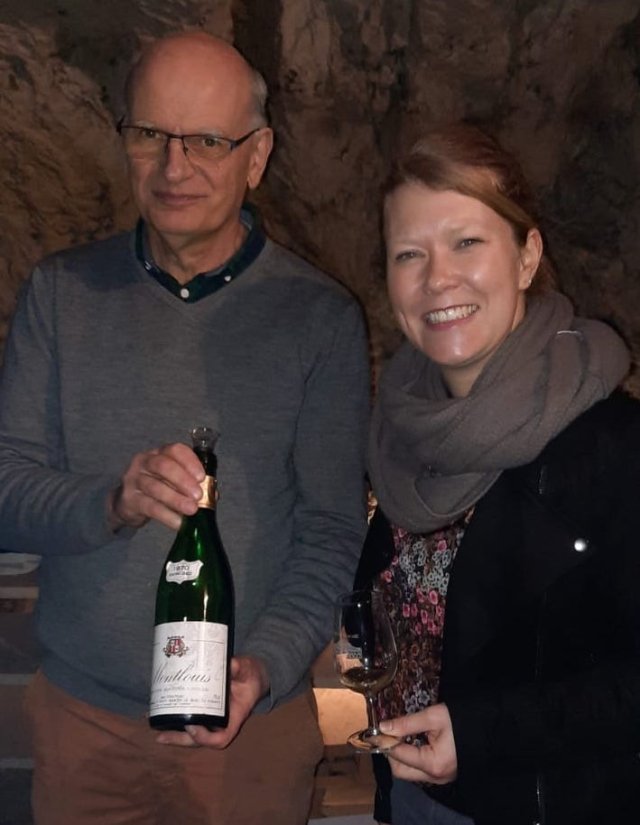 Things to Keep in Mind when Pairing Food and Wine
If you have a small selection of favorite wines and don't experiment much beyond those bottles, try experimenting with different wine varieties. Pairing these with the meals you cook will help you get started with the basics of wine tasting, and notice which wines blend well with particular flavors. 
As you progress, you'll want to pay more attention to factors such as acidity, body, aroma, and flavor when searching for the perfect match. It's important to keep in mind that these attributes can vary from one palate to another. What tastes acidic to you may not taste so acidic to someone else. 
Acidity
The acidity of a wine is determined by its sour and sharp notes. You may notice a sharp sensation as the wine hits your tongue - much like if you bite into a sour apple.
Body
The body of a wine refers to its weight and how it feels in your mouth. It may be light or 'thin', offering a more delicate experience. It may also feel heavy, providing a rich and substantial texture. It can also feel oily or creamy. It's likely that each taster's perception of the body of a glass of wine will vary. 
Aroma
The aroma, or bouquet, refers to the smell. You may be able to detect one or two distinctive notes when you breathe in a glass of wine, ranging from earthy and floral to fruity and nutty. You may also find that when you swirl the wine, its interaction with the air can release a complex range of aromas. Always smell a wine twice: before oxygenating it and after. The aromas will be very different.
Flavor
The flavor of wine is closely tied to its aromas. What we smell is often what we taste, even if the two experiences may differ. A wine with a light, fruity bouquet may offer rich, earthy flavors. There are also wines with nutty aromas that transform into coffee-chocolate notes on the palate.
How to match wines with food
Matching food with wine is easier than it sounds. Consider the intensity of the dish—whether it's sweet, spicy, light, or rich—and find a wine that matches its character. The general guideline is to pair wine with food that equals its intensity. For instance, a flavorful chicken recipe pairs well with a light, spicy-sweet white, while a steak with a rich sauce calls for a full-bodied, robust red.
French Food and Wine Pairing Examples
Next, we'll explore a selection of iconic French wines and suggest some food pairings that will complement their flavors. In France, we say that you can't be mistaken if you match two produces from the same soil/terroirs. For instance, Camembert and cider match well as they come from the same area/terroir in Normandy. 
We will send your taste buds on a journey through the distinct regions of Bordeaux, Burgundy, Beaujolais, Châteauneuf-du-Pape, the Loire Valley, and more!
Bordeaux Wine and Food Pairings
Bordeaux wines are revered for their elegance and complexity. You may pair a Bordeaux red blend, such as a rich Cabernet Sauvignon-Merlot blend, with classic French dishes like coq au vin or a hearty beef bourguignon. In the Bordeaux region itself, you can enjoy the wine with succulent grilled entrecôte steak or indulge in a plate of creamy duck confit. The bold flavors of Bordeaux wines will enhance the robustness of these regional delicacies.
Burgundy Wine and Food Pairings
Burgundy is synonymous with exceptional Pinot Noir and Chardonnay. Like Bordeaux, the delicate and earthy flavors of Burgundy Pinot Noir will complement boeuf bourguignon, as the tender beef braised in red wine echoes the wine's character beautifully. 
When it comes to Chardonnay, you may pair it with escargots de Bourgogne (Burgundy snails) or a plate of creamy coquilles Saint-Jacques (scallops) cooked with butter and herbs. The richness of the traditional Burgundy cuisine will match nicely with the wine's buttery notes.
Pinot Noir wine and food pairings
Pinot Noir, known for its elegance, versatility, medium body, delicate acidity, and nuanced flavors, pairs well with a range of dishes, including salmon, fatty fish, and duck. Its subtle fruitiness and earthy undertones complement the richness of these dishes. Pinot Noir will also pair well with coq au vin or roasted mushrooms.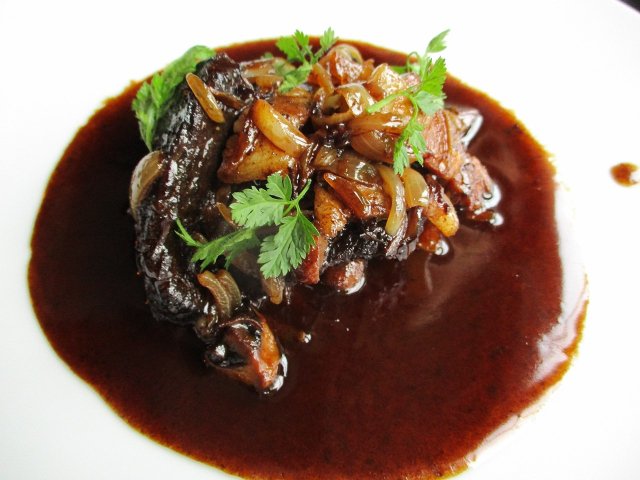 Beaujolais Wine and Food Pairing
Beaujolais is celebrated for its vibrant and fruit-forward Gamay wines. You can pair a lively Beaujolais Nouveau with a slice of delicious Lyonnaise sausage or gratin dauphinois (potato gratin). For a taste of the region, enjoy Beaujolais with a classic dish like Poulet de Bresse (Bresse chicken) or saucisson en brioche (sausage in brioche). The lively red fruit flavors of Beaujolais will delight your palate as you savor these delightful dishes.
Châteauneuf-du-Pape Wine and Food Pairing
Châteauneuf-du-Pape wines are bold and full-bodied, making them perfect for pairing with robust flavors. Enjoy a glass of Châteauneuf-du-Pape red wine with a plate of daube provençale, a slow-cooked beef stew flavored with aromatic herbs and spices. Alternatively, the complexity of Châteauneuf-du-Pape wines will complement the richness of regional specialties from the Languedoc region, such as a tender rack of lamb or a hearty cassoulet.
Chenin Blanc Wine and Food Pairings
Chenin Blanc is a versatile white wine known for its acidity and fruity notes. You may pair a refreshing Chenin Blanc from the Loire Valley with a platter of fresh oysters or delicate seafood dishes like moules marinières (steamed mussels) or sole meunière (sole fish cooked in butter). In the Loire Valley, we recommend trying a goat cheese salad or a tarte tatin made with local apples. The crispness of Chenin Blanc will elevate the flavors of these light dishes.
Chardonnay Wine and Food Pairings
Chardonnay, a popular white wine with diverse styles, can be paired with a variety of dishes. A rich and buttery Chardonnay from Burgundy will complement classic dishes like poached salmon or roast chicken with creamy mushroom sauce. In Alsace, you can enjoy a glass of aromatic Chardonnay with a typical Alsatian dish like quiche Lorraine or a flammekueche, a pizza-like dish topped with bacon, onions, and crème fraîche.
Sauvignon Blanc Wine and Food Pairings
Sauvignon Blanc wines offer vibrant acidity and expressive aromatics. You may pair a crisp and zesty Sauvignon Blanc from the Loire Valley with a platter of fresh goat cheese or a salad of chèvre chaud (warm goat cheese) on a bed of mixed greens. In Bordeaux, savor a glass of Sauvignon Blanc with a plate of fresh oysters from Arcachon Bay or a seafood platter of shrimps, mussels, and clams. The lively citrus flavors of Sauvignon Blanc will really bring out the freshness of these dishes.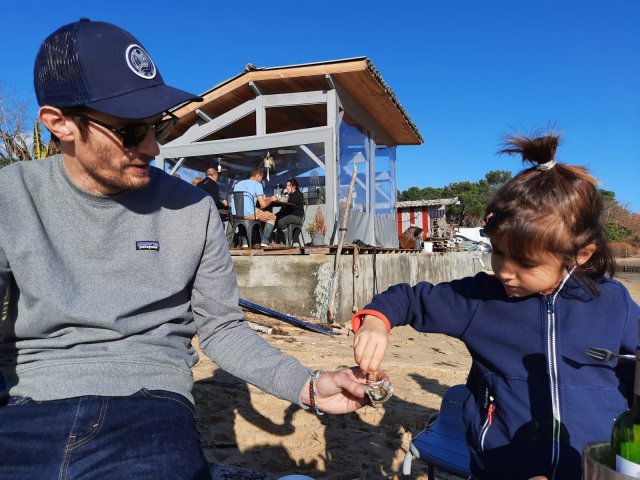 Saint Emilion Wine and Food Pairings
The refined character of Saint Emilion wines, known for their elegance and finesse, harmonizes well with the richness of these regional specialties. If you're traveling to the Bordeaux region, try a glass of red Saint Emilion with a juicy steak from the renowned Charolais cattle. Indulge in a plate of confit de canard (duck confit) or a savory mushroom tart, which will complement the wine's velvety tannins.
Cabernet Sauvignon Wine and Food Pairings
Cabernet Sauvignon, a powerful and full-bodied red wine, deserves robust pairings. You may pair a Bordeaux Cabernet Sauvignon with a rib-eye steak or confit de canard. In the southwestern region of Gascony, you may enjoy a glass of Madiran, a bold Cabernet Sauvignon-based wine, with a cassoulet or a slice of Toulouse sausage.
Merlot Wine and Food Pairings
Merlot wines are known for their smoothness and approachability. You can try pairing a velvety Merlot from Bordeaux with a comforting dish of beef stew or a tender roast lamb. In the Périgord region, indulge in a glass of Merlot with a rich slice of foie gras. The supple tannins and luscious fruit flavors of Merlot will nicely complement the flavors of these traditional French delicacies.
Rhone Valley Wine and Food Pairings
The Rhone Valley boasts a range of exceptional wines, both red and white. Pair a bold and peppery Côtes du Rhône red with a plate of beef stew or a grilled leg of lamb seasoned with aromatic herbs. 
For white wine lovers, enjoy a glass of aromatic Viognier from Condrieu with a creamy seafood risotto or a plate of saffron-infused bouillabaisse from Marseille.
Rosé Wine and Food Pairings
Rosé wines, with their refreshing acidity and delicate fruitiness, are incredibly versatile for food pairings. You may pair a glass of Provence rosé with a salad niçoise or a plate of grilled shrimps or briny oysters. In the Loire Valley, try savoring a glass of delicate rosé with a goat cheese tart.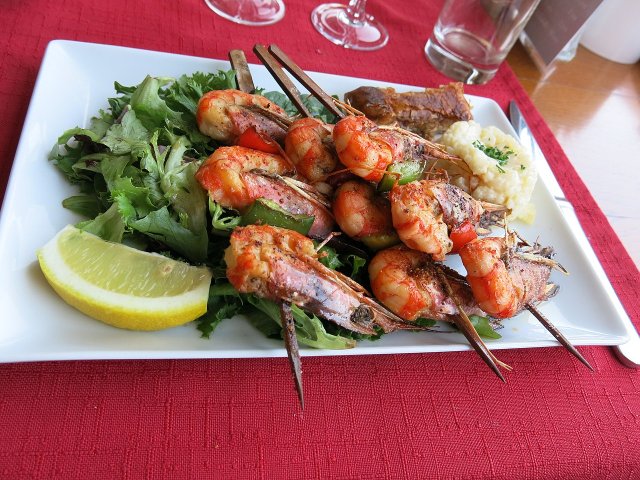 Bandol Wine and Food Pairings
Bandol wines, produced in the Provence region, are renowned for their boldness and complexity. Pair a robust Bandol red wine, predominantly made from Mourvèdre grapes, with a plate of grilled lamb chops seasoned with fragrant herbs. In coastal towns like Marseille or Cassis, you may relish the depth of this wine with a bowl of bouillabaisse or a platter of fresh Mediterranean seafood.
Embark on a Gastronomic Journey
We hope these guidelines and pairing examples help you explore the marvelous, rich world of French food and wine. Enjoy indulging in the art of savoring flavors and aromas, and discover the perfect combinations that will enhance your dining experiences. Bon appétit!
Experience the best of French gourmet and wine on one of our gourmet food tours! We will plan a unique self-drive itinerary that includes the regions you want to visit, recommendations on the nicest places to eat, and we'll tell you which dishes to try!
Tell us about your dream trip to France and we'll be in touch!