7 beautiful French villages for your travel bucket list
Les Plus Beaux Villages de France Association consists of 155 of the most beautiful villages in France, worthy of any travel bucket list. These villages want visitors to experience the best of French culture and heritage beyond the most popular tourist sites. Most of these villages only have a population of a few hundred people, offering tourists a more intimate and authentic experience of our wonderful country. Here are seven of our favourite French villages.
Gourdon, Provence
The drive from Tourrettes-sur-Loup to the little French village of Gourdon offers some magnificent views, and there are plenty of places to pull over and take a photo. The views from Gourdon itself are unrivalled, and you can see all the way to Nice and Cannes on a clear day.
Located on the edge of a rocky spur above the Gorge du Loup, the village has lots of little boutiques, gift shops, and perfumeries to explore. It is a great place to buy authentic souvenirs, such as locally produced perfumes, pottery, and lavender at a reasonable price.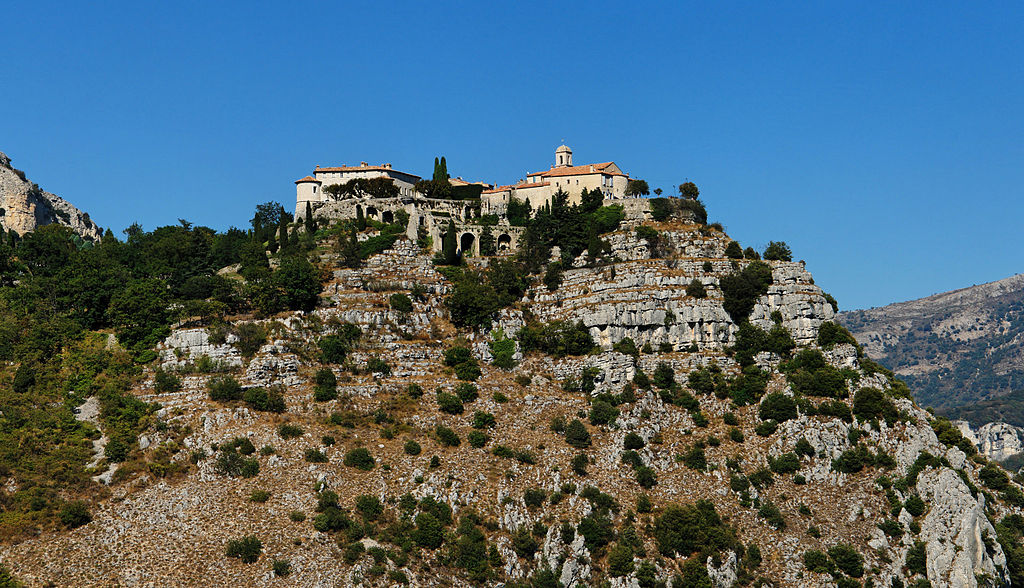 The view looking up to Gourdon (Alberto Fernandez Fernandez - CC BY-SA 3.0)
Beuvron-en-Auge, Normandy
This quintessentially beautiful French village is nestled among the meadows of Normandy's dairy region. The quaint streets are lined with half-timbered medieval buildings with hanging flowerpots.
With a population of just 210 people (correct in 2014), it will be hard to find a more authentically French village in the area. It is a lovely town to stroll through, and if you're feeling hungry, we love the La Colomb'auge Crêperie on the Place Michel Vermughen.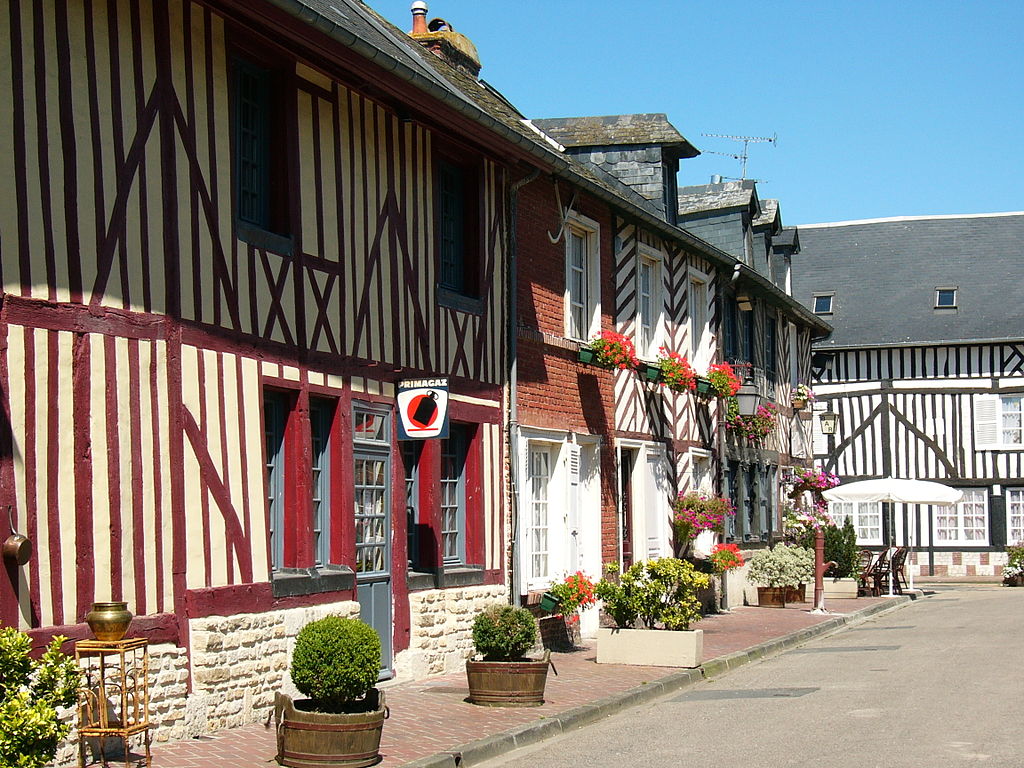 A quaint street in Beuvron-en-Auge (Cicero - CC BY-SA 3.0)
Flavigny, Burgundy
Arguably one of the most beautiful French villages in Burgundy, Flavigny was built around an 8th century Benedictine abbey. Its medieval history is not only reflected through its cobblestone streets, fortified gates, and stone buildings but also through the aroma of aniseed, which wafts through the streets on a breezy day. Aniseed candy have been produced in the former abbey for centuries and make a wonderful gift.
Flavigny has also welcomed its fair share of famous figures throughout history. Julius Caesar made Flavigny his basecamp, and 2000 years later, the town was chosen as the film-set for the movie Chocolat, starring Juliette Binoche, Johnny Depp and Judi Dench.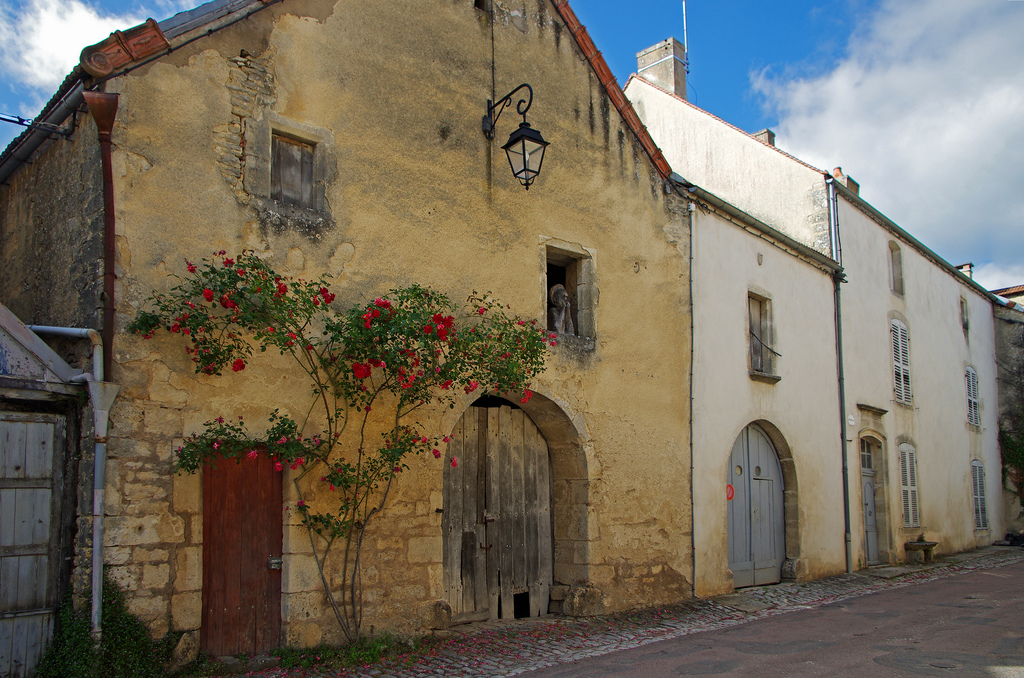 Discover the famous aniseed candy in Flavigny (Daniel Jolivet - CC BY 2.0)
Saint-Léon-sur-Vézère, Dordogne
This peaceful countryside town in the Dordogne has so much to offer. For those who are interested in exploring the caves of Dordogne and the Lascaux 4 imitation caves, Saint-Léon-sur-Vézère is a lovely little village to visit while you explore this gorgeous region. There are a number of castles around the village and a 12th century Romanesque church with a recently restored interior.
Travel back through time on a tour of the former cave dwellings at La Roque Saint-Christophe (great for adults and kids alike), or enjoy some canoeing along the river, followed by a riverside picnic.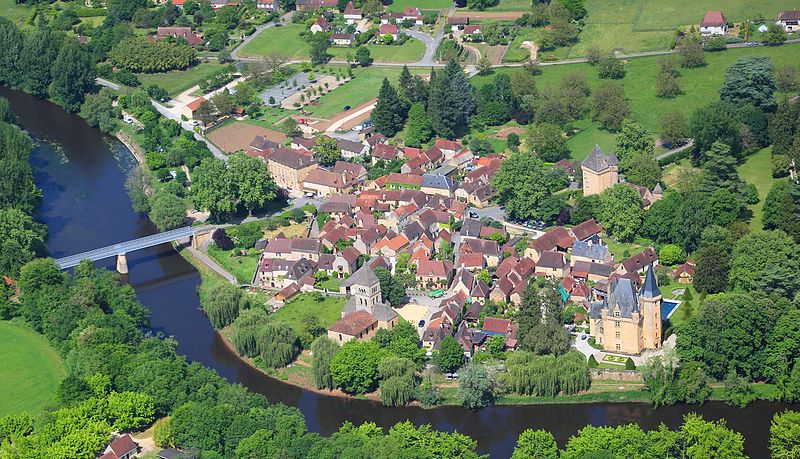 Nestled by the river, Saint-Léon-sur-Vésère should not be missed.
(Commune de Saint Léon sur Vézère - CC BY-SA 4.0)
Gordes, Provence
When driving through Provence, a visit to this village of artists is an absolute must. Yes, there are more cobbled streets, more medieval buildings, another castle and more breath-taking views… but there are few sights more spectacular than Gordes at sunset, as the orange and yellow hues appear to turn this hilltop village to gold.
The beautiful Notre-Dame de Sénanque Abbey surrounded by some of Provence's iconic fields of lavender is just a 45-minute drive from Gordes, and the Village des Bories, a 17th century restored stone peasant village, is just 30 minutes' drive away.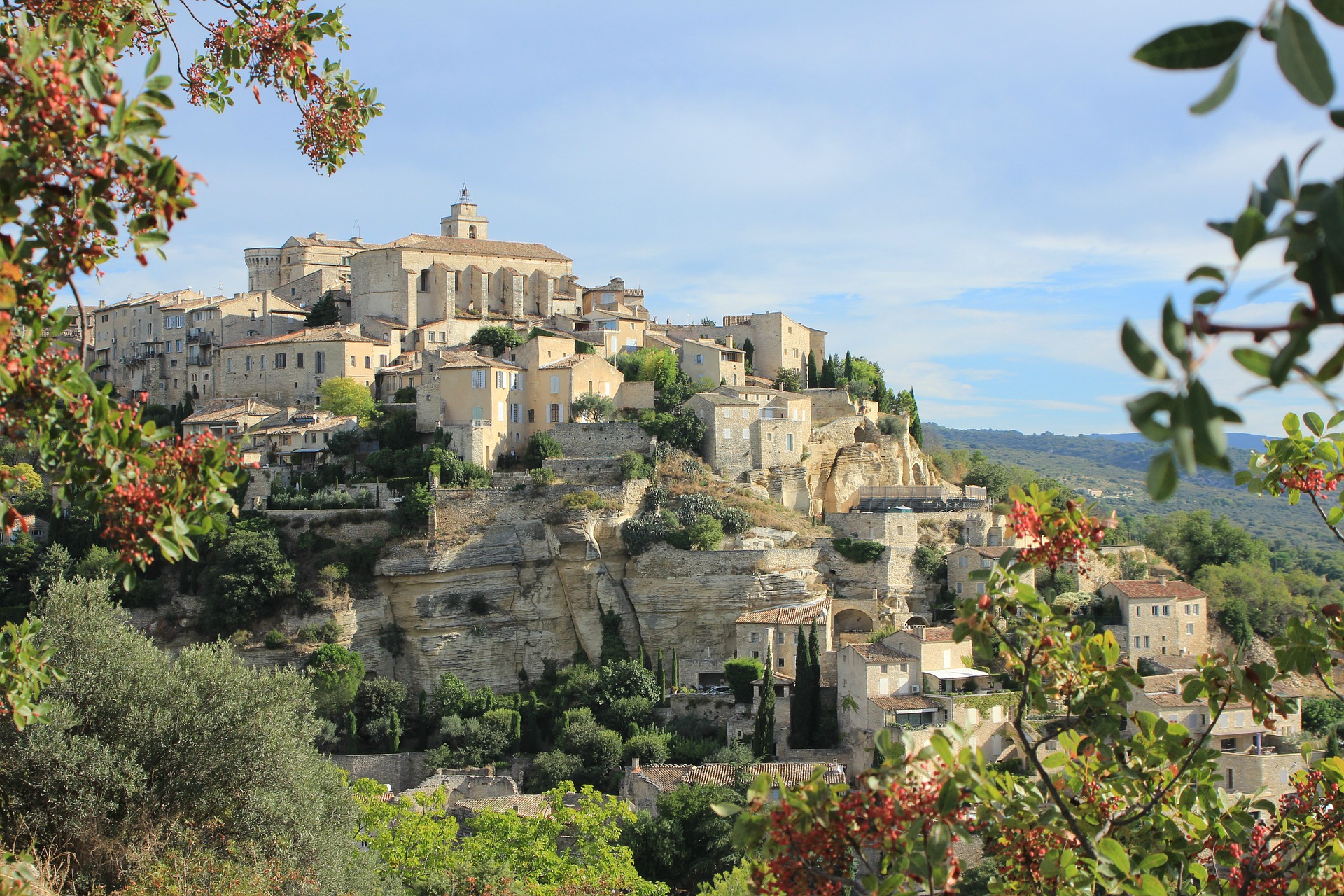 Gordes - one of the gems of Provence (Sloopng - Pixabay)
Ainhoa, Basque Country
Ainhoa is a walled village (also known as a "bastide") in the French Basque Country, on the pilgrims' route to Santiago de Compostela in Spain. Its only street is lined with the typical Basque red and white houses.
For spectacular views over the Basque Country, take a steep hike up to the Notre Dame de l'Aubépine Chapel. The chapel is no longer open but the mountain and sea views are worth the hike!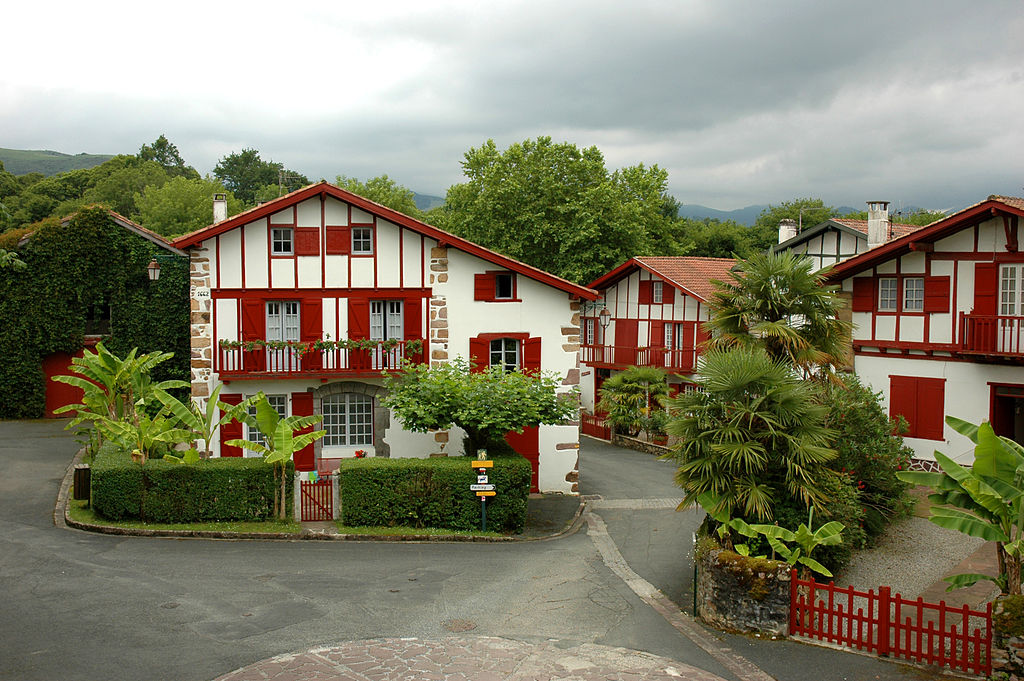 Typical red and white houses in Ainhoa (Calips -  CC BY-SA 3.0)
Collonges-la-Rouge, Dordogne
We couldn't miss out Collonges-la-Rouge, home of the Association of the Most Beautiful Villages of France! It truly is a beautiful French village, its hallmark being its buildings of red sandstone. It's a lovely place to stop for lunch and a coffee on your journey through the Dordogne.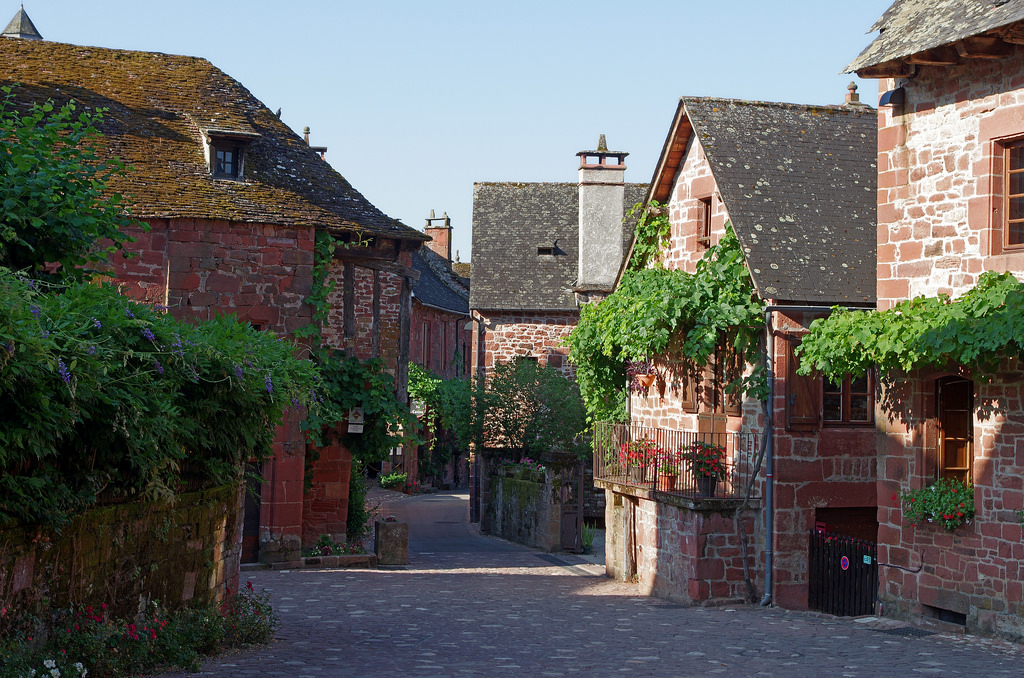 Collonges-la-Rouge, the "capital" of the Most Beautiful Villages of France (Daniel Jolivet - CC BY 2.0)
If any of the 155 beautiful French villages are on your travel bucket list, contact us!
We will be happy to include a stop-off at one or more of these in your itinerary.