Here Emilie Thyebaut, Founder of France Just For You, shares her favorite recipe for making Chocolate Macarons! These normally turn out better if you're baking them on a dry day rather than on a rainy day.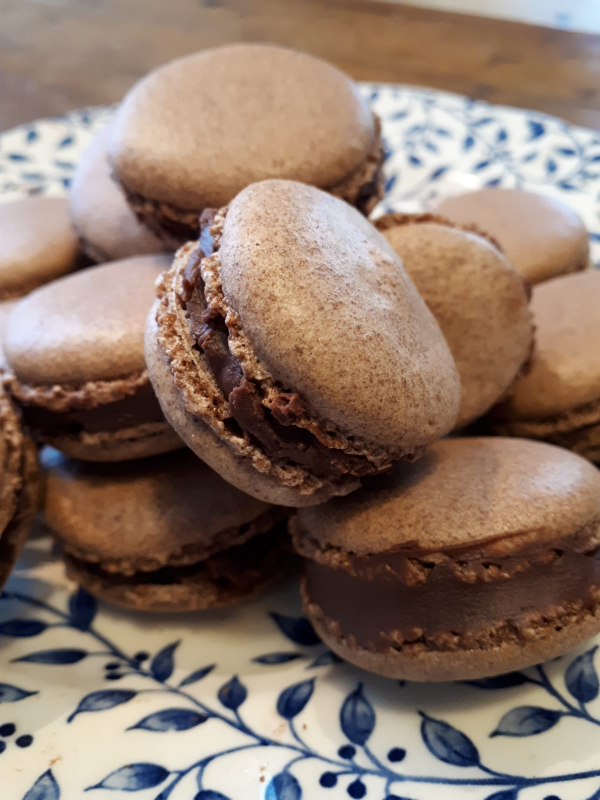 Homemade chocolate French macarons (Photo©: France Just For You)
Ingredients
For about 20-25 macarons
Biscuit:
3 egg whites
200g powered sugar
125g almond powder (grounded very thin)
30g sugar
15g bitter cacao (French brand Van Houten)
20 drops of red food coloring
Ganache filling:
120g baking chocolate
80g butter
30g thick crème fraiche
How to make macaron biscuits: 
Mix the bitter cacao, powered sugar, and almond powder together until you have a very fine powder.
 
Whip up the egg whites (very hard) and the fine caster sugar, and add the food coloring at the end so that it mixes with the rest.
 
Sieve the powder from  step 1 and add it to the whipped egg whites from step 2.
 
With a piping bag, squeeze small domes of the mixture, about 3cm in size, onto silicone baking paper. When you make them, the tip of the pastry bag must touch the plate.
 
Let it rest for about 30 minutes (very important: during wet weather, have them rest near a warm radiator).
 
Cook them in the oven for 12 to 13 minutes at 175°C. The biscuits must unstick from the paper easily.
Guillaume and Jeanne sticking the biscuits together with the chocolate ganache (Photo©: France Just For You)
HOW TO MAKE MACARON GANACHE:
Melt the chocolate, butter and crème on a low heat.
 
Let it cool in the fridge until it's hard.
 
When the biscuits are cool, stick two of them together with some ganache cream in the middle.
 
 Et voilà! You should be left with 20-25 perfectly delicious chocolate French macarons! 
Keep the macarons in a cool, dry place and you can quick-freeze them… if you don't eat them all in one go!
TIP: you will know that the macaron biscuit is well-cooked and that you made a nice paste when you see the ring forming around the edge of the biscuit while they cook. This is called the "collerette" in French. If you're buying macarons, make sure that they have the collarette. This is how you know that they won't stick to your teeth and that they've been cooked well. But don't worry if you don't get it right the first time; this is the most difficult part of making macarons!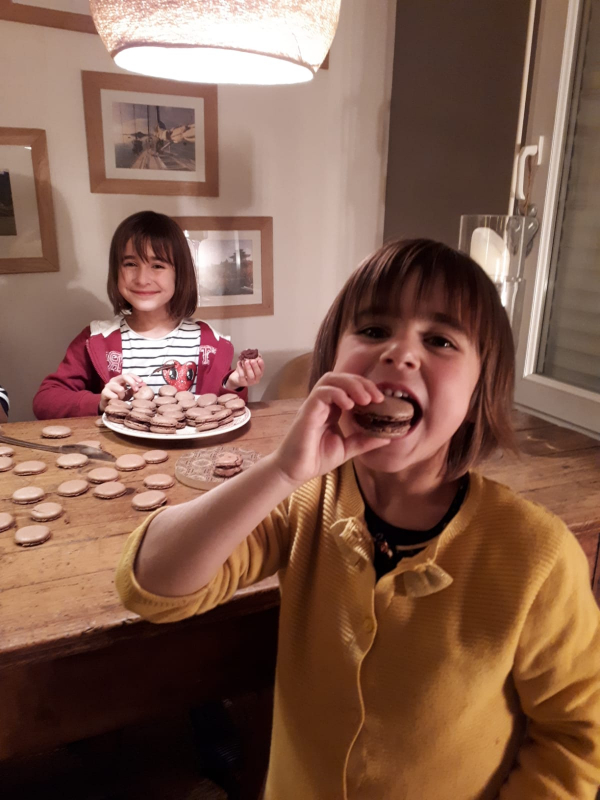 Jeanne and Pauline enjoying their homemade French macarons! (Photo©: France Just For You)