The Brioche des Rois (the Kings' Brioche) is a popular sweet treat in the Provence region of France, traditionally eaten in celebration of Epiphany, on January 6th. Its name refers to the three Kings' arrival to visit the baby Jesus. Nowadays, this bread-like sweet loaf is eaten throughout January to celebrate the new year with family and friends, regardless of religious background.
Here is a delicious recipe for you to try at home:
Ingredients:
2 tablespoons sugar
1/2 cup warm milk
1 tablespoon dry yeast
5 oz flour
3 eggs
4 1/2 oz soft butter
4 oz small, diced candied fruit
1 tablespoon orange flower water
Instructions:
In a mixing bowl, combine sugar, milk and yeast. Stir to dissolve. Mix in 5 oz. flour and salt.

 

Let it rise at room temperature for 3 to 4 hours.

 

Beat in the remaining flour, eggs and butter. Let it rise at room temperature for 2 to 3 hours.

 

Shape into a large ring.

 

Brush with a mixture of 2 teaspoons of sugar and 2 tablespoons of milk. Sprinkle candied fruit over the dough.

 

Put in a cold oven, set the oven temperature to 375°F/190°C and bake until golden brown (about 25 minutes).
When it's finished, it should like a little something like this: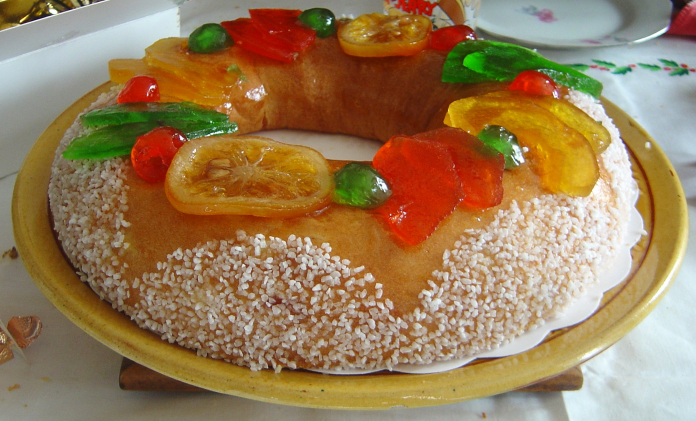 David Monniaux CC By 3.0