Burgundy is a popular destination among our wine-loving travelers - understandably! Indeed, we're often asked which are the best wineries to visit in Burgundy and other regions. We work with some of the very best wine estates in Burgundy (in our view) and some of them are not easily accessible for non French-speaking tourists. 
We therefore strongly recommend visiting Burgundy wineries with an English-speaking wine guide. They will be able to open the door to many wine estates you wouldn't discover on your own – and you'll have the best experience of this important part of French culture!
First, a short introduction to Burgundy wines, before we share a few of our favorite vineyards and wineries in Burgundy.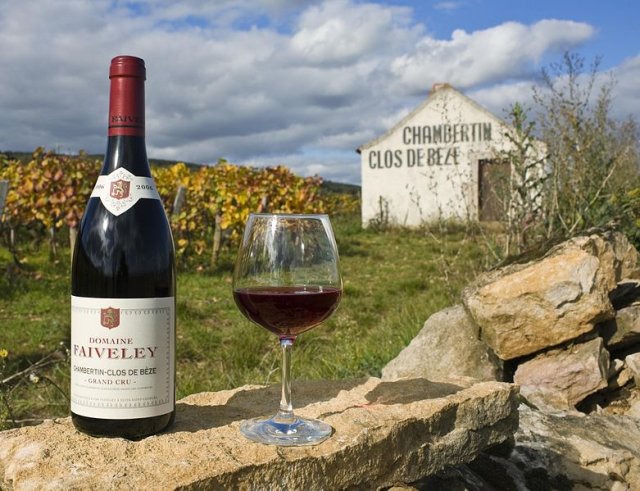 Burgundy wines
When it comes to Burgundy wines, there are many famous ones. These include:
Nuits-Saint-Georges
Chablis
Mâcon
Gevrey Chambertin
Meursault
Pommard
Vosne Romanée – Romanée Conti is one of the most expensive wines in the world
The wines are named after the regions or towns in Burgundy where the grapes are from.
Map of Burgundy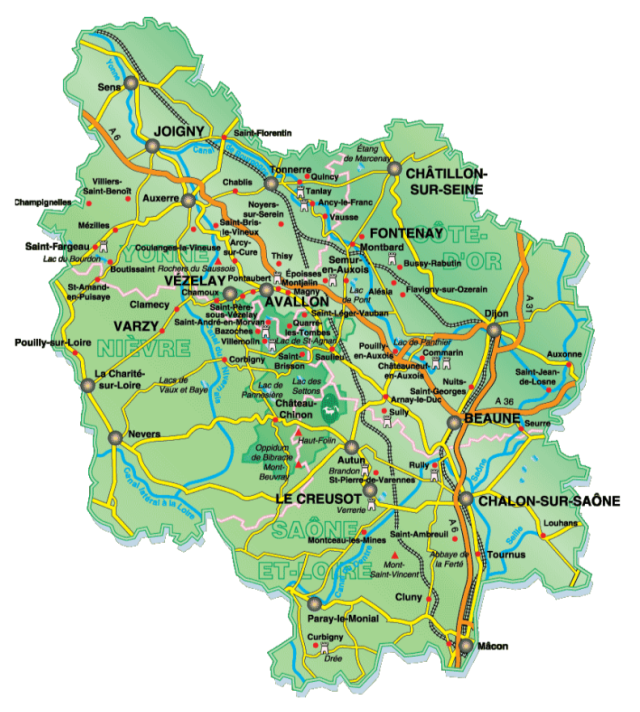 First of all, be warned that Burgundy wines are by far the most expensive wines in France. This includes regular wines as well as special vintages. Furthermore, the prices do not necessarily reflect the quality of the wine. Therefore, if you want to buy some, be sure to ask to taste it first.
Burgundy wines are normally kept for maturing. This means that if you buy a bottle of a recent vintage (from 2019 or 2020), which will cost around €20, it won't necessarily be good to drink right away. If you want a bottle of Burgundy you can enjoy soon, you'll need an older vintage, which will normally cost between €30-60 per bottle.
Our favorite wineries in Burgundy
These are a few wineries that we recommend to our travelers who book one of our tours of Burgundy, France:
Caves de l'Abbaye, Beaune
The beautiful town of Beaune is the Burgundy wine capital. It's surrounded by the most famous Burgundy vineyards and wine villages. However, Beaune offers much more than its incredible wine! You'll see this as you stroll around and marvel at the gorgeous and varied architecture. The town is a blend of different architectural eras, spanning across Roman times, medieval times, through to the Renaissance and up to the modern age.
The main sites to visit in Beaune are:
The stunning Hospices de Beaune with its gorgeous colored roof
Les Halles, the food market
The Beffroi de Beaune clocktower 
The Basilica Notre Dame
Back to the wine: there are so many wine cellars and wine-tasting tours in Beaune that we try to avoid the busiest tourist traps. We only recommend wineries that we've tried ourselves and that meet the high standards we want to offer to our travelers.
The Caves de l'Abbaye wine cellar is one of our favorites. It's open every day from 9-6pm during the high season, and closed on Sundays and Mondays during the rest of the year. If you're interested in taking the wine-tasting class, we recommend booking in advance by emailing cavesabbaye@gmail.com.
The owner, Guillaume Grandin, is an expert who has worked in the wine industry for many years, from wine-making to wine-selling. He is extremely knowledgeable about wines from all over France. If you visit his beautiful vaulted cellar, you'll be able to see some amazing bottles of wine from Chateauneuf du Pape and the Loire Valley.
The wine-tasting class includes five wines, including a commentary on each one. It lasts for 1-2 hours and costs €30-95 per person (for quality wines). Alternatively, you can book a tasting lunch, which includes a start, main course, cheese platter, coffee and a selection of 3-5 wines. Or you could just hang out in the cellar and enjoy a glass of wine with a cheese platter.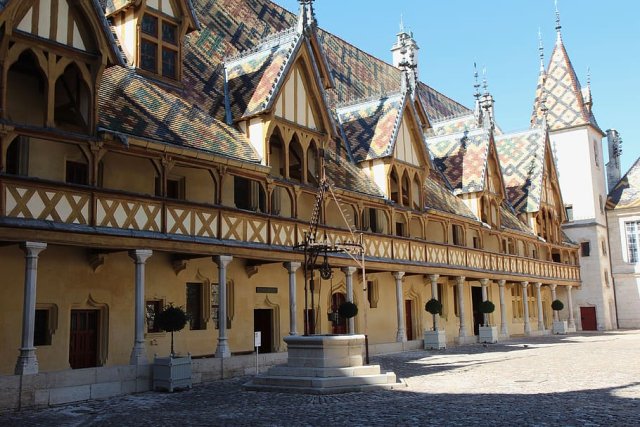 Château de Santenay, Santenay
Santenay is the most southerly of the Côte de Beaune wine-producing villages. The wines produced in this part of the region are mainly red and Pinot Noir, with a small quantity of Chardonnay too.
The Château de Santenay winery is a great place to enjoy everything Burgundy has to offer: wine, scenery and gorgeous medieval tiled roofs. It has very recently been renamed 'Château Philippe le Hardi', after one of its famous owners, Philippe le Hardi, a former Duke of Burgundy. It is now owned by the Crédit Agricole Group (a French bank), and the castle's vineyards cover 98 hectares in a dozen appellations. A third of the wines produced are white and two thirds are red.
You can book a guided tour and tasting online. At the time of writing, the owners are updating the website and moving to a new web domain - http://www.philippelehardi.com - but currently the old domain (www.chateau-de-santenay.com) is still working.
Wine tastings cost between €10-55 depending on the wine. They're open Monday-Saturday from 10.00-12.30 and 13.30-17.30.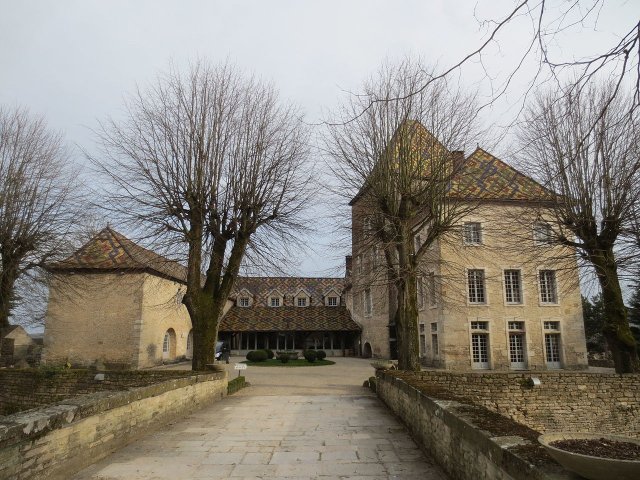 Simonnet-Febvre, Chablis
Chablis is a small town located on the Serein river and in itself is not particularly special. The historic center of Chablis was destroyed by bombing during WWII. The interesting structures that remain include:
The medieval Collegiate Church of Saint Martin
The 19th century wash house (lavoir) with its nine arches, formerly a communal place for washing clothes
The Christmas Gate and its two round towers 
The old 9th century Obédiencerie monastery, where Chablis was born.
If you're a wine-lover, you'll know that Chablis is the place to try one of the world's most famous wines. The town is surrounded by 4,800 hectares of vineyards solely dedicated to the Chardonnay grape variety.
If you would like to taste some Chablis wines, we recommend Simmonet-Febvre winery. It is open from Tuesday to Saturday 10.00-13.00 and 14.30-18.30  If you would like a guided tour of the vaulted cellars and a tasting in English, be sure to book a few days ahead. The tastings cost around 10 euros per person.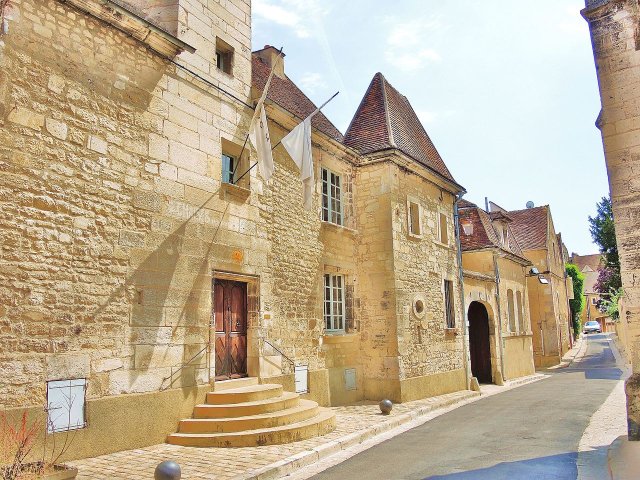 Cité de la Gastronomie et du Vin, Dijon
Dijon, the capital of Burgundy and well-known for its eponymous mustard, has changed a lot over the last few years. It's more dynamic, with a lively student vibe, and many of the historic and architectural features have been restored.
In 2022, the Cité International de la Gastronomie et du Vin (the International City of Gastronomy and Wine) opened, and is now open everyday from 9:30am - 7pm. The site was an old hospital, covers 16 acres and offers visitors many ways to experience the 'French gastronomic meal'.
There are top restaurants offering haute cuisine, counters where you can buy small traditional dishes, and the Cité's centerpiece - the gastronomic village. Part market, part gastronomic exhibition, you'll find food and drink producers from all over France demonstrating, talking and cooking.
The Cité's wine bar is a wine-lover's dream - there are 3,000 bottles of wine from Burgundy and beyond! 250 of those are sold by the glass, costing from just a few euros to a whole lot more for wines you may never encounter again.
Here it's an 'automated wine-tasting' experience. You simply buy a card, add some money to it, and taste to your heart's content!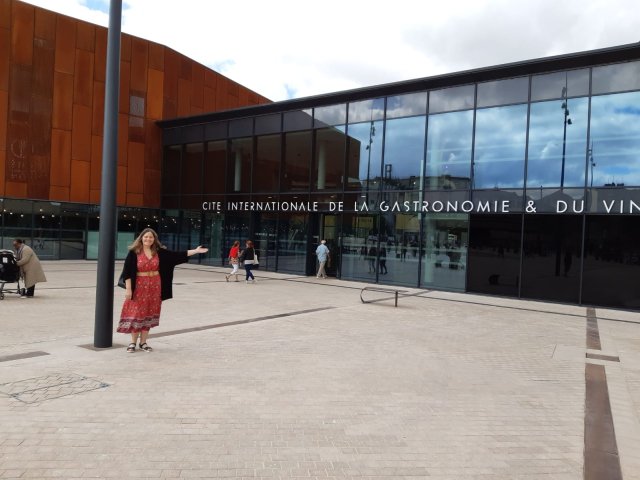 Have we tempted you to book a self-guided wine tour of burgundy? If so, we invite you to take a look at our 12-night sample tour, France for Wine Lovers. Remember all our tours can be customized to your preferences. So if you want to leave anything out or add anything in, just let us know and we'll take care of it!