Last month, Ben and Jane Lintott from South West England, UK, reached out to us to share their France Just For You travel story in our newsletter. As they have such a lovely story about their relationship with France and their travels through the country over many years, we wanted to share it here on our blog.
As told by Ben and Jane Lintott, UK
From childhood caravan/RV holidays to buying a house in Dordogne, we really have come full circle in our love affair with France!
Childhood holidays in France
Before our trip with France Just For You, Jane hadn't really had a proper holiday in France before. Ben, however, has many fond memories of France as a child, towing a caravan with his parents all over France in the late '60's and early 70's. Favourites were the Dordogne, Provence, Annecy, the Alps and many places in between and further afield.
In 1982, Ben's parents bought a holiday home in the beautiful village of Tremolat in the Dordogne. This became the focus of many happy holidays while Ben was in his 20's, and thus the love affair with all things Français continued.
Our Self Drive Trip with France Just FOr You
After we got married in 2013, we vowed to travel more, having spent most of our time and money raising our four children.
In 2016, we contacted Emilie at France Just for You and after some deliberation booked an exciting driving tour of France. This was Jane's first proper experience of France and both of us were excited at the prospect.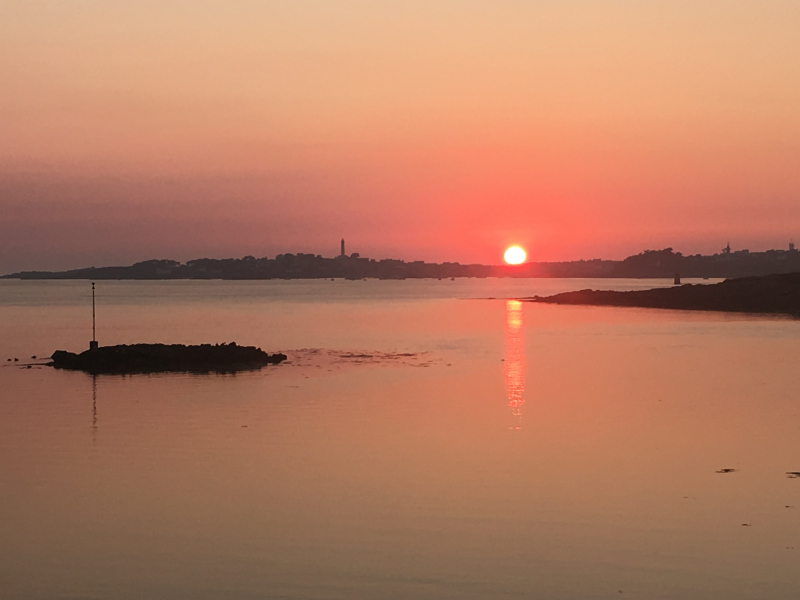 Sunrise in Roscoff, Brittany (Photo©: Ben and Jane Lintott) 
The trip began with an overnight ferry  from the south west of England to Roscoff in Brittany. Our first stay was in the Loire Valley, in a lovely B&B. The weather wasn't great but there was loads to do and the B&B was superb!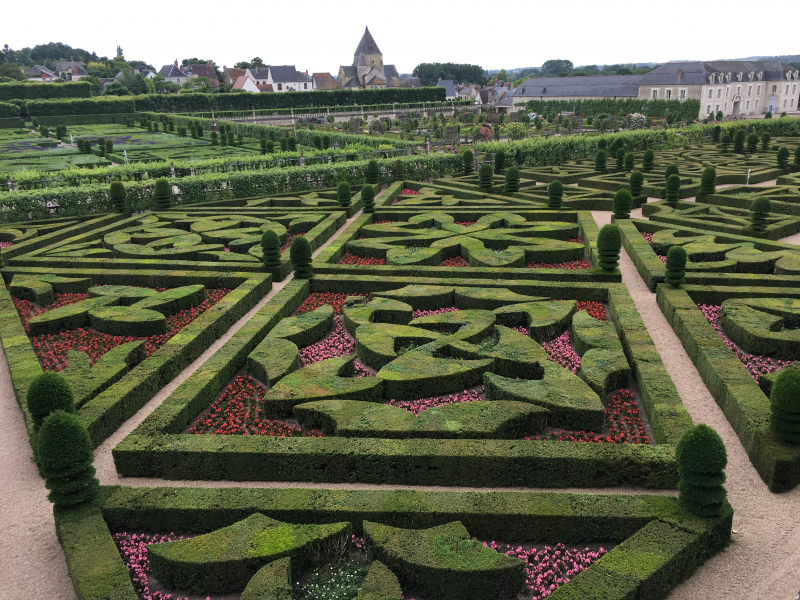 The gorgeous gardens in Villandry, Loire Valley (Photo©: Ben and Jane Lintott)
Then came a drive to Médoc via La Rochelle and the ferry at Royan. We continued to our accommodation which was in an old Médoc family château. It was perfectly quiet, the weather was warming up, and we were treated like royalty.
A few days on the banks of the Gironde soon ended and we proceeded to our next stop – in the Dordogne at a fabulous B&B near Castelnaud.
This was the jewel in the trip for us. Exploring fortified towns like Domme, market towns like Sarlat, canoeing the Dordogne River alongside beautiful scenery, visiting the prehistoric caves and a fabulous visit to Rocamadour.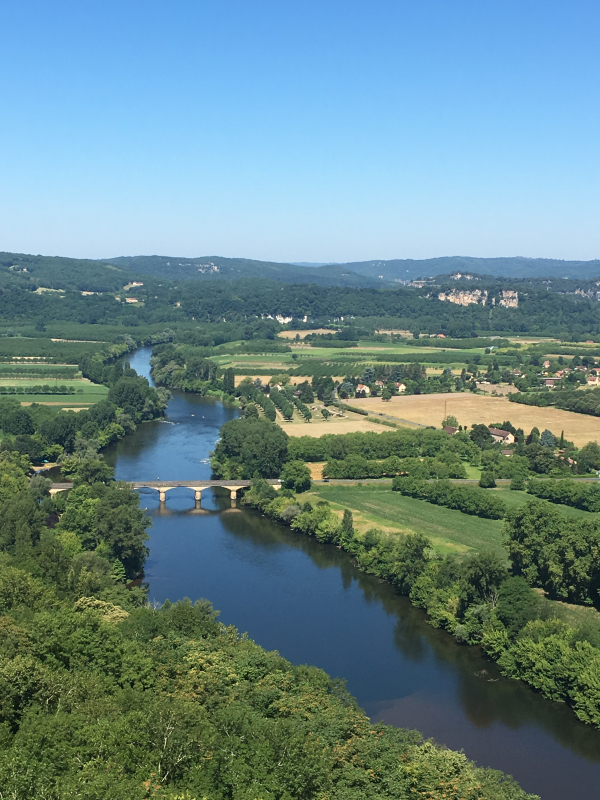 View over the Dordogne river at Domme (Photo©: Ben and Jane Lintott)
We were reluctant to leave, but duly left to go to Paris to see all it had to offer. Fifteen days after we left home we were back, the car loaded with wine and stinking cheese and carrying two very happy travellers!
Returning to France again and Again
Following our trip with France Just For You in 2016, we felt more confident and knowledgeable about the different regions in France, and returned independently with some great friends in 2017.
We booked a villa in the hills above Fréjus in a village called Bagnols-en-Forêt. We spent a happy week there. We sailed to St Tropez, rafted in the gorges near Castellane, visited Cannes and Monte Carlo and had the most fabulous time.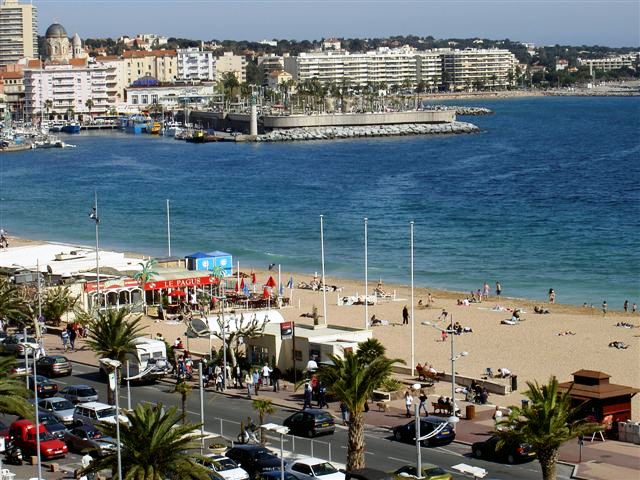 The beach at Fréjus on the Côte d'Azur in the south of France (Photo©: Cyrilb1881, CC BY-SA 3.0)
After a week, the four of us drove on down the coast to Pisa in Italy, where we hired a villa in the olive groves overlooking the Pisa valley to Livorno. We visited Lucca, Florence and of course the leaning tower and had the most wonderful relaxing time.
When we left, we toured up through the Po Valley through Aosta and stopped overnight in Chamonix. We had a terrifying ride in the cable car up to the Aiguile De Midi, and a shocking change of temperature 33°C in town, and -5°C at the peak! What an experience - one we will all never forget.
We stayed nearby and the following day returned to Caen via Honfleur.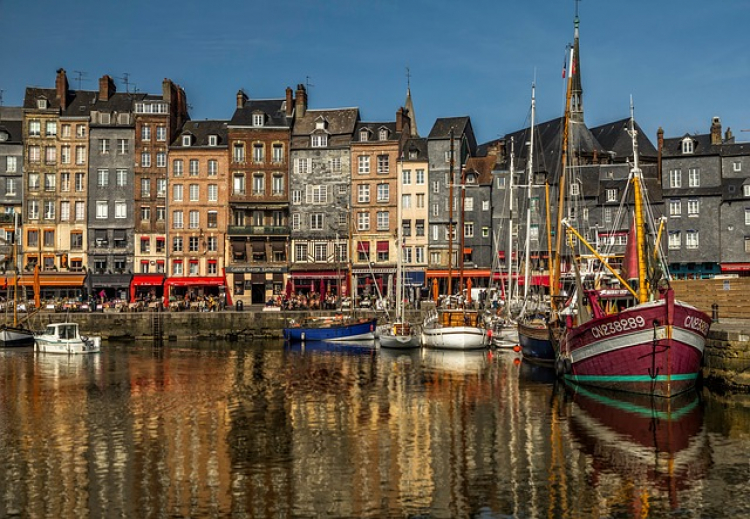 Honfleur harbor, Normandy (Photo: Pixabay CC0)
We returned to France again in 2018 with the same friends for a two-week holiday. This time we stayed for one week in the Dordogne at a beautiful gîte complex near Vitrac and one week in a gîte near Cognac.
Both were fabulous and our trip to Cognac not only included Brandy tours and tastings, but days out in La Rochelle, Isle de Re and Royan, capped off with a concert in the gardens of Cognac by James Blunt. An overnight stay in Roscoff - such a beautiful town - brought us back all too quickly.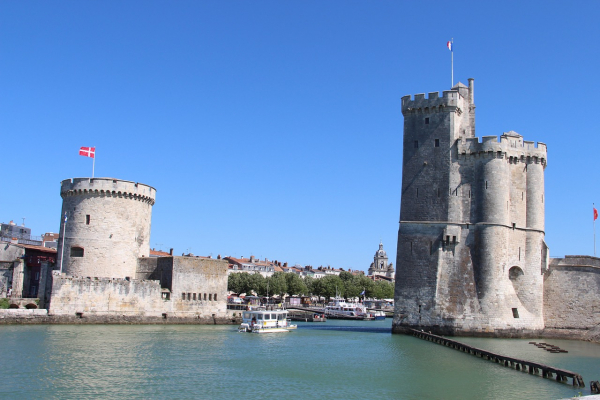 La Rochelle harbor (Photo: Needpix CC0)
Buying a house in France
It was after that that we first toyed with the idea of house ownership in France. Jane owned a house locally at home which was rented out, but we wanted more from the investment.
After much deliberation and various crises at home we made the decision to sell. It went on the market in December 2019, we accepted an offer by the first week in January and on 14th January we flew from Bristol to Bordeaux to do some serious house-hunting.
We had seen some before, but this time we arrived with renewed intent to become French homeowners. The last house we saw on this occasion was one we had visited and liked before, about 20 minutes south of Bergerac in a beautiful quiet French village.
We made an offer there and then. After some negotiating, we came to a deal and are now launching ourselves into the legal process, which we gather could be long-winded!
So from Ben's beginnings as a youngster touring in a caravan to our marvellous summer holidays as a couple, we have finally come full circle! We are looking forward to all that owning a holiday house in France can throw at us!
Thank you, France; long may our association continue, and thank you 'France Just for You'; without you, our lives would now be far less interesting! Merci to all concerned!