The weather was perfect last week-end in the Loire Valley. Guillaume and I took the opportunity to go back along the Loire and explore it 2 different ways.
We first took a gabarre tour at sunset. The gabarre used to be the big barge that were transporting all goods until the train was built. In the Loire river it used to be 300 gabarres a week, up and down the river. These boats would be pushed by the currents on their way to Nantes...and to come back, they would use a square sail navigating downwind.
While touring, you can taste some local products such as Ste Maure goat cheese, Rillettes de Tours and a local "saucisson"...with some rosé wine made from a very old grape variety that was used in the XVIth century because of its excellent conservation potential.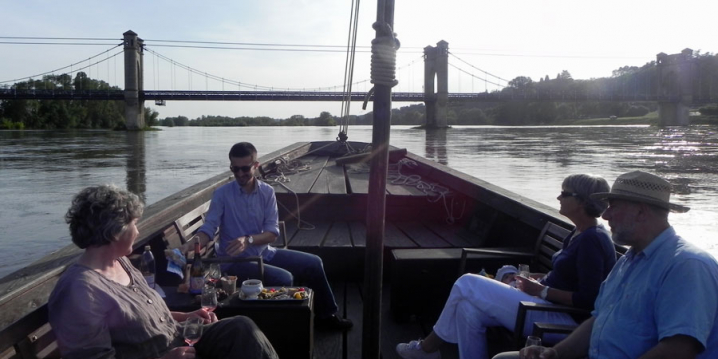 We could see all kinds of birds:  Egrets and Herons, troglodyte Swallows that dig their nests in the sand of the river banks, even an Osprey...which is rare in the Loire Valley. Getting closer to an island we could look at a beaver swimming along the shore.
An excellent way to discover this amazing river is to rent a bike for a day and ride through the small villages, get to Langeais castle or Villandry gardens through country paths...and at your own pace. You can stop at a quaint restaurant, or have a picnic on the beach. We have found a new itinerary that follows the river...and coming back, we went through the apple and pear orchard...and some vineyards as well! A very nice day to relax and enjoy Touraine sweet life!