The Loire Valley, Dordogne & Provence landscapes in 13 days
Book now
Price:
US$ 2530
Per traveler, including taxes, based on double occupancy.
Region:
Provence, Dordogne & Loire Valley
Theme:
Villages & Markets, Sceneries, Wine Tasting
Let yourself be carried away by three of the most iconic regions of France. From the Vallée de la Loire's "sweet life" to Dordogne's castles and Provence's colorful landscapes, you'll have a most enjoyable journey!
Start your itinerary, staying for 4 nights in a restored 15th century farmhouse where you will be warmly welcomed by Flo & Phil. They know the Loire Valley inside out and can give you off-the-beaten-path addresses and tips on finding places that tourists usually miss. One evening they will cook a delicious "Table d'Hôtes" dinner that you will share with them and other guests.
Located on the south banks of the Vienne River, this charming B&B is within short driving distance of Chinon and Saumur, beautiful, historic cities. Included in this itinerary is a bike rental for a day. You will explore, at your own pace, several villages and castles such as Langeais and Villandry. No worries, the road along the Loire river is totally flat!
In Touraine experience the "sweet life", stopping over in little villages to savour goat cheese or taste amazing wines. Take the time to relax in rose gardens and to enjoy traditional cuisine in many small restaurants frequented by the locals.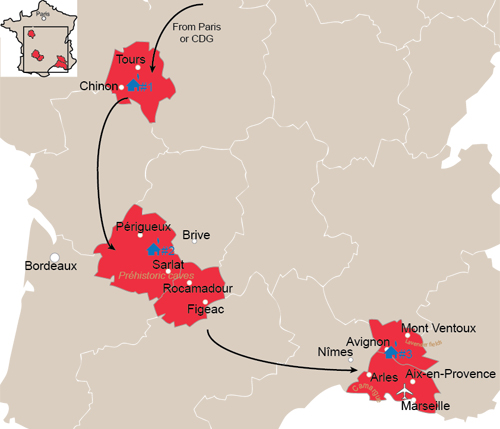 Then, jump into history in Dordogne where history is around every corner. Near cliff-hanging Rocamadour in Quercy spend the following 4 nights in a beautifully restored family house. Your Host Dominique will cook a delicious dinner inspired by local traditions. We'll tell you where to find the most typical goat cheeses - and if you like outdoor activities, you'll be in paradise.
Dordogne is famous for the prehistoric caves in Lascaux and we will recommend you much more intimate visits, in 20,000 year old caves. If you are interested in history or if you are a JM Auel reader, these are a must! Another day, let a passionate villager take you on an unforgettable search for the black diamond: Perigord truffles. Nestled in a typical Dordogne hamlet, the view on the surrounding valley is gorgeous. This is an experience you'll remember!
Last but not least, Provence will delight you.
This itinerary ends in a Bed & Breakfast in Avignon for 4 nights. This very quiet house is nestled in a park where you will enjoy relaxing by the pool or cooking yourself dinner at the outdoor kitchen. Your Host, Béatrice, knows the region very well and she will be happy to give you some hints and directions.
Avignon, also referred to as "the City of Popes" is a must see. Explore the palace of the Popes, the well-preserved ramparts and the famous "Avignon Bridge". We'll tell you how to visit them while avoiding the crowds. From there, you can easily tour the salt marshes of the Camargue and visit the Alpilles region, where you will find beautiful Saint Remy de Provence…we will tell you where to buy the best olive oil! If you are interested in history, don't miss the Roman ruins at Arles, Orange and the Pont du Gard.
Mont Ventoux and its dramatic landscapes also deserve a visit, and we have planned a special activity for you in this part of Provence: spend 1,1/2 hours driving a 2-seater dune buggy throughout the vineyards and finish your trip tasting local wines. It's a great way to have fun and explore country paths you would never find by yourself.
La vie est belle, isn't it?
This self-drive tour includes : 
Night stays:
12 nights in Bed & Breakfasts that we personally selected for you
Rental car:
A
rental car
, with automatic transmission & full insurance coverage, for 13 days
Dinners:
2 «Table d'Hôtes» home-cooked dinners, with your Hosts and other travelers
Emergency contact:
The assurance that you can contact us at any time, for any reason, while you're in France
Guidebook:
A
guidebook
made especially for you and all road maps with recommended itineraries, activities and visits
Pictures of the accommodations : 
B&B 1. A charming farmhouse from the 15th century in near Chinon...
B&B 1. ...with tastefully restored comfortable rooms
B&B 1. Enjoy a traditional dinner in a friendly atmosphere
B&B 2. An old stone farmhouse from the 16th century...
B&B 2. ...with cosy rooms full of charm
B&B 2. Taste Dominique's delicious cuisine inspired from traditional products
B&B 3. A peaceful mansion, in an amazing location in Avignon...
B&B 3. After a day sightseeing, get some rest in this quiet place
B&B 3. After a day sightseeing, get some rest in this quiet place
Activities included in this tour : 
Biking along the Loire river
Spend a day biking at your own pace and discover many villages and castles nestled on the banks of the river. We have tested several itineraries so you can chose depending on your mood and what you would like to see.
Spend a morning looking for truffles in Dordogne with a professional & his truffle hound.
Vineyard discover in Dune Buggy
Follow the local guide in your own all terrain vehicule and enjoy a very special visit of one of Provence's vineyards. This is a very fun way to discover new landscapes, learn about wine growing...and of course, taste some wine.
Custom quote ? Contact us
You want to buy this tour?
Follow the 5 steps, it is as simple as that...
100% customized to your itinerary. It is the perfect tool before, during & after your trip.