The Loire Valley's Heritage & Gastronomy
13 days
Loire Valley
Wine Tasting
Heritage & History
Gourmet Experience
US$ 3,280 Per traveler, including taxes, based on double occupancy.
Book now
Be seduced by France Just For You's very special way of discovering the Loire Valley, its must sees and hidden beauties. 
In this itinerary, you will experience the "sweet life" in Touraine, stopping over in little villages to savour goat cheese or taste amazing wines. Take the time to relax in rose gardens, or to enjoy the traditional cuisine in many small restaurants frequented by the locals.
WESTERN LOIRE Valley
Pick up the rental car in Paris downtown or at CDG airport (or another location) and drive 3 hours to the gorgeous Loire region. Stay for the first 3 nights in a lively town between Saumur and Tours, along the Loire River, across the street from a gorgeous Middle Ages castle. At night, you can walk to one of the best restaurants of the whole region, relax in the courtyard or at a bistro terrace. Your hosts have restored the house very tastefully and will make you feel at home.
Included in this itinerary is a bike rental for a day. You will explore, at your own pace, several villages and castles such as Langeais or Villandry gardens

. No worries, the road along the Loire river is totally flat!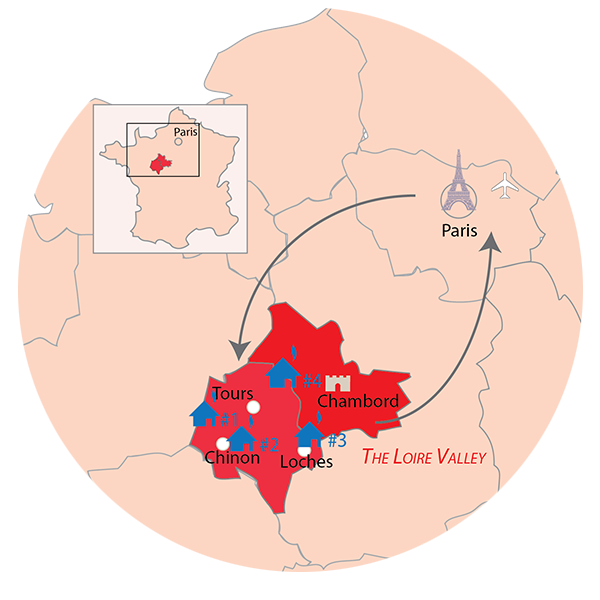 SOUTHERN LOIRE Valley
Y

ou w

ill spend the following 4 nights of your journey in a restored stone house nestled in a quaint hamlet where you will be warmly welcomed by your Host. He knows the Loire Valley inside out and can give you tips on finding places that tourists usually miss. At night, relax in a lovely garden. One day, he will cook a delicious dinner for you. 
Located on the south banks of the Vienne River, this

 

charming B&B

 

is within short driving distance of Chinon and Richelieu, beautiful historic cities.
One day, let the owner of a 12th century abbey guide you in this amazing and totally off the beaten tracks historical site. A great experience. You will also wander off the beaten path into tiny villages stretched along the Vienne and Loire rivers and get a taste of French gastronomy in restaurants and local markets we have tested for you. 
EASTERN LOIRE Valley
Your

 

next

stop will be in the heart of the medieval city of Loches

. Spend 2 nights in a very comfortable house - built against the old walls - that used to be a post house. From there, explore Montrésor, one of the "most beautiful villages of France"; and many other places away from the crowds.

Spend a morning cooking with a great Chef

, preparing local Touraine dishes with fresh season products. He will teach you some special tricks used in the French cuisine.
NORTHERN LOIRE Valley
On

your way back to Paris, stay for the last 3 nights in a charming restored mansion, 15 minute walk from

Amboisecastle

and the famous Clos Lucé (

Leonardo Da Vinci final dwelling

). Your hostess has restored the whole place with a lot of taste and she can tell you many stories about each of her rooms. The house is surrounded by a beautiful park, where you will to relax before or after the visits.

Touraine is also famous for its vineyards – Chinon, Bourgueil, Vouvray and many more – and we have planned a special wine tasting in Amboise

. You will have the opportunity to taste 5 different wines – some of them very old - accompanied by delicious local cheeses or cold cuts. If you prefer not to drive immediately after the tasting we can recommend either good restaurants or a good teahouse where the pastries are wonderful.
We hope you are ready for this great immersion into French culture!
Activities included in this tour